Are you looking for inspiring giving Tuesday quotes? Then you are in the right place!
Here are 75 Best Giving Tuesday Quotes for Kids including matching books and activities.
Let's have a look!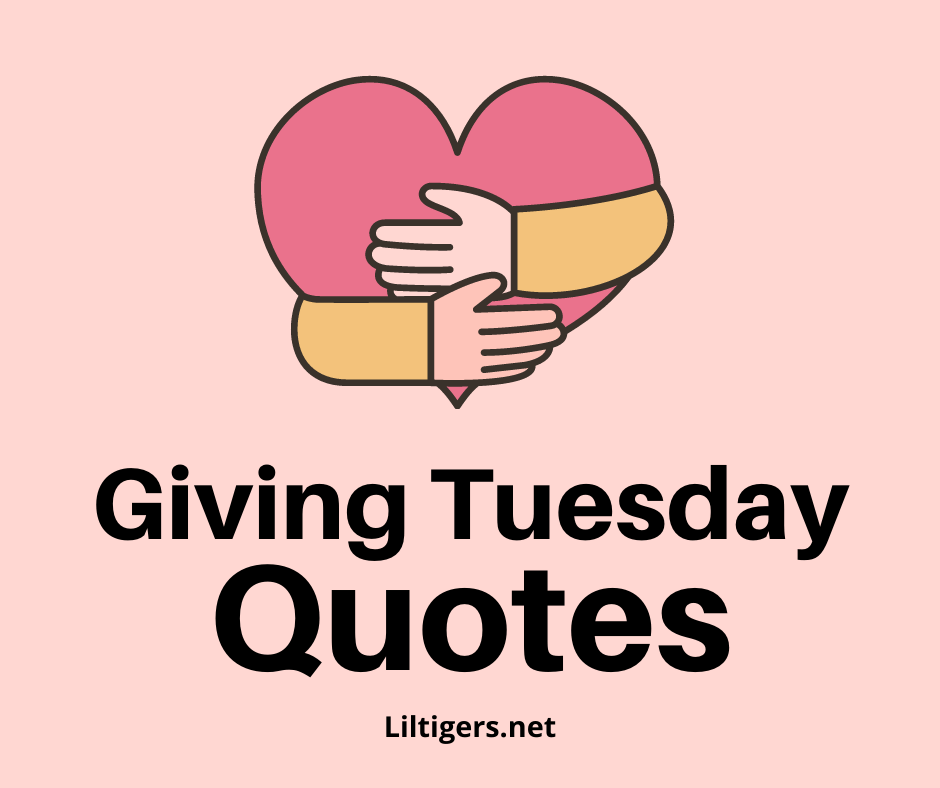 There are affiliate links in this post, meaning, at no additional cost to you, I will be compensated if you click through and take action. As an Amazon Associate, I earn from qualifying purchases.
What is Giving Tuesday
Before we get started let's find out what giving Tuesday is and what it is about.
When is Giving Tuesday Celebrated
Giving Tuesday is celebrated every year on the Tuesday after Thanksgiving in the US.
This year it giving Tuesday is on Tuesday, 29 November 2022.
What is Giving Tuesday About
GivingTuesday is a global generosity movement that was created in 2012. The simple idea is to create a day that encourages people to do good, as a response to the hyper-consume of Black Friday and Cyber Monday.
It has the purpose of making someone smile and helping people with the intent to fill hearts not your own pockets.
Every act of kindness counts. If it is helping a neighbor or stranger out, showing up for an issue or people we care about, or giving some of what we have to those who need our help.
The goal is to build a better world together!
Find out more about Giving Tuesday here.
How Can Kids Participate in Giving Tuesday
You might want to participate together with your children in giving Tuesday.
Here are some great ideas you can integrate with your children in giving back:
Donate to your local food bank.
Volunteer at a retirement home together. You can read them books together for example.
Donate old books or toys to people in need or your local library.
Bake cookies and bring them to your police or fire station, medical professionals, or simply your teachers.
Donate to local animal shelters or see if you can take those animals for walks.
There are many ways your children can participate in giving Tuesday and help people in need or simply make someone smile!
Giving and Gratitude Books for Kids
Here are some great book recommendations on children's thankful books for you:
On a snowy night, Snowman lends a helping hand to Bird, Rabbit, Farmer, and Traveler when they are in need. Read what happens when he is in need!
Little Betsy will learn that happiness is made up of simple things in life. With the help of the magic stone, she will begin to feel thankful for her parents, friends, and toys.
The Little Book of Kindness provides a gentle reminder that every kind act-no matter how small-makes a BIG difference.
Join the Little Critter as he learns why it's important to be thankful for what he has and not to be upset about what he doesn't.
Learn about the true spirit of gratitude and giving thanks with a storybook for kids 3 to 5.
Are you interested in more kid's activities, arts & crafts, and science experiments?
I have made it easy for you! Join our newsletter now and I will send you new fun for kids.
Subscribe for free
75 Best Giving Tuesday Quotes for Kids
Above we learned all about giving Tuesday and what even the smallest members of our family can do to participate.
Now it is time to dive in and check out the matching Tuesday of giving quotes.
Our list of charity Tuesday quotes includes cute giving Tuesday quotes and sayings for kids, inspirational and motivational giving Tuesday quotes, short quotes on giving Tuesday, charity quotes, and giving Tuesday captions and phrases.
Let's have a look and get inspired!
Cute Giving Tuesday Sayings for Kids
Here are some of our favorite giving Tuesday sayings for kids:
You can give without loving, but you cannot love without giving.
Open your heart to those in need.
Help others without any reason.
Those who are happiest are those who do the most for others.
Don't expect to receive if you're not willing to give.
Kindness in giving creates love.
Share and be blessed.
Lend a helping hand!
Give to make them smile.
True giving from the heart is an expression of love.
Kindness is the language which the deaf can hear and the blind can see.

Unknown
Everyone has something to give.
Giving opens the way for receiving!

Selfless giving is the art of living.

Helping others is a way we help ourselves!
It's nobler to give than to take.

We rise by lifting others. Live. Love. Help.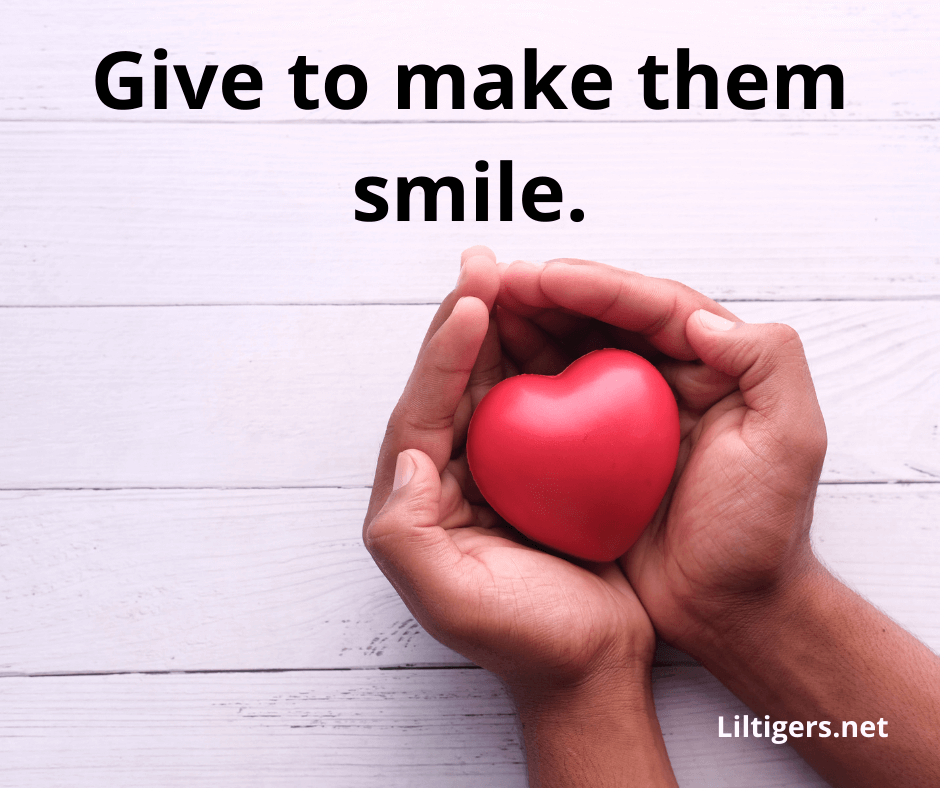 Inspiring Giving Tuesday Quotes
Let's be inspiring to others with our giving Tuesday phrases.
"Remember that the happiest people are not those getting more, but those giving more." – H. Jackson Brown Jr.
"Think of giving not as a duty, but as a privilege." – John D. Rockefeller Jr.
"Nothing else in all life is such a maker of joy and cheer as the privilege of doing good." – James Russell Miller
"The meaning of life is to find your gift. The purpose of life is to give it away." – Pablo Picasso
"Everyone can be great because everyone can serve." – Martin Luther King Jr.
"We can change the world and make it a better place. It is in our hands to make a difference." – Unknown
"The best way to find yourself, is to lose yourself in the service of others." – Mahatma Gandhi
"The wise man does not lay up his own treasures. The more he gives to others, the more he has for his own." – Lao Tzu
"The most precious thing I have to give is my time." – Silvia Hartmann
"No one is useless in this world who lightens the burdens of another." – Charles Dickens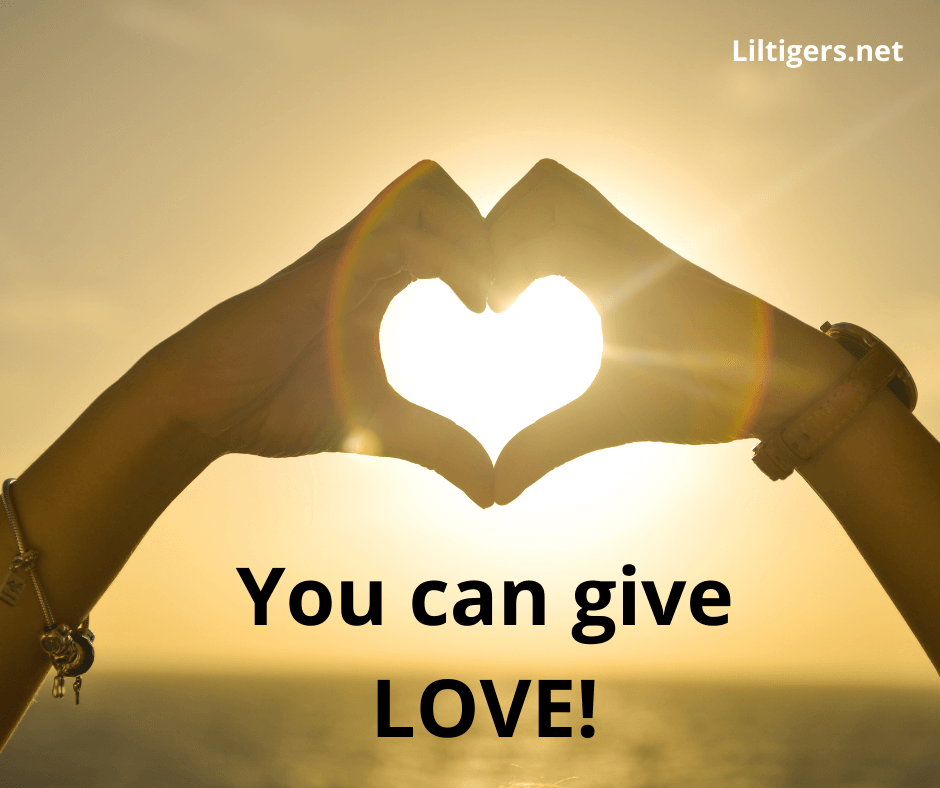 Motivational Quotes on Giving Tuesday
Time to motivate with the following quotes about giving Tuesday.
"Those who are happiest are those who do the most for others." – Booker T. Washington
"Service to others is the rent you pay for your room here on earth." – Mohammed Ali
"Help others without any reason and give without the expectation of receiving anything in return." – Roy T. Bennett
"The best thing to do with the best things in life is to give them away." – Dorothy Day
"To do more for the world than the world does for you – that is success." – Henry Ford
"No act of kindness, no matter how small, is ever wasted." – Aesop
"He who wishes to secure the good of others has already secured his own." – Confucius
"When you learn, teach. When you get, give." – Maya Angelou
"There are those who give with joy, and that joy is their reward." – Khalil Gibran

"A willing helper does not wait until he is asked." – Danish Proverb
Urgent question is, 'What are you doing for others?
"Extend yourself in kindness to other human beings wherever you can." – Unknown
Short Giving Tuesday Quotes
Short but sweet. Let's check out these short Giving Tuesday quotes:
"I have found that among its other benefits, giving liberates the soul of the giver." – Maya Angelou
"Happiness doesn't result from what we get, but from what we give." – Ben Carson
"Always give without remembering and always receive without forgetting." – Unknown
"We make a living by what we get. We make a life by what we give." – Winston Churchill
"Giving does not only precede receiving; it is the reason for it. It is in giving that we receive." – Israelmore Ayivor
"Always give without remembering and always receive without forgetting." – Brian Tracy
"You have to start giving first and expect absolutely nothing." – Unknown
"Giving does not only precede receiving; it is the reason for it. It is in giving that we receive." – Israelmore Ayivor

"Sometimes those who give the most are the ones with the least to spare." – Mike Mclntyre

"Always remember that a smile is something sacred to be shared." – Cherokee proverb
"No one has ever become poor from giving."

Anne Frank
Did you enjoy our giving Tuesday quotations for kids?
Then go check out these popular winter activities next. How about our Winter Hat Templates, Free Printable Winter Bingo, or Snowglobe Craft Template?
Giving Tuesday Captions
How about these captions about giving Tuesday?
Do some selfless service for people who are in need. Consider the whole picture, not just our little selves.

We can't help everyone, but everyone can help someone.

Giving freely and giving with a good heart, will never go unrewarded.
Be the change you want to see in the world.
We only have what we give.
For it is in giving that we receive.

It is easier to give a cup of rice to relieve hunger than to relieve the loneliness and pain of someone unloved.

We can give our love.
We must give more in order to get more.
The meaning of life is to find your gift. The purpose of life is to give it away.
We ourselves feel that what we are doing is just a drop in the ocean. But the ocean would be less because of that missing drop.

Unknown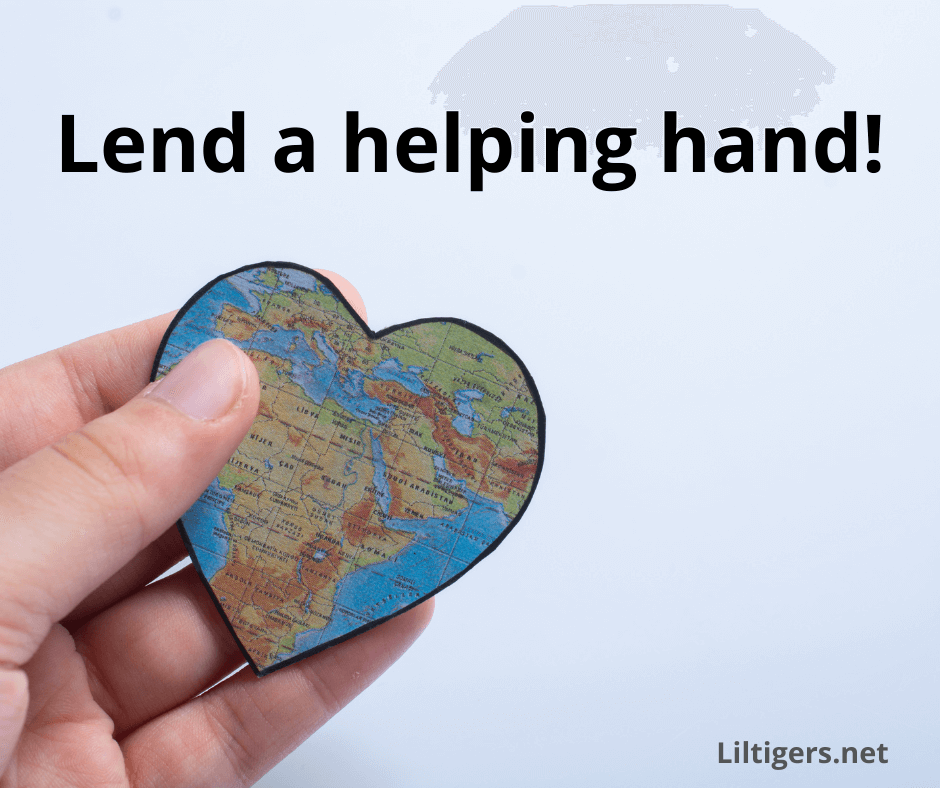 Famous Giving Tuesday Quotes
You will like our famous giving Tuesday sayings as well:
"That's what I consider true generosity: You give your all, and yet you always feel as if it costs you nothing." – Simone de Beauvoir
"But I give best when I give from that deeper place; when I give simply, freely and generously, and sometimes for no particular reason. I give best when I give from my heart." – Steve Goodier
"Generosity could be as contagious as the zombie plague as long as enough people were willing to be carriers." – Jonathan Maberry
"You often say, 'I would give, but only to the deserving.' The trees in your orchard say not so, nor the flocks in your pasture. They give that they may live, for to withhold is to perish." – Kahlil Gibran
Charity Quotes
Last but not least here are our charity quotes for kids:
"Love is not patronizing and charity isn't about pity, it is about love. Charity and love are the same. With charity you give love, so don't just give money but reach out your hand instead." – Mother Teresa
"While we do our good works let us not forget that the real solution lies in a world in which charity will have become unnecessary." – Chinua Achebe
"Charity begins at home but should not end there." – Unknown
"Where there is charity and wisdom, there is neither fear nor ignorance." – Francis of Assisi
"The life of a man consists not in seeing visions and dreaming dreams, but in active charity and in willing service." – Henry Wadsworth Longfellow
"Charity looks at the need and not at the cause." – German Proverbs
"Love cannot remain by itself—it has no meaning. Love has to be put into action and that action is service." – Mother Teresa
"You have not lived today until you have done something for someone who can never repay you." – John Bunyan
"There is no exercise better for the heart than reaching down and lifting people up." – Unknown
"The unselfish effort to bring cheer to others will be the beginning of a happier life for ourselves." – Helen Keller
"The simplest acts of kindness are by far more powerful than a thousand heads bowing in prayer."

Mahatma Ghandi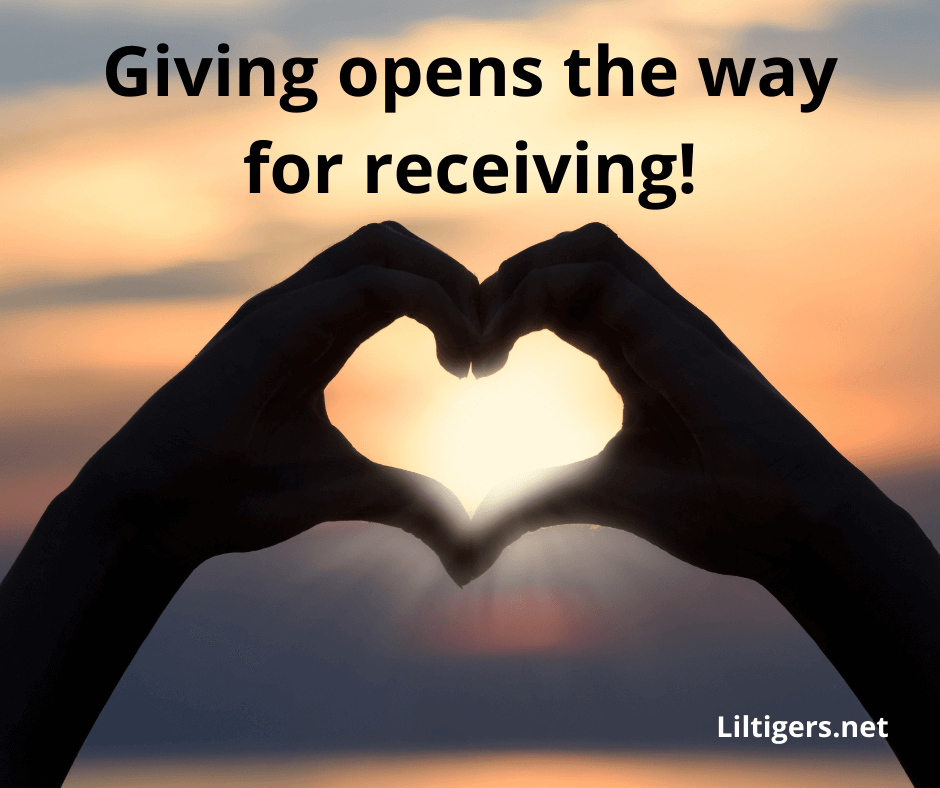 More Quotes
I also like to introduce you to the following quotes for kids:
Giving Thanks Activities
Giving Tuesday can also include simply saying thanks to people you love and surprising them with a small craft or card.
After you are done with these inspiring giving Tuesday quotes and sayings, go check out these fun giving thanks activities next:
If you are a visual learner, check out this DIY Thank You Card video tutorial for our matching grateful quotes.
---
Pin Our Quotes about Giving Tuesday
Don't forget to save our 75 Top Giving Tuesday Quotes for Kids on Pinterest for later! Be sure you are following along with Lil Tigers here.
Now I would like to hear from you!
Which slogan about giving Tuesday did you choose? Did you find a better one?
Either way, let me know by leaving a comment below right now.
I love to hear from you!