DIY Teacher Appreciation Crafts are a great way to start the new school year or say thank you for all the hard work your teacher has done.
These 15 appreciation projects make perfect teacher gifts to show your gratitude.
Let's dive right in and take a look at the full list.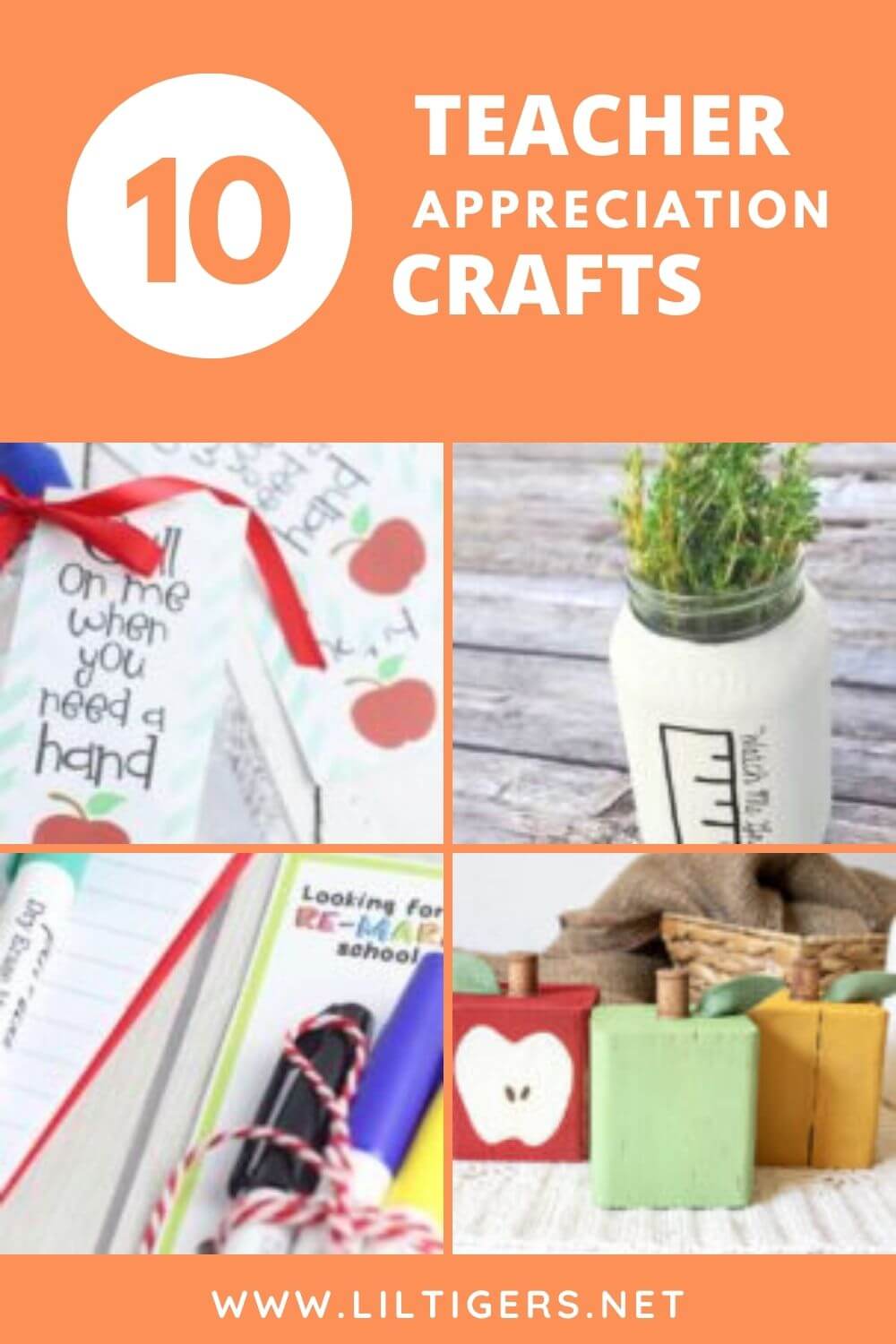 Teacher Appreciation Week
Teacher appreciation week 2022 runs from Monday, May 2nd till Friday, May 6th.
Why do we celebrate teacher appreciation week?
Being a teacher is hard work. Since 1984, National PTA (Parent Teacher Association) has designated one week in May to honor teachers for their hard work educating our children.
During this week children bring thank you cards, little gifts, or crafts to show their gratitude and celebrate their teachers.
What kinds of DIY teacher gifts will be appreciated?
You might wonder which gifts for teachers are appreciated?
According to teachers the best teacher gifts are:
practical
do not take a lot of storage
have a personal touch
My experience as a parent is, that teachers really appreciate practical gifts which can be used in the classroom. Therefore gift cards are never out of style and especially Amazon seems to be a good choice since you can nearly everything there.
But just handing out a gift card might seem a little bit plain, so why not add a personal touch and craft a thank you card with it?
Why not use our Flower Pot Template, or Lady Bug Printable for this occasion and make an individual card out of them?
If that doesn't suit you, just have in mind if you prefer to buy a gift consider that it doesn't take up a lot of storage space in the classroom. It can be pretty tight in there with all the art and craft supplies a teacher needs during the school year.
15 DIY Teacher Gifts
Pressed Flower Bookmarks
Watch Me Grow – Mason Jar Gift
DIY Toothbrush Spray Art Card
Free Thank You for Being a Great Teacher Printable
Back to School Interview Card – "About Me" Apple Craft
Coffee Mug for Teachers
DIY Heart String Art
Apple Block Decor using Scrap Wood
Cricut Teacher Gift Idea: Monthly Plexiglass Calendar
Teacher Hand Sanitizer Gift
First Day Of School Teacher Gift
Paper Airplane Teacher Appreciation Card
Butterfly Appreciation Craft
Mason Jar Thank You Teacher Craft
Are you interested in more kid's activities, arts & crafts, and science experiments?
I have made it easy for you! Simply join our newsletter now and I will send you new fun for kids.
Subscribe for free
Teacher Appreciation Crafts
You may wonder what is a good appreciation gift for teachers, or what can I make for my teacher to show gratitude.
Do not worry, I collected 15 adorable thank you crafts for teachers to show your love and appreciation.
In this list, you will find great teacher homemade gift ideas for either your first or last day of school, your teacher's birthday, or teacher appreciation week.
These ideas for teacher appreciation gifts include free printables and teacher appreciation arts and crafts projects for kids and adults to make.
Most of our crafts can be used for teacher appreciation week, your teacher's birthday, or as a back-to-school gift. I hope your teachers enjoy them!
These adorable pressed flower bookmarks will show your teachers how much you appreciate them and help them to stay organized during the school year!
It gives you and your children the perfect opportunity to go for a walk and pick some flowers. Just be aware that this is not a last-minute teacher appreciation gift and the flowers need time to try.
You will need time to plan ahead!
Photo Credit: juliemeasures.com
This "Watch Me Grow" mason jar makes an adorable first day of school gift and a nice classroom decoration everyone will enjoy.
Be aware you do not have to buy a new mason jar for this teacher's craft. Simply recycle an old glass of your spaghetti sauce the next time!
Create this adorable teacher appreciation card with help of an old toothbrush. Your children will love this spray project and so will your teacher.
All you need is an old toothbrush and some watercolors and you are good to go.
Photo Credit: www.mombrite.com
Your kids' teachers will love receiving this thank you for being a great teacher printable for teacher appreciation week or end-of-the-year. This free template contains fun prompts for your children to fill out.
Since you do not need a lot of supplies for this teacher craft, it is the perfect last-minute gift for busy moms.
Photo Credit: thesoccermomblog.com
This pop-up apple back-to-school interview card is an adorable way for your child to introduce themselves to their new teacher!
It can also easily be changed and used during teacher appreciation week. Simply change the inside with a handwritten note and write thank you on the apple.
Photo Credit: sustainmycrafthabit.com
DIY coffee mug for teachers with the phrase "thank you for helping me grow" to show how much you appreciate their hard work and dedication.
Make this easy heart-shaped nail string art and show your teacher how much you care for her with this adorable DIY teacher appreciation gift idea.
It makes a nice decoration for your classroom or at home.
Photo Credit: sustainmycrafthabit.com
Bring an apple to your teacher's desk. Putting some leftover scrap wood to use, we'll show you how to make adorable DIY apple decorations. They are super cute, especially as fall decorations!
Photo Credit: www.thebestvinylcutters.com
Create a truly useful Appreciation gift for a teacher. This step by step tutorial with shoe you how to create a reusable plexiglass calendar with some adhesive vinyl and a Cricut machine.
Photo Credit: wondermomwannabe.com
This Hand Sanitizer Teacher Gift is quick to make with a cute printable tag. Give hand sanitizer gifts to teachers and all school staff to show you care.
This is a very thoughtful gift, especially during this challenging time we are living in right now!
Photo Credit: onmykidsplate.com
Which teacher does not need markers?
This adorable free printable teacher appreciating gift is super easy to make and will make them smile.
Photo Credit: www.tinydale.com
Make this adorable airplane card and surprise your teacher. It is the perfect craft project for craft lovers and will make your teacher smile!
Photo Credit: handsonaswegrow.com
Another school year is upon us, so why not show your teacher the skills you learned with this adorable butterfly appreciation craft. It is super easy and fun to make for sure!
Photo Credit: realitydaydream.com
This easy mason jar project makes the perfect teacher gift during appreciation week. As your teachers watched you grow over the school year, they can watch their new plant grow and think about you.
Photo Credit: www.diyncrafts.com
Help your teacher to stay organized with this adorable rustic burlap and lace storage can. Buy some new pens to go in it, add a personalized card and you are good to go.
Enjoy!
Do you need advice on How to Introduce Crafting to your Preschooler? Then read our 10 tips that work next.
If these weren't enough teacher appreciation crafts, I like to feature these easy teacher appreciation gift ideas for you:
Now I would like to hear from you! How did you enjoy this list of crafts for teachers from students?
Either way, let me know by leaving a comment below right now.
I love to hear from you!
Pin these DIY Teacher Appreciation Crafts
Don't forget to save these 10+ Teacher Appreciation Craft Ideas on Pinterest for later! Be sure you are following along with Lil Tigers here.
You might also enjoy these adorable 25 Thank you Notes for Teachers, Back to School Activities, Writing with Cars Activity, or ABC Flashcards.
Stay Updated