Are you already excited about Halloween? Then your kids will love this simple Spider Web Art Project.
In fact, this watercolor-resistant painting technique is super easy and a lot of fun! All you need is some watercolor and crayons.
Let's dive right in.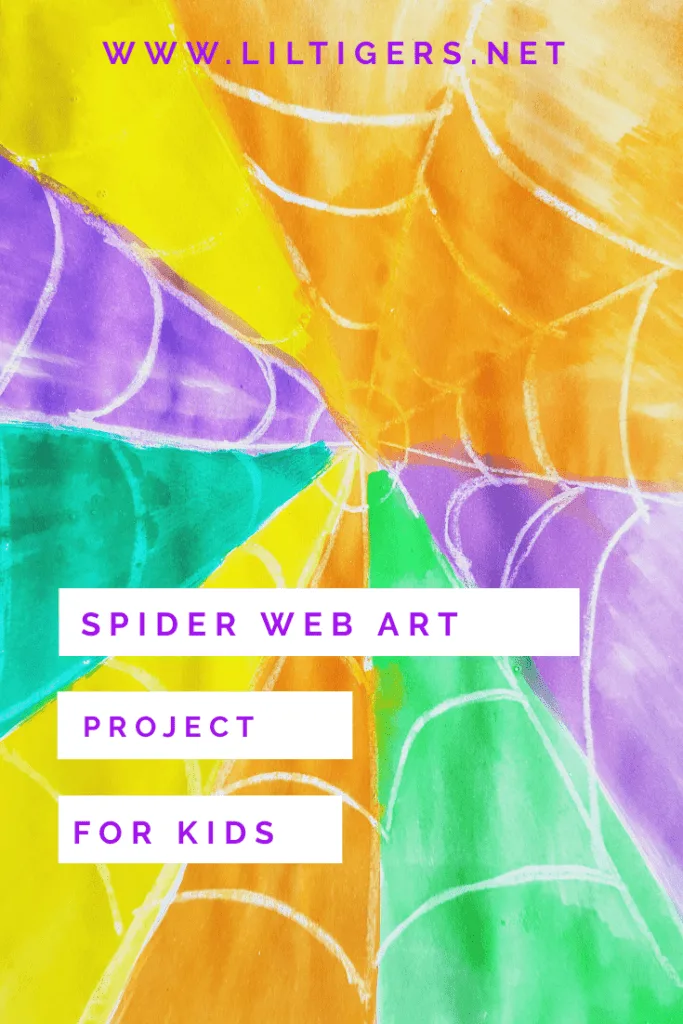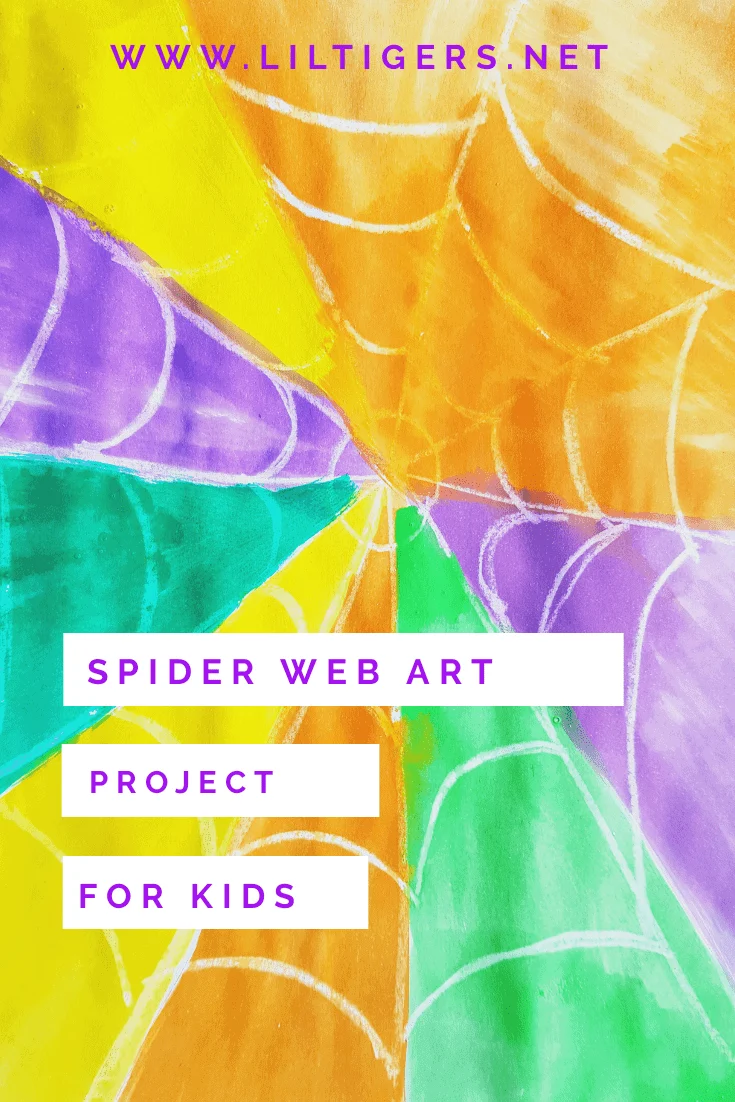 There are affiliate links in this post, meaning, at no additional cost to you, I will be compensated if you click through and take action. As an Amazon Associate, I earn from qualifying purchases.
How to Make Crayon Resist Watercolor Painting

Fall is right around the corner and so is the next official holiday in my house, Halloween. The kids are beyond excited about their spooky events and trick-or-treat.
Already weeks prior we decorate the house and they play with their costumes. Halloween music is running all day long and we tell each other spooky stories.
It's really precious.
It comes naturally to pick seasonal and holiday-related activities. Therefore we picked this adorable Halloween Spider Web Painting Idea.
Are you interested in more DIY Kids Activities, Arts & Crafts, and Easy Science Experiments?
Subscribe to our newsletter now and never miss an update on new ideas for kids or free printables!
Click here
Here is what you will need for this fun spider web painting:
Spider Web Art Materials
These step-by-step instructions are here to help you visualize how to make this adorable watercolor spider web project for preschoolers.
Please scroll down to simply print out the instructions!
Watercolor Spider Web Art Instruction
Step 1: White crayon art
Take a watercolor paper and draw a big spider web with a white crayon over the whole piece of paper.
White oil pastels also work.
If you are not sure how to draw a spiderweb, go check out this easy step-by-step instruction here.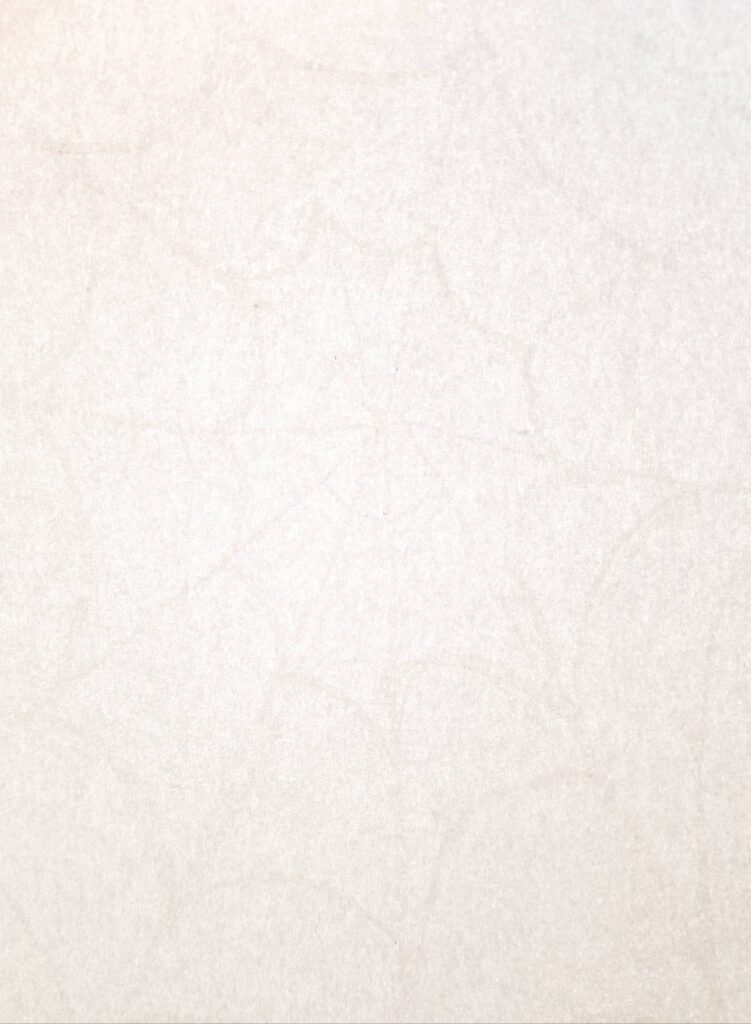 Step 2: Watercolor resist crayons
Take your watercolor kit and start painting over and around your crayon spider web drawing.
You will realize that the white crayon resists the watercolor and your spider web drawing will appear.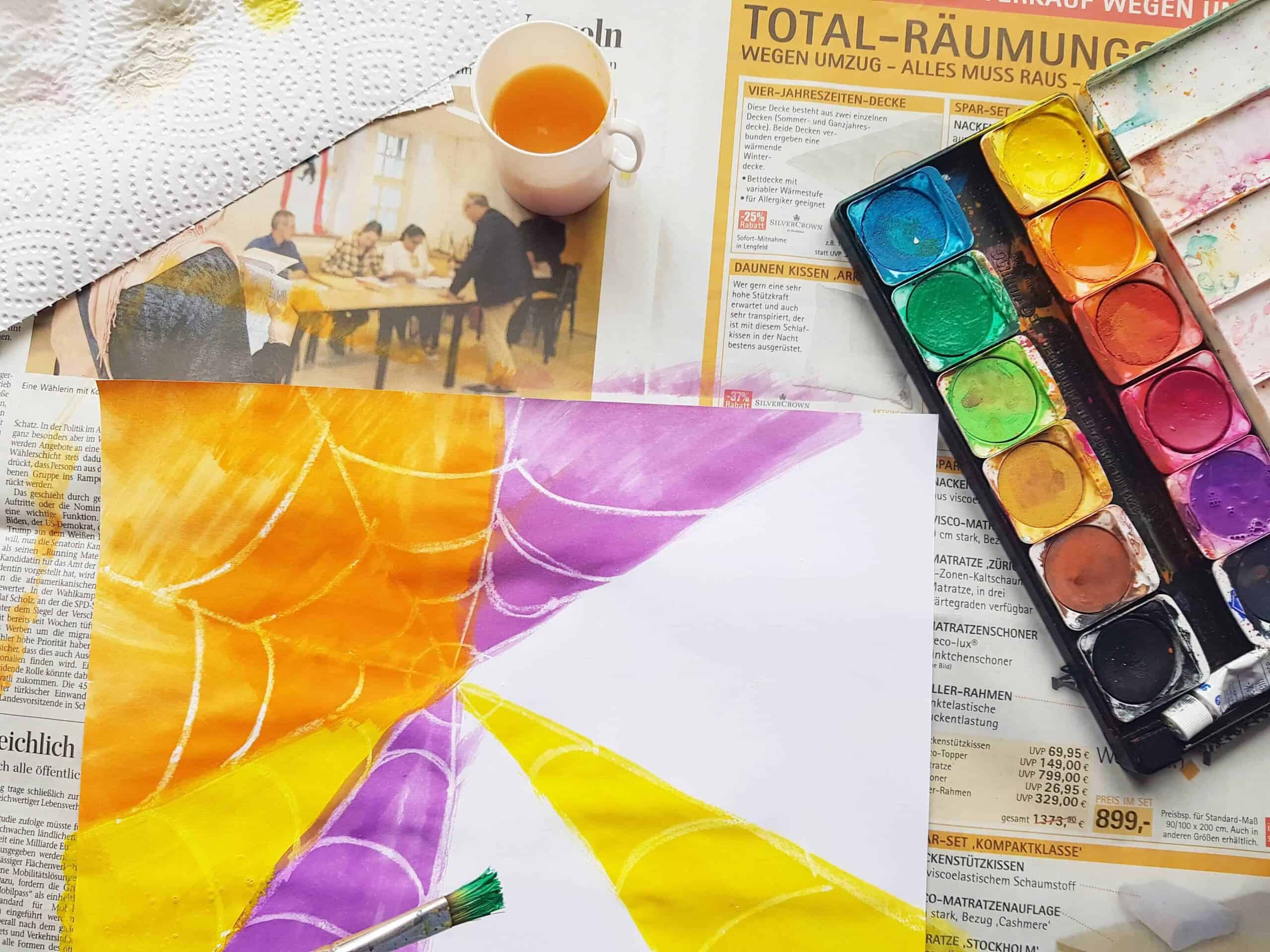 Optional – Step 3: Create a mottled effect
To make it a little bit more interesting for the kids, let them sprinkle salt on the wet watercolor paint.
This will create a creative mottled effect as the salt absorbs the liquid watercolor around it.
Try one of these fun fall activities next. You might enjoy these 15 Easy Pumpkin Art Projects, Fall Sensory Bins, or Fall Salt Painting.
Step 4: Let it try
Let your watercolor resist art try and rub off the salt to display it.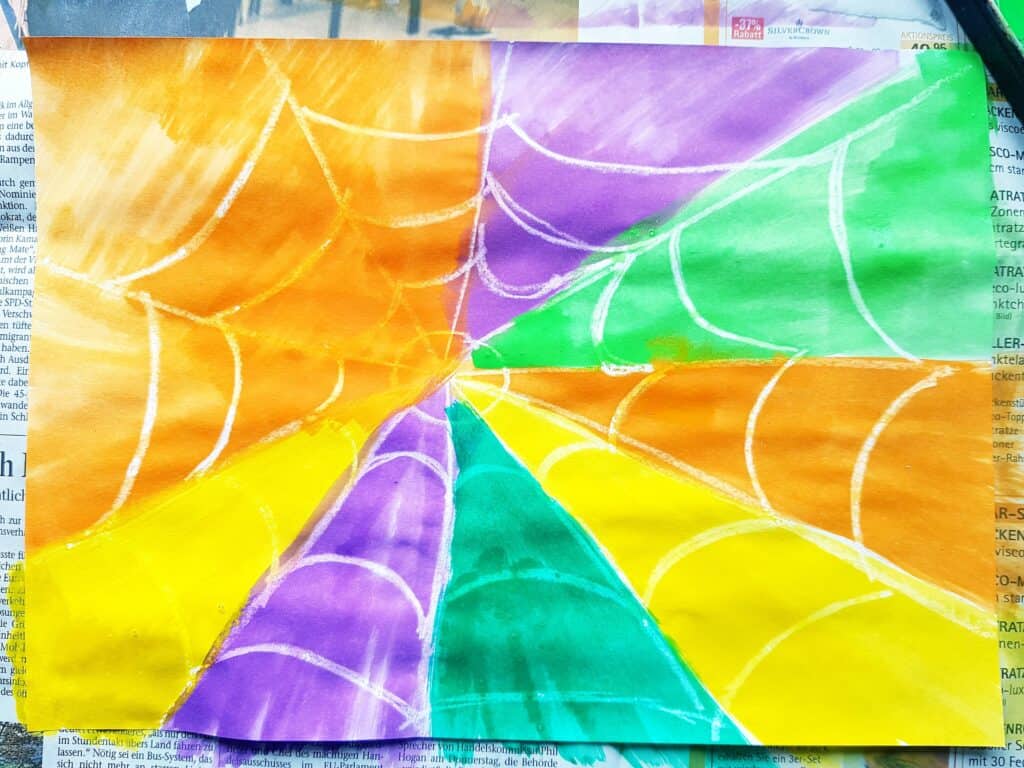 Crayon Resist Art Tip
All crayons are water-resistant if you don't have a white crayon laying around any other light color works in general too.
Why are Crayons Water Resistant
After drawing your spider web and adding your watercolors in step two you clearly can see that your white crayon drawing is watercolor resistant.
Why is that? Crayons are made out of wax and therefore are water-resistant.
Watercolors are made out of color or pigments that dissolve in water. This is why they don't stay on the wax.
The same effect can be seen in nature. For example, the wax is coating leaves in stems. That's why raindrops don't stay on the leaves, instead, they slide off.
These facts and more white crayon art projects can be found here.
Fun Facts About Spiders
Use this fun spider web crayon resist art to teach your children about spiders. Here are some fun facts about spiders:
All spiders can produce silk, but not all spiders spin webs.
Spiders can spin 7 different types of silk. To catch insects, they produce silk with a special clue.
Spiders make a nest for their eggs and attach it to their spider web.
Did you know, that a few large spiders eat birds and lizards?
The largest spider on earth is called the Goliath bird eater. She lives in South America in Brazil and Venezuela. She belongs to the tarantula family.
These and more fun facts about spiders for children can be found here.
If you like to learn more about spiders check out these books:
Summary Spider Web Art Project
White crayons won't collect dust in our house anymore.
There is so much more to do with them than just coloring Halloween spider web art. You can use this crayon resist watercolor technique to write secret messages, lunch box notes or even learn the ABC.
In case you are in need of Lunch Box Note Ideas or free printables, go check them out in the link. You will love them!
White crayons can bring fun to every age group in the most creative ways.
We also read the book "The very busy spider" by Eric Carle prior to our fall art project. Especially my toddler enjoyed looking at it and feeling the different textures of the spider web.
It's perfect for it because the spider web in the book also has a special texture. Here is the link if you are interested in the book.
Now I would like to hear from you!
How did you enjoy this easy crayon resist art project?
Either way, let me know by leaving a comment below right now.
I love to hear from you!
Are you a visual learner? Here's a video of paint resist spiderweb art.

Pin This Spider Web Craft for Preschoolers
Don't forget to save this easy spider web art activity on Pinterest for later! Be sure you are following along with Lil Tigers here.
Stay Connected
Spider Web Art
Learn how to make spider web artpiece with white crayons.
Materials
white crayon
watercolors
paint brush
paper
Instructions
Draw a spider web with the white crayon on your paper.
Take your paint brush and draw over the spiderweb with water colors.
Let it try.