If you do not like to write your note for lunch boxes yourself, simply grab our free printable lunch notes below.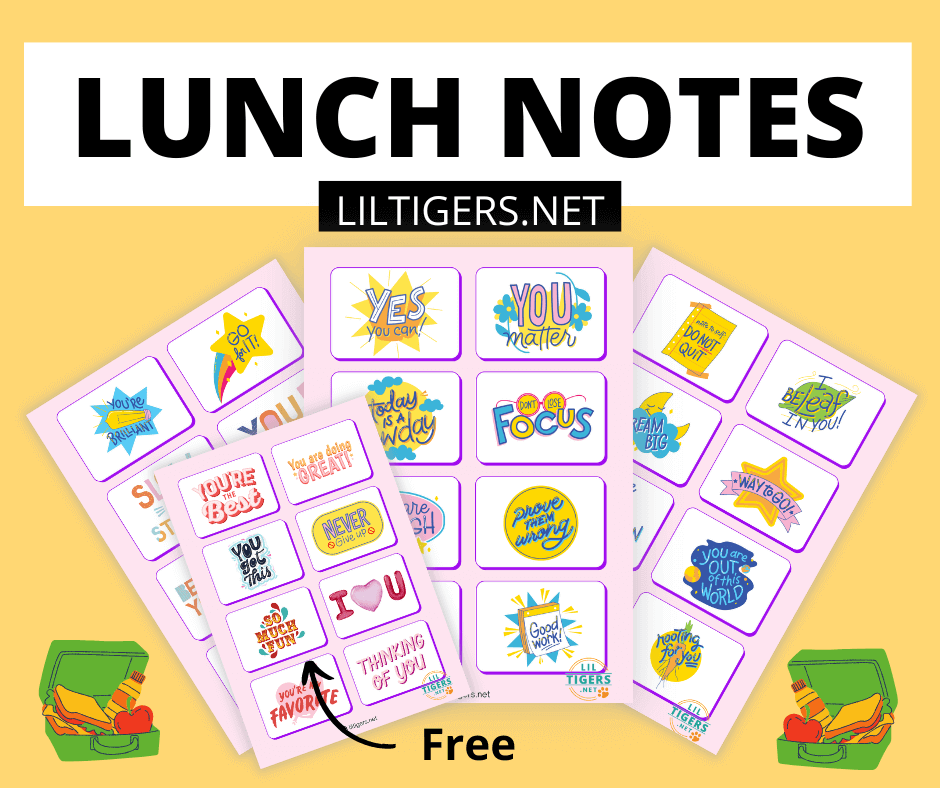 Benefits of Lunch Box Notes
You might wonder why you should write a lunchbox note to your daughter or son. Lunch box messages come with several benefits.
Here are just 5 Lunch Box Note Benefits:
Helps with reading
Shows unconditional love
Improves communications skills
Models thoughtfulness and care
Provides a subject to talk about at the lunch table
If you write little notes for lunch to your child, it will help them with their reading while showing unconditional love.
It helps improve communication skills and models thoughtfulness and how to show care toward others.
Lunch box notes do not always have to be encouraging notes, they can be funny riddles, stories, or even facts.
Make them interesting and they will be for sure a talking point at the lunch table. Go check our other fun lunch box ideas below and be the cool mom.
To learn more about the benefits of lunch notes and why they are a bridge to build relationships and encouragement here.
What Do You Write on a Lunch Box Note?
Do you like to make a lunch box note but are uncertain about what to write on your lunch message?
There are many different things you can write on your note for lunch boxes.
First of all, you will have to decide if you prefer them to be handwritten or if you prefer to print them out and just add them to your box.
Below you will find several lunch box quotes you can either handwrite on nice post-its or even stickers.
If you do not like to write them yourself, I also attached easy lunch box note printouts.
Other Fun Lunch Box Ideas
But it doesn't always need to be an inspirational or encouraging lunch box note, there are many other options out there.
Here are 12 Fun Lunch Box Note Ideas for you:
Add a Family Photo
Kid's Jokes
Write a Poem
Write a Riddle
Add Strange Facts
Recall a Happy Memory
Draw a Funny Picture
Continuing Stories

Create a Game (tik tak toe)

Get Stickers
Reminders
Holiday Theme
Free Printable Lunch Box Notes
Since we found out their several benefits to writing lunch notes and went through different idea options, here are finally our 70+ Lunch Box Quote Ideas for you:
Lunch Box Messages for Kids
I know you will pass your exams with flying colors!
Yes you can!
If you do your best, everything will fall in place.
You are the apple of my eye.
Don't lose focus.

Smile to make someone's day better.

I know how much effort you have put in for your test, and I know you will get the "A" you want.
Do your best, and if you don't succeed at first, try again!
You are enough!
If you are having a rough day, don't worry. Tomorrow will be better. Hugs are waiting for you at home.
Laugh today!
Never give up.

Have a good day at school today.

Be a leader today.
Today is a new day!
Don't worry. Be happy.
Reach for the stars.
Dream big.
Eat up buttercup!
Today is a big day for my little superstar.
You matter!
Today will be easy peasy lemon squeezy!
Every step you take is one step forward towards your goal.
You can do it!

You are a Rockstar.

Good work!
You are the best.
Good luck!
Healthy food will make your brain work faster. Eat your lunch so that you can finish your homework in no time later.
You are doing a great job!
Smile, I love you!
You look marvelous.
You are awesome!
Thanks for being you.
Shine bright.
May the force be with you.
You are golden.
Go, knock 'em out!
May you have a fabulous day.
You are perfect in all ways.
I love you more than frosting!
This lunch was made with love by a loving mother for a loving child.
You are 1 in a melon!
I beleaf in you!

Mommy loves you.

Daddy loves you.
If your lunch box has leftovers, they might feel sad. Better finish them up!
Have a happy day!
Rooting for you.
You are out of this world.

Always remember that we love you.

You are amazing.
Go for it!
You make my heart smile.
Every day is a party, so dance.
You make the world a better place.
Keep on going
You make my heart happy.
I am so proud of you.
You rock!
Don't forget to drink water.
Enjoy your lunch.
You are a one-in-a-million.
Believe in yourself.
You are out of this world.
Reach to new heights today!
You are superb in every way.
Tight hugs to my little superhero.
More people should be like you.
Do your thing
You have a wonderful smile.
Good afternoon, Pumpkin. Mommy is thinking about you.
Keep up the good work. I love you.
Be a smiling monster today.
You are the coolest kid I ever know.
Today is your best day.

You can achieve anything if you put your mind to it.
Do not forget to download your free printable lunch box notes below.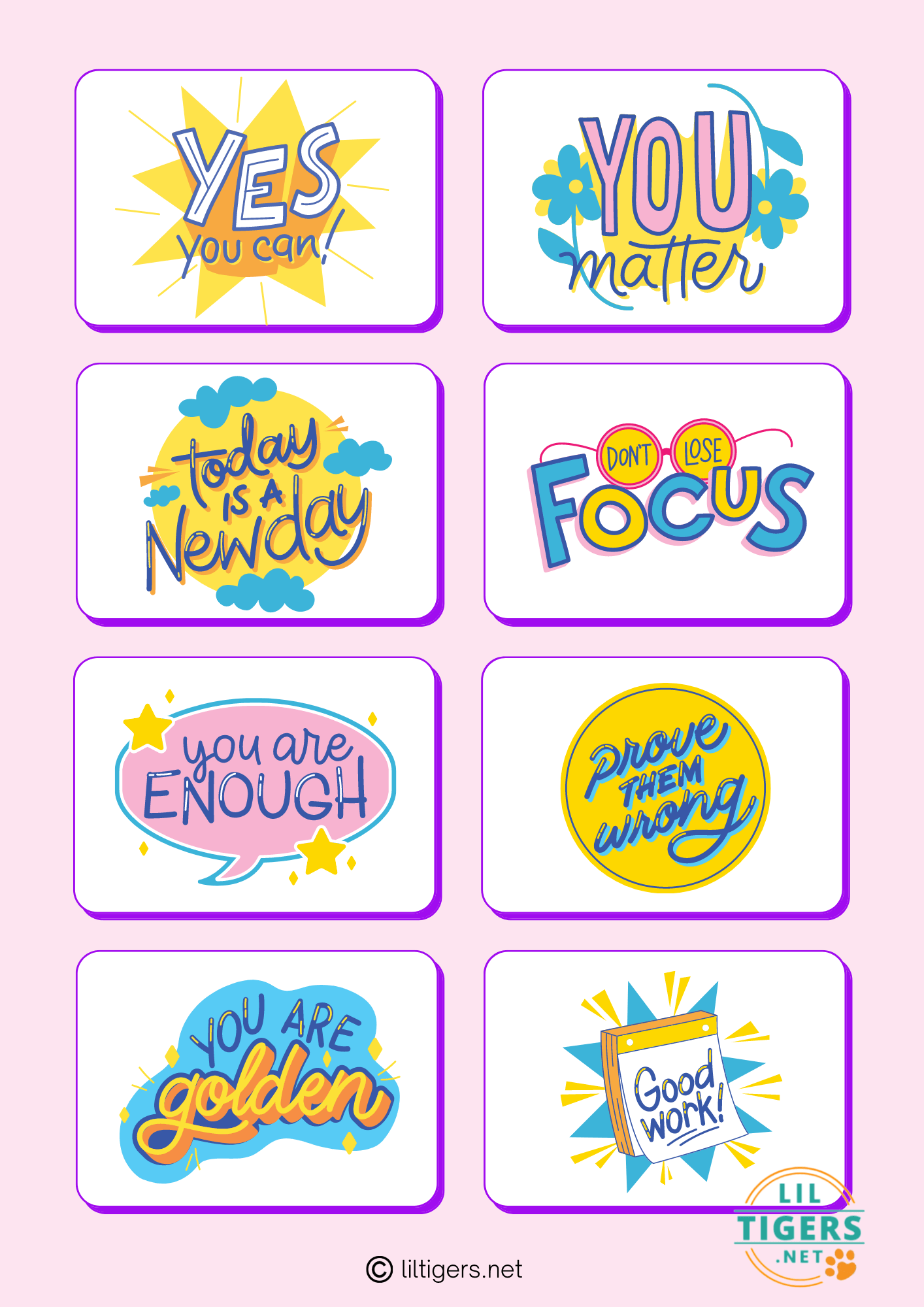 To find more lunch quotes for kids, check out our complete list of different seasons, occasions, and holiday messages here.
Healthy Lunch Box Snacks
Fruit and Vegetables:
Apples
Oranges
Grapes
Blueberries
Strawberries
Raspberries
Cherries
Carrots
Broccoli
Cucumbers
Celery
Sometimes it also helps to make your food representable to make it more interesting and encouraging for your children to eat.
For example, I love to make Fruit Sparklers for the kids or hide vegetables.
One of my favorite recipies are these delicous Carrot Cake Muffins. Give them a try!
---
Must Have Lunch Box Items
Now all you need is a nice lunch box and some must have items to prepare a healthy and fun lunch.
Here are some nice lunch box items you should have at home:
How to Download Your Free Printable Lunch Box Notes Pdf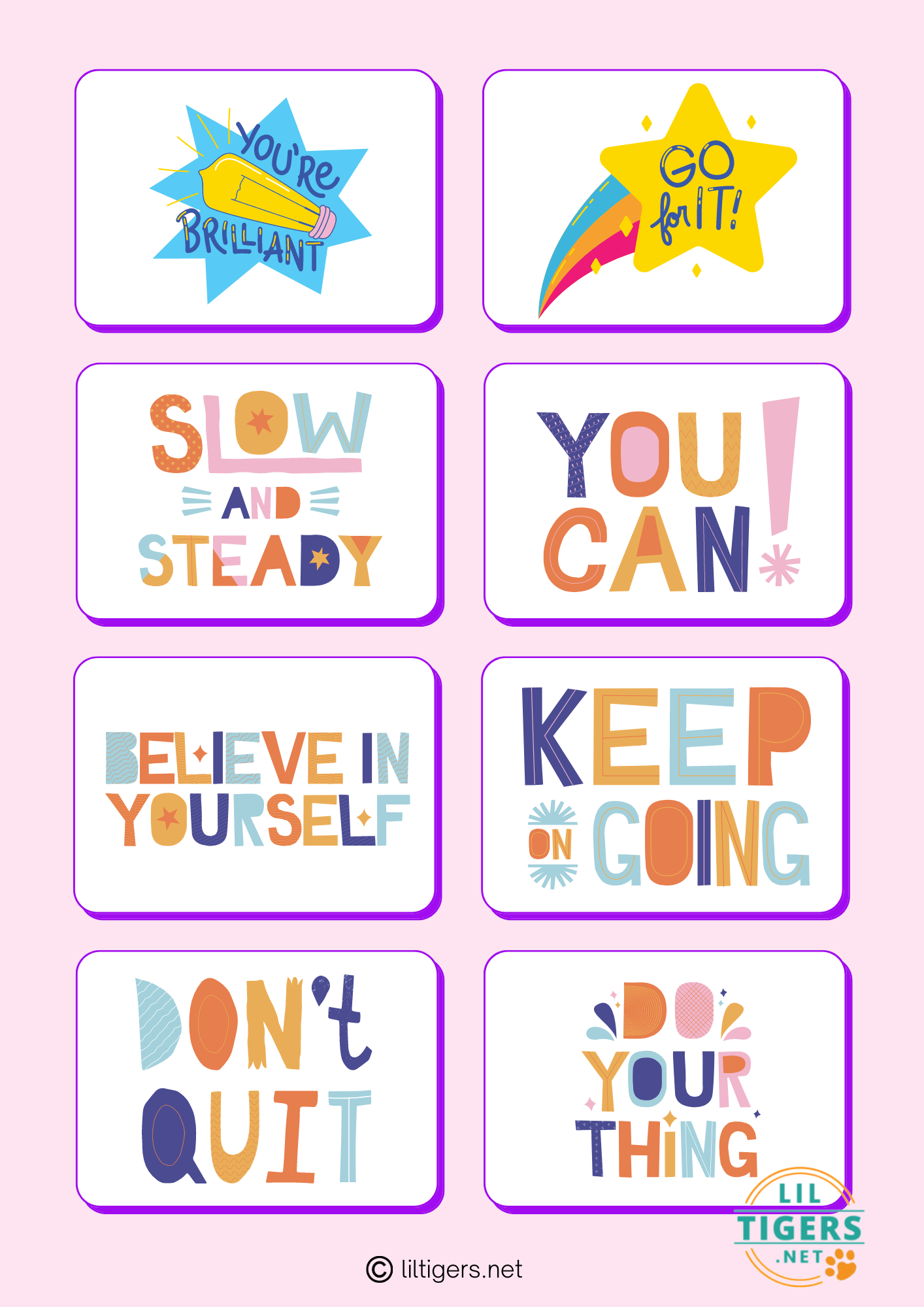 Pin Our Children Lunch Box Notes