Enjoy these Easy Popsicle Templates with your kids and create an adorable popsicle garland with them.
This bubble wrap painting activity will keep your kids busy not only during summer break.
Let's dive right in.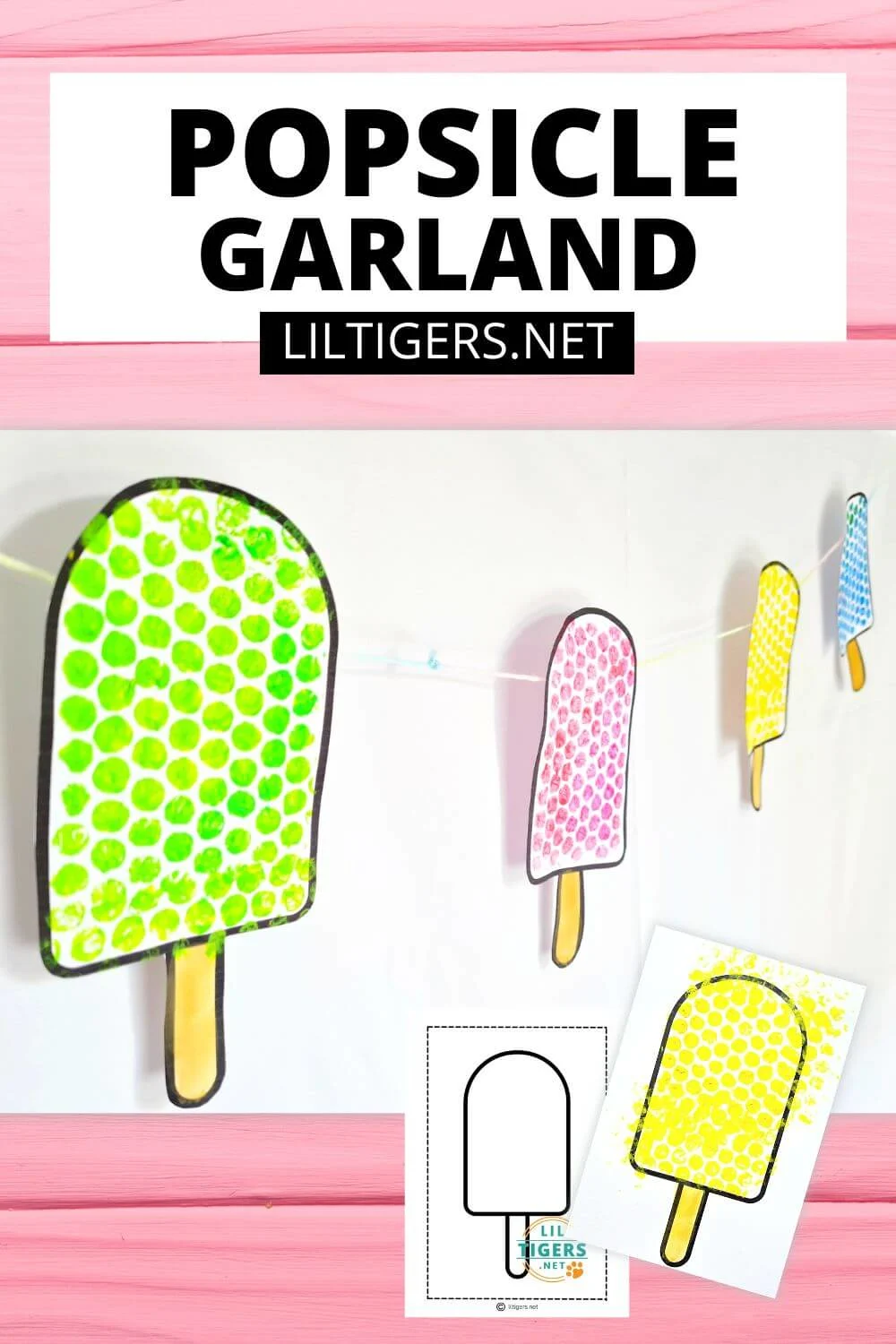 There are affiliate links in this post, meaning, at no additional cost to you, I will be compensated if you click through and take action. As an Amazon Associate I earn from qualifying purchases.
Clean Ice Cream Jokes for Kids
Before we get started with our popsicle craft templates, let's have a look at some clean ice cream jokes.
Why does everyone invite ice cream to the party? It is cool!
Did you hear they passed a law banning ice cream? Don't worry, it was ruled un-cone-stitutional!
Why is ice cream so bad at tennis? They have a soft serve.
What kind of ice cream do pigs like best? Hoggin Daz!
Why does the ice cream man go so slow? Because he is a sundae driver!
What is ice cream's favorite TV show? Game of Cones
What are ice cream cones like as parents? They are big softies.
Ice Cream Books for Kids
Here are some fun books to go well with our ice cream sayings for kids:
---
Join Splat and his class on a field trip to an ice-cream factory and read along.
Using vocabulary that is perfect for beginning readers, the author has crafted a funny story about the challenges of doing the right thing.
Popsicle Template and Coloring Pages
The weather slowly gets warmer and my kids already asking for their favorite summer treat: popsicles.
I mean really who doesn't love ice cream in every shape and form besides us grown-ups who worry too much about their calories and figure? Children on the other hand run them off in a hard beat.
Since I love hosting ice cream parties for my kids, we always looking for fun activities for their ice cream social. This year we came across these easy ice cream templates and decided to make a popsicle garland out of them.
We used the plane popsicle templates for the garland and the printable popsicle coloring pages during the party as an art and craft project to entertain the children.
DIY Popsicle Garland
Of course, there are many different ways you can use our popsicle printables.
You can use crayons, markers, Watercolors, make a Salt Painting out of it, use an old toothbrush for the Spray Painting Technique, etc. the possibilities are endless.
For this tutorial, we decided on showing you how we made our popsicle garland with the help of the bubble wrap painting technique.
Here is what you need for them:
Popsicle Template Materials
Did your kids enjoy this popsicle garland craft? Then try our Ice Cream Quotes, Cupcake Printables, Ice cream Templates, Smore's Craft next, or build a Foil Stream.
Instructions for Bubble Wrap Painting Garland
These step-by-step instructions are here to help you visualize how to make this adorable summer garland with the help of bubble wrap painting.
Please be aware that kids using bubble wrap should be supervised by an adult.
Let's get started:
Step 1: Download Free Printable Popsicle Templates
For the garland, you will need our plain popsicle outline printable. Sign up for our newsletter and get instant access to our free printable library.
Step 2: Prepare Your Workstation
Before we get started with our bubble wrap project it is time to prepare your child's workspace.
Layout all the needed materials on your child's table. You might consider covering your work area using old newspaper to avoid a big clean-up.
Step 3: Cut the Bubble Wrap
First, cut the bubble wrap with the scissor approximately the same size as your popsicle outline.
Step 4: Paint Bubble Wrap
Then paint the bubble wrap with the help of your paintbrush in the preferred color.
We used watercolors but all liquid colors will do.
Make sure to be generous with your paint and clean your paintbrush thoroughly before using a new color.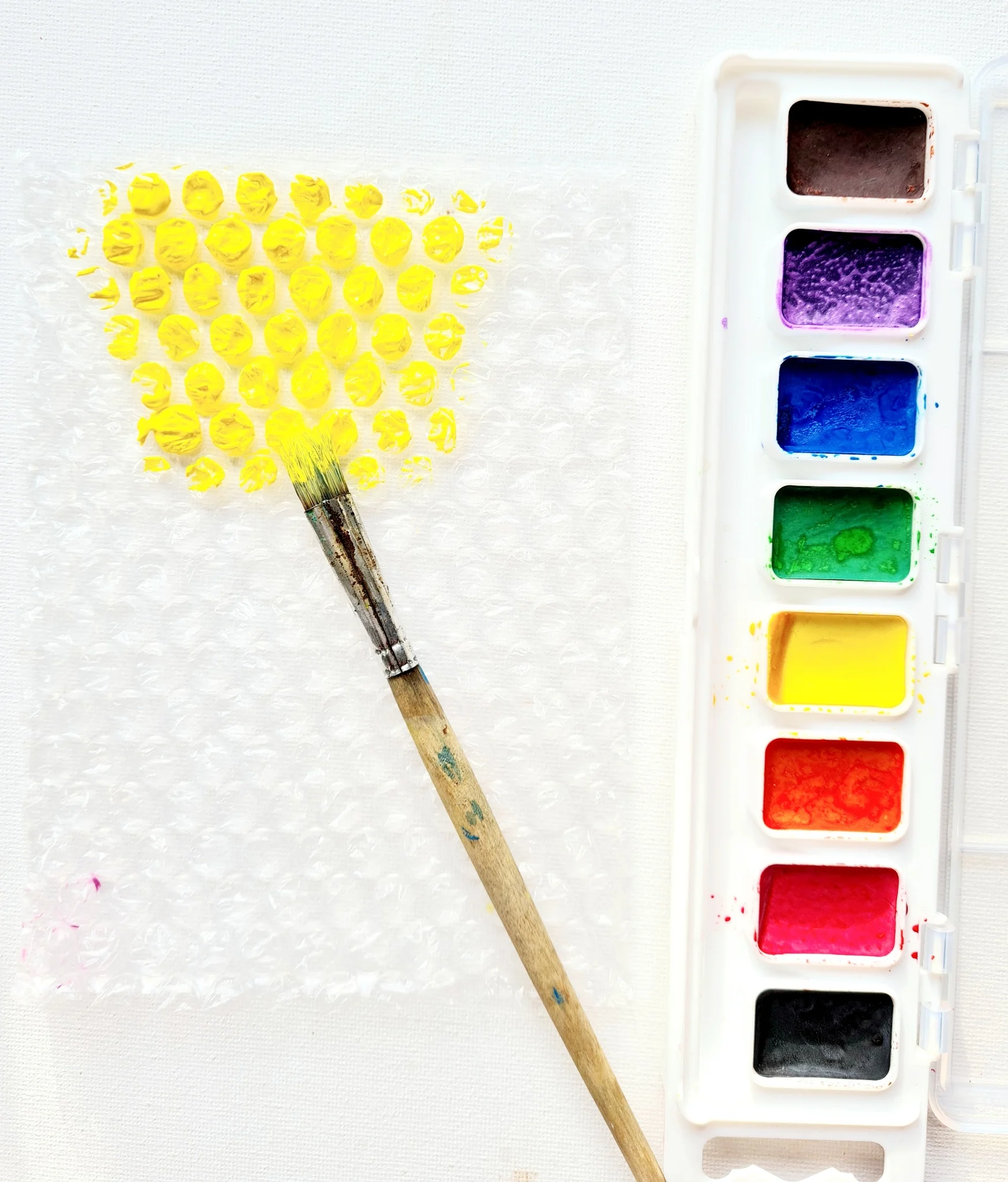 Step 5: Stamp
Once you are done with step 4, turn your painted bubble wrap around and use it as a stamp.
Place the colored side on your popsicle cut-out template and press firmly down with your hands.
If that seems too messy or difficult for your children, there is an alternative: Take your popsicle printable template and press it on the bubble wrap with the popsicle outlines downside facing.
Step 6: Lift the Paper
After you apply enough pressure to stamp the color from the bubble wrap onto the paper, carefully lift the bubble wrap or paper.
Step 7: Let your Popsicle Templates Try
Now it is time to let it try.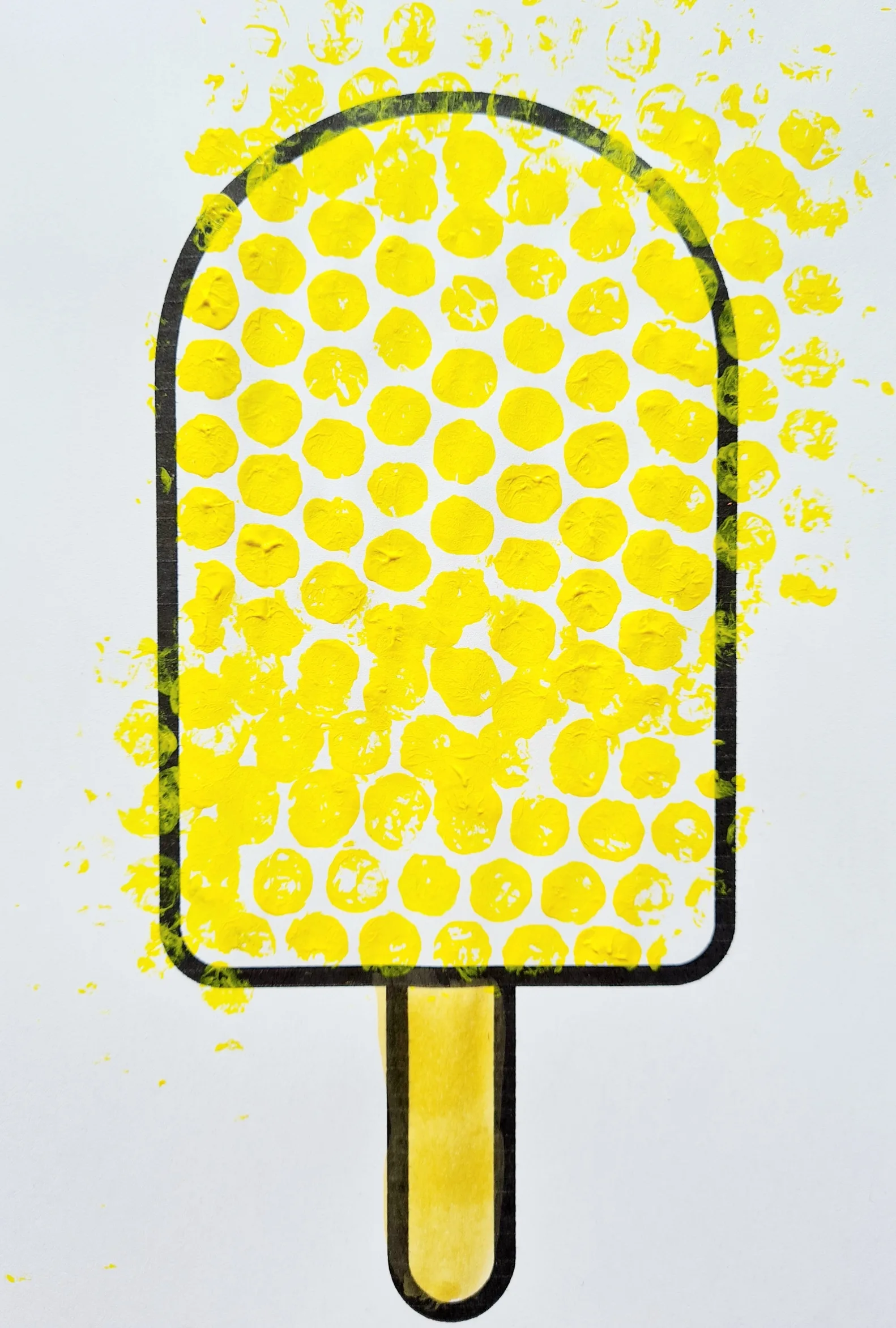 Step 8: Cut Out Your Popsicle Templates
When your popsicle craft template is tried, take your scissor and cut the popsicle along the line.
Step 9: Attach Tape
At the end take all your popsicle cutouts and attach them with the help of tape to a string to hang up your finished popsicle garland.
Now all you have to do is to hang it up and enjoy your summer decoration.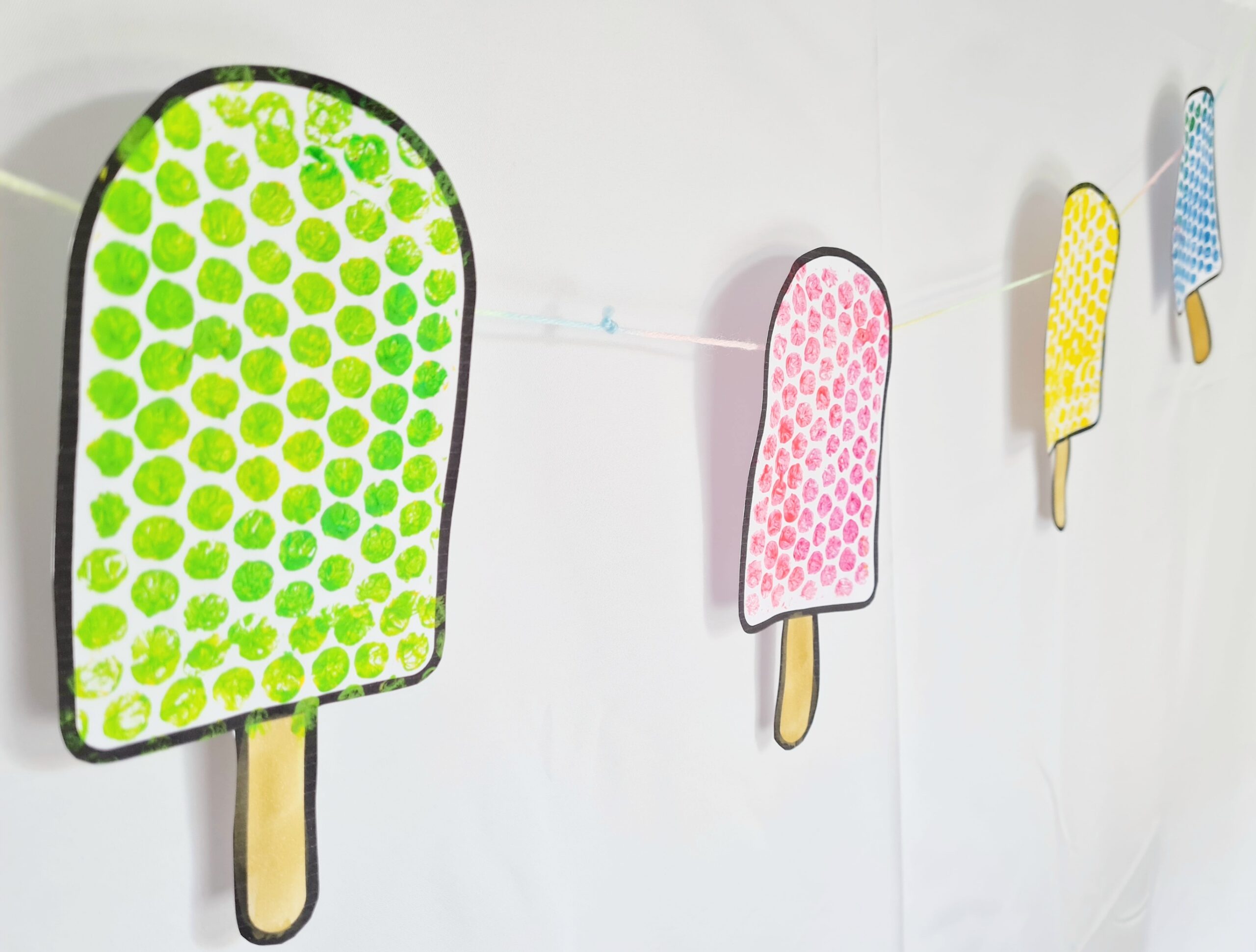 How to Download Your Popsicle Printables
Sign up here for our newsletter and you will receive the link to our cute popsicle printout for free.
Already a subscriber? Don't worry, no need to subscribe twice.
I just updated our free printable library. You can find our popsicle cut-out template and coloring pages there or check our newest newsletter for more information.
If you have any questions, please do not hesitate to reach out to me. I m happy to help!
Pin this Popsicle Template Craft
Don't forget to save these popsicle craft templates on Pinterest for later! Be sure you are following along with Lil Tigers here.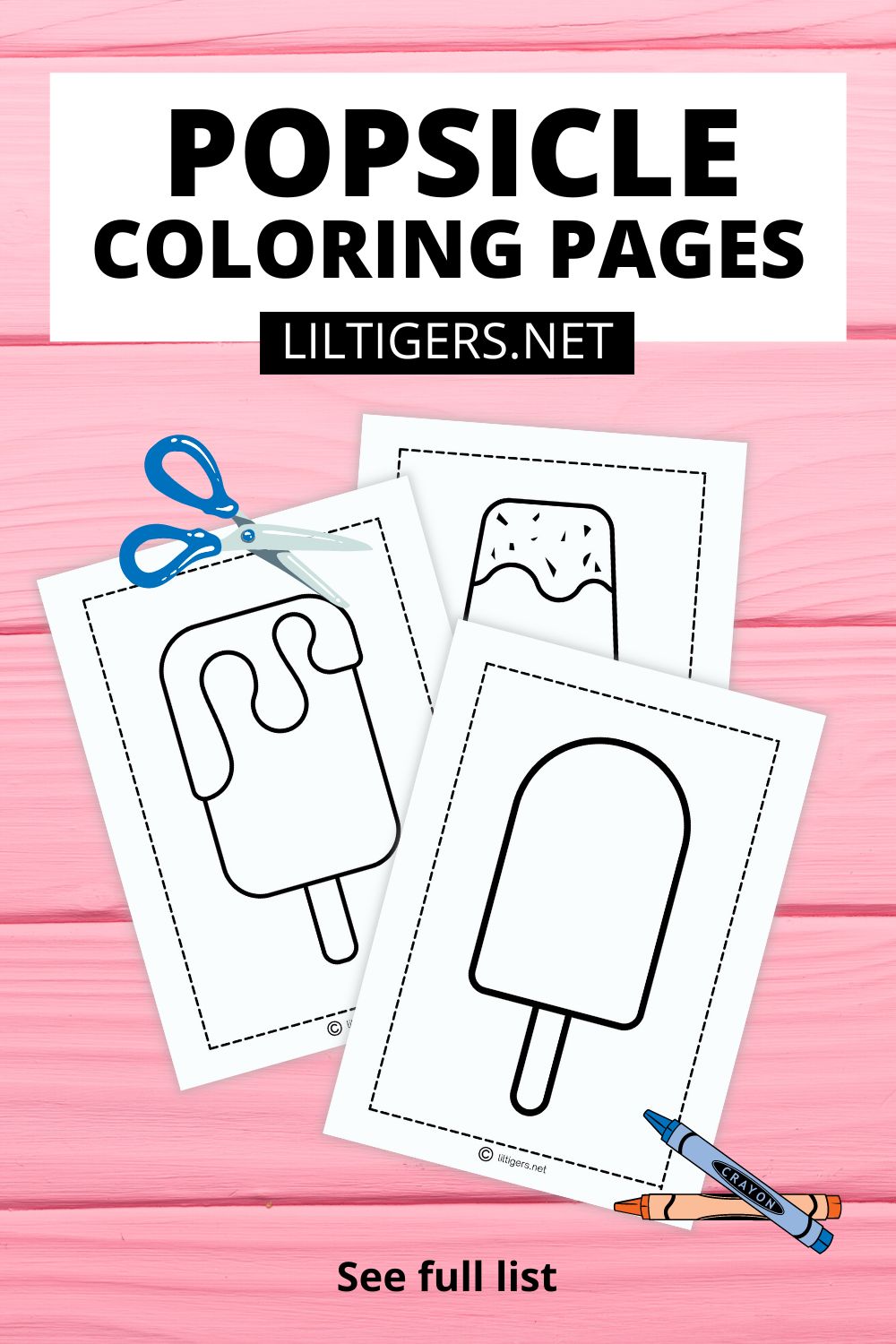 Now I would like to hear from you!
How did your kids enjoy their printable popsicle template?
Either way, let me know by leaving a comment below right now.
I love to hear from you!
Follow us on Facebook, Instagram, Pinterest, Tik Tok, and join our Facebook group "Free Kids Activities Arts & Crafts" for more fun DIY Kid's Activities, Arts & Crafts, and Science Experiments.