Use our Free Printable Ice Cream Template for a fun summer afternoon full of crafting and discovering color patterns.
Our free ice cream scoop templates include a wonderful coloring page, an ice cream template printable for crafting, and a pattern card.
Let's dive right in and find out how to download our ice cream printables for free.
Ice Cream Books for Kids
Here are some fun books to go well with our ice cream template printables for kids:
---
Join Splat and his class on a field trip to an ice-cream factory and read along.
Using vocabulary that is perfect for beginning readers, the author has crafted a funny story about the challenges of doing the right thing.
Free Ice Cream Templates
Which child doesn't like ice cream? So why not combine their love of ice cream with this wonderful summer craft, learn about patterns, and treat them afterward with a cool treat?
This adorable summer project is suitable for preschoolers and makes a creative classroom activity/game, ice cream party craft, or home project.
Enjoy!
Easy Ice Cream Craft for Kids
Playing with these ice cream cone templates is a great way to teach your children color recognition, and the concept of patterns, help them improve their fine motor skills, and learn to focus.
There are so many different ways how to use our free ice cream templates. You can simply color them, cut them out on colored paper, or let your kids be creative.
We decided to cut them on colored paper and use the pattern cards with it. In the following instructions, I will show explain everything to you.
Ice Cream Template Materials
Plain and Colored Paper
Pencil
Scissor
Did your kids enjoy this easy ice cream game? Then try next our popular Ice Cream Bar or make these delicious Strawberry Popsicle at home! Or why don't you through an ice cream party? They are so much fun!
If you prefer to keep crafting, give our Cupcake Printables, or Popsicle Templates a try.
Instructions for Ice Cream Templates
Step 1: Download Outline Ice Cream Template
Print our free ice cream cut-out template on white computer paper.
Step 2: Cut the Ice Cream Cut Outs
Next cut out the ice cream cone template and pattern cards.
Step 3: Copy the Shapes
Use the finished cutouts to copy them with a pencil on colored paper. Then cut them out again as often as you need them. To use the pattern cards you will need 3 scoops in yellow, pink, and blue.
Step 4: Ice Cream Game
Now you can use our free pattern cards and work on your children's preschool skills.
Therefore print out our free pattern cards and cut them along the line.
Then simply place the cards next to your cut-out ice cream cone pattern craft and let your child arrange the ice cream scoops matching the colors on the cards.
Of course, that is only possible if the ice cream scoops cutouts match the colors on our pattern cards. For this to happen you will have to plan in advance and make sure you have enough scoops in the right colors cut out.
In case your child likes to play with the pattern cards, I advise you to laminate them.
This way they last longer and can be reused over and over again.
Do the same with your finished ice cream template and save it as a keepsake. It will stay nice for many years to come.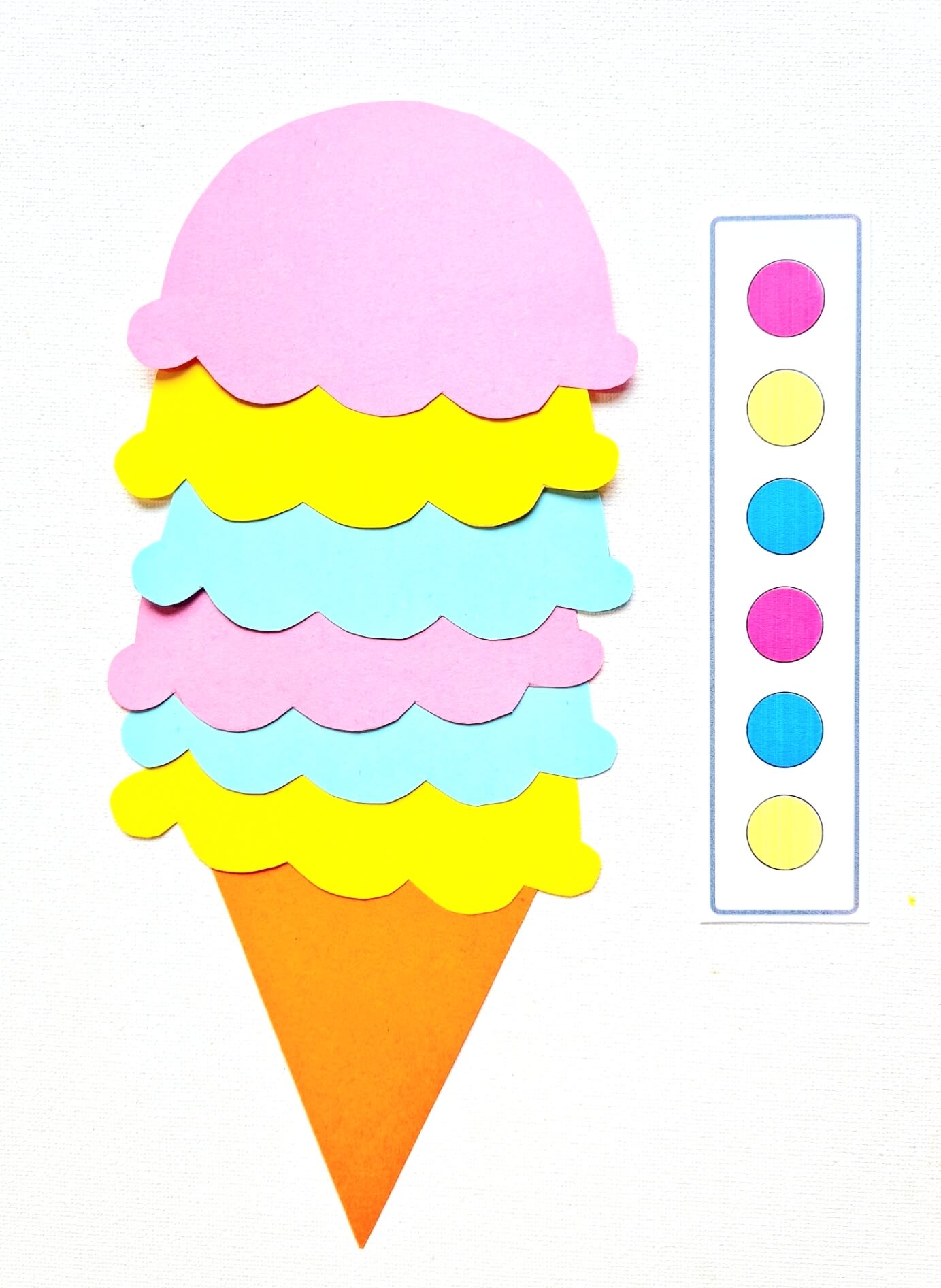 Step 4: Paste (optional)
When your child is done playing with the ice cream scoop let them glue the cones on white paper and your ice cream cone craft is done.
Ice Cream Cone Crafts
Your child is already finished with our ice cream art and craft project? Do not worry, here are a couple of more ideas on how to use our printable ice cream templates.
They are all suitable for toddlers and preschoolers. Older children might enjoy project nr. 2.
We will definitely try these ice cream craft ideas the next time we are using our ice cream coloring pages.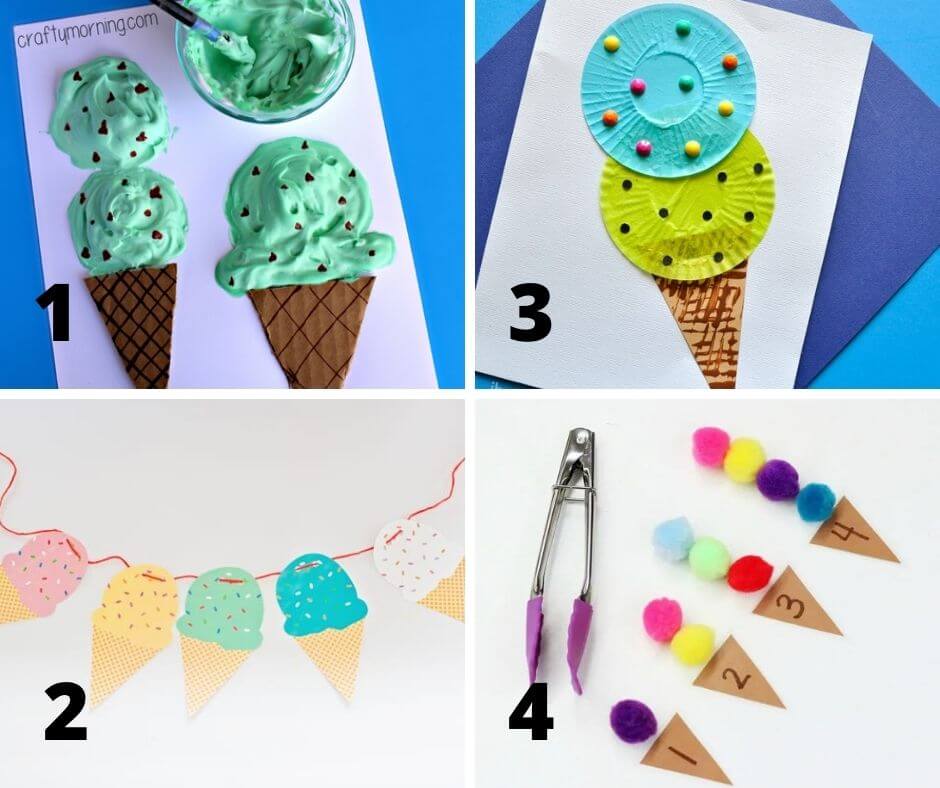 Puffy Paint Ice Cream Cones
This ice cream cone craft shows you a fun way of using our ice cream template. Make your own puffy paint and decorate it nicely to create a 3 d effect. For the cone, they used cardboard paper. You can find the puffy paint recipe at the link above!
Cupcake Liner Ice Cream Cones
Here you simply use fun colored cupcake liners instead of printing our ice cream scopes. Then use crafting materials you already have at home to decorate them nicely. You can use pom poms, glitter, sprinkles, etc.
Ice Cream Template Garland
Turn our ice cream printables into a fun summer garland and use it to decorate for your next party. Simply print our outline ice cream template, cut and paste them together and attach them to string to create a beautiful ice cream garland.
Ice Cream Counting Game
You can not only learn colors and how to follow patterns with our fun ice cream scoop template. You can also use it to learn to count. In the picture above they used pom poms but instead, you simply can write the numbers on our ice cream scoops direct as well.
Ice Cream Quotes
You can also use our ice cream templates to craft invitations for your next summer party.
Use one of our fun ice cream quotes and make them a hit.
Here are some fun ice cream quotes to inspire you:
"Life is better with sprinkles!" – Unknown
"I scream, you scream, we all scream for ice cream!" – Howard Johnson
"When life melts, have ice cream!" – Unknown
"It is never too cold for ice cream." – Unknown
"You can't buy happiness, but you can buy ice cream, and that's pretty close." – Unknown
"There is always room for ice cream." – Unknown
"In a world full of plain vanilla, be a scoop of rainbow sherbet!" – Unknown
See our full list of 100 Ice Cream Quotes here.
How to Download Your Ice Cream Scoop Template
Simply sign up here for our newsletter and you will receive the link to our easy ice cream printables.
Already a subscriber? Don't worry, no need to subscribe twice.
I just updated our free printable library. You can find our ice cream templates and coloring pages there or check our newest newsletter for more information.
If you have any questions, please do not hesitate to reach out to me. I m happy to help!
Pin this Printable Ice Cream Cones Craft Template
Don't forget to save these ice cream cutouts and color pattern cards! Be sure you are following along with Lil Tigers here.
Now I would like to hear from you!
How did your kids enjoy this fun summer craft?
Either way, let me know by leaving a comment below right now.
I love to hear from you!
Follow us on Facebook, Instagram, Pinterest, Tik Tok, and join our Facebook group "Free Kids Activities Arts & Crafts" for more fun DIY Kid's Activities, Arts & Crafts, and Science Experiments.