Are you obsessed with luminaries around the holidays? Then try these fun flame-free Halloween Luminaries DIY.
All you need is a black marker, white paper lunch bags, and flame-less tea lights. Let's dive right in.
Flame-Free DIY Halloween Luminaries
The days are getting shorter and it is getting cold and miserable outside. We already started the fireplace to keep us warm and it's time to get into the holiday mood.
For each season we love to look for new craft ideas for kids to decorate the house. Especially everything with lights is a hit during this time of year.
Of course, we are always craving pumpkins for Halloween and decorate them on our front porch but this time we actually were looking for a creative Halloween window decoration.
This is when we came across this easy paper Halloween luminaries DIY and I thought we give it a try.
What I like most about these super easy DIY Halloween luminaries is that they are kids and pet-safe. Nothing worse than worrying about open flames with a small toddler or pet in the house.
Another big bonus of these Halloween paper luminaries is that they are not only cute but also one of the simplest easy craft projects for kids on my blog.
Are you interested in more DIY Kids Activities, Arts & Crafts, and Easy Science Experiments? Subscribe to our newsletter now and never miss an update on new ideas for kids or free printables!
Click here
How to Make Illuminaries for Halloween
Making your own luminaries is not as hard as it looks. Here you will find a short supply list and instructions on how to make illuminaries for Halloween!
Ghost Paper Luminary Materials
But let's take a look at what we will need for these fun Ghost Halloween luminaries:
black marker
white paper lunch bags
flameless tealights
Halloween Luminaries DIY Instruction
The instruction for our Halloween craft is super easy. Let's take a look at the full step-by-step tutorial now.
Step 1: Let's create ghosts
Start by drawing ghost faces on your white paper lunch bags with a black marker. We did silly, happy, sad, scary, goofy faces, etc.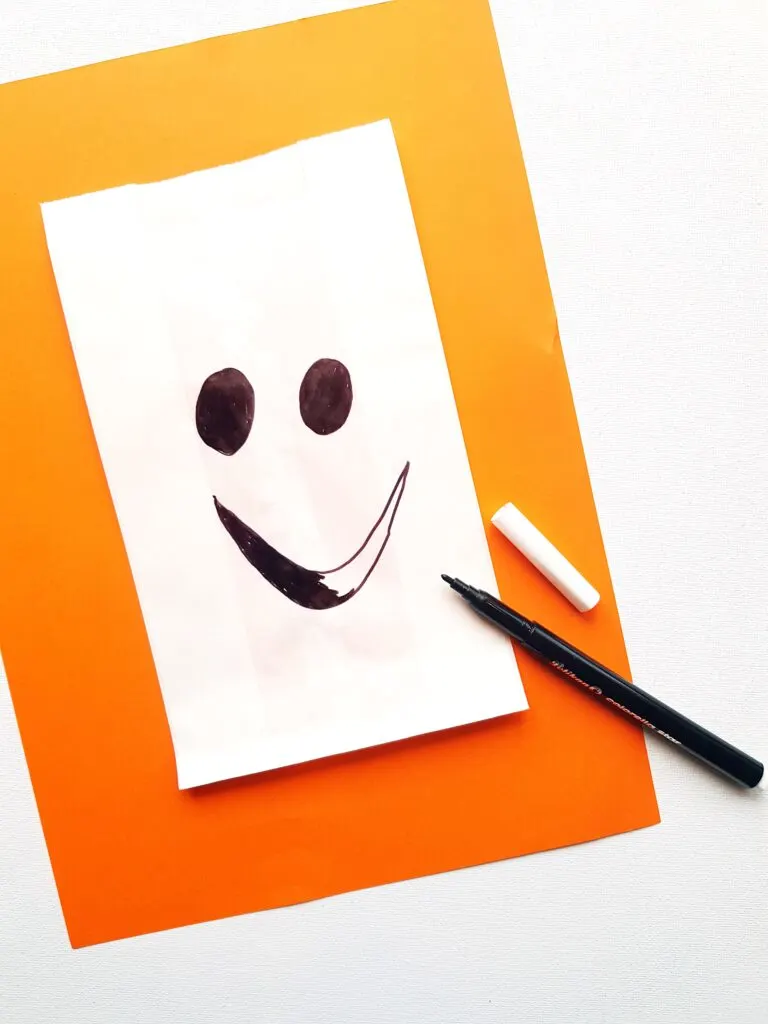 Step 2: Let's light the DIY ghost luminaries
After drawing your ghost faces, drop your flame-less tealight into the bag.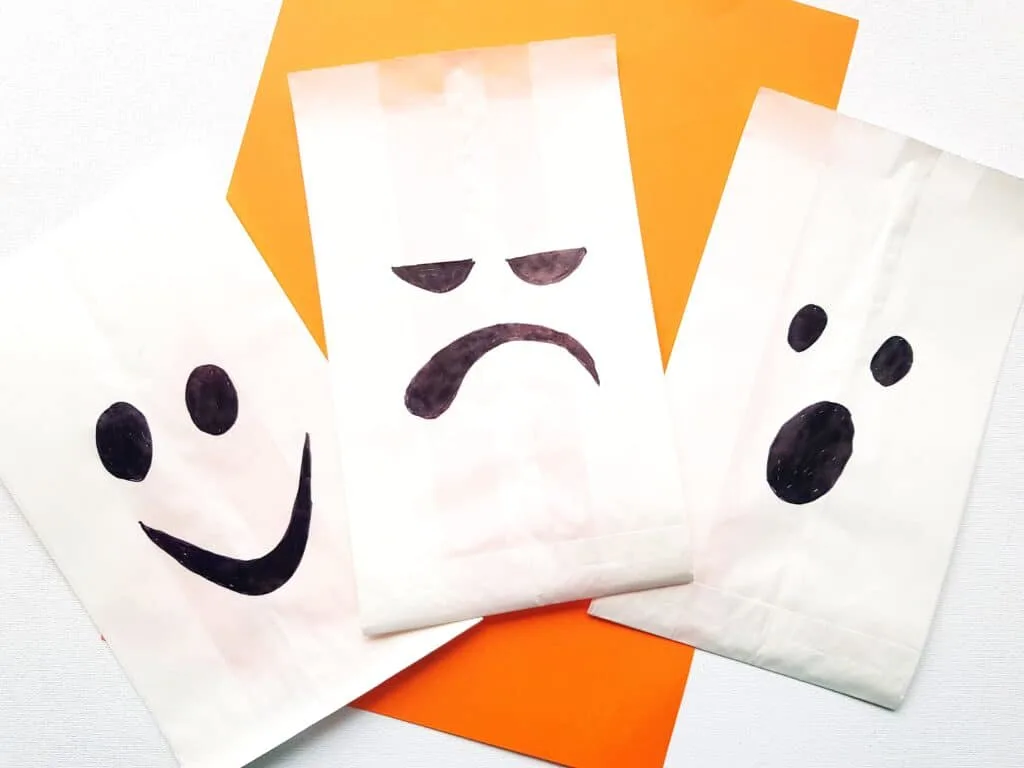 Step 3: Time to decorate
This was super fast, wasn't it? After drawing your faces and placing a light into your ghost lunch bag it is time to decorate them together.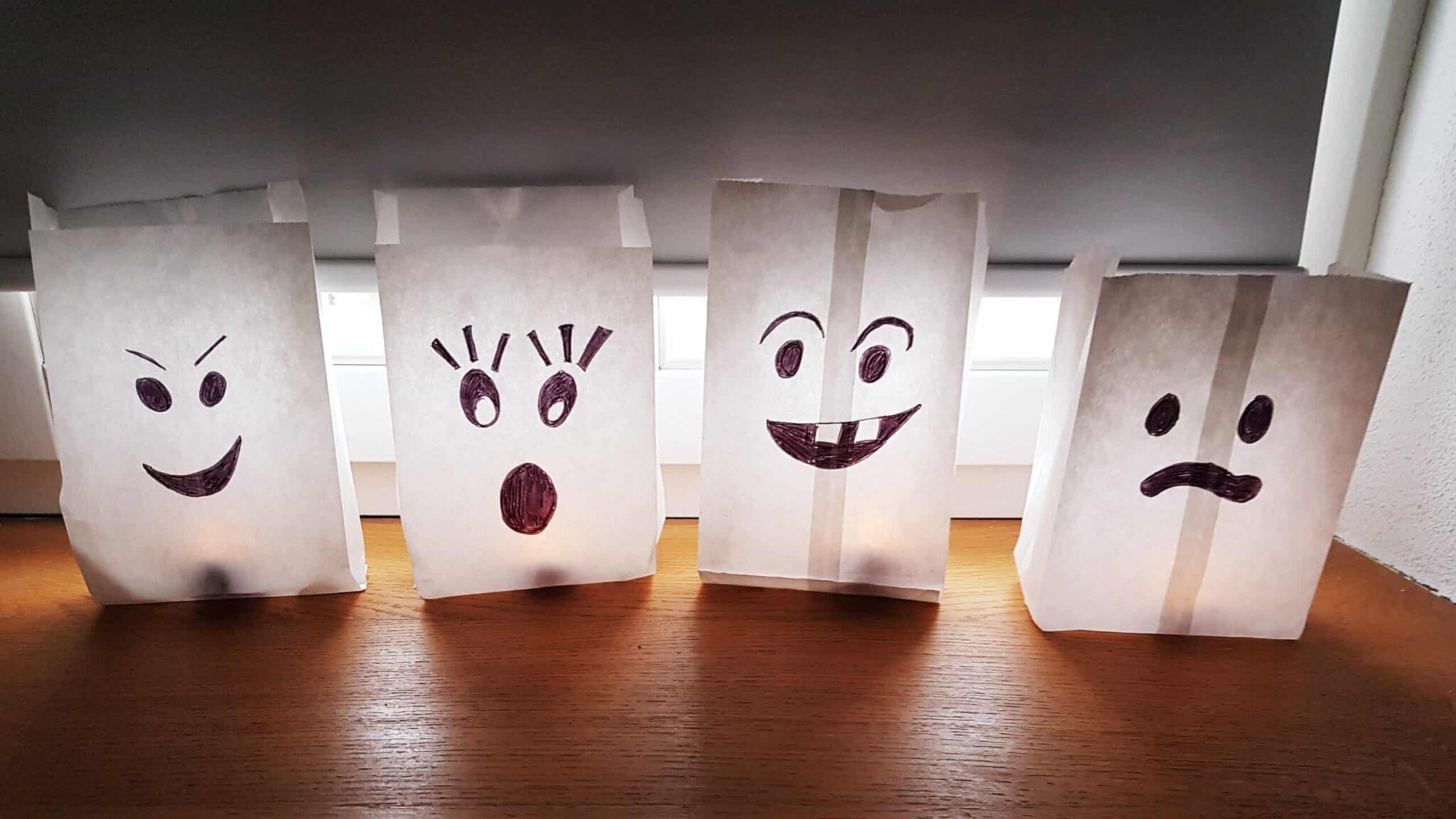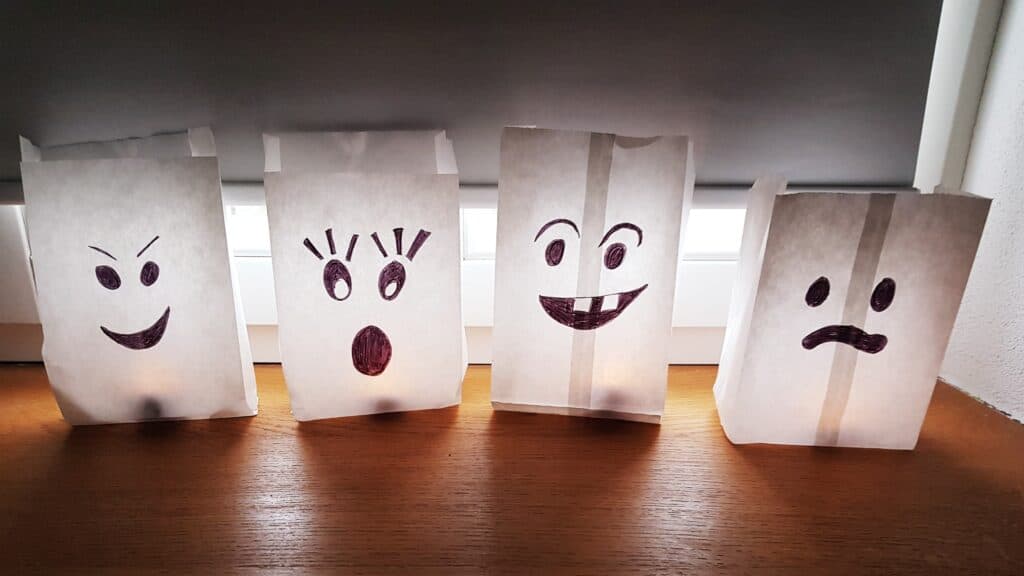 You might also enjoy the following Halloween projects. Let's start with these No Carve Pumpkin Decorating Ideas, Pumpkin Art Projects, or Halloween Activities for Toddlers.
There are several tips I came across while doing this fun Halloween activity with my kids. Here is what I like to share with you all.
Halloween Paper Luminaries Tips
This activity is perfect for all age groups. Big kids can already manage drawing their own faces while toddlers still might help.
Simply draw the outlines for them and let them color them. My young toddler on the other hand is not even able to color inside the outlines yet but that doesn't mean he can't have fun yet either.
He just simply draw what he was capable of. Here is what my 4-year daughter and 2-year-old son made instead.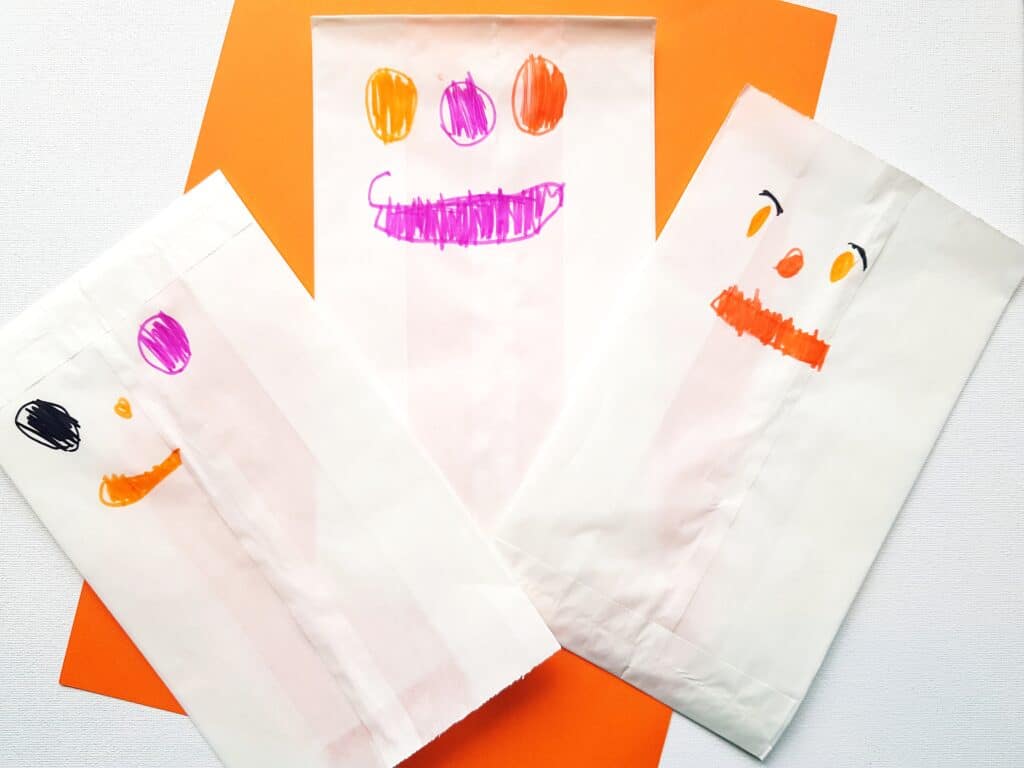 After painting faces on your lunch bag give them some time to try in order to avoid ruining the drawing.
Make sure to use washable colors while working with toddlers
If you like to place them in your window, draw the faces on both sides. that way they can be seen from outside and from your kids in the room at the same time. If that's not the case make sure to color the faces on the side without the clue line of the bag.
This craft is easier if you buy lunch bags with a pre-folded bottom. Mine sadly didn't have that and I had to fold them myself. I had to be really careful not to smash the paper.
With flame-less tealights with a timer that way, you don't have to worry about forgetting to turn them off and running out of batteries.
Be creative
Each time we do arts and crafts I m impressed by how creative children can be and how easily they manage to change activities up and make new ones out of them. This time my kids came up with the following ideas to change this activity easily:
Instead of making Halloween luminaries my daughter decided to use the lunch bags to make hand puppets out of it and started a theater show for me
Instead of decorating the window, brother's my son placed extra ghost lights on both sides of the staircase.
My daughter placed some of her Halloween lights in her baby brother's room as a night light.
My older son wants to use the ghost lunch bags as trick-or-treat bags and goody bags for his upcoming birthday party.
---
Are you looking for outdoor Halloween luminaries, then go check out this easy Milk ghost luminaries instead:
I hope you enjoyed this easy DIY Halloween luminary craft project with your kids.
Don't forget to leave a comment below and add a picture to let me know how your kids liked it.
I love to hear from you!

Pin This DIY Paper Luminaries
Don't forget to save these easy ghost luminaries for preschoolers on Pinterest for later! Be sure you are following along with Lil Tigers here.