Our free printable Bat Templates come in small, medium, and large, with bat cut outs and one fun bat coloring page.
They are perfect to get ready for Halloween.
Let's dive right in and get inspired by our bat printables and craft ideas!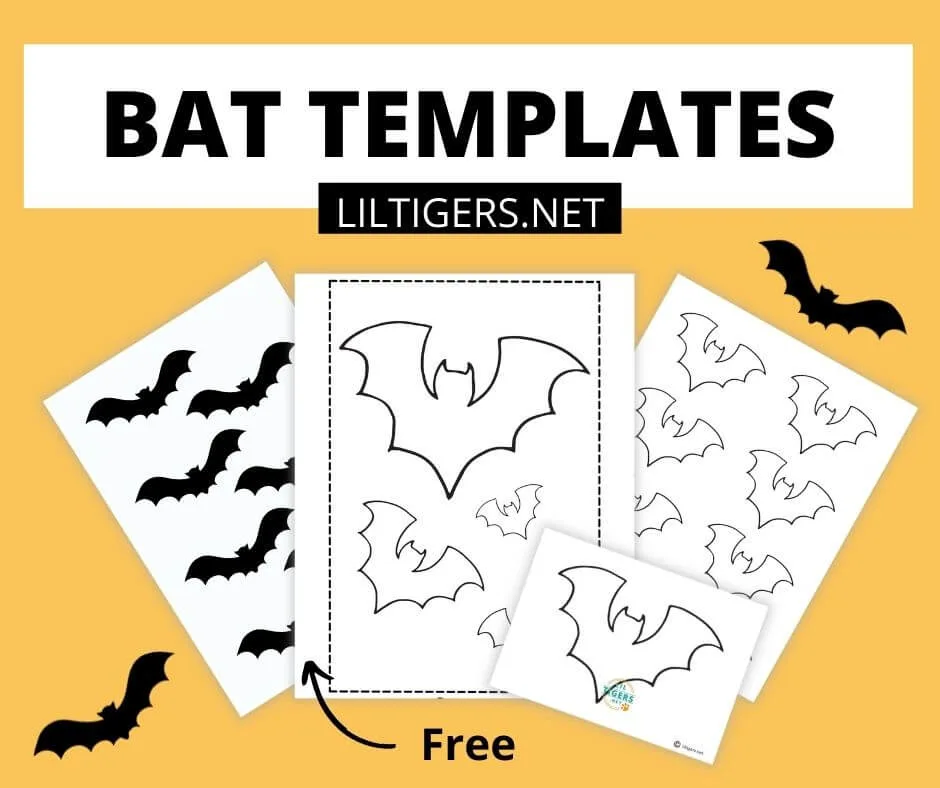 There are affiliate links in this post, meaning, at no additional cost to you, I will be compensated if you click through and take action.
As an Amazon Associate, I earn from qualifying purchases.
Free Printable Bat Templates in Small, Medium, Large, and Color
Our bat outlines come in small, medium, large, and color. They are very popular if it comes to Halloween during Fall.
We use them for art and craft projects, if it comes to Batman, while studying bats, or teaching the letter B.
As you can see our free bat template printables can be used in many different ways and settings.
They are great for crafting at home, in the classroom setting, or as an add-on to your homeschool curriculum.
Here are several bat craft ideas for our templates. I hope you get inspired!
Bat Cut Out Materials
First, we should have a look at what you will need for our bat template art and craft projects.
Here is a short list of supplies you will need for our templates of bats.
Do you need advice on How to Introduce Crafting to your Preschooler? Then read our 10 tips that work next.
7 Easy Bat Crafts for Preschoolers
As mentioned above the possibilities for our bat cutout printables are endless. Nevertheless, I like to inspire you with some ideas on how to use them in your classroom or at home. Here are our 7 Easy Bat Crafts for kids:
Batman Crafts
Bat Garland
Halloween Table Decoration
Bat Stencils
Spooky Window Decoration
Bat Coloring Pages
7. Bat Template Invitation
1. Batman Crafts
Everybody knows batman's symbol is the bat (Bat-Insignia).
He gets called with a bat signal in the middle of the night to help. He even uses bat-throwing stars to defend himself.
So why not include our easy bat printouts and include them in your next superhero crafting session?
You could make your own bat throw stars with help of cardboard or batman cuffs as shown in the picture below.
Dress up as batman afterward and have some fun.
2. Bat Garland
Why not decorate your house for Halloween with a spooky bat garland?
Either use our black bats printable for it or use the medium-sized template and color them nicely.
After cutting, glue them to a string with some tape and hang them on the wall or from the ceiling.
Now when you dim the light or turn on some candles they will look nice and spooky.
With some Halloween music in the background, you are good to go!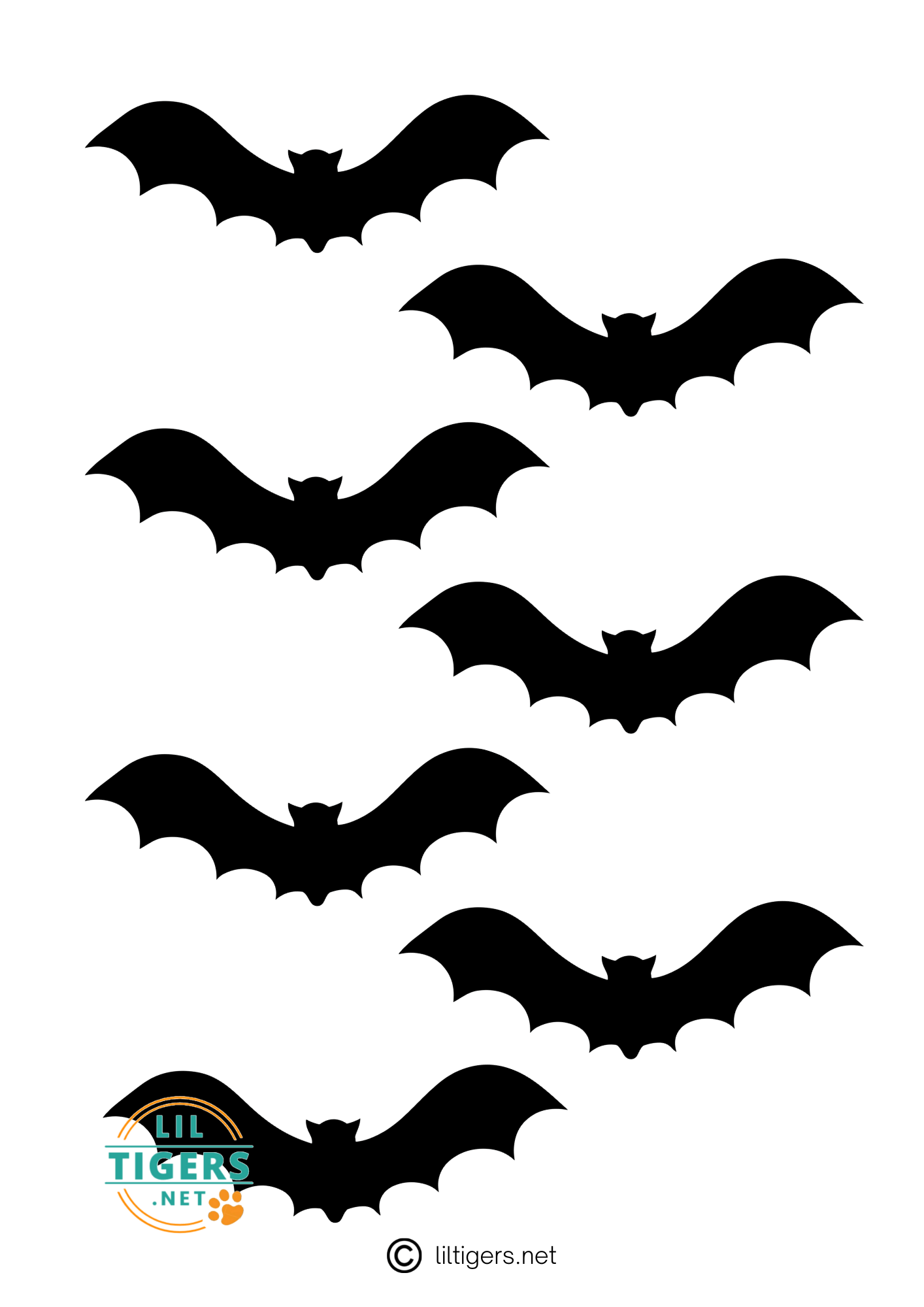 3. Halloween Table Decoration
But our fun bats do not only look nice hanging from the ceiling. They also make great Halloween table decorations.
Use our full-page bat template and cut them.
After decorating them nicely with glitter, glow-in-the-dark colors, or other fun craft materials, write your guest's names on them and you have super cute bat name tags.
In addition, if you print and cut our black bat printables you can place them in the center of the table and use them as decoration as well.
Did you enjoy our Halloween bat templates? Then try one of our other Halloween activities.
How about these great Halloween Activities for Kids, Candy Corn Templates, 25 Non-Spooky Ghost Crafts, or Pumpkin Art Projects?
4. Bat Stencils
The classic for all my templates is to use them as stencils.
Use the small or medium printouts, cut them, and use them as bat stencil templates. After your kids cut them nicely, place them on a white sheet and use them as stencils.
There are many painting techniques you can try for this bat craft.
Last Halloween we used our pencil eraser for this craft. You can find the full tutorial for our Pencil Eraser Stamp Art here.
5. Spooky Window Decoration
Our simple bat outlines also look great as a window decoration.
Especially if the light is on at night or the moon shines through the window they look spooky.
Therefore, I would recommend if your children scare easily not place them in their bedroom window.
Use them in your living room or kitchen window instead. Just to be on the safe side.
Instead of just using plain black bats for this project, why not get glow-in-the-dark googly eyes?
If you prefer window cling, go check out the tutorial for it here.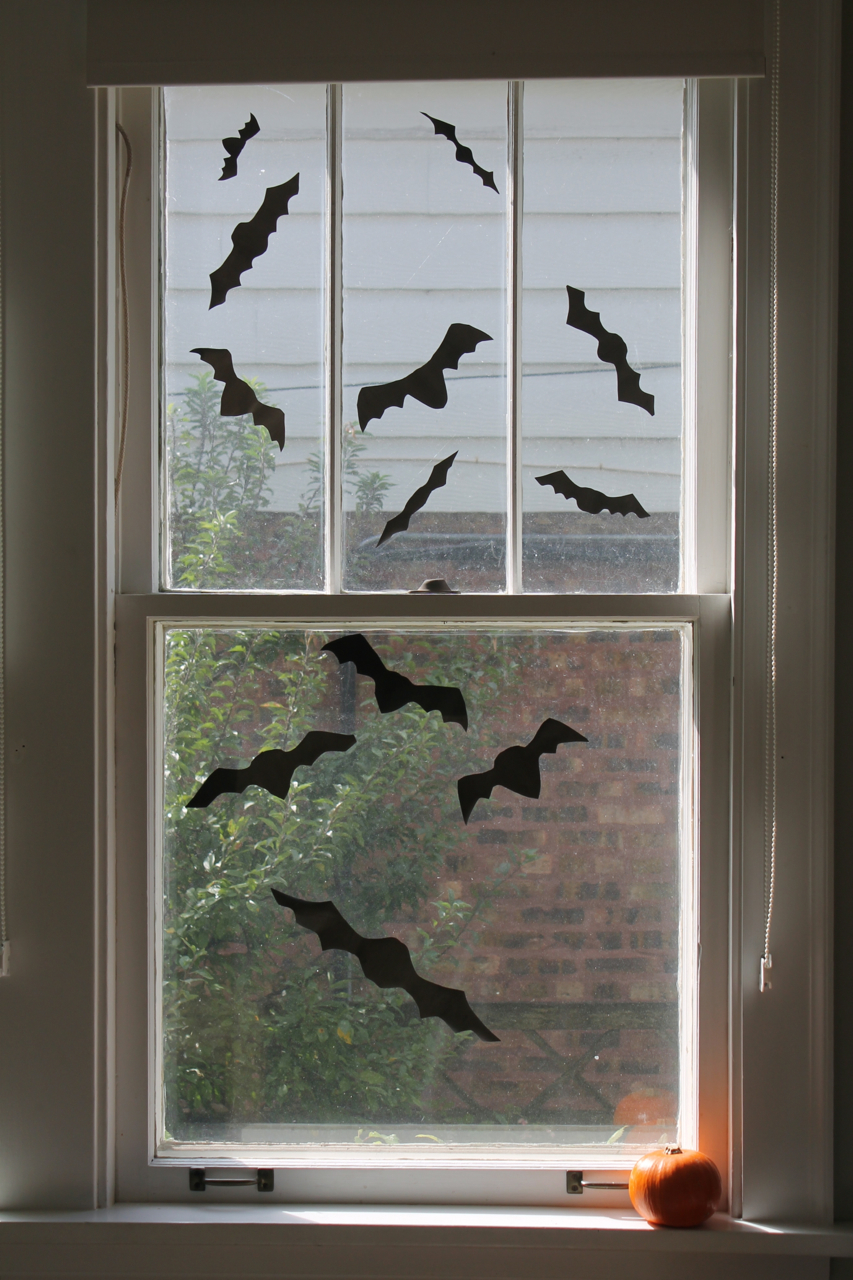 6. Bat Coloring Pages
Our large bat silhouette printables make adorable bat coloring pages.
I also added an extra one with many small bats just for you.
If you have glow-in-the-dark paint, they would look great with it.
Or give them some nice bat patterns. If you want to try something new, go check out our 25 Easy Painting Ideas for Kids.
7. Bat Template Invitations
Last but not least turn our large bat templates into Halloween invitations or card. Print them on thicker black paper and use the back for your invitation text.
To round it up use one of our cute bat quotes:
"The baby bat Screamed out in fright, 'Turn on the dark, I'm afraid of the light." – Shel Silverstein
"Twinkle, twinkle little bat How I wonder what you're at! Up above the world you fly, Like a tea-tray in the sky." – Lewis Carroll
"Sometimes you just need a spark, and then boom, boom, boom, now the bats come alive." – J. D. Martinez
"Blind is he as any Bat that flitters. Who can only see the Thing that Glitters." – Arthur Guiterman
"The bat hanging upside down laughs at the topsy-turvy world." – Japanese proverb
Check out our full list of 45 Bat Quotes and 25 Best Halloween Quotes here and use them for your bat template cards.
---
If you are a visual learner, go check out how to turn our templates into fun 3D bat crafts.
---
6 Bat Facts for Kids
Did you know there are more than 1300 species of bats?
You can find bats nearly everywhere around the world
The scientific name for bats is Chiroptera
Bats sleep upside down
Most bats use echos to see
Blood-sucking 'Vampire bats' are real
Got curious? You can find these and more facts about bats here.
Bat Books for Kids
In case you like to learn more about bats, go check out these great educational books.
If your children prefer stories, I also added a great bat story. Happy reading!
How to Download Your Free Printable Bat Template Pdf
Simply sign up here for our newsletter and you will receive the link to our free bat cutout template pdf.
Already a subscriber? Don't worry, no need to subscribe twice.
I just updated our free printable library.
You can find our bat wings template printables there or check our newest newsletter for more information.
If you have any questions, please do not hesitate to reach out to me. I'm happy to help!
Pin These Free Bat Outlines
Don't forget to save our simple bat outlines on Pinterest for later! Be sure you are following along with Lil Tigers.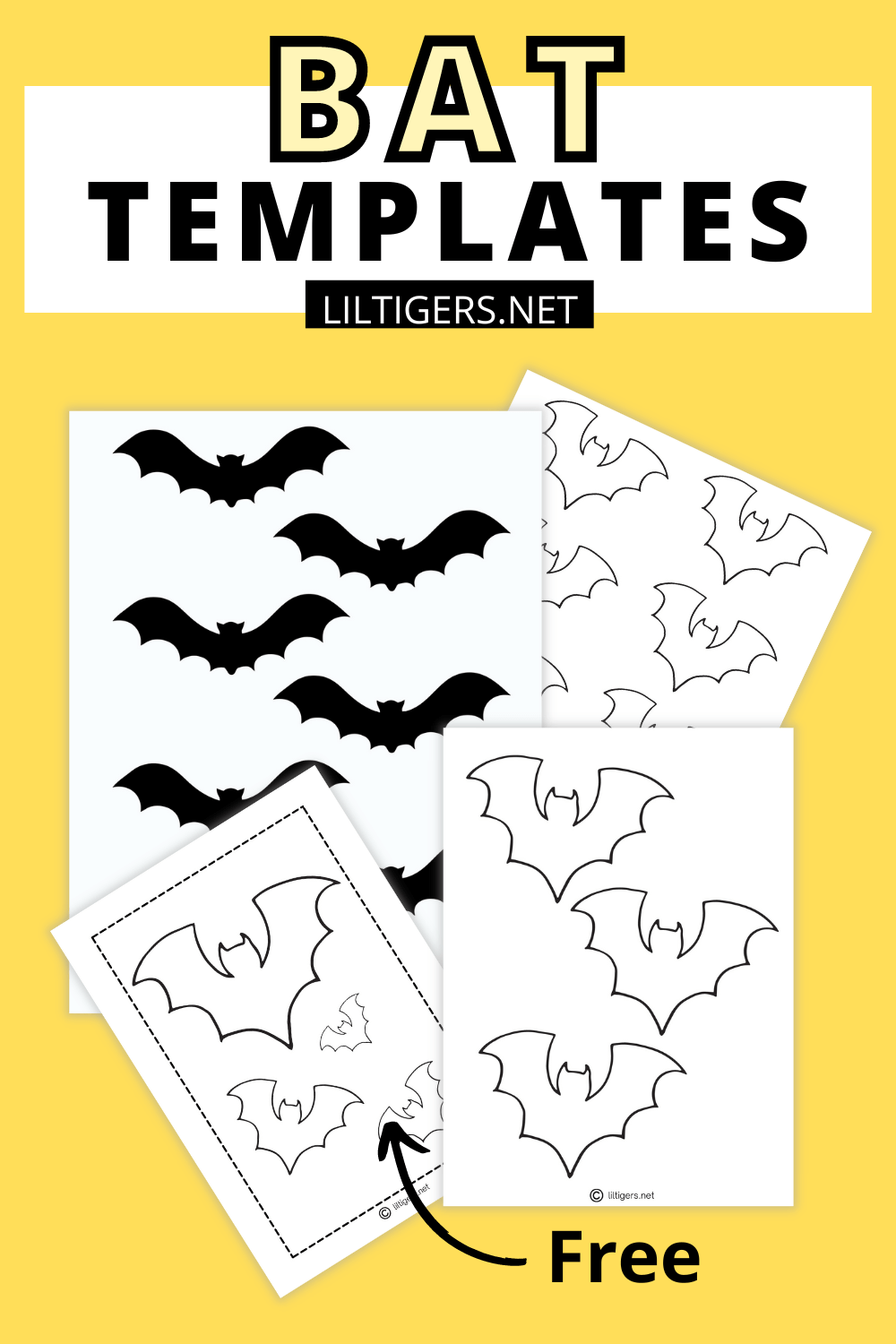 Now it is your turn.
How did your kids enjoy their free bat templates and coloring pages?
Either way, let me know by leaving a comment below right now.
I love to hear from you!