Our Free Printable Earth Day Bingo Game is a perfect activity to honor mother Earth. Simply download our Earth bingo pdf below and enjoy an afternoon full of fun to celebrate mother Earth.
Let's check out how it works.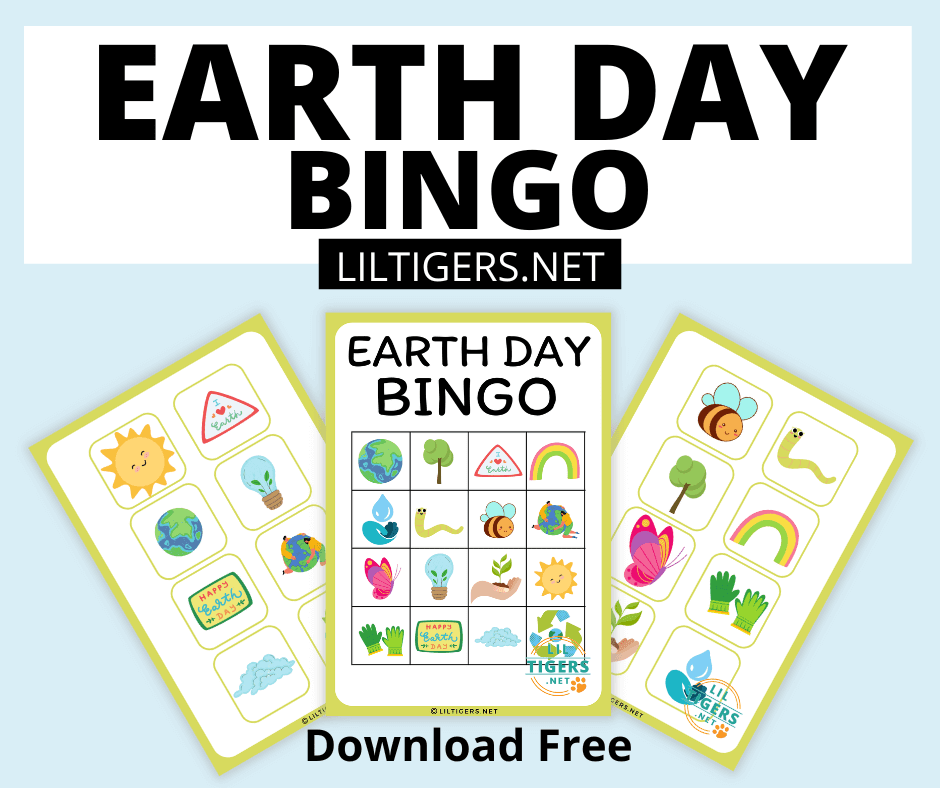 There are affiliate links in this post, meaning, at no additional cost to you, I will be compensated if you click through and take action. As an Amazon Associate I earn from qualifying purchases.
What is Earth Day?
Earth day is every year on the 22nd of April. It is an environmental movement that started in 1970. Millions of people celebrate Earth Day every year all around the world and participate in activities to save our planet Earth.
Below you will find 7 great ideas on how to participate with kids on Earth day.
---
If you like to learn more about Earth Day, go check out the following video:
What Can Kids Do for Earth Day?
You might wonder what kids can do for Earth Day? Here are 7 Easy Earth Day Tips For Kids:
Plant a garden

Make a bird feeder

Build an insect hotel

Clean up the park or forest
Do not waste water
Turn off the light
Recycle
You might be surprised but even kids at a young age can already participate in Earth Day.
Prior to engaging kids in Earth Day, I always make sure to explain to them what Earth Day is and why it is so important to take care of our planet Earth. Afterward, you can start picking with your children together an Earth day project.
So let's have a look at our Earth Day ideas above:
If you have a garden at home or at your grandparent's house, why not plant a new tree, flowers, or other plants? Give them their own tools and they will have an amazing time working with the Earth.
Instead of planting new trees, you could also make sure there always be birds singing a song for you. To make this happen your kids could make their own bird feeder.
Besides a birdfeeder, you could also build an insect hotel for your yard. It is such a fun DIY project. In case your children are not too handy you could also help clean up a park or forest in your community.
But let's face it, Earth day should be every day and even little things help our planet. Try not wasting water, turn off the light if you do not need it or recycling the trash helps already a lot.
What do you do for Earth Day? Please feel free to share your tips with us below!
Nature Books for Kids
Time to learn more about mother nature. Here are some interesting nature books for kids you might find interesting:
Do you enjoy our Bingo for Earth Day? Then try our other fun Earth day activities for kids. How about our free printable Earth Templates, 20 Inspiring Earth Day Quotes, Spring Bingo Game, tips on How to Engage Kids in Nature, or DIY Nature Art Projects.
Free Earth Day Bingo Printables
I like to share our Earth day routine with you guys:
We love to start our day with an engaging book and talk about how we can help take care of mother Earth before we participate in our community clean event. There we spend a good part of the day outside cleaning our village.
Afterward, my children are so hungry and exhausted that we need to have some downtime to catch energy again. Therefore I made this fun nature bingo for Earth day.
Let's find out how it works!
Earth Day Bingo Patterns
Since I have younger children I decided instead of just choosing words for our bingo game to mix them up with pictures. This way the younglings can participate in our fun Earth day picture bingo game.
I choose Earth day symbols such as our planet, raindrops, the sun, gardening gloves, and many more.
Our free Earth day printables include 10 different Earth day game boards. This gives you the opportunity to play our Earth day game together with your family and friends.
It even can be used as Earth day bingo for adults.
Bingo Materials for Earth Day
Here are all the materials you will need to play with our environmental bingo templates:
Free Printable Earth Day Bingo PDF (found below)
pencils
scissors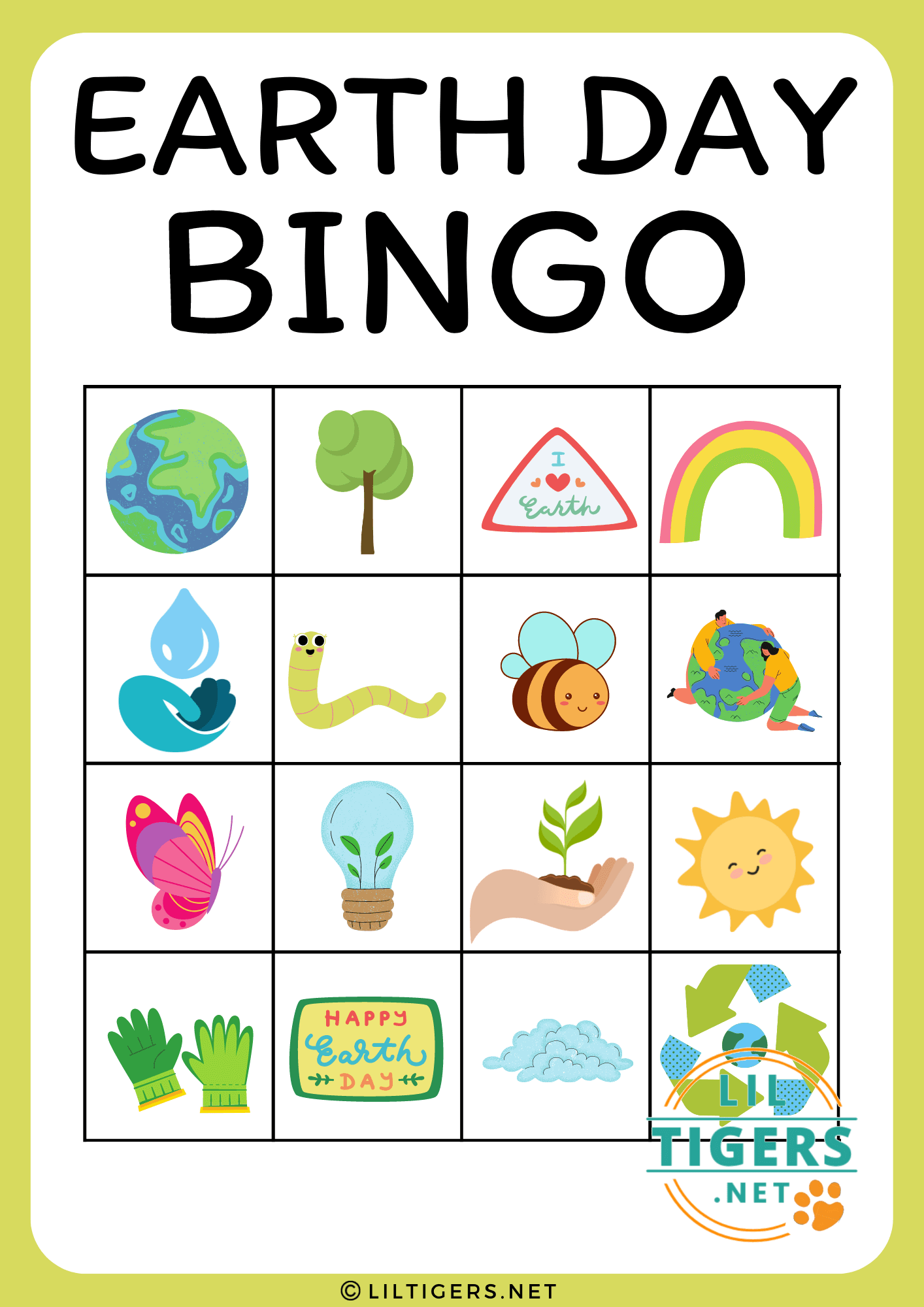 How Do You Play Earth Day Bingo
But you might wonder now, how do you play Earth day bingo. Let me tell you, this nature bingo game is not any different from any other bingo game. They have the same rules.
You are not familiar with the bingo game yet? Do not worry, let me explain the Bingo Rules to you:
Print out your Earth day bingo templates.
Take your scissor and cut out your free nature call-out cards.
Give each player one free Earth day bingo board.
Now designate a caller.
Afterward, place all call-out cards in a basket, bucket, or bag and mix them.
Next, the caller draws a card and shows it to the players.
Each player is marking the selected card on his bingo card template with his marker.
The player shouts "BINGO!" when they get a full line of four pictures in a row (vertical, horizontal, or diagonal).
Nature Bingo Card Ideas
Smaller children can play this game as well. Help them find the picture on their printable bingo sheets.
Do-a-dot Markers are perfect for this fun Earth bingo game.
Do you not like our pictures? Do not worry, I made blank Earth day bingo sheets for you. Choose your own pictures or words for it.
Repurpose our game and use this neighborhood walk bingo game and make a scavenger hunt out of it. Walk through the neighborhood and mark off all items you can see on your stroll.
How Do You Make Bingo Funny
After a while playing bingo can get old. Here are three fun ideas on how to make bingo interesting again:
Use poker chips instead of markers
Use nature materials instead of pens, such as acorns, leaves, etc.
Get prices for the winners
Here are some great prices for your Earth Day Bingo Game:
How to Download Your Free Earth Day Bingo Cards
Sign up here for our newsletter and you will receive the link to our free Earth day printables.
Already a subscriber? Don't worry, no need to subscribe twice.
I just updated our free printable library. You can find our environmental print bingo templates there or check our latest newsletter for more information.
If you have any questions, please do not hesitate to reach out to me. I m happy to help!
Pin These Earth Day Free Printables
Now don't forget to save our Earth bingo templates on Pinterest for later! Be sure you are following along with Lil Tigers here.
Now it is your turn.
How did your kids enjoy our downloadable Earth Day Bingo Cards?
Either way, let me know by leaving a comment below right now.
I love to hear from you!