Are you looking for cute Groundhog Day quotes for kids? Then you are in the right place!
Here are 55 Happy Groundhog Day Sayings including matching books, activities, and free printable groundhog day lunch notes.
Let's have a look!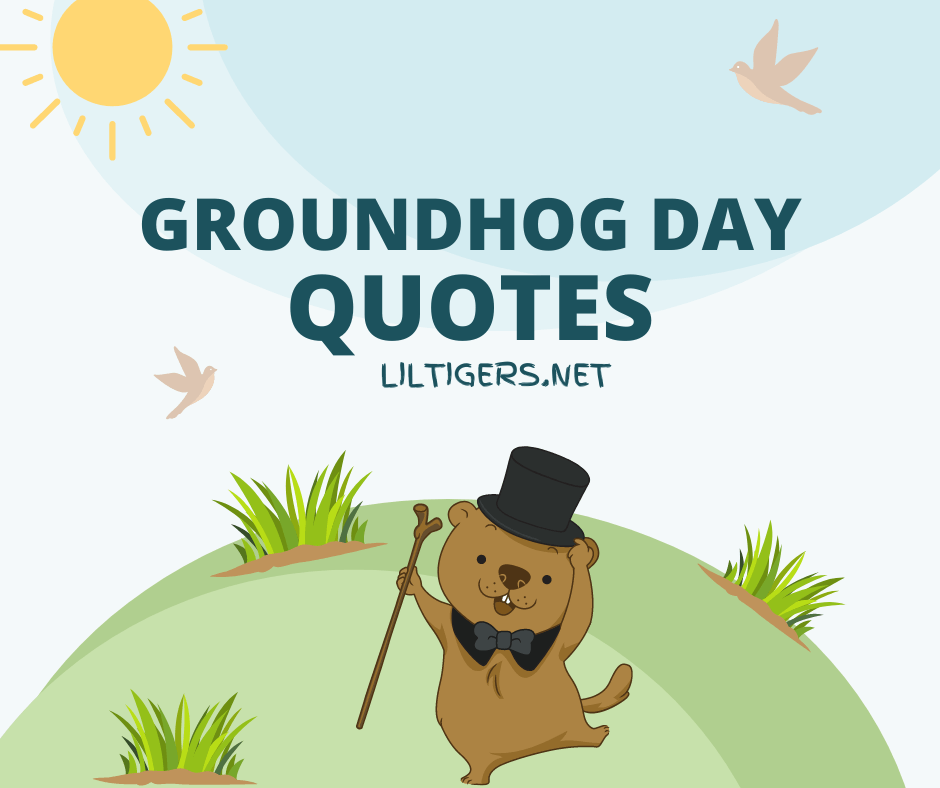 There are affiliate links in this post, meaning, at no additional cost to you, I will be compensated if you click through and take action. As an Amazon Associate, I earn from qualifying purchases.
Fascinating Groundhog Day Facts
Before we get started with our groundhog quotes for kids, let's learn a little bit about them.
Groundhogs (Marmota monax) are related to squirrels. They are a type of rodent known as marmots.
The groundhog is also known as "woodchuck," "land beaver" and "whistlepig."
They are shy animals and prefer to be alone. They only speak company to mate.
Groundhogs are underground architects. Their burrow can be from 8 to 666 feet long with a number of chambers and multiple exits.
These animals hibernate from late fall until late winter or early spring.
What is Groundhog Day
Groundhog Day is a popular tradition in the northern part of the United States and Canada.
On Groundhog Day (February 2nd) it is said if a groundhog comes out of its burrow and sees its own shadow, it retreats to its den and it will be winter for six more weeks.
If it is cloudy and he can't see his shadow, spring will arrive early.
Groundhog Books for Kids
Here are some great groundhog books for children to enjoy on groundhog day!
Are you interested in more kid's activities, arts & crafts, and science experiments?
I have made it easy for you! Join our newsletter now and I will send you new fun for kids.
Subscribe for free
55 Best Groundhog Day Quotes for Kids
Let's see what the groundhog will forecast us this way.
Whether if you believe in it or not, let's check out our Groundhog Day quotes to celebrate this fun day.
Our list includes happy Groundhog Day quotes, cool Groundhog Day phrases, best quotes about groundhog day, happy Groundhog Day wishes and messages, and funny Groundhog Day puns and captions.
Make sure to check out at the end our free printable lunch notes for ground hog day!
Let's have a look and get inspired!
Happy Groundhog Day Quotes
Your kids will love the following sweet happy Groundhog Day sayings:
"Happy Groundhog Day! Shadow or no, spring is just around the corner!"
"Happy Groundhog Day! Think spring, everyone!"
"See the little groundhog, furry and brown. See the little groundhog, look all around. If he sees his shadow, down he goes. There's more winter, little Groundhog knows"
"Let us just enjoy the weather instead of depending upon the groundhog to tell us."
"Don't take a rodent to be a meteorologist. Have a fabulous Groundhog Day."
"Warm clothing or summer clothing? Soon the groundhog is going to reveal."
"Just saying. If the groundhog sees his shadows on Feb. 2, I'll make a hat and scarf out of his fur."
"The trouble with weather forecasting is that it's right too often for us to ignore it and wrong too often for us to rely on it." – Patrick Young
"Groundhog Day, don't be afraid of the shadow."
"If groundhogs could predict the weather so right, we did not need science. Happy Groundhog Day."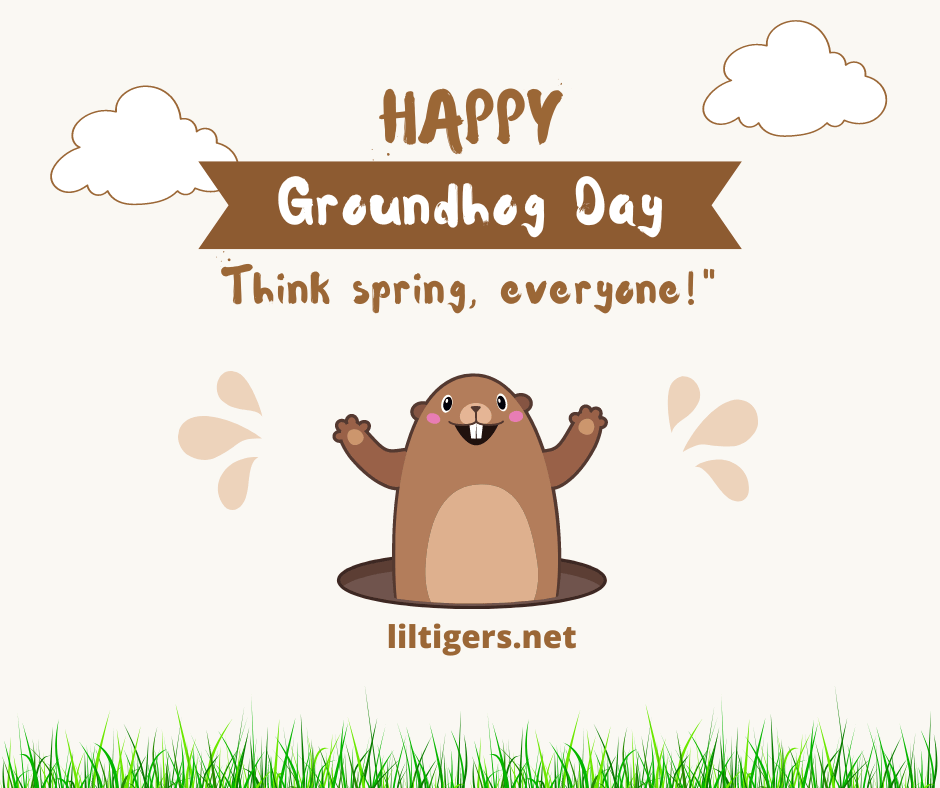 "No matter how long the winter, spring is sure to follow."

English Proverb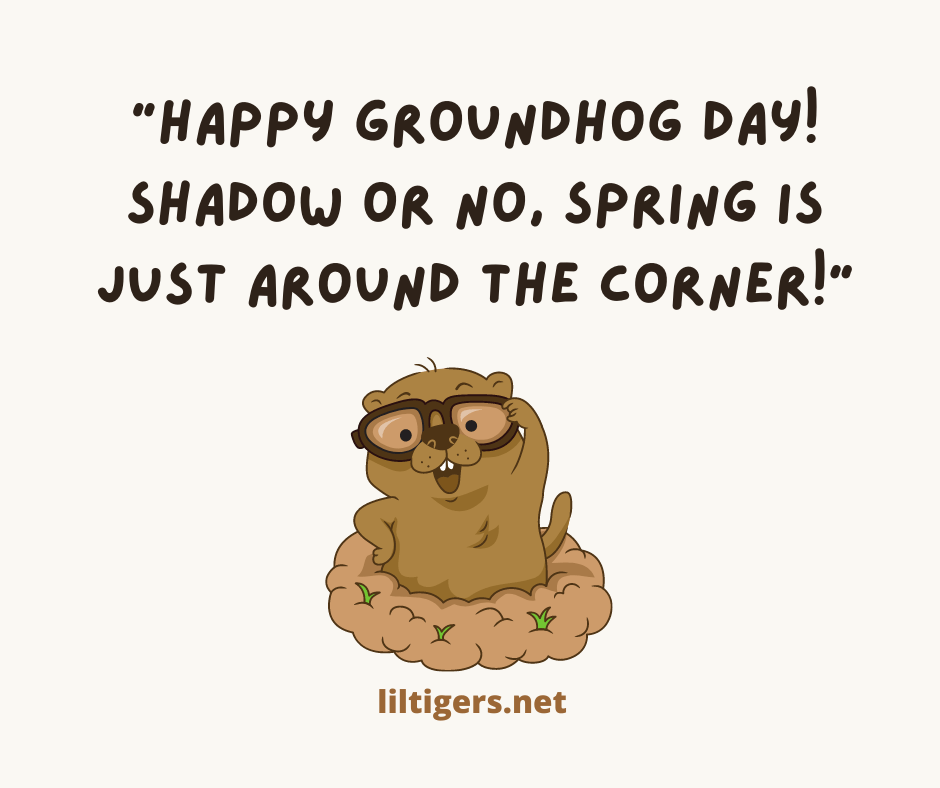 Funny Quotes for Groundhog Day
Next are our fun quotes on Groundhog Day:
"The kind of weather you are expecting is not a question to be answered by a rodent."
"Even groundhog must be wondering how his activities are going to affect us."
"Happy Groundhog Day, everyone. For the record, I'll be thrilled if winter only lasts six more weeks."
"Today is Groundhog Day, spread the word on this very important holiday, said no one ever."
"Remember, today is Groundhog Day. Don't forget to express your appreciation to all the marmots in your life."
"Wishing everyone a very Happy Groundhog Day. Let us wait for the weather forecast."
"Happy Groundhog Day! Or at least it will be if the groundhog delivers the right verdict!"
"Sometimes I think who must have come up with Groundhog Day."
"I don't have a date for Groundhog Day. I guess that means an extra six weeks of sweatpants."
"Happy Groundhog Day, everyone. With this weather, I'll be surprised if they can even get Punxsutawney Phil to come out of his burrow."
"Dear Groundhog, on groundhogs day, please don't see your shadow. I'm over this winter nonsense. You've been warned."

Unknown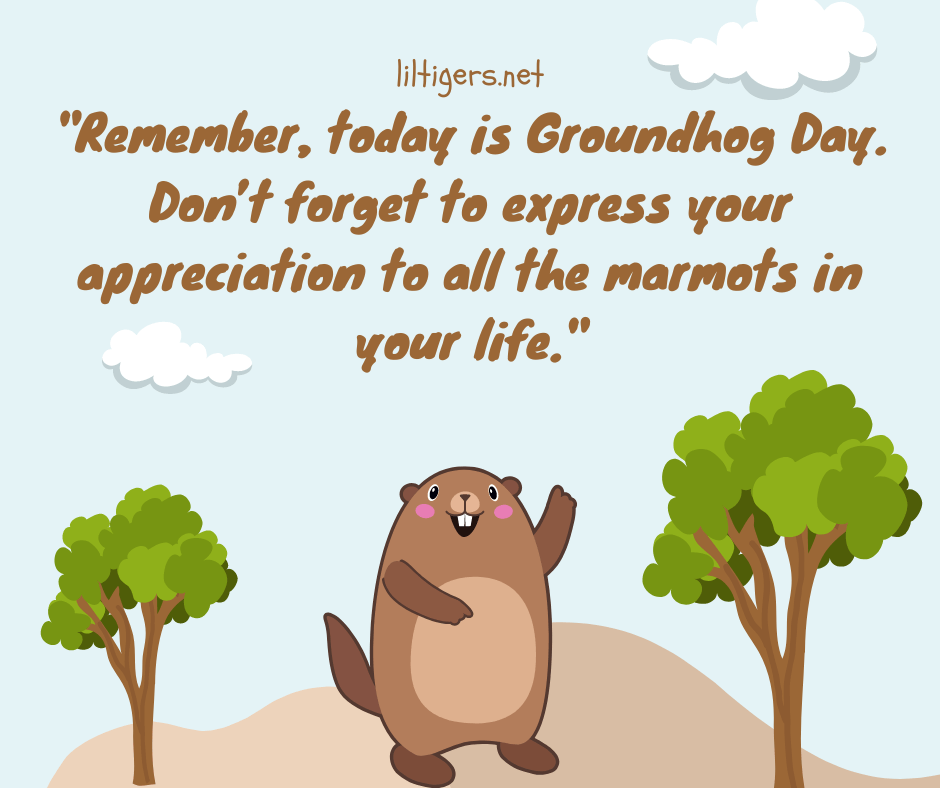 Did you enjoy our groundhog day greetings for kids?
Valentine's Day is next, go check out our Valentines Day Messages.
Happy Groundhog Day Sayings
Time to check out these sweet Groundhog Day quotes for children:
"Happy Groundhog Day"
"Shadow or no shadow, I hope everyone has a great Groundhog Day!"
"Ready for Spring?"
"Happy Groundhog Day, everyone! Let's hope the little rodent is brave so we don't get six more weeks of winter!"
"Happy Groundhog Day! So, will it be an early spring or six more weeks of winter? Only the shadow knows."
"I saw my own shadow! 6 More weeks of winter. Happy Groundhog Day!"
"If you wish to know the weather, keep observing the movement of a groundhog on Groundhog Day."
"Are we really supposed to trust the predictions made by rodents about the weather?"
"Happy Groundhog Day everyone!"
"It is strange that the shadow of the groundhog is going to decide your fashion for the coming weeks."
"He's a rodent, not a meteorologist!"

Unknown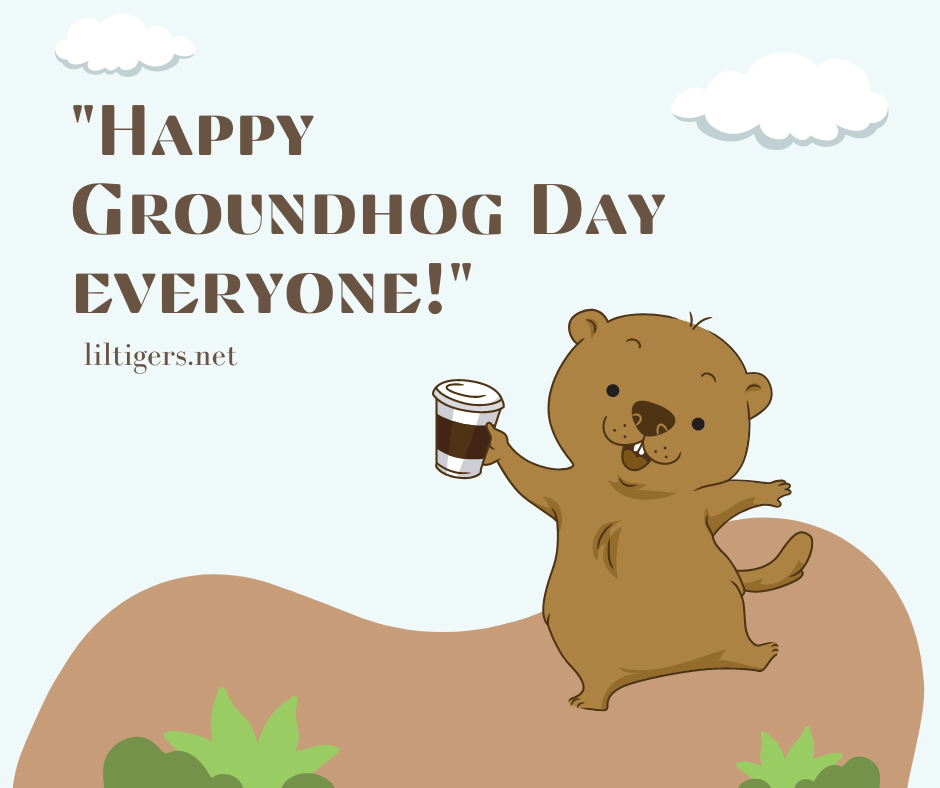 Groundhog Day Slogans
Let's start with our Groundhog Day phrases:
"Is it me? Or does today feel like Groundhog's day?"
"Groundhogs know better than anyone else that winter is always just around the corner."
"We didn't get to see his shadow, but we're going to make the best of this day anyway. "
"It's Groundhog Day! C'mon woodchuck, give us an early spring!"
"Groundhog Day: When your shadow sneaks up on you and surprises you!"
"Okay campers, rise, and shine, and don't forget your booties 'cause it's cold out there… it's cold out there every day." – Phil Connors
"February 2nd – aka Groundhog Day! A time to reflect on the winter past and discover new things about your…self?"
"Don't forget to say, Happy Groundhog's Day!"
"Sorry for being so quiet these days—I'm hibernating for a little bit and will check in soon."
"Live each day like it's Groundhog Day, and treat the site of a beautiful sunset like an invitation to adventure."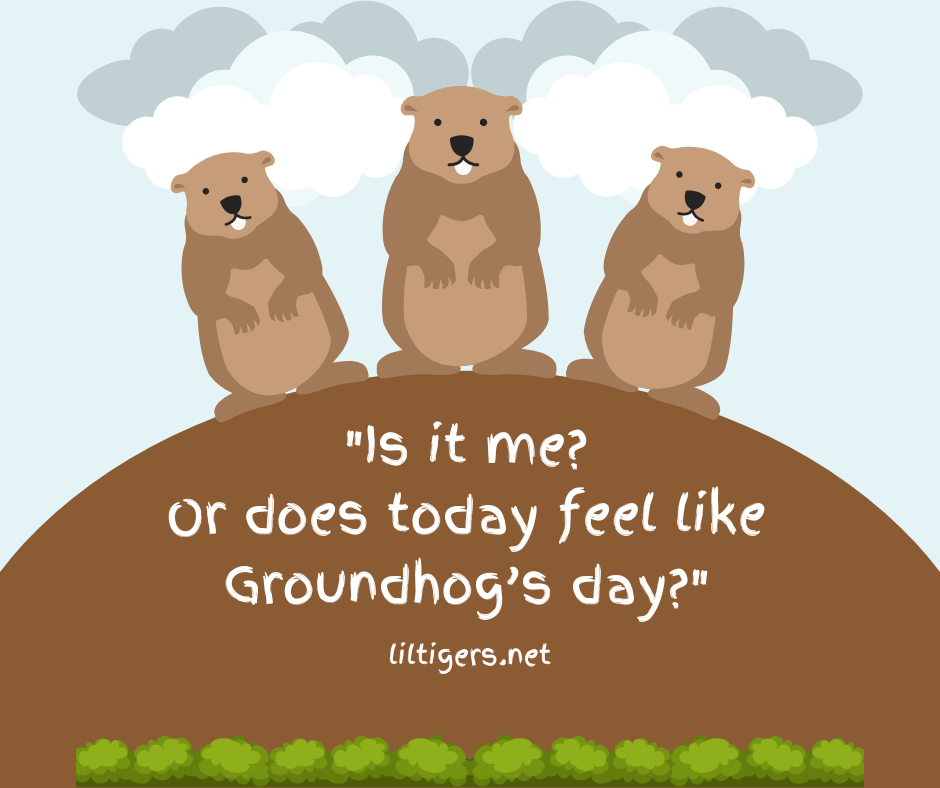 "Cheers to Groundhog Day and the first day of Winter."

Unknown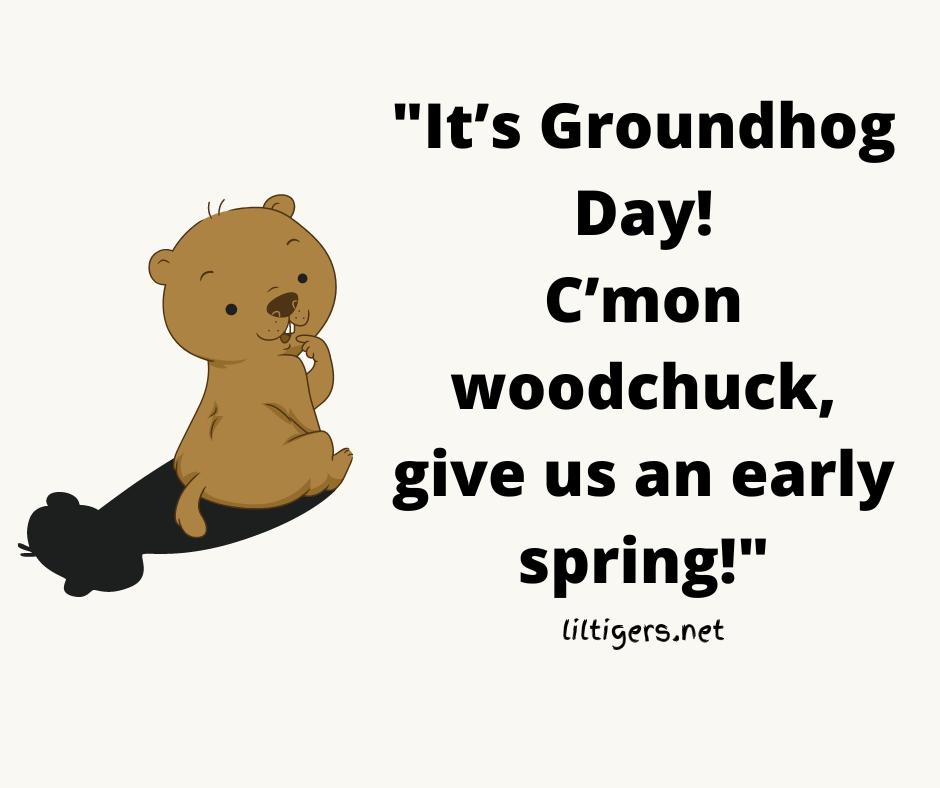 Fun Groundhog Day Captions
You will also like our funny Groundhog Day captions:
"What's up? Happy Groundhog Day!"
"No matter how cold it gets, I will always blame Mr. Groundhog for this winter."
"Winter is coming (again)."
"Groundhog day is not just a holiday, it's a state of mind."
"Cool it's Groundhog's day"
"Six more weeks of winter. Let's hit the slopes."
"On a superstition mission."
"You better not mess with the groundhog. He's got a mean bite."
"If you're a groundhog, today is almost like Christmas."
"Spring is coming soon, but we're still digging groundhog day."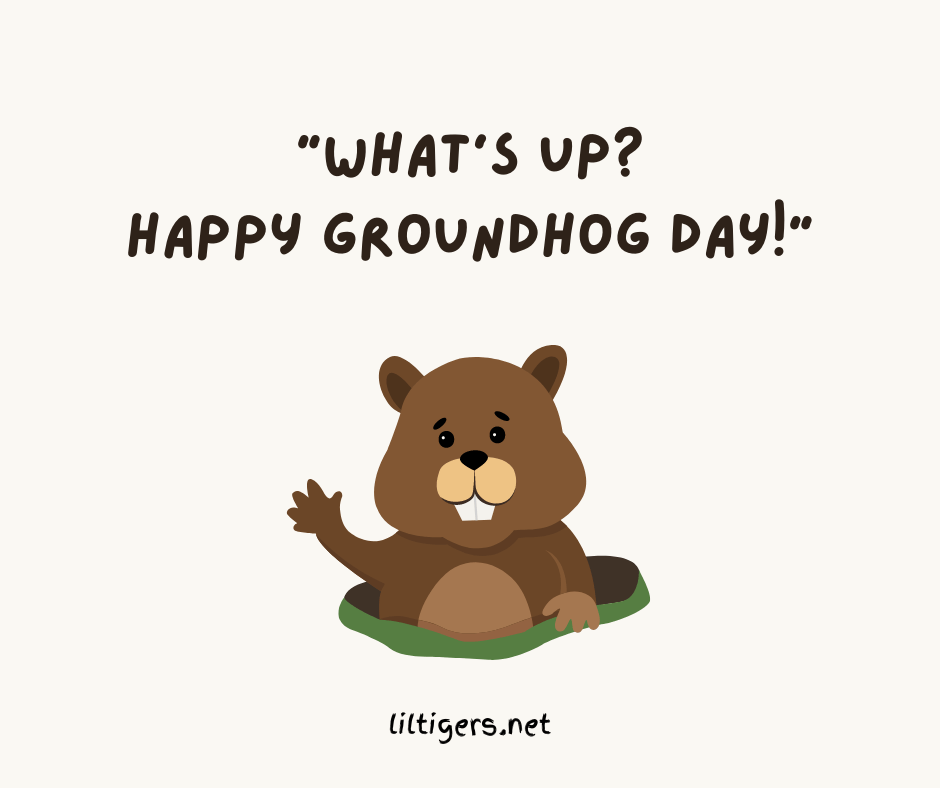 "Bad news punxs, there are more days of winter to go"

Unknown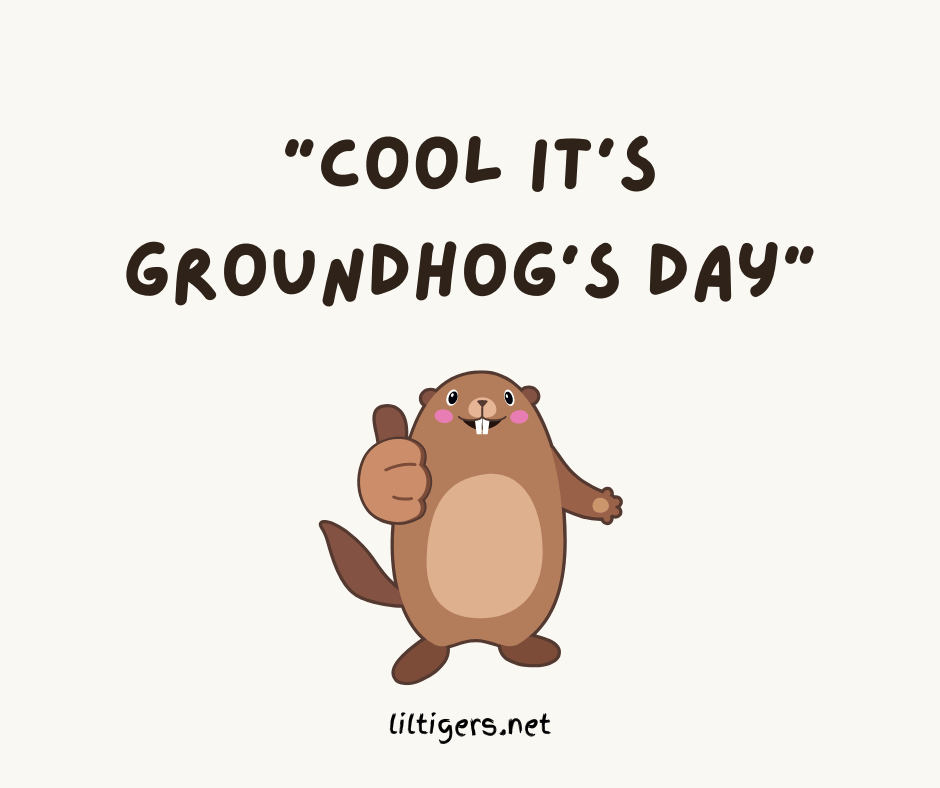 Funny Groundhog Day Puns:
Last but not least are our fun Groundhog Day puns:
What do puppies celebrate on February 2nd? Ground-Dog Day.
What animal takes up the most land? A groundhog.
What's green and jumps out of a hole on February 2nd? A ground frog.
"The groundhog is like most other prophets; it delivers its prediction and then disappears.​" – Bill Vaughn
Where do sick groundhogs go? The hospital.
"Winter is coming"

Unknown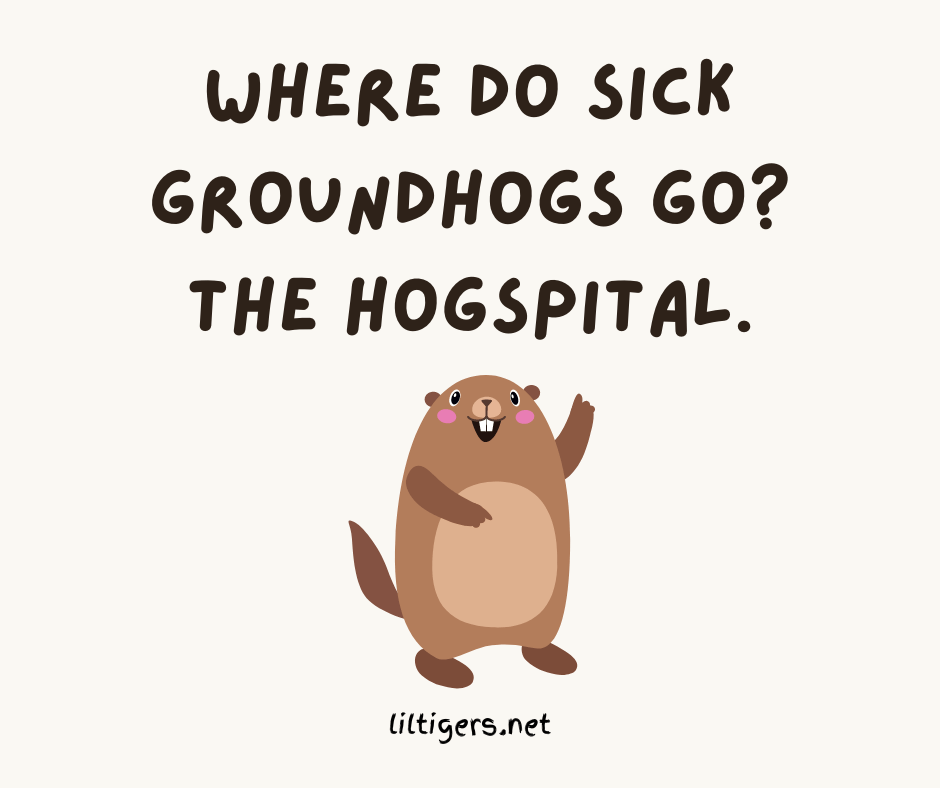 ---
Our visual learners can check out our groundhog day quote video here:
More Quotes
I also like to introduce you to the following quotes for kids:
Easy Groundhog Day Activities
After you are done with these happy Groundhog Day quotes and sayings, go check out these matching activities next:
---
How to Download Your Free Printable Groundhog Day Quote Cards PDF
Simply sign up here for our newsletter and you will receive the link to our free printable groundhog day lunch notes.
Already a subscriber? Don't worry, no need to subscribe twice. I just updated our free printable library.
You can find our fun groundhog day printable there or check our latest newsletter for more information.
If you have any questions, please do not hesitate to reach out to me. I m happy to help!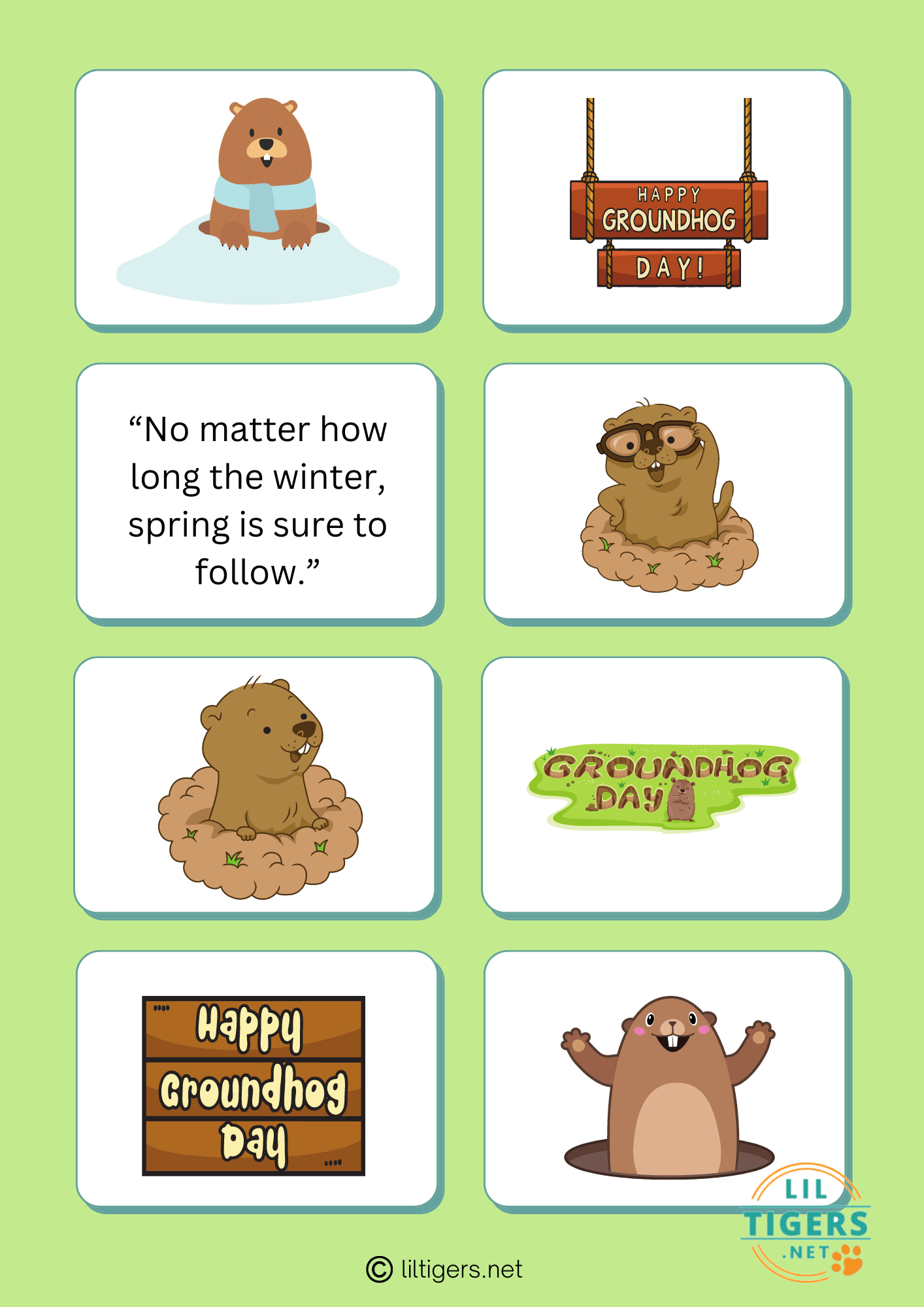 Pin Our Groundhog Day Quotes for Kids
Don't forget to save our 55 Groundhog Day Quotes on Pinterest for later! Be sure you are following along with Lil Tigers here.
Now I would like to hear from you!
Which saying for groundhog day did you choose? Did you find a better one?
Either way, let me know by leaving a comment below right now.
I love to hear from you!