Our free printable Carrot Templates come in small, large, medium, and color. They are perfect for any bunny, snowman, or veggie crafts.
Let's dive right in and get inspired!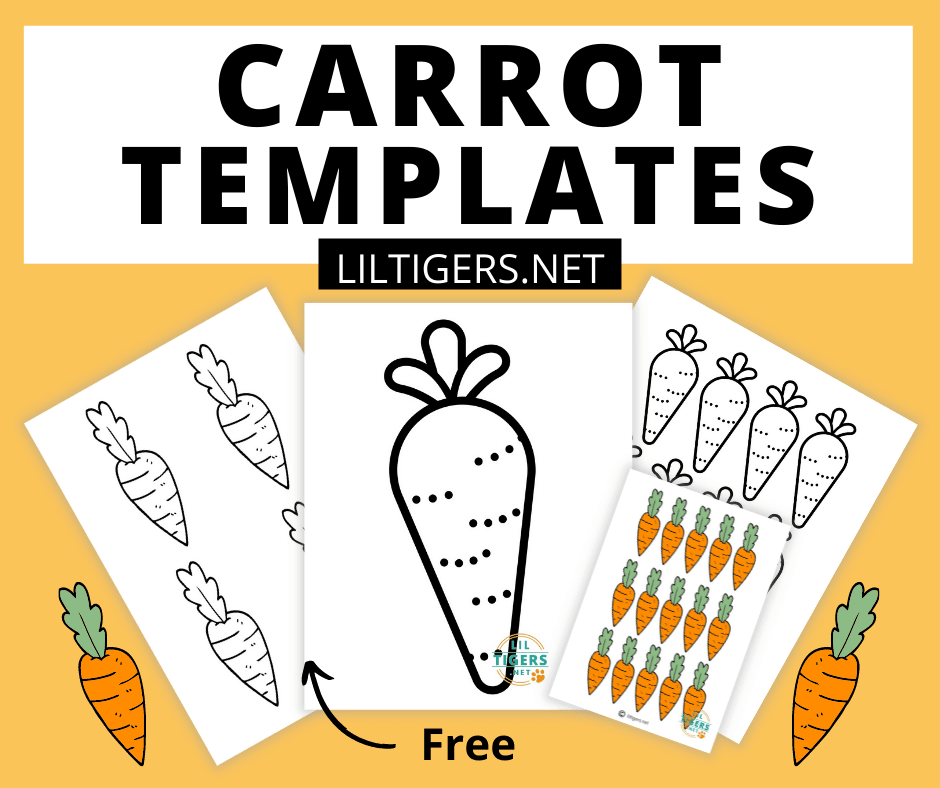 There are affiliate links in this post, meaning, at no additional cost to you, I will be compensated if you click through and take action. As an Amazon Associate, I earn from qualifying purchases.
Free Printable Carrot Templates in Small, Medium, Large, and Color
Our carrot printables come in small, medium, large, and color. They can be used all year round for crafts and are especially very popular during Spring, Summer, and Winter months.
We use them in an addition to Easter bunny crafts, studies about vegetables, and even frosty the snowman needs a carrot nose.
As you can see our carrot printable templates can be used in many different ways and settings.
They are great for crafting at home, in the classroom setting, or as an add-on to your homeschool curriculum.
Here are several carrot craft ideas for our templates. I hope you get inspired!
Carrot Template Materials
First, we should have a look at what you will need for our carrot craft ideas. Here is a short list of supplies you will need for our templates of carrots.
Do you need advice on How to Introduce Crafting to your Preschooler? Then read our 10 tips that work next.
7 Carrot Crafts for Preschoolers
As mentioned above the possibilities for our carrot template printables are endless.
Nevertheless, I like to inspire you with some ideas on how to use them in your classroom or at home.
1. Vegetable Education
Is it time to learn about vegetables and maybe even plant a small garden?
Then our carrot printables are the right thing to you. Simply add them to your curriculum and let them craft while teaching.
Do you have a hard time getting your children outside? Then try one of our tips on How to Engage Kids in Nature.
Here are some great books about vegetables and gardening, which you might enjoy.
I also came across this cute gardening set for kids, so you can make a family project out of it. Enjoy!
2. DIY Carrot Easter Card
Use our free medium carrot print out sheet to greater a fun Easter card. It is an easy enough carrot craft you can do in a preschool setting.
For this Easter craft make sure to print our free carrot template on thicker paper and let your students cut them out nicely. Afterward, they can use crayons or markers to color their carrots and use the backside for Easter notes for their family and friends.
Use short Easter messages such as "Wishing you a hoppy Easter!" or " Have a bunny-tastic Easter!". If necessary help your students and write the notes for them.
If you are not sure what to write on your Easter cards, go check out our 25 Cute Easter Messages for Kids.
Here are some cute examples:
Happy Easter to my favorite little bunny.
Sending a big Easter hug to one of the coolest chicks I know!
Here's hoping you have a fun, sunny, memorable Easter.
You make my heart hop! Happy Easter, little one.
Wishing you a hoppy Easter!
Have a bunny-tastic Easter!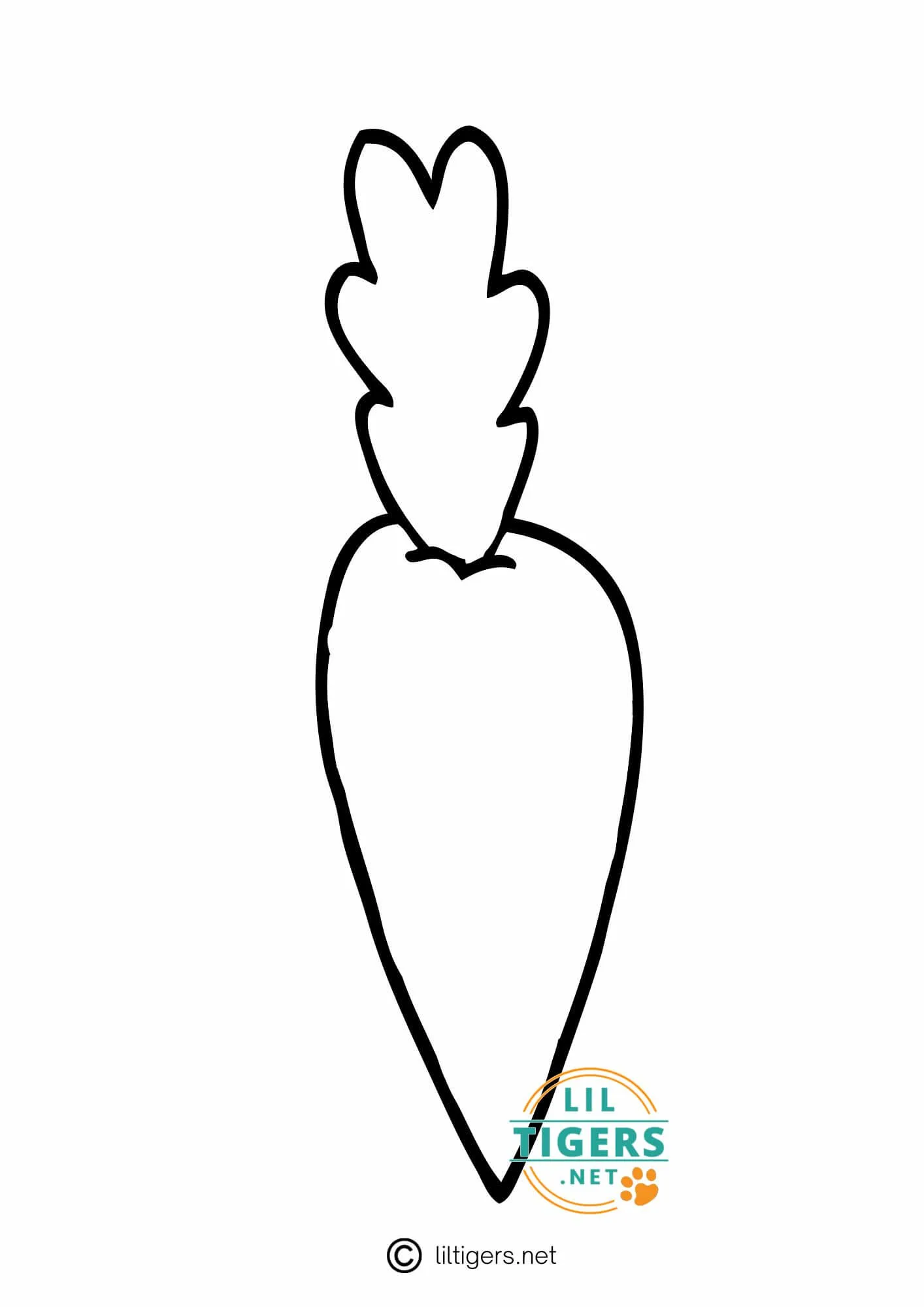 3. Easter Bunny Craft
What do bunnies eat? Carrots, exactly. That's why our printable carrots make the perfect addition to any bunny craft.
How about this foam paper bunny craft for example? The rabbit can hold one of our colored carrot cutouts in his hand.
They even come in matching sizes. Go check it out here.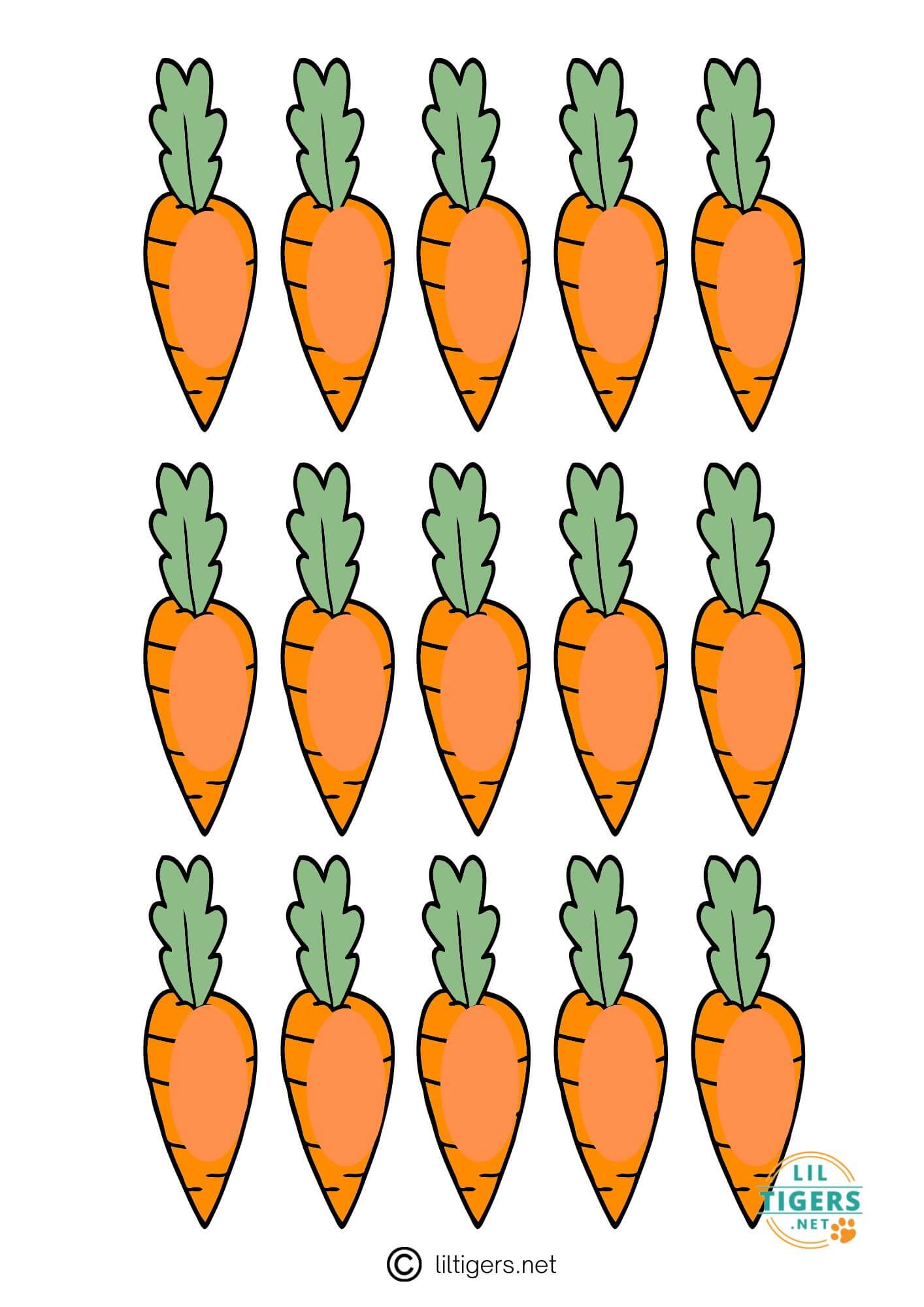 4. Free Printable Carrot Stencils
Another great idea is to them as carrot stencil printables. Print and cut and place them on another sheet.
It does not have to be white. You can also make with black paper nice carrot art projects with preschoolers and older kids. As long as you take bright popping colors to create a good noticeable contrast.
When choosing the size of the template be aware the smaller the template is the harder it will get to cut them nicely with your children. I would recommend using one of the medium-sized carrot printouts to make it more manageable for your students.
There are many different painting techniques to use for carrot stencil projects. Here are 20 Easy Painting Ideas for Toddlers. Why not take a look and try something new?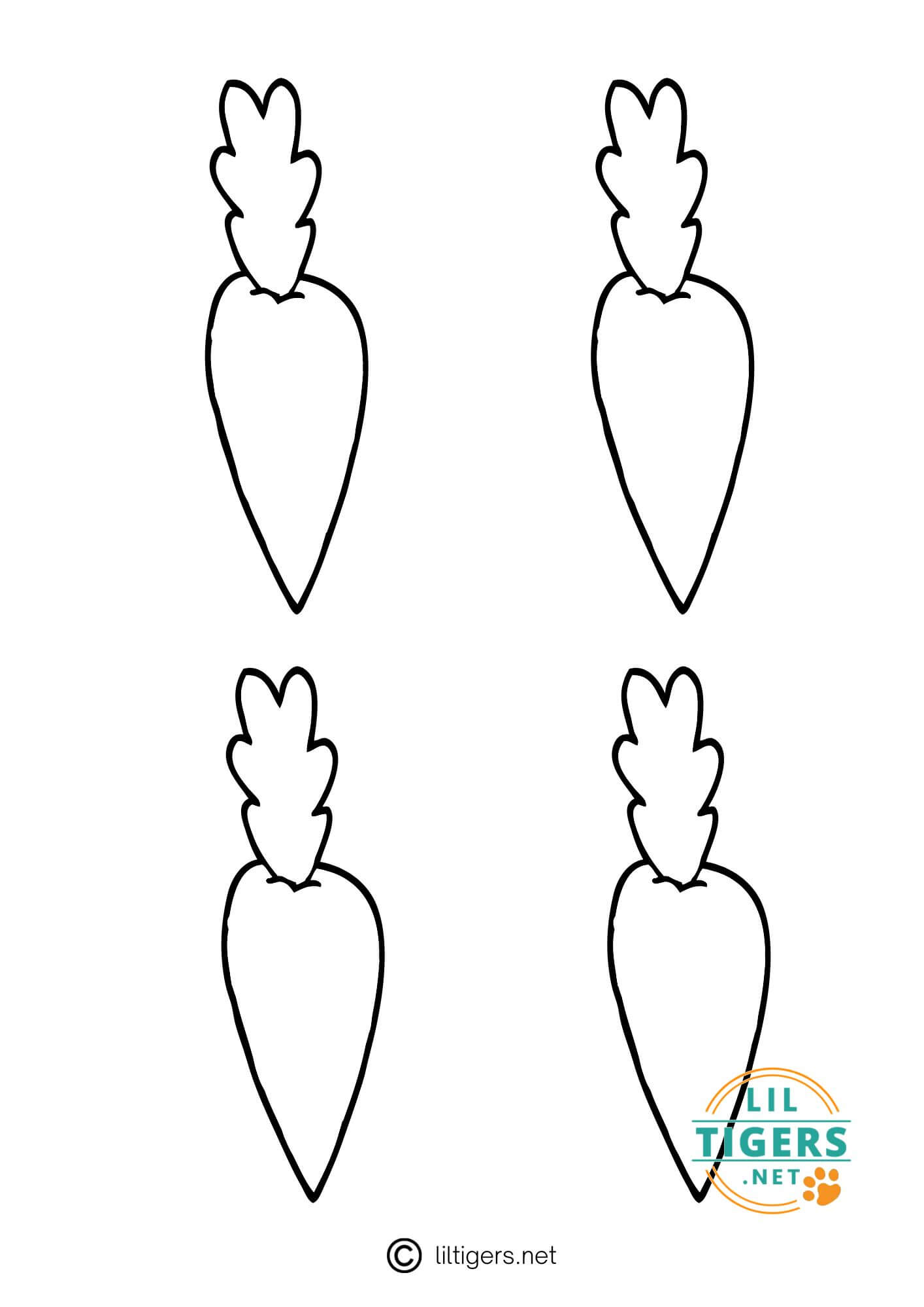 Did you enjoy our Easter carrot templates? Then try one of our other Spring activities next.
How about this great Chick Template or Easter Egg Printables.
5. Carrot Man Craft
How about making a carrot man out of our templates? Simply cut out the carrots, color them and give them silly faces. You can add googly eyes, or even make playdough faces. You can use the chance to talk with your children about feelings and impressions of their faces and make an educational lesson out of it.
6. Frosty the Snowman Craft
Even frosty the snowman needs a nose. Use our small carrot nose template and add them to your snowman craft. Last winter we made snowman luminaries and this year I simply will add our new carrot nose outline while crafting. Here is the instruction for our snowman luminaries, which we used as a winter decorations. Go check it out!
7. Easy Carrot Coloring Sheets
The large carrot printables are perfect for coloring activities. I even added an extra carrot coloring sheet with a colorful carrot at the button so younger children know where the colors go.
Let your children design their carrot patterns, use different colors, and let their creativity run wild.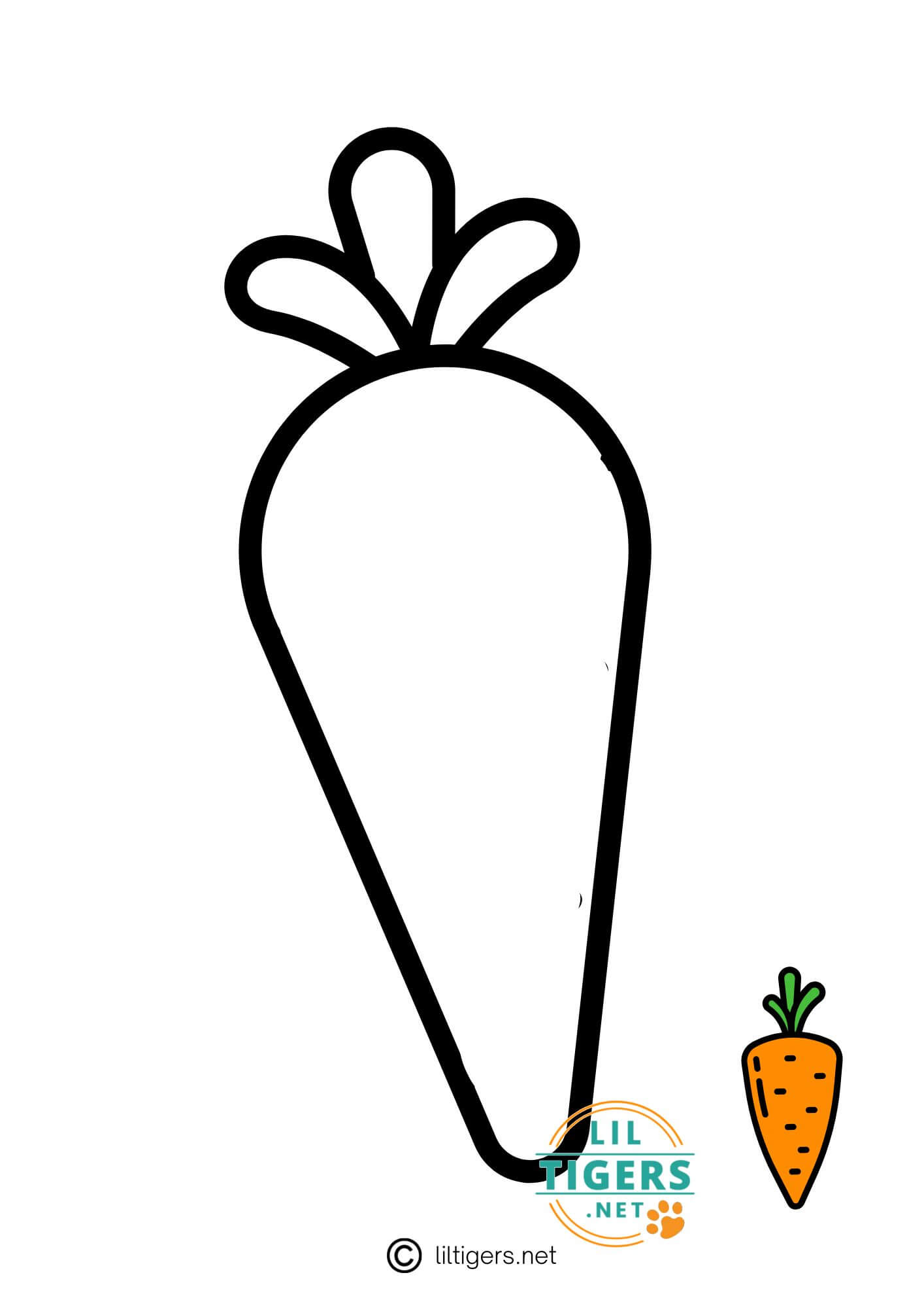 8. Easter Bunny Letter
Last I like to share this great Easter idea for our free printable carrot templates.
Did you consider turning our large carrot outline into a letter from the Easter bunny yet?
It is a fun add-on for your Easter baskets and will make your children happy.
For more Easter Bunny Letter Ideas follow our link.
---
If you like to try something different, go check out these 3d carrots they are super fun.
---
How to Download Your Free Printable Carrot Template Pdf
Simply sign up here for our newsletter and you will receive the link to our free carrot template pdf.
Already a subscriber? Don't worry, no need to subscribe twice.
I just updated our free printable library. You can find our carrot worksheets there or check our newest newsletter for more information.
If you have any questions, please do not hesitate to reach out to me. I m happy to help!
Pin These Free Carrot Printables
Don't forget to save our carrot outline printables on Pinterest for later! Be sure you are following along with Lil Tigers here.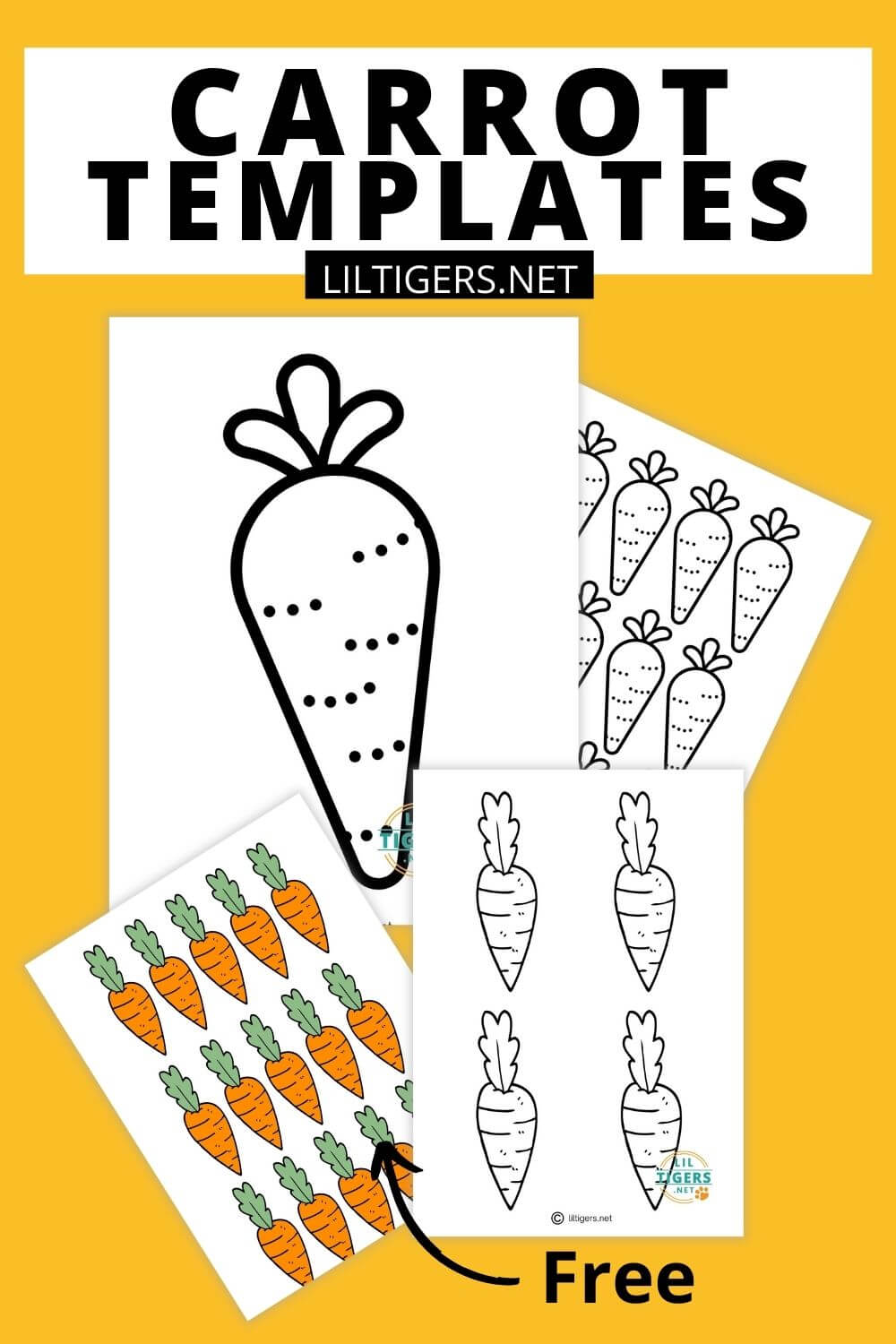 Now it is your turn.
How did your kids enjoy their carrot templates and coloring pages?
Either way, let me know by leaving a comment below right now.
I love to hear from you!