Are you obsessed with Christmas decorations? Then try these super cute flame-free snowman luminaries.
Not only is this DIY snowman craft for preschoolers made in a matter of minutes but also only requires household items. No extra trip to the store is needed!
Let's dive right in and find out how to make these easy DIY snowman luminaries.
DIY Christmas Decoration
Halloween is over and not everyone is celebrating Thanksgiving in their culture. That means it is time for Christmas decorations!
I love this special holiday season, especially with 3 relatively small children in the house who still believe in the magic of Christmas!
I have to admit, I already bought the first Christmas cookies in September and watching Christmas movies since October. No wonder I could not wait till Halloween was over and I can start decorating for the holidays!
Let me tell you, Christmas decoration does not have to be expensive to be special.
Every year we are making a lot of it by ourselves. Especially during this cold season being stuck at home, the kids need entertainment so we are doing a lot of easy DIY holiday projects together.
This year I wanted to try something new. While removing our ghost luminaries I got the idea of making these super cute snowman lights instead.
My kids really loved this cool decorating project and so did I. Let me tell you why:
It is a super easy and fast project.
No fancy crafting supplies are needed. You probably already have all materials in your house.
It is suitable for different age groups.
It doesn't make a mess.
They are toddler and pet safe.
This DIY Christmas decoration project is not only undeniably cute and inexpensive but also entertains your children at the same time!
It is a simply fun Christmas project.
It provides you with the chance of spending extra quality time with your family and the opportunity of making precious memories.
Are you interested in more DIY Kids Activities, Arts & Crafts, and Easy Science Experiments?
Subscribe to our newsletter now and never miss an update on new ideas for kids or free printables!
Click here
How to make snowman luminaries
But let's take a look now at this DIY snowman craft. Here is what you will need to make these fun snowman decorations:
Materials
markers
white paper lunch bags
flameless tealights
Follow this simple step-by-step tutorial to create your own snowman decoration:
Instruction
Step 1: Let's create snowmen
Start by drawing a snowman on your white paper lunch bags with a black marker. Make sure to color on the side without the paper bag glue line for a better result.
Step 2: Let's light the DIY snowman luminaries
After you are done drawing your snowmen simply drop your flame-less tealight into the bag.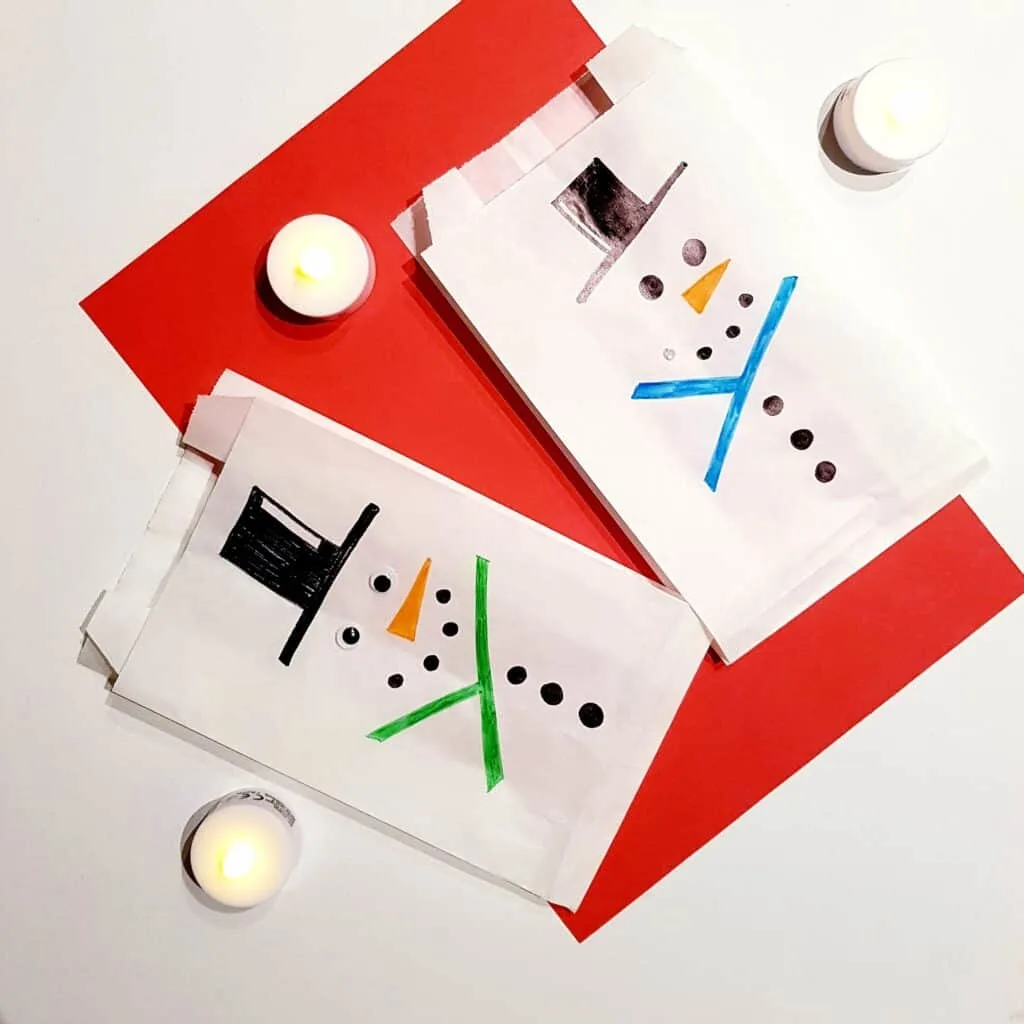 Step 3: Time to decorate
This was super fast, wasn't it? After drawing your faces and placing a light into your snowmen lunch bag it is time to decorate them together.
You are looking for more Christmas activities? Check out our Snowman Names, 75 Cute Snow Quotes, Free Printable Elf on the Shelf Letter Template, 15 Easy Christmas Trees, 3 Easy DIY Cupcake Liner Christmas Crafts, and New Year's Activities for Kids.
I came across some tips while doing this fun Christmas decorating project with my kids. Here is what I like to share with you all.
Tips
This activity is perfect for all age groups. Big kids are already able to manage drawing their own snowmen while toddlers still might help. Simply draw their outlines and let them color the inside.
If they are not capable of doing this yet, let them paint what they can or try my free Christmas printables for them. It will keep them occupied while you are able to finish this super easy DIY holiday project in no time.
Make sure to use washable colors while working with toddlers.
After painting snowmen on your lunch bags give them some time to try.
Instead of drawing eyes with black markers take some glue eyes and give it a try.
If you like to place them in your window, draw on both sides of your paper bags. That way they can be enjoyed from the outside and inside at the same time.
This craft is easier if you buy lunch bags with a pre-folded bottom. Mine sadly weren't and I had to do it myself. Lunch bags are delicate and I had to be really careful not to smash the paper.
Buy flame-less LED tealights with a timer. That way you don't have to worry about forgetting to turn them off and running out of batteries.
For a better result, push your led tealight all the way to the front of your luminaries, without touching your paper.
Use these sweet snowman luminaries instead of a night light in your children's bedrooms.
This holiday activity can easily be switched up by drawing other Christmas-related objects on your paper lunch bags. Other great ideas are Stars, raindeers, or a Christmas tree.
We used our cute winter snowmen to decorate my children's bedroom window but they can easily be placed on both sides of your staircase.
Christmas Fun:
Prior to this activity, we made these adorable melted snowman cookies matching our activity. They are easy to make and you will need only 6 ingredients.
Click here for the recipe by Recipes from a pantry.
Summary
Overall my kids really enjoyed this super snowman art project. You need no time to prepare this cute DIY snowman craft for preschoolers and most of the needed materials are most likely already in your house.
We turned on some Christmas music, ate Christmas cookies, and enjoyed our time together. Now my kids can enjoy their very own Christmas lights every night.
It truly was a perfect start to the holiday season. With that being said, happy magical holidays!

Pin This Snowman Craft for Preschoolers
Don't forget to save this fun snowman art project on Pinterest for later! Be sure you are following along with Lil Tigers here.

Now I would like to hear from you! How did your kids enjoy this easy DIY snowman luminary craft project? Either way, let me know by leaving a comment below right now. I love to hear from you!

Please don't forget to subscribe to my free newsletter, follow us on Instagram, Pinterest, Tik Tok, and join our Facebook group "Kids Activities Arts & Crafts" for more fun DIY Kid's Activities, Arts & Crafts, and Science Experiments.