Are you searching for the perfect snowman name? Then you are in the right place!
Here are 145 Clever Snowman Names followed by matching winter activities and a free snowman name cheat sheet.
Let's have a look!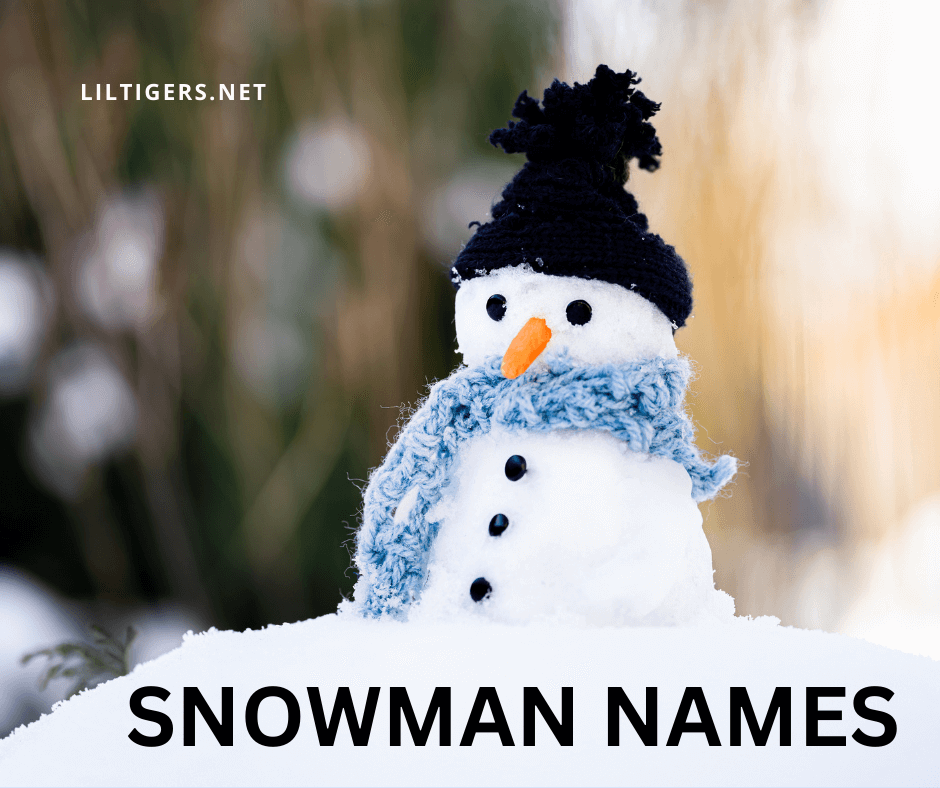 There are affiliate links in this post, meaning, at no additional cost to you, I will be compensated if you click through and take action. As an Amazon Associate, I earn from qualifying purchases.
What is a Snowman?
According to Oxford Languages, a snowman is a representation of a human figure (person) created with compressed snow.
The typical snowman made by children is made out of three snowballs, has arms made out of branches, and wears a hat and scarf. Its face and three buttons are used to be out of coal, but rocks will do just fine, and a carrot nose.
7 Fun Snowman Jokes
It is never wrong to laugh, therefore here are some funny jokes matching your snowman names:
What is a snowman's favorite drink? Ice tea!
Why didn't the snowman go to the party? He had snowone to go with!
Why did the snowman turn yellow? Ask the dog.
Why don't snowmen like carrot cake? Because it tastes like bogies!
Why did the snowman call his dog frost? Because Frost bites!
What does a snowman take when the sun gets too hot? A chill pill!
What did the snowman say to the robin? I have snow idea!
These and more Snowman Jokes can be found here!
Snowman Books for Kids
Are you interested in more kid's activities, arts & crafts, and science experiments?
I have made it easy for you! Join our newsletter now and I will send you new fun for kids.
Subscribe for free
145 Best Snowman Names
Finding the perfect name for a snowman can be simple. Because let's be honest you can give your snowman every possible name you can think of.
He or she can have only a first name or a first and last name.
There are no rules for snowman names.
Nevertheless, most people prefer winter and holiday-inspired names. The most famous snowman names have been "Frosty the Snowman" and "Olaf" since the movie Frozen.
I also want to point out that I added some names for snowwoman too. Because let's face it who said your snow sculpture has to be male?
For tips on how to build the perfect snowman check out the video at the end of our snowman name recommendations.
Also do not forget to print your snowman name cheat sheet below.
But now it is time to find matching snowman and snowwoman names for your snow creation.
Our list of names for snowmen includes clever and smart snowman names, fun snowman nicknames, snowman names from movies, funny snowman names, winter, and Christmas-inspired snowman names, and snowwoman names.
So let's get inspired. It is time to name the snowman!
Top 10 Snowman Names in 2022
First are our top 10 snowman name ideas for 2022:
Frosty
Olaf
Jack Frost
Jingle
Jack
Marshmallow
Snowflake
Blizzard
Chilly
Blitzen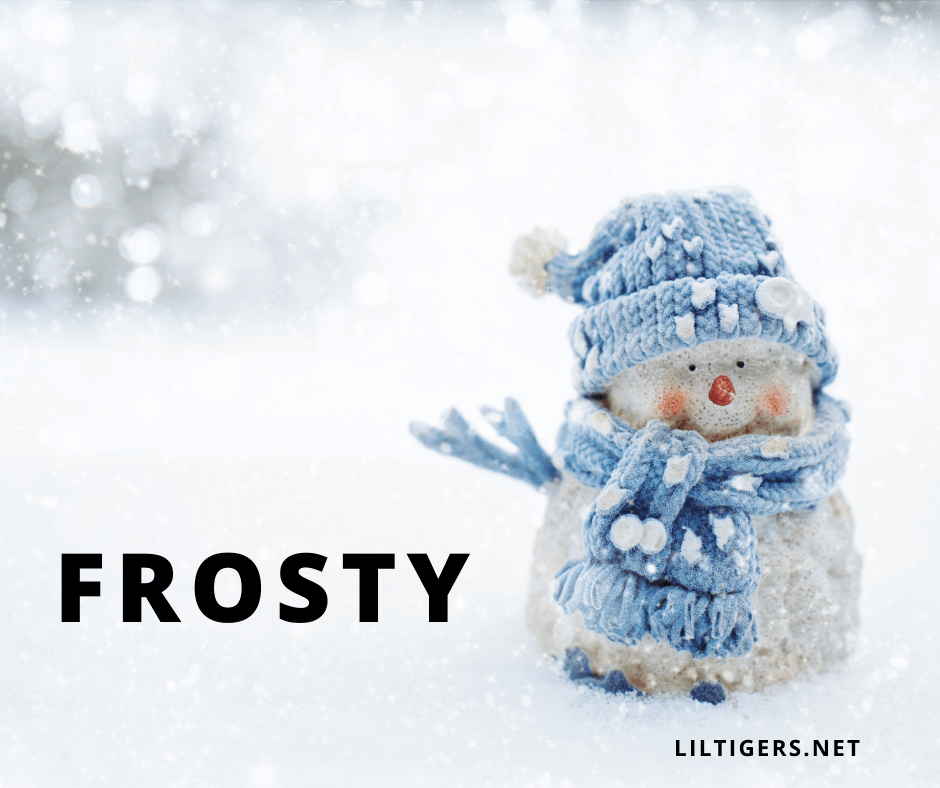 Classic Snowman Names
Next are the following snowman classic names:
Snowy
Holly
Freezy
Donner
Powder
Casper
Mr. McChilly
Comet
Cupid
Carol
Snow White

Unknown
Bilbo
Tinsel
Sven
Nicholas
Winter Snowman Names
Now it is time for winter-inspired snowman names:
Snowflake
Mr Freeze
Iclyn
Peppermint
Flaky
Winterspice
Frost
North
Snowmanson
Aspen
Frostbite

Unknown
Polar
Mr Snow
Dazzles
Magic
Do you like our snowman nicknames?
Then go check out these great stocking stuffer ideas for girls, boys, toddlers, and kids next.
Christmas Snowman Names
You will love these Christmas-inspired snowman names:
Merry
Joy
Eve
Noel McSparkle
Gabriel
Claus McJingle
Joseph McSnowy
Twinkle
Angel
Crystal Flakes
Mistertoes

Unknown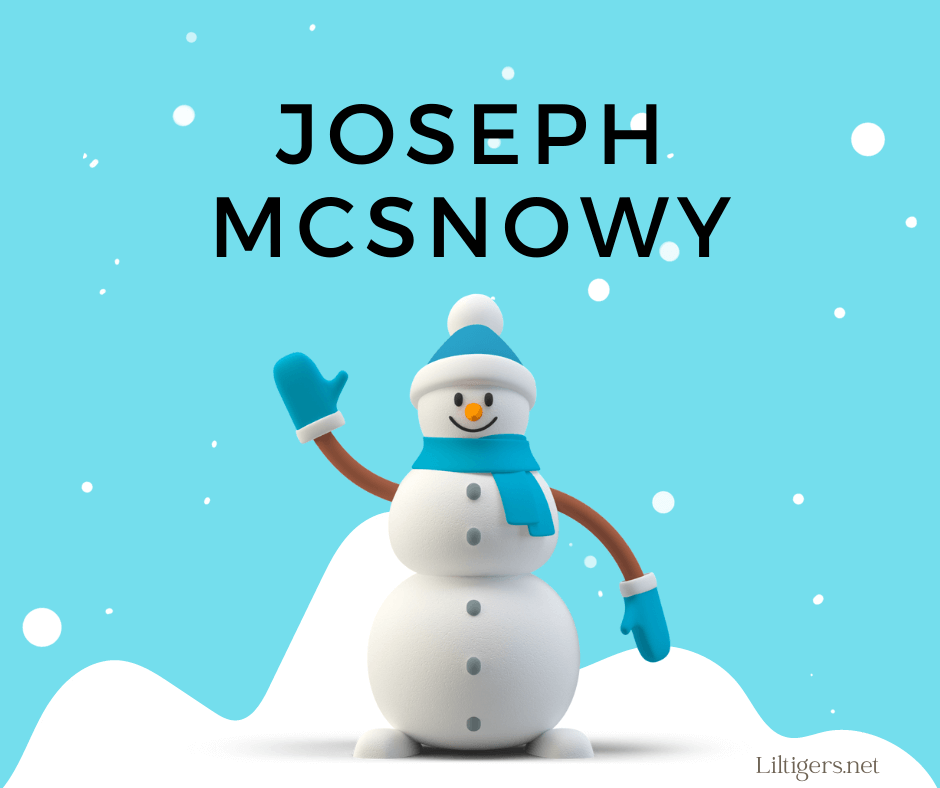 Cinnamon Mctinsel
Candycane
Star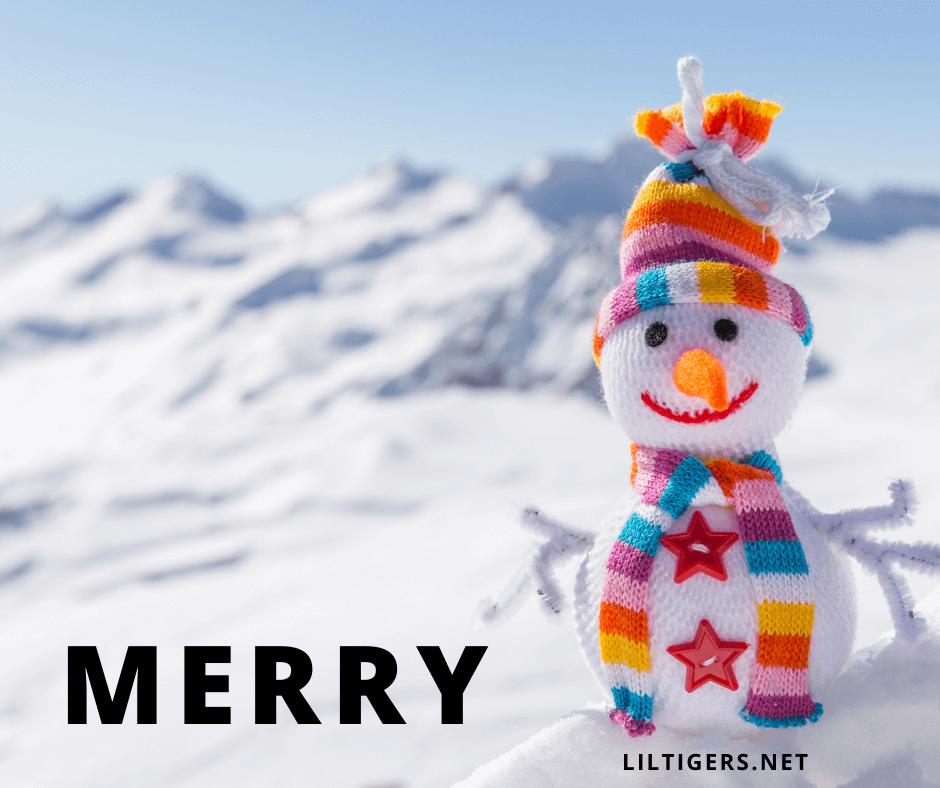 Cute Snowman Names
These snowmen names are too cute:
Bluey
Cole
Hobbes
Stormy
Morty
Big Chill
Mr White
Snowball
Snow Bunny
"Chilly" Pepper
Clever Snowman Names
Check out these smart snowman names next:
Zero
Fluffy
Crispin
Stormy
Mr Cool
Snowbiz
Mr Freeze
Slowman
Mr Snow
Snowdon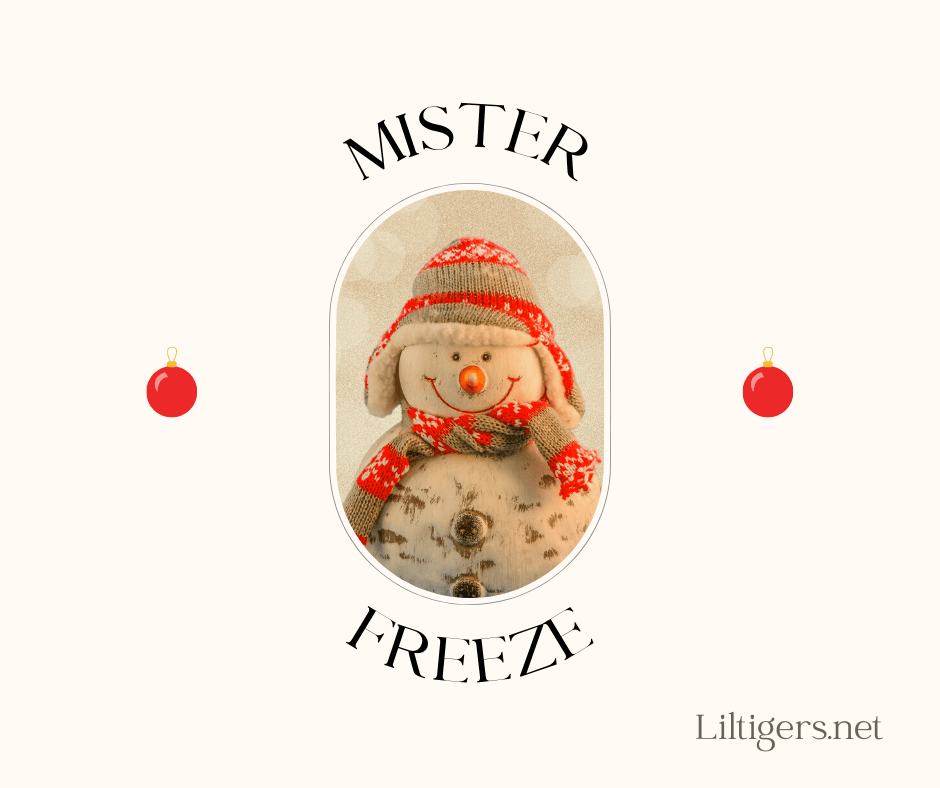 Funny Snowman Names
I love these fun snowman names:
Sun
Jon Snow
Keanu Freeze
Dan Snow
Sunscreen
Ben Chiller
Walter White
Peter Snow
Ice-T
Ice Cube
Poison Icy
Sunburn
Cold Porter

Unknown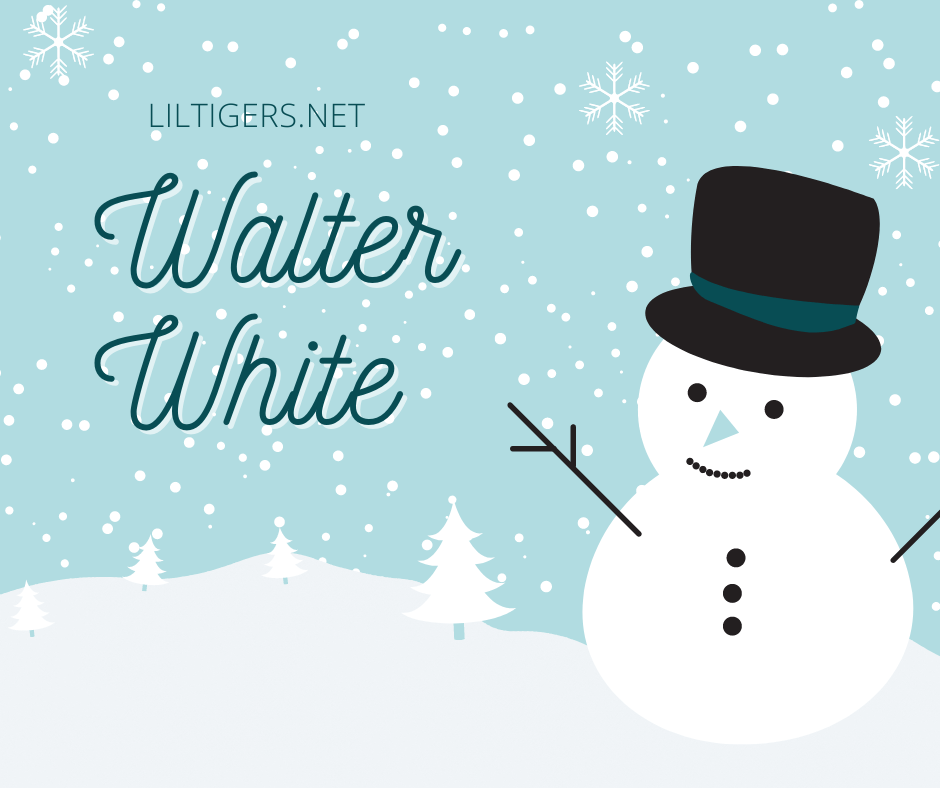 Fun Snowman Names
Also, go check out the following snowman names next:
Vanilla Ice
Cold Deboer
Stick Stickly
Meltin' John
Hank Snow
Eddie Blizzard
Cold Sprouse
Reginald Frost
Coriolanus Snow
Sunny
Edward Snowed In
Freeze Witherspoon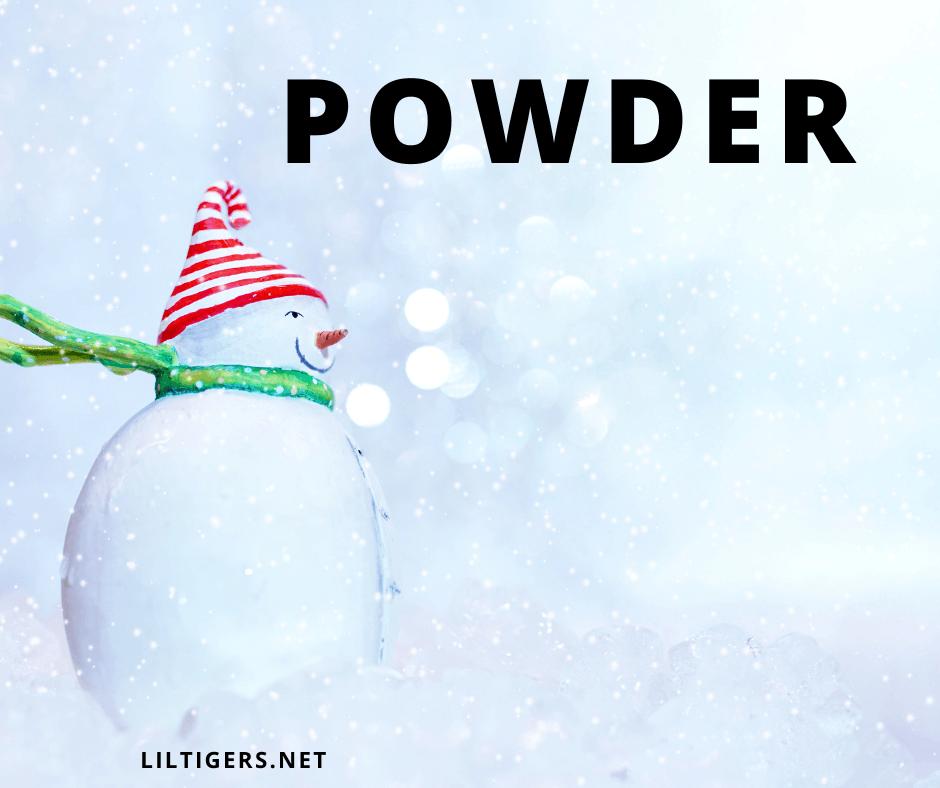 Snowman Nicknames
Do you need a nickname for your snowman?
Melty
Slim
Jingle
Robin
Sneezy
Freddie
Puddles
Snow King
Jon Snowman
Eira (snow in Welsh)
Short Snowman Names
Short but sweet. Let's check out these short names for snowmen:
Flaky
Cosy
Ember
Claus
Buddy
Calvin
Donner
Freddie
Jasper
Rudolph
Sparkle

Unknown
Timothy
Balthazar
Nutcracker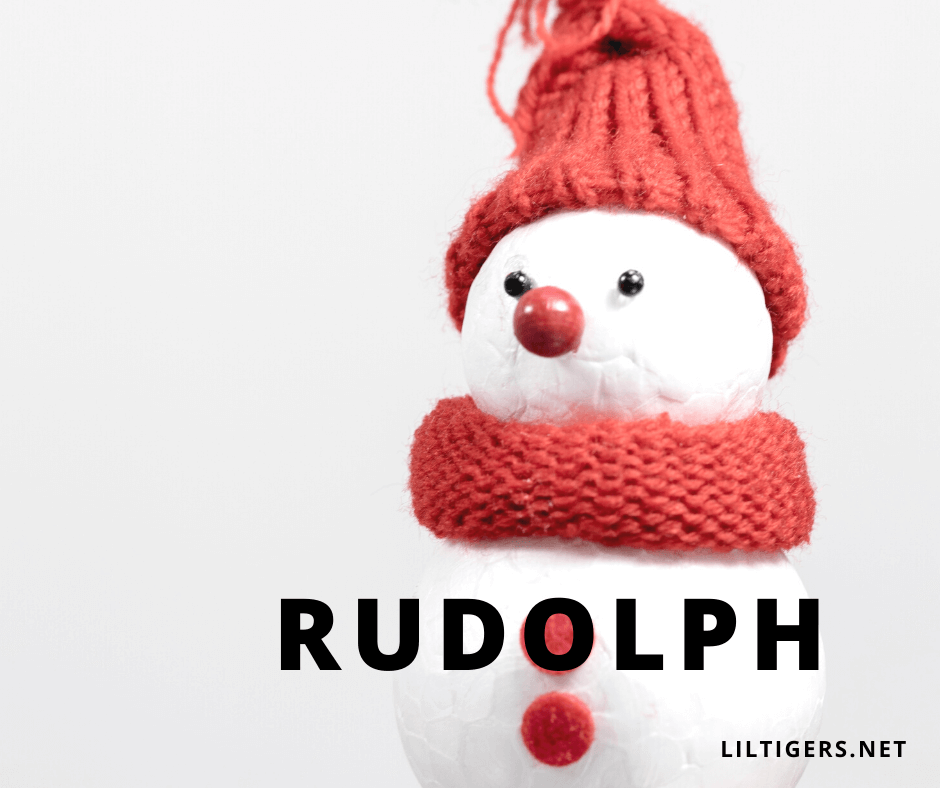 Snowman Names from Movies
How about the following snowman movie names:
Jack Frost (Jack Frost)
Olaf (Frozen)
Marshmallow (Frozen)
Everest (Abominable)
The Bumble (Rudolph The Red Nosed Reindeer: The Movie)
Frosty The Snowman (Frosty The Snowman)
The Abominable Snowman (The Abominable Snowman – probably not one to watch with your kids!)
Snowwoman Names
Last but not least our names for snowwoman:
Rosie
Elsa
Anna
Bianca
Hailey
Crystal
Noelle
Frostine
Anne Ice
Snowlivia
Amy Polar

Unknown
Eve McFreeze
Phoebe Snow
Snowprah Winfrey
Jennifer Snowpez
All visual learners can check out our snowman name ideas here. I added some matching snowman jokes you will like as well:
Easy Winter Activities
After you are done with these choosing a cute snowman name, go check out these fun holiday activities next:
In case you need tips on how to build a snowman check out the following video:
How to Download Your Free Printable Snowman Name PDF
Simply sign up here for our newsletter and you will receive the link to our Snowman Name Cheat Sheet.
Already a subscriber? Don't worry, no need to subscribe twice. I just updated our free printable library.
You can find our easy Snowman name printable there or check our latest newsletter for more information.
If you have any questions, please do not hesitate to reach out to me. I m happy to help!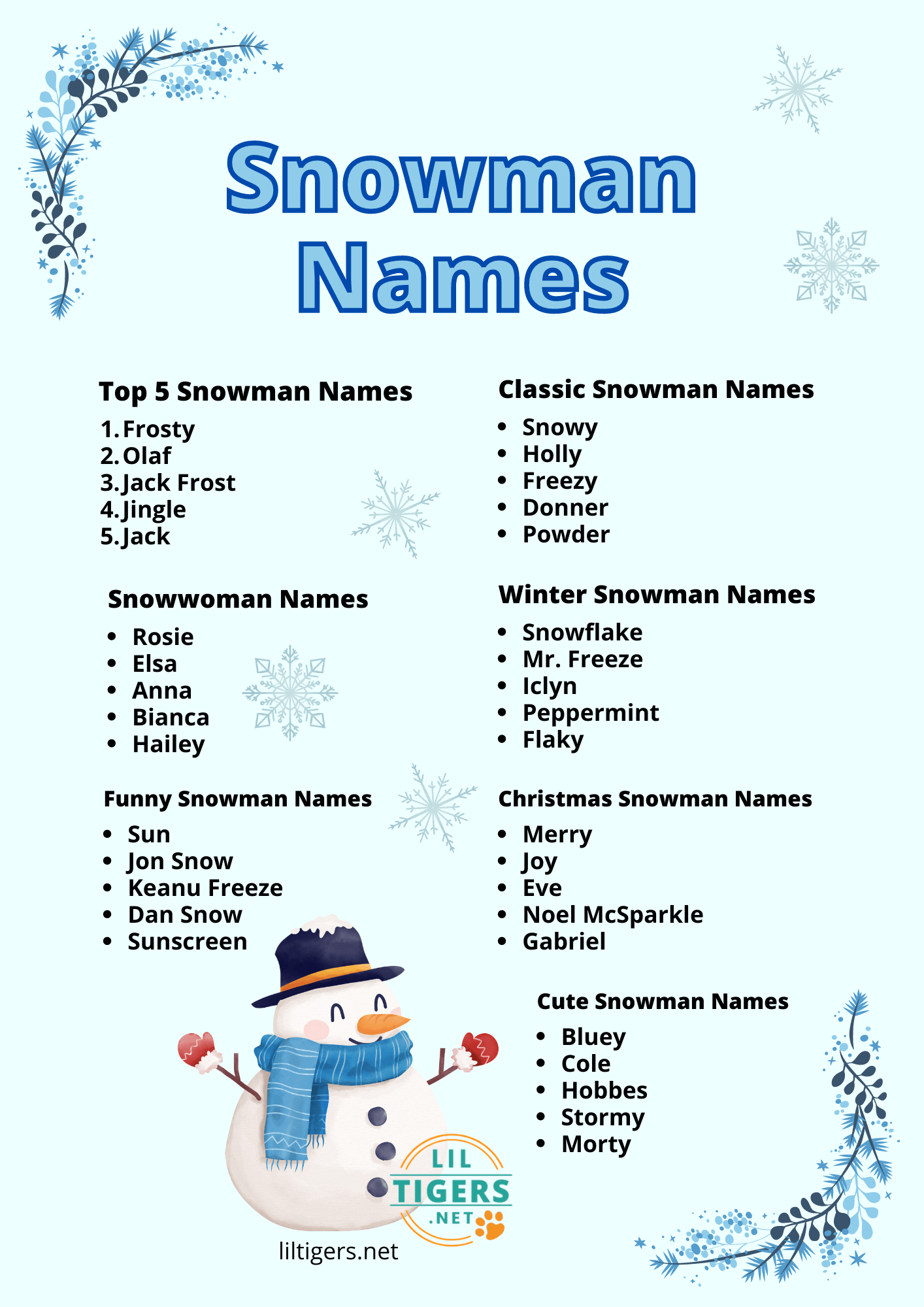 Pin Our Best Snowman Names
Don't forget to save our 145 Names for Snowman on Pinterest for later! Be sure you are following along with Lil Tigers here.
Now I would like to hear from you!
Which name for your snowman did you choose? Did you find a better one?
Either way, let me know by leaving a comment below right now.
I love to hear from you!