Sensory glitter jars are an easy and fun DIY activity for kids of all ages. This Calming Christmas Glitter Jar is no exception and inexpensive as well!
In fact, all you need is masons jars, glitter, and a handful of basic craft supplies.
No extra trip to the store is needed.
Let's dive right in and find out how to make your own snowman glitter jars!
Benefits of Calming Glitter Jars
Holidays can be stressful for everyone in the family!
Therefore those adorable winter glitter jars are the perfect festive stress relief project for kids!
They are not only fun and easy to make, but also a must-have when during the holidays when calming moments are needed.
Glitter sensory jars help little ones in a healthy and effective way to soothe themselves, calm down, take deep breaths, and work through their emotions.
How to Make Christmas Glitter Jars
But let's get started now with this fun holiday project for kids.
Here is what you will need for our fun snowman sensory bottles:
Calming Jar Materials for Christmas
Distilled water
1 mason jar
1/2 cup clear glue
2 1/2 teaspoons glitter
1 teaspoon confetti
food coloring (optional)
liquid paint
paintbrush
But let's have a look now at this super easy step by step tutorial:
You might also enjoy our other Christmas activities. Next, I would try our popular Snowman Names, Winter Scavenger Hunt, DIY Snowman Luminaries, 12 Days of Christmas Activities, 25 Easy Christmas Crafts, and Stocking Stuffers Ideas for Kids under 10 Dollars
Christmas Glitter Jar Instructions
Step 1: Paint a snowman
Take your paintbrush and liquid paint and draw a snowman, as seen in my picture, on your mason jar.
Step 2: Let it try
After you are finished painting give your snowman art some time to try.
Step 3: Add distilled water
Take your painted 16-ounce mason jar and pour 1/2 cup of water in it.
Step 4: Add glue
Add 1/2 cup of clear liquid school glue to your glass jar filled with water.
Step 5: Add food coloring (optional)
As you can see in the pictures, we added dark blue food coloring to our glitter bottle to make it appear like a snowstorm in the dark. This step is not a must and is optional!
Step 6: Make it sparkle
Add 2–4 teaspoons of shimmering craft glitter, confetti, or sequins to the water glue mix. We used silver glitter to make it look like snow!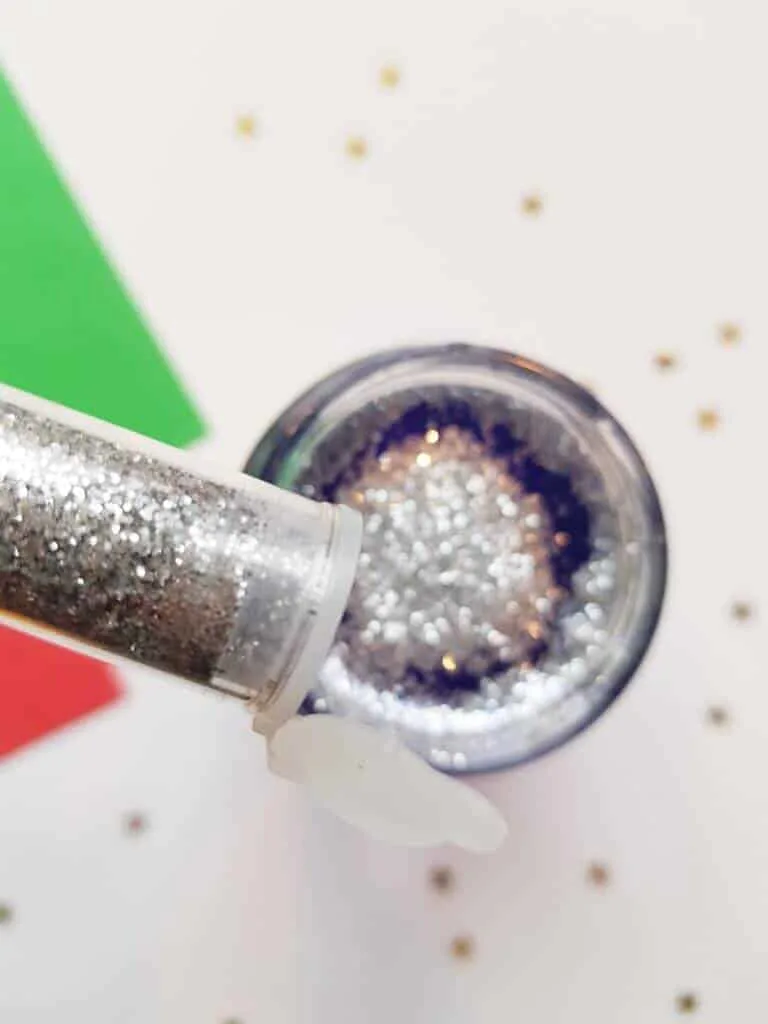 Step 7: Top of the jar with water
Fill the remainder of the mason jar with distilled water, leaving about 1/2 inch of space at the top.
Step 8: Seal the jar
Take the lid now and close the jar tightly.
Step 9: Let it snow
After the glue has cured, shake your Christmas jar. Enjoy watching the snowstorm rise and the glitter swirl to the bottom. It is very calming!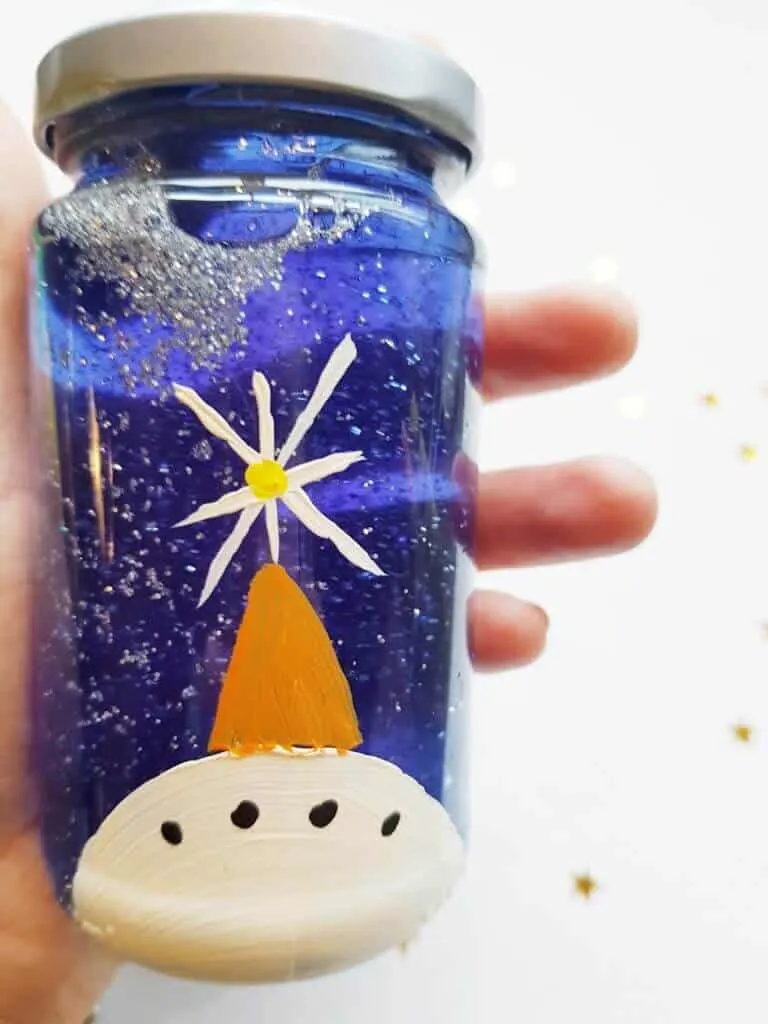 Are you interested in more DIY Kids Activities, Arts & Crafts, and Easy Science Experiments?
Subscribe to our newsletter now and never miss an update on new ideas for kids and free printables!
Click here
Tips
You don't like snowmen? No problem, just paint a different holiday or Christmas character on your jar.
We used glass jars but if you are working with small toddlers it might be better to buy plastic jars. It is a saver option. Just in case they drop their glitter globe.
If you are deciding to use plastic jars, I would recommend using permanent markers to draw your holiday motive.
There are two options in case your child is too small to draw their own snowman:
You draw the snowman for them prior to starting your holiday project.
Simply let them draw what they can. It is not the end result that matters, it's the fun along the way!
Summary
My kids enjoyed this super easy Christmas glitter jar and still using it to calm themselves!
Every season my kids and I enjoy redecorating the house together and doing fun seasonal arts and crafts.
We are especially big fans of recycling craft projects.
For our snowstorm glitter bottles, we were able to use recycled tomato sauce jars and regular crafting essentials.
I like the fact about this DIY holiday project is not only fun at home but also perfect for a classroom setting.
It easily can be adjusted to a wide age range so it is also suitable for toddlers, preschoolers, kindergarteners, and big kids.
My kids not only enjoyed painting the jars but also assisted in mixing the ingredients.
The cool thing about these festive calming jars is that they bring joy even many days after their arts and craft project is finished.

Calming
We placed them on their bedroom window sill where they can reach them any time and they look gorgeous as Christmas decorations as well!
It provides them with the possibility to take them, shake them, and enjoy watching the glitter drop into the glass at any time!
But they are not only pretty to look at they also help them to learn focusing skills, calm down, and to regulate their emotions.
Glitter sensory jars are also a big help in my house to master temper tantrums of any kind.
We also used the time during this winter project to listen to some Christmas music and while my older children painted their sensory bottles I entertained my young toddler with these fun holiday coloring pages.
Everyone had a fabulous, stress-free time. We loved it!
Pin this Christmas Glitter Jar
Don't forget to save this Snowman glitter jar on Pinterest for later! Be sure you are following along with Lil Tigers here.
Now I would like to hear from you!
How did your kids enjoy this easy calming Christmas glitter jar project? Either way, let me know by leaving a comment below right now.
I love to hear from you!
Follow us on Instagram, Pinterest, Tik Tok, and join our Facebook group "Free Kids Activities Arts & Crafts" for more fun DIY Kid's Activities, Arts & Crafts, and Science Experiments.