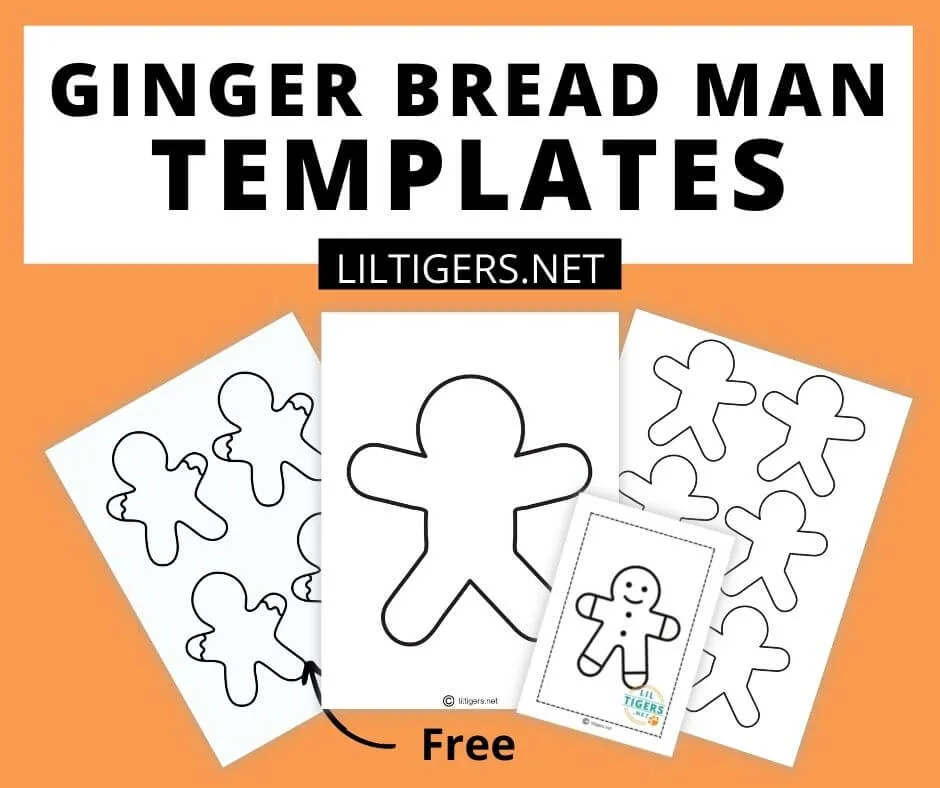 Gingerbread Man Facts
Let's look at some gingerbread man facts for kids before we start with our templates and gingerbread man craft ideas.
What Is a Gingerbread Man?
A gingerbread man is a cookie made of gingerbread shaped like a person. In America, they are most popular around Christmas. The flat cookies are cut out with a cooky cutter and can be frosted and decorated in various ways.
Gingerbread men were first attributed in the 16th century at the court of Queen Elizabeth I. The men-shaped gingerbread cookies were made as a gift for important guests (source).
The Gingerbread Man Tale
"The Gingerbread Man" is an American fairy tale. The first version appeared in the May 1875 issue of St. Nicolas Magazine. It tells the story of a baked gingerbread man who ran away from the woman who baked him. He is chased by several characters in the book who like to eat him and a crafty fox finally eats him.
The story is known for the gingerbread man's chant: "Run, run, run as fast as you can! You can't catch me, I'm the Gingerbread Man!" (source).
How to Bake a Gingerbread Man
To make a gingerbread man you will need ginger, cinnamon, nutmeg, vanilla extract, salt, butter, brown sugar, molasses, eggs, flour, and baking soda. After preparing the dough you roll it out flat and cut the gingerbread man with cookie cutters.
Then place them on baking sheets and bake them for 10 minutes. When the cookies are cooled down you can decorate them in many different ways.
As you can see making gingerbread men is not that hard. Simply follow the step-by-step instruction here in the link and you are good to go.
Gingerbread Man Books for Kids
Free Gingerbread Man Template Printables
Gingerbread Man Cut Out Materials
Free Printable Gingerbread Man Cutout Templates (found below)
Scissor
Paper
Crayons, Markers, Colored Pencils, Water Colors
Glue
Pom Poms or Cotton Balls
Glitter and Sparkle
10 Easy Gingerbread Man Craft Template Ideas
Gingerbread Man Coloring Pages
Gingerbread Man Stencils
25 Fun Gingerbread Man Jokes
The Gingerbread Man Fairy Tale Story Time
DIY Gingerbread Man Card
Gingerbread Man Garland
Decorating Gingerbread Men
DIY Gingerbread Man Ornaments
Gingerbread Man Paper Bags
Gingerbread Man Paper Roll Craft Project
1. Gingerbread Man Coloring Pages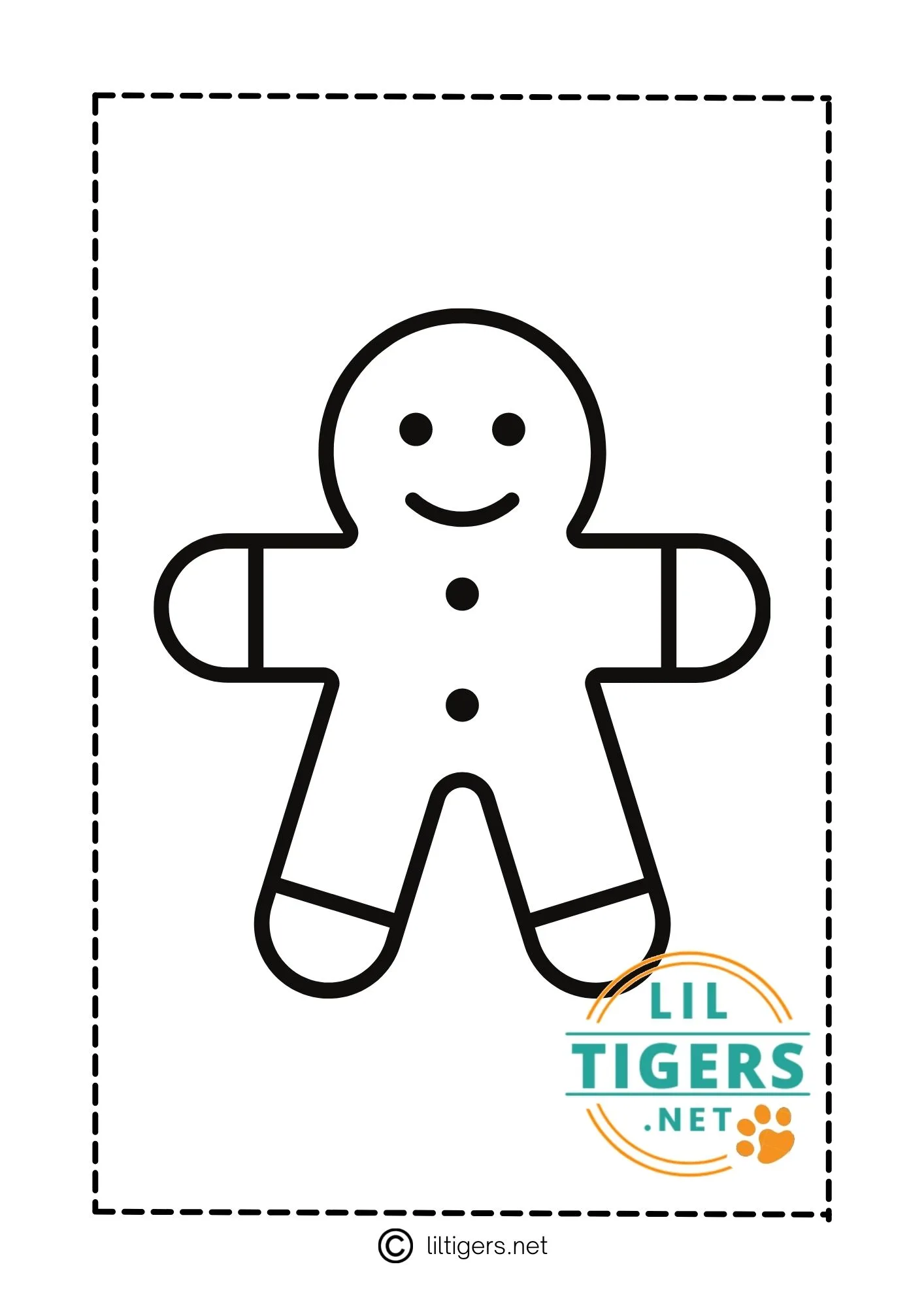 2. Gingerbread Man Stencils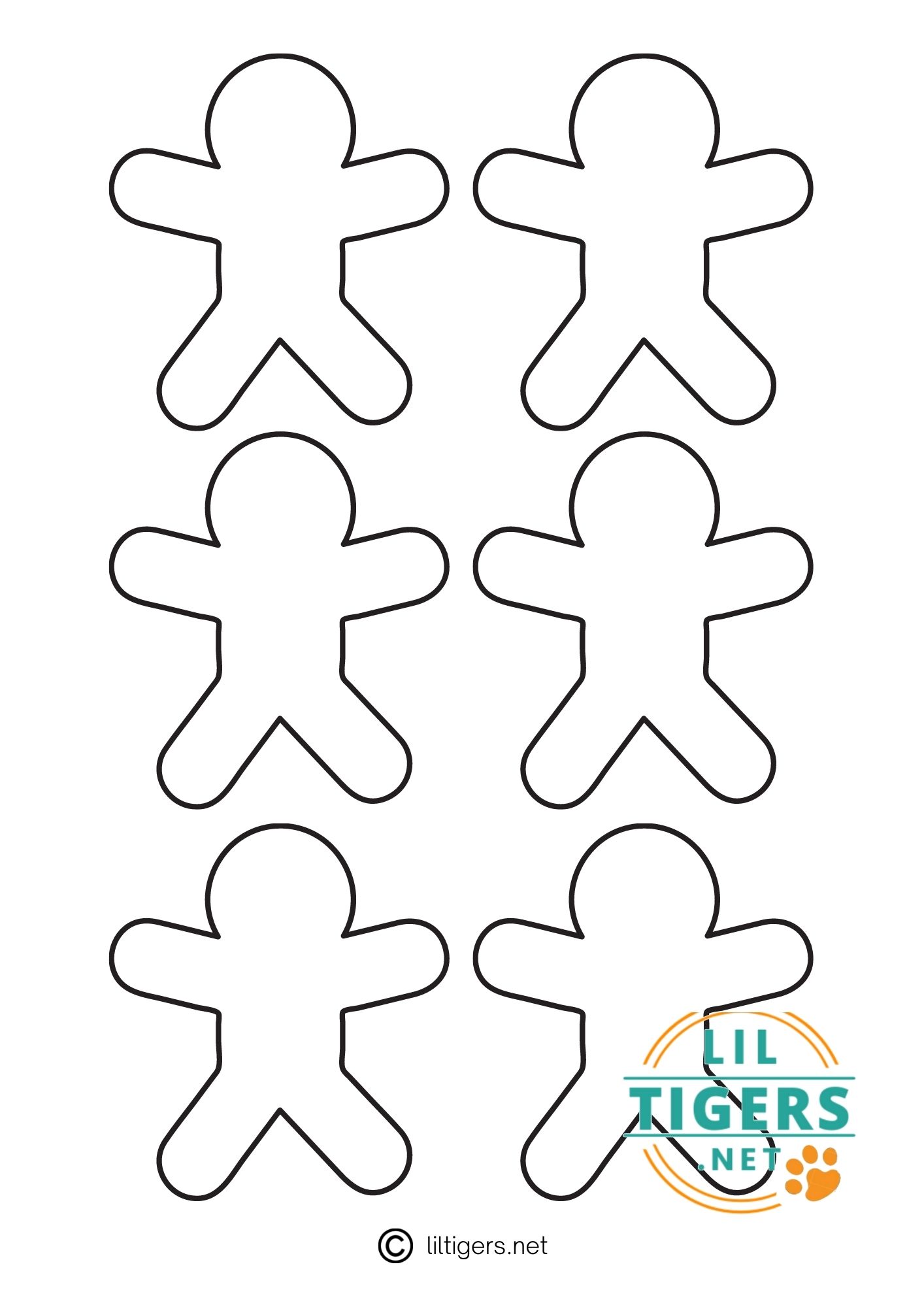 While crafting you can tell some funny gingerbread man jokes to your children. Here is a list of the 25 Best Gingerbread Man Jokes for Kids. Let me know if they liked them!
4. The Gingerbread Man Fairy Tale Story Time
My children love the story of the gingerbread man. They want me to read it over and over again and actually all year round as well.
So why not cut out our gingerbread template printables and let them craft while reading or use them as show and tell for your story. Now you only have to find some printables for the animals and you are good to go!
5. DIY Gingerbread Man Card
Turn our blank gingerbread man into a fun 3D card. Use our medium gingerbread man to print for this fun winter project. In this post from RedTedArt you find the full instruction on how to turn your gingerbread person outline into a fun 3D card. Have a look here.
Oh and here are 50+ Christmas Card Messages for Kids to add to your card. Go check them out here.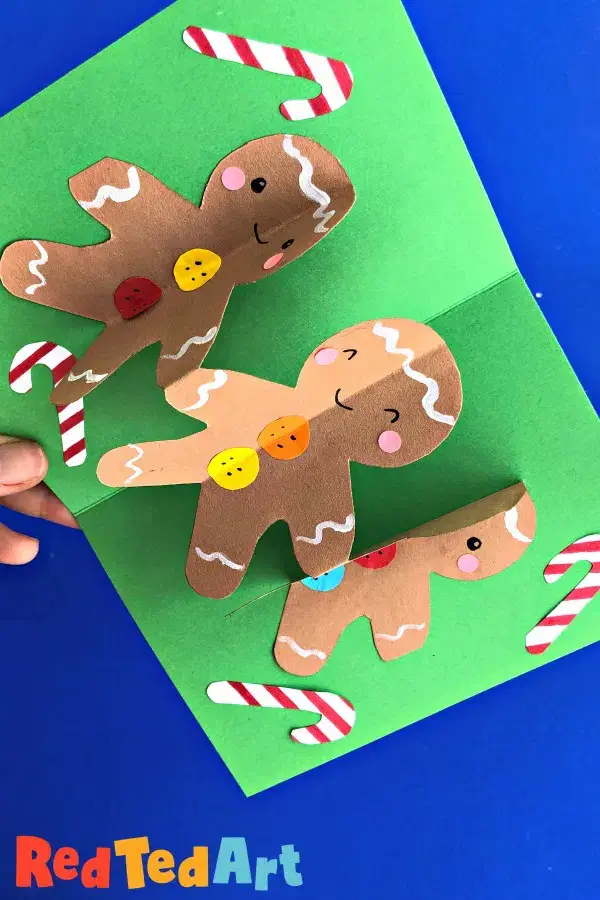 The matching Gingerbread Man Quotes for your card can be found here.
6. Gingerbread Man Garland
You could also turn our gingerbread cut outs into a winter garland and decorate your classroom or house with it. It is a pretty simple gingerbread man craft.
First, you take our medium-sized printable gingerbread men cut outs and print them on brown paper. Then cut them out. Next let your children decorate them if they want to, then attach them on a string with tape and hang them up.
If you like to switch it up I even saw people printing out hearts and placing them between the gingerbread men.
7. Decorating Gingerbread Man Craft for Preschoolers
This is the perfect winter gingerbread man craft for preschoolers. Instead of decorating gingerbread cookies, you can let your students decorate their paper gingerbread men.
Give each student a large gingerbread printable and let them decorate them to their liking. It is a great fine motor activity the children will enjoy.
Before you start prepare for each table a set of craft supplies they can use. Including materials such as pom poms, buttons, googly eyes, torn paper pieces, markers and crayons, glue sticks, a scissor, and other things they can use.
8. DIY Gingerbread Man Ornaments
Gingerbread men ornaments can look pretty cute on your Christmas tree. Why not let your children use the medium-sized ginger men templates and cut and decorate them? Afterward, simply make a hole with a puncher at the top. Then attach a string so you can hang it up on your Christmas tree.
To switch things up you could also add a picture of your students as faces on each gingerbread man. Just make sure to use card stock paper for both variations to make your gingerbread man ornaments last longer and keep them as a keepsake over the years!
9. Gingerbread Man Paper Bags
Another option would be to turn paper bags into gingerbread man puppets. All you need for this gingerbread man idea is our medium printable, brown paper bags, a couple of craft supplies, and card stock paper.
First, you print the gingerbread man on brown or white card stock paper, then decorate or color them as you wish. The reason to use thicker card stock paper is that your puppet will last longer and not tear right away.
After you cut and decorate your ginger man attach them to your brown paper bag. Make sure you glue it on the right way so your bag opening is at the button.
10. Gingerbread Man Paper Roll Craft Project
There are other ways to craft a gingerbread man without our free printable. Here is just one way I like to show you real quick.
With help of recycled paper rolls and card stock paper, you can create these wonderful gingerbread man decorations for your fireplace or windows. You can find the full instructions for this ginger man project here. Happy crafting!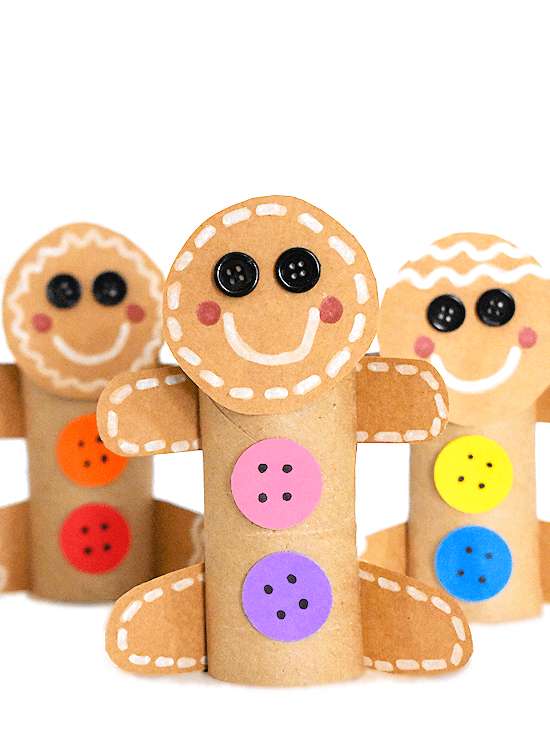 ---
How to Download Your Free Printable Gingerbread Man Templates Pdf
Pin These Free Gingerbread Man Template Printables