Do you love to play bingo with your family and friends? Then go check out our list of Free Printable Bingo Games. You will find the fitting bingo game for every occasion. Let's check it out!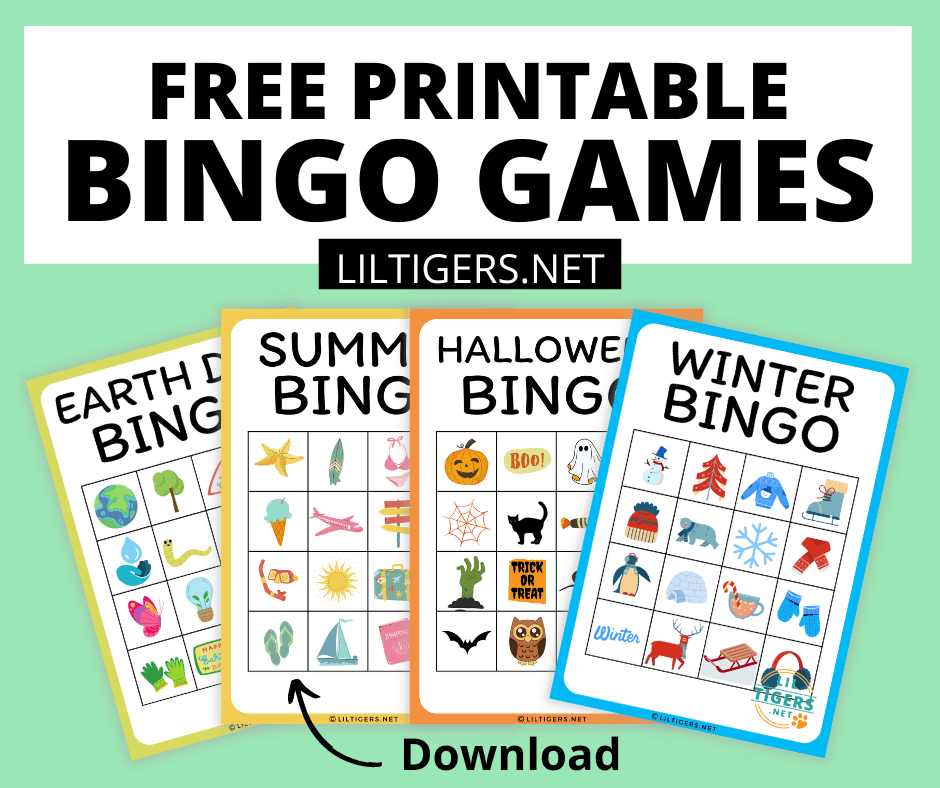 There are affiliate links in this post, meaning, at no additional cost to you, I will be compensated if you click through and take action. As an Amazon Associate I earn from qualifying purchases.
Here are 10 Fun Bingo Printables:
Spring Bingo
Summer Bingo
Fall Bingo
Winter Bingo
Valentines Bingo
Earth Day Bingo
St. Patrick's Day Bingo
Mother's Day Bingo
4th of July Bingo
Halloween Bingo
Thanksgiving Bingo
Christmas Bingo
New Year's Bingo
Harry Potter Bingo
Super Hero Bingo
Alphabet Bingo
How to Play Bingo
Bingo is such an easy but fun game that makes addicted. There are two types of bingo games. The classic game with numbers and the picture bingo game.
Picture bingo boards are easier to play with little kids. If you choose a bingo board with numbers or even words are more challenging and intended for older children or grown-ups. This is why the number and word bingo cards are meant for children who can already read and know their numbers.
That does not mean older children and even adults can not enjoy a game of picture bingo as well!
Setting Up Bingo
After choosing an age-appropriate bingo game it is time to set up your game of bingo. It is actually pretty easy and can be prepared ahead of time.
To set up your bingo game, you have to download and print your free bingo boards and bingo calling cards first. Then place the bingo cards in a basket or bag. Afterward, you cut your bingo call-out cards. When you are done with those make sure to place a bingo game board at every seat.
Now pick something fun to mark your numbers, words, or pictures. You can always use markers, pencils, or crayons but your children or student also might enjoy theme-matched stickers, poker chips, or food items, such as candy corn at Halloween, or marshmallows during winter.
Bingo Rules
After your bingo templates are all prepared and set up it is time to look at the bingo rules. Bingo is actually not as hard as it looks and as soon as you get the rules it is pretty fun to play. So let's check them out:
First, you have to decide on a detected caller. Mostly this will be the mom, teacher, or any grown-up who is playing.
The caller will draw a picture, number, or word out of your basket and show and call it to the players.
Each player then marks it on their bingo board.
Once the first player got a full line on their bingo board crossed (vertical, horizontal, or diagonal) he or she will shout out "Bingo" and wins.
pretty easy isn't it?
---
If you are a visual learner, here is a short video that explains to you the bingo rules with numbers:
Are you interested in more kid's activities, arts & crafts, and science experiments?
I have made it easy for you! Simply join our newsletter now and I will send you new fun for kids.
Subscribe for free
Free Printable Bingo Games
Are you looking for free bingo sets to play with your family, friends, or students? Then check out our list of fun bingo games. They can be played at home, in your classroom, or even at your next party. Below you will find bingo printables for every holiday, season, or occasion. Enjoy!
You might also enjoy one of our other game activities and printables. Go check out our 20+ Video Call Activities, 17 Fun Water Balloon Games, or Free Craft Templates and Worksheets.
Bingo Game Prizes
I hope you liked our free printable bingo cards and you were able to find the matching one for your occasion. Playing bingo is so much more fun if you are able to win a small prize.
Here are some great ideas you can use as bingo game prizes. Enjoy!
---
Now I would like to hear from you! Did you try any of these fun bingo game templates yet? Which one did you like best?
Either way, let me know by leaving a comment below right now.
I love to hear from you!
Pin these Free Printable Bingo Games
Don't forget to save these Free Bingo Printables to play on Pinterest for later! Be sure you are following along with Lil Tigers here.
Stay Updated