Here are 20 Fun Mother's Day Games for the whole family to play.
Our list includes Mother's Day bingo, scavenger hunt, questions about mom, and other fun games for Mother's Day.
Let's check them out.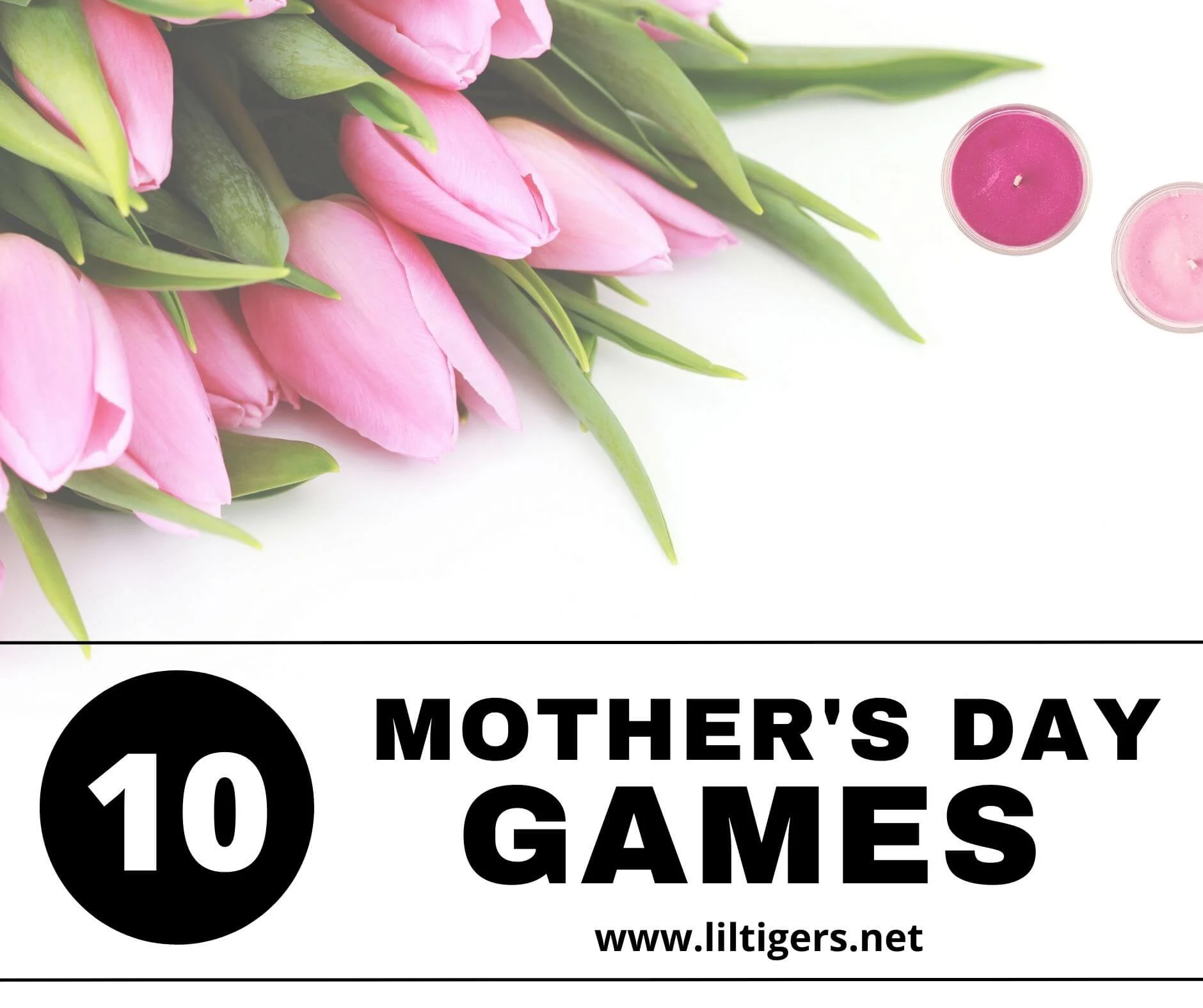 20 Fun Mother's Day Games
Do you wonder how to make Mother's Day fun, so you can actually relax and have peace and quiet in the house?
The answer is simple: games!
Our list of Mother's Day game ideas will include everything from free printable Mother's Day games to Mother's Day contests and competitions, games for moms, followed by fun Mother's Day activities, mother's games, cute games for moms, and other games to play on Mother's Day.
Are you interested in more kid's activities, arts & crafts, and science experiments?
I have made it easy for you! Simply join our newsletter now and I will send you new fun for kids.
Subscribe for free
Scavenger hunts are great to exercise your body and mind. This adorable Mother's Day Scavenger Hunt comes with pictures and words.
Both include the same items but you can choose the difficulty level through the writing for your players.
This way you can ensure even smaller children can participate and no one gets bored.
Simply print both scavenger hunt templates in the needed amount. Hand everyone one Mother's Day game printout and a pencil and let the hunt begin.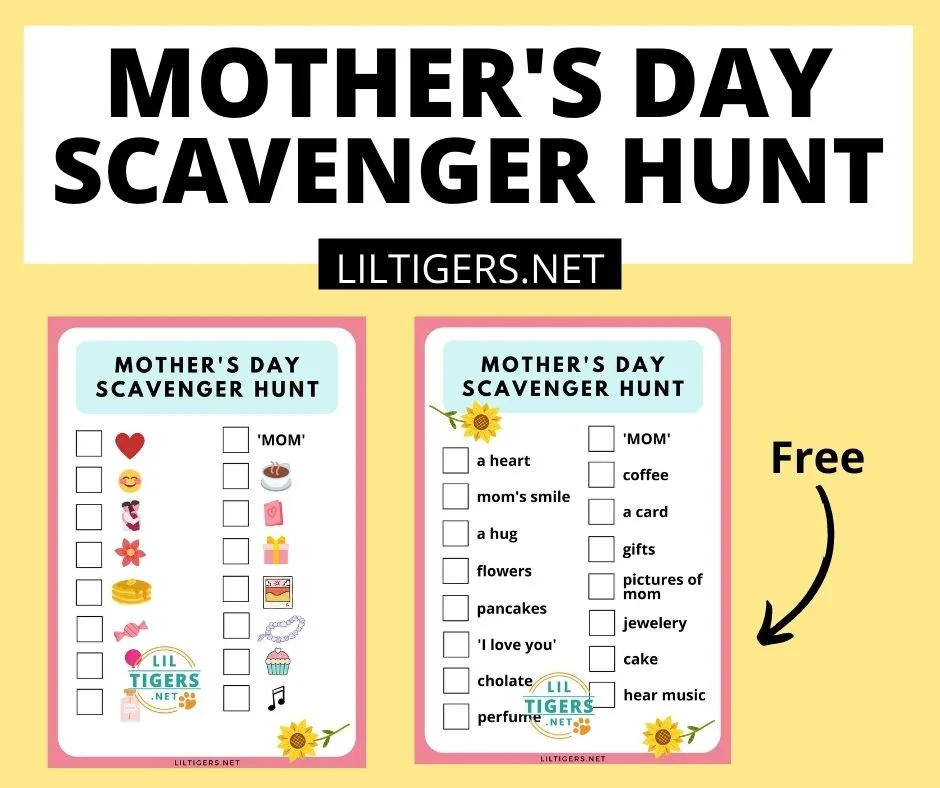 Mom Bingo is so much fun Mother's Day family game! Get your free printable Mother's Day game at the link.
Choose if you want to choose the blank template and make your own bingo for mom or the ready-to-go version.
First, you print out your Mother's Day game templates and cut out the bingo pattern cards. After you chose a caller, every family member gets his own bingo game printable.
The caller shows the chosen pictures and everyone marks them on their bingo cards. As soon as one row is fully marked you shout out Bingo.
The first player to complete will win this game.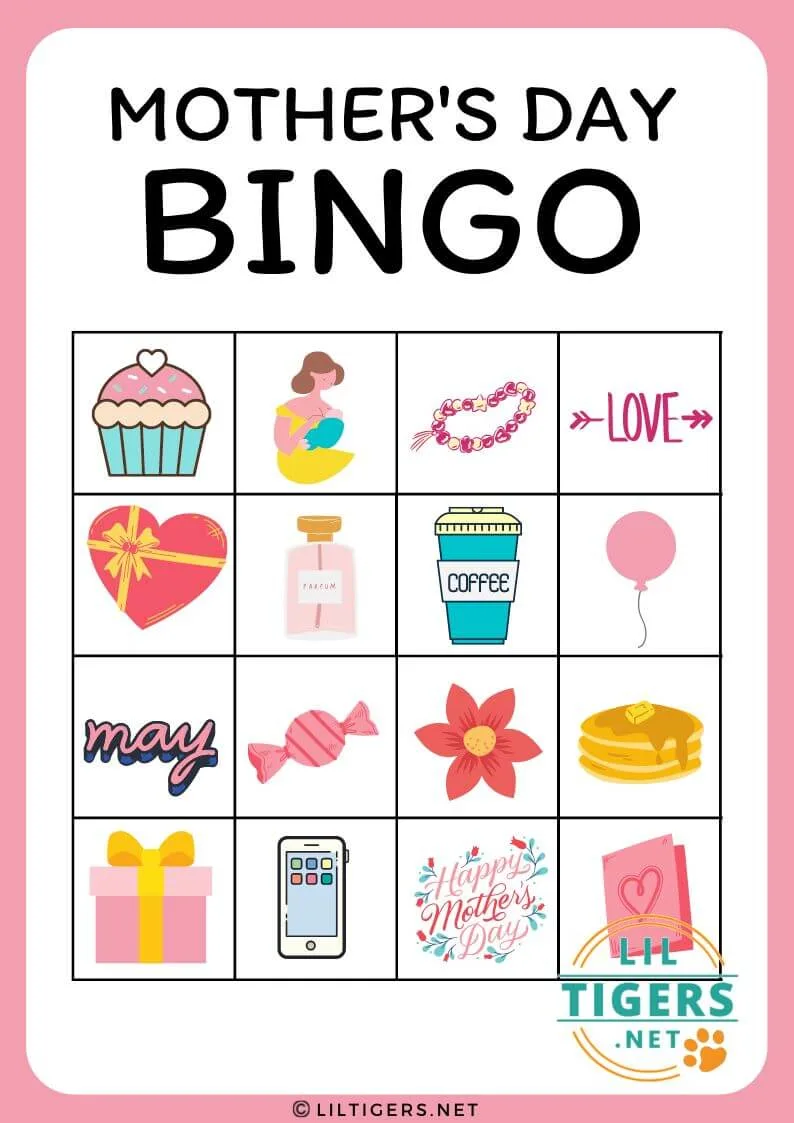 These All-About Mom Questions are the perfect Mother's Day party activity. They can be played as the Newlywed Game or have everyone answer the questions about mom on their own Mother's Day game template.
If you want to play it with the game templates it is more geared as Mother's Day game for adults.
To adjust it for the whole family including your younger children I recommend it to play it after the Newlywed game.
The benefit of this option is that the difficulty level can be easily adjusted to include all family members.
Either way, it makes a nice Mother's Day party game.
Did you consider holding a Mother's Day award ceremony yet? It is super easy to set up and so much fun.
You can print out one of the following Best Mom Awards for Mom and Grandma. Fill it out and frame it nicely afterward.
Then hold a small ceremony for her and grandma. Maybe the kids can even prepare a small speech!
This adorable Mother's Day activity will bring smiles to their faces guaranteed!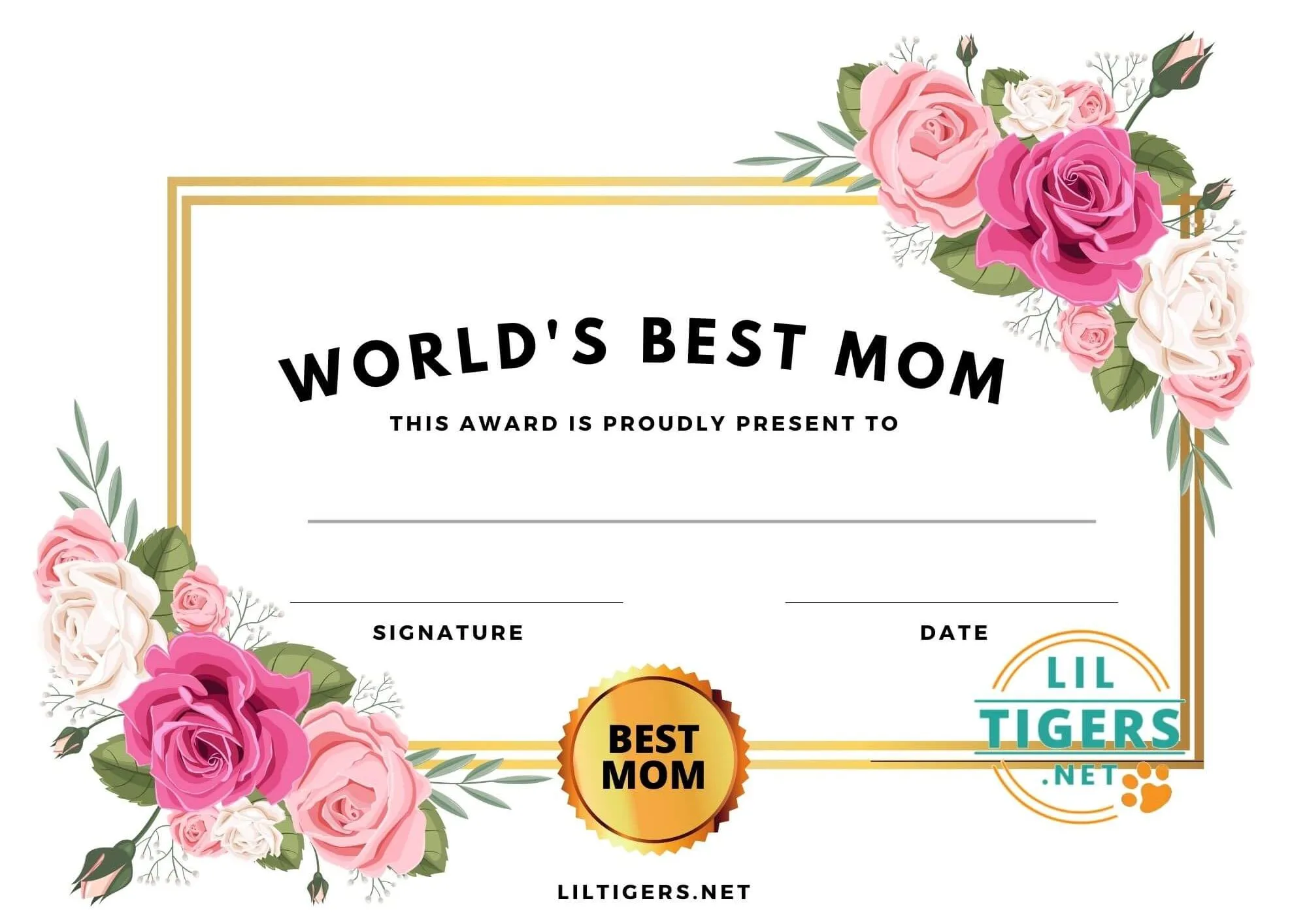 For this Mother's Day game you will need to get a small gift first and print out the following Mother's Day Poem Game.
One person will have to read out the poem. Each time you hear the word 'left' or 'right' you pass the gift in this direction.
The person who holds the gift after the poem is finished wins the prize.
In case you like to write your own poem, simply use our free Mother's Day Poem Templates.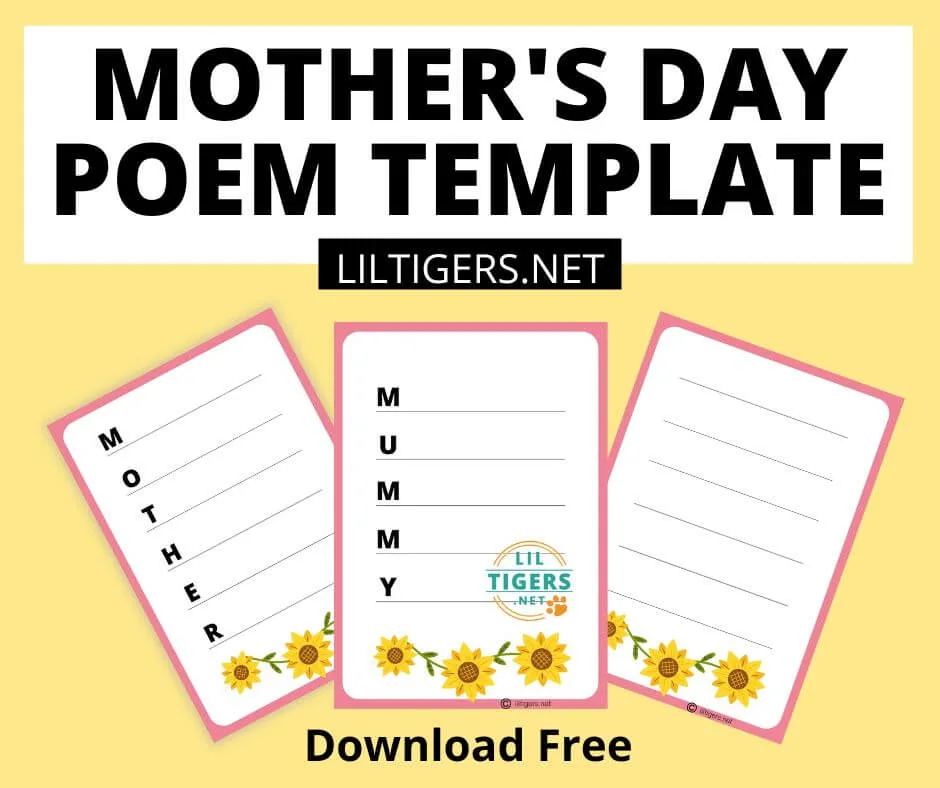 I came across this adorable Mom Puzzle Game. It seems so much fun and doesn't need a lot of supplies. Simply print out your puzzle sheet for everyone and take a pencil to fill them out.
It includes 12 rebus picture puzzles and can be played in teams as well. Just in case you want to switch it up a little bit.
This Trivia Mother's Day Game is online or you can print it out. It includes 4 questions divided into 4 rounds.
You will find questions such as "In the children's nursery rhyme, who had no food for her dog?", "Which cartoon mother has a bright blue beehive?", or "What is the name of Cinderella's wicked stepmother?".
This is so much fun for sure!
If you don't like our games for mom and the family yet, check out this fun Mommy Board Game. This board game for mom has three pages and is made to pamper mom.
Doesn't that sound great?
It comes with a printable game board, a set of rules, and printable dice. Either you take board game figures you already have in the house or make your own.
You can find everything in the link above including a video explaining the game rules. Let's get started.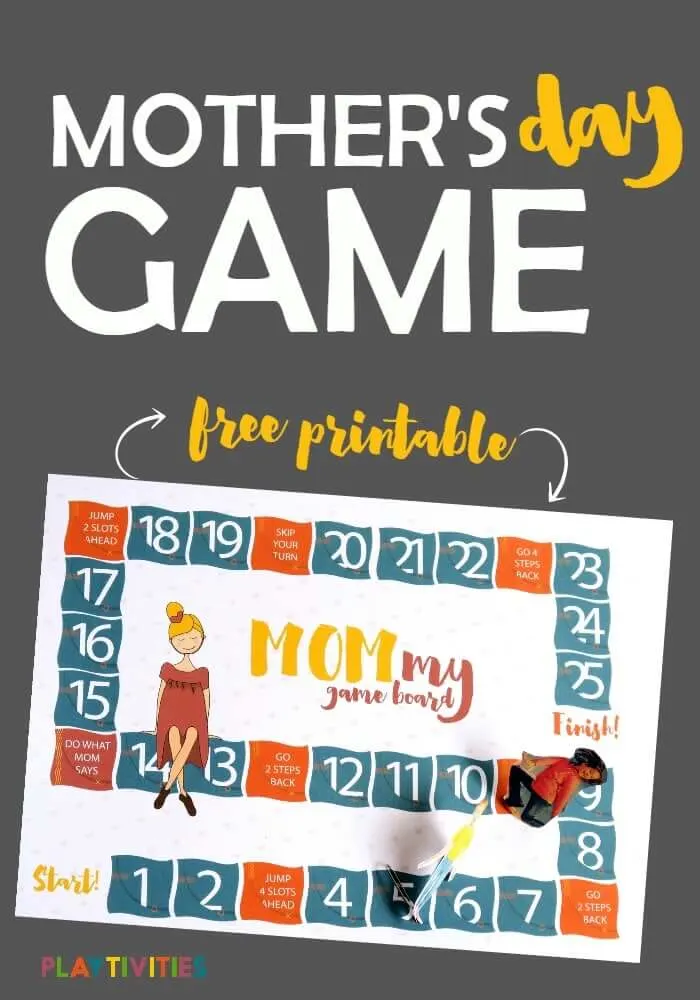 Check out this fun Mother's Day Emoji Quiz. Simply print your Mother's Day quiz templates and start playing.
The rules are pretty easy. Ask the players to guess what mom would have said with the help of these emoji clues. The person with the most correct answers wins.
To make it more interesting you can set a time. It has the positive effect that the game is not open end.
Do you like the word search game?
Check out this special Word Search for Mother's Day.
Either search for the words around Mother's Day with your children or let everyone have their own search sheet. That's totally up to you.
You are not familiar with word search games?
It is pretty simple. On the lower part of your Mother's Day game sheet, you will find words you will have to find inside the square. If you find them, mark and cross them.
Then you can move on to the next word.
The person to find them all first wins!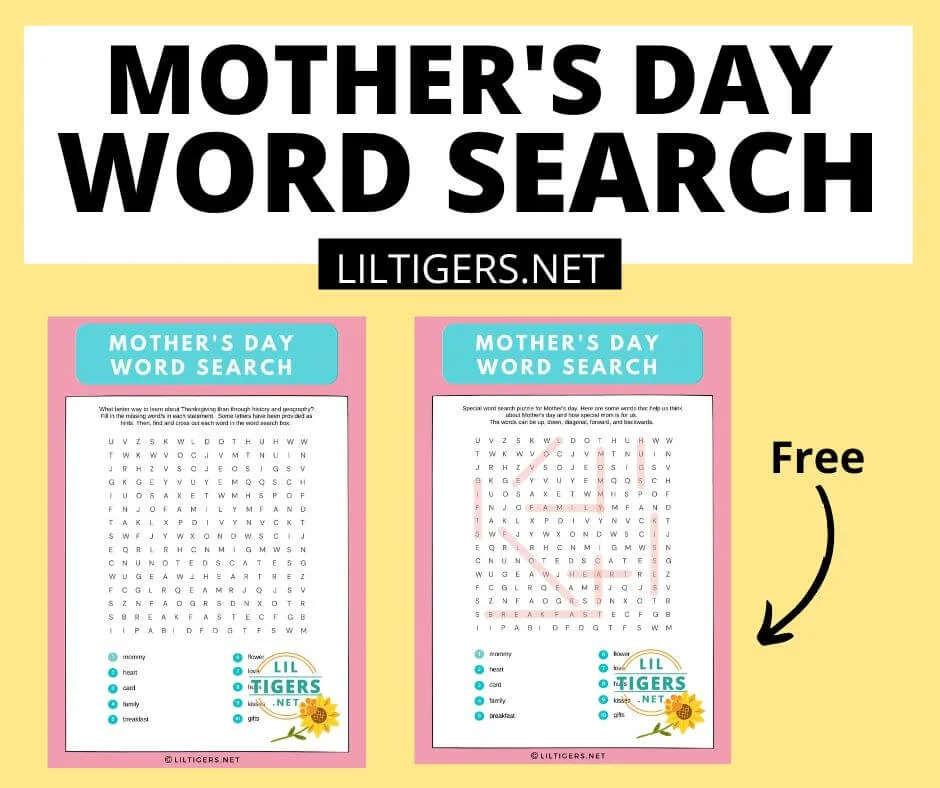 You might also enjoy one of our other Mother's Day activities.
Go check out our adorable Flower Pot Templates and use these cute Mother's Day Poems for kids with them. You might also enjoy our Fun Friday Activities for Kids, or free printable Bingo Games for every occasion.
Have mom pick a flap and then do a fun activity with her! This Mother's Day cootie catcher game is simple to play and perfect for celebrating with mom.
I made these adorable Mother's Day poem templates to write a nice rhyme for Mom.
But instead of writing it ahead of time, you can also do it together or make a competition out of it.
Who can write the sweetest, funniest, or most or most original poem for Mom?
In case you need some help writing Mother's Day poems have a look at our 60 Mother's Day Poems and get inspired.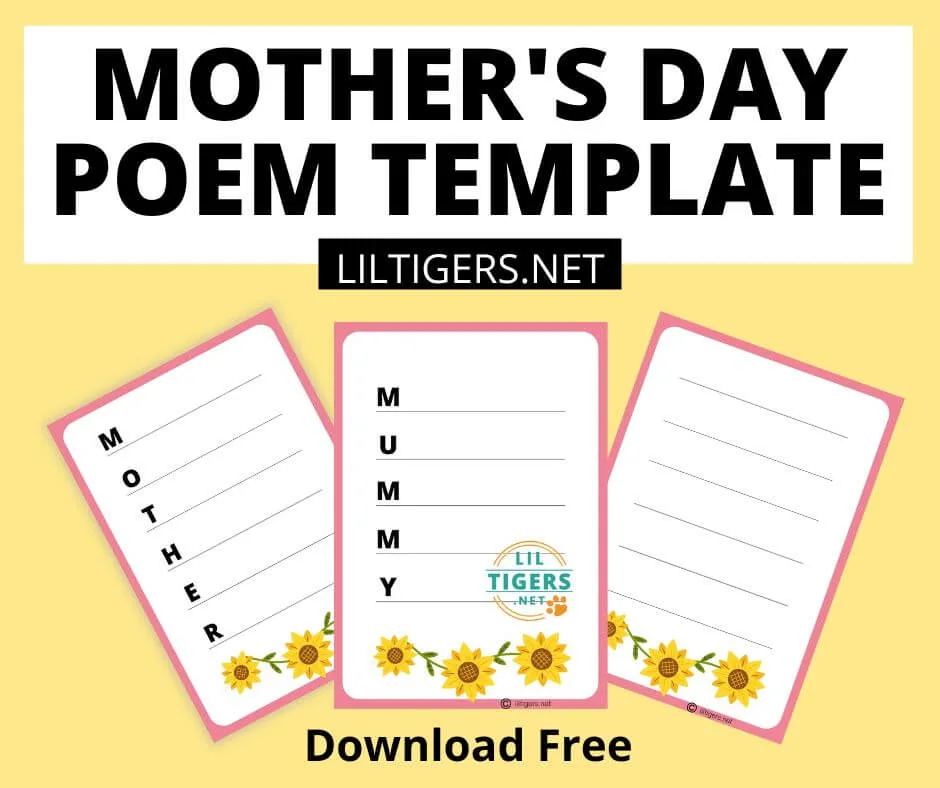 12. Mother's Day Makeover Contest
Let's have some fun giving Mom a makeover.
Pick out some nice cloth for her, put on some makeup, and let Mom rank who does it best.
She will be up for a treat!
13. Painting Event
Do you like to paint in your family? Then this painting activity will be perfect for you.
Organize a zip and paint afternoon for mom and make a paint trade-off or contest out of it.
Prepare some mimosas for Mom, get some canvas and colors and you are good to go.
In case you like to try some new painting techniques to make it interesting, go check out our 25 Fun Painting Activities here.
Did you consider gifting Mom some fun coupons? Gift her a hug, load the dishwasher, have breakfast in bed, and many more fun ideas for Mother's Day.
She will be amazed.
So print them out for free and spend a fun day with Mom and let her use all her coupons and get spoilt.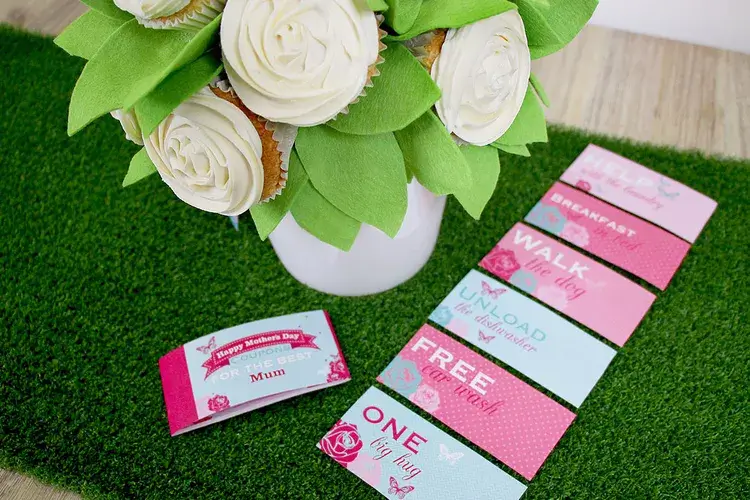 15. Breakfast in Bed Relay
After you gifted your Mom her free Mother's Day coupons use them to make a relay race out of her breakfast-in-bed coupon.
Set up a not-too-difficult obstacle course from the kitchen to the bedroom. Take two trays and either do the obstacle course with Dad or another sibling.
Just make sure not to load the trays too heavy so things don't fall.
16. Mother's Day Guessing Game
Guess what is in Mom's purse.
This Mother's Day game is ideal for groups but also can be played just with your family.
Let Mom get her purse. Let everyone take a seat on the couch and get her a chair to sit in the middle of your living room.
Give all players paper and pencils and let them guess what is in her purse.
After everyone is done with their list Mom can start taking item by item out of her purse.
If you guessed an item right cross it from your list. The player with the most correct items wins.
Do you like to solve riddles? Then check out this fun Mother's Day game full of riddles.
You will experience some of the answers will be right in front of your nose and others will be more difficult.
For example: "A mother gave birth to twin boys, but they were born in different years and on different days. And no, they are not part of 2 sets. How is this possible?"
18. Bake-Off
Time to bake for Mom.
Prepare cookie dough ahead of time and let your Mother's Day guest cut and decorate some cookies for Mom.
To make it more interesting make a bake-off out of it and let Mom rate the best cookies!
Are you familiar with the game Charade?
This Mother's Day game set comes with 8 pre-filled ideas and blank cards for dad to fill out.
Build 2 teams or play children against mom.
After you filled out the blank spaces, cut the cards.
A player picks a card and has to "act out" the phrase with pantomime gestures. The other team members have to guess the phrases.
The team with the most guessed phrases wins.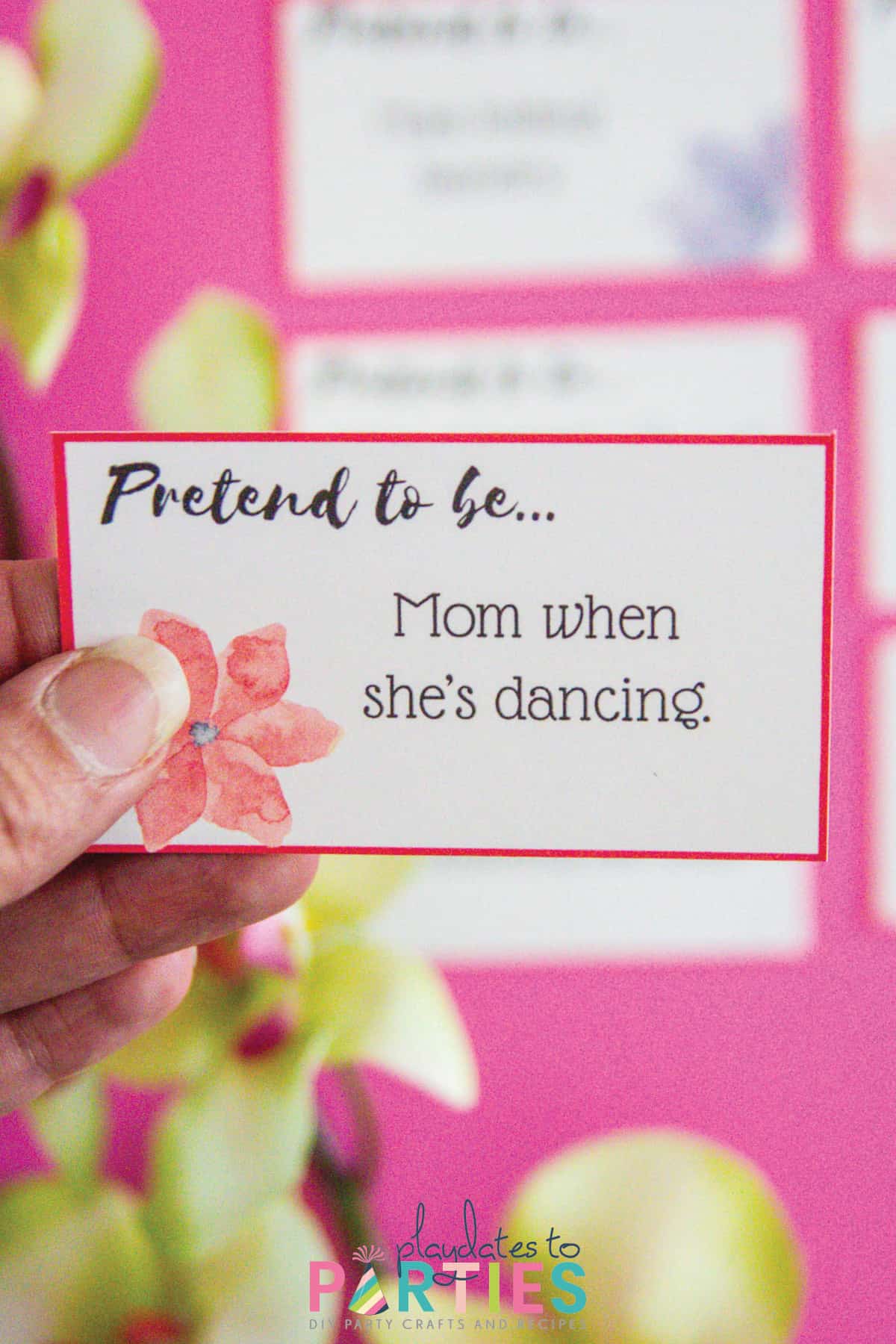 20. Karaoke
Does your family like to sing? Then why not challenge Mom to some karaoke?
Get a karaoke machine or use your game station to play a sing-along game.
Dress like pop stars and put up some matching decorations to have a fun night on Mother's Day playing karaoke and singing along.
Fun Mother's Day Game Prizes
I hope our best Mother's Day game list is a fun game you can enjoy with your family.
On special occasions such as Mother's Day, I like to switch things up a little bit or make them more interesting.
Therefore I buy little prizes everyone can win while playing with the guest of honor MOM.
Here are some great ideas you can use as Mother's Day game prizes. Enjoy!
---
Now I would like to hear from you! Did you try any of these games to play on Mother's Day?
Which one did you like best?
Either way, let me know by leaving a comment below right now.
I love to hear from you!
Pin these Fun Mother's Day Games
Don't forget to save these 20 Mother's Day games to play on Pinterest for later! Be sure you are following along with Lil Tigers here.
Stay Updated