Our Free Printable Mother's Day Poem Templates are ideal for Mother's Day poems.
They help practice your writing skills while getting ready for Mother's Day. Let's check out our free Mother's Day printables below.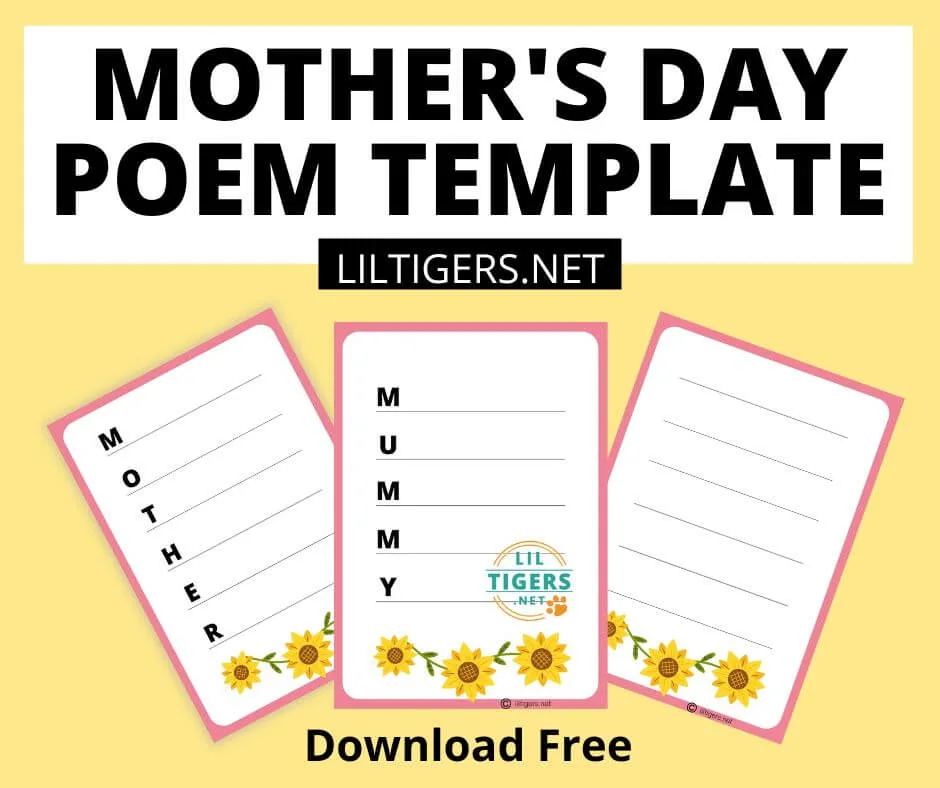 There are affiliate links in this post, meaning, at no additional cost to you, I will be compensated if you click through and take action. As an Amazon Associate, I earn from qualifying purchases.
How Do You Write a Poem?
Not everyone is creative and might find it hard to write their own poems. In this case, simply let them start their Mother's Day poems with things they like about Mom.
Otherwise, maybe these tips on how to write a poem might help.
Read a lot of poetry
Listen to poetry
think of a topic
try to tell a story
choose words carefully
Embrace tools
Use Line Breaks Deliberately
Revise
Elvenie
If these tips on how to write a poem were too vague for you, maybe you should try an elvenie.
But you might wonder, what is an elvenie? An elvenie is a short poem with a given pattern of eleven words.
My son had to study it in 3rd grade and enjoyed it. The pattern makes it easier for you to create your own poem.
Here is the elvenie pattern for you to follow as well:
Row 1: 1 word – a thought, an object, a color, a smell, or the like
Row 2: 2 words – what does the word from the first row do?
Row 3: 3 words – where or how is the word of row 1?
Row 4: 4 words – what do you mean?
Row 5: 1 word – conclusion: what results from all this? What is the outcome?
This and more information on the elvenie including examples can be found here. Give it a try, it is so much fun!
Children Poem Books
Do your children have a hard time writing a poem?
That does not mean they do not like to listen to poetry and find it calming. Therefore here are some great poem books for children to get inspired:
Do you enjoy our Mother's Day note templates? Then take a look at one of our other fun Mother's Day Activities.
Try our Flower Pot Outlines or Teapot Templates to make an adorable Mother's Day card.
Mother's Day Template Materials
The list of materials and supplies is short for this fun Mother's Day activity. Nevertheless, here is everything you will need:
Free Printable Mother's Day Poem Template PDF (found below)
pencils
stickers, crayons, glue, pictures, etc. (optional)
How to Use These Mother's Day Templates
You might wonder, how do I use these Mother's Day poem templates? It is pretty simple and self-explaining. Choose one of our adorable Mother's Day printables.
If your child wants to write their own Mother's Day poem or message, I would recommend using our plain Mother's Day printables.
Or else try a poem such as:
'M' is for a million things she gave me
'O' means only that she is growing old
'T' is for the tears she shed for me
'H' is for her heart out of purest gold
'E' is for her eyes, with love shining
'R' means right and right she always be
Together it is spelled MOTHER, a word that means the world to me.
If you need more children's poems for mom, take a look at our full list of Mother's Day Poems from Kids here, or inspire your students, children, or grandchildren to be creative and write their own poems for mom.
Afterward, take one of the following materials and decorate your Mother's Day poem sheet nicely.
You could use stickers, or glitter, draw a picture, or glue one of you and your mom on it. Your mom will love it!
Mother's Day Poems From Kids
To give you some more examples to use for our Mother's Day Poem Templates check out the following Mother's Day Quotes and Poems for kids:
"For all you do, you do with love. You are so special, you are a gift from above, and with all my heart I want to say I love you mom, Happy Mother's Day!"
"Mom, today's your special day, and you need to take a rest. I will do everything for you to make it the best!"
"MOM! M is for many times you hugged me, O is for outstanding things you do for me, M is all our memories together. Mom, I m so glad that I have you!"
"Mom, you are a blessing no one can replace."
"You are like the sun that brightens the day. When you are not there, the light goes away."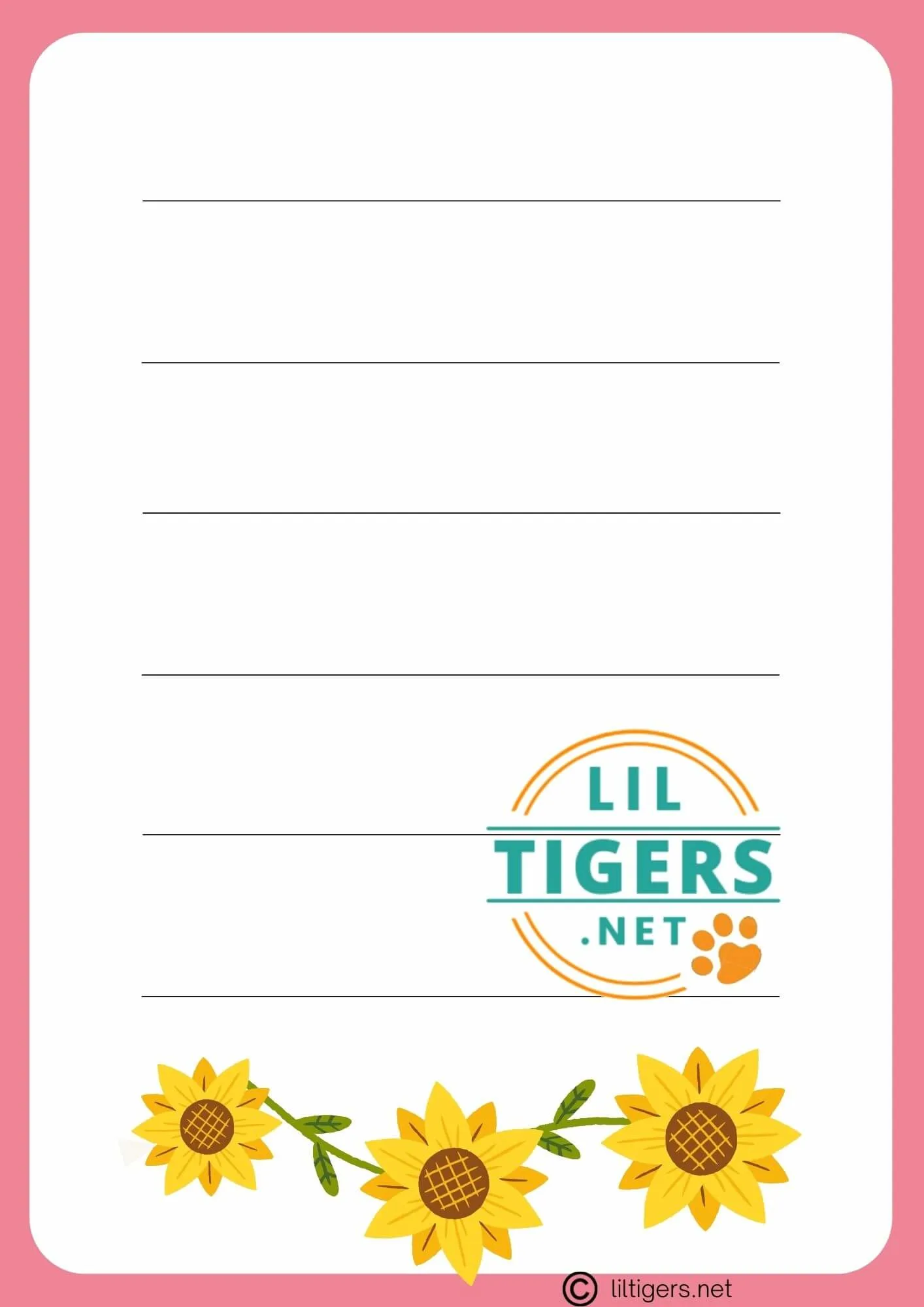 How to Download Your Free Mother's Day Poem Printables
Simply sign up here for our newsletter and you will receive the link to our free Mother's Day poem template pdf.
Already a subscriber? Don't worry, no need to subscribe twice.
I just updated our free printable library. You can find our Mother's Day message templates there or check our latest newsletter for more information.
If you have any questions, please do not hesitate to reach out to me. I m happy to help!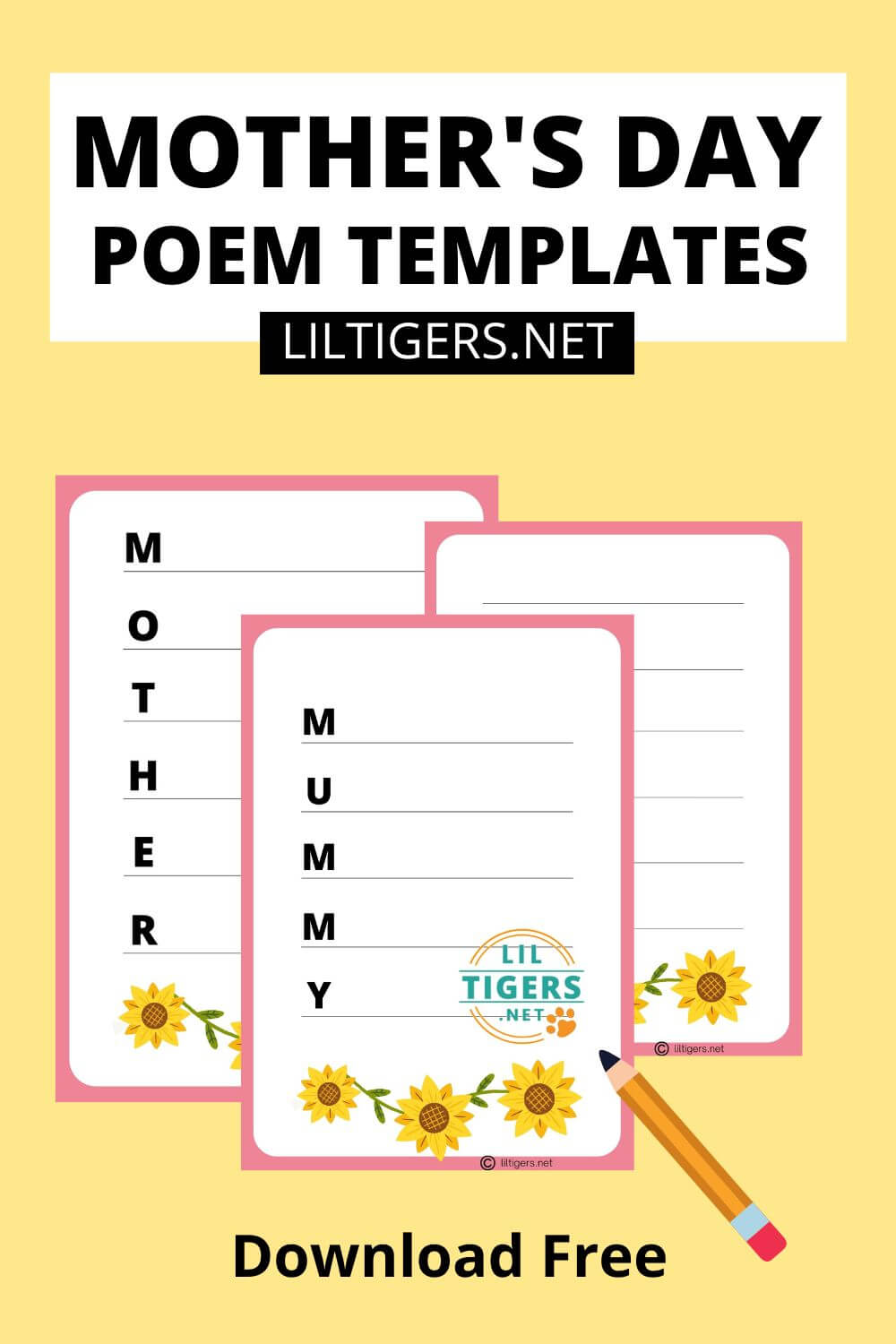 Mother's Day Activities
Our Free Printable Poem Template for Mother's Day inspired you to do more.
Try these super fun DIY Mother's Day projects with your children and gift them to Mom:
Mother's Day Gift Ideas
If you prefer to buy a gift that goes with our free printable Mother's Day poem template, to show your love and gratitude, go check out these adorable last-minute ideas:
Pin These Free Templates for Mother's Day Poems
Now don't forget to save our Mother's Day printable poems template on Pinterest for later! Be sure you are following along with Lil Tigers here.
Now it is your turn.
How did your kids enjoy their Mother's Day writing templates?
Either way, let me know by leaving a comment below right now.
I love to hear from you!