Are you looking for inspiring fireflies quotes? Then you are in the right place!
Dive into the world of ethereal flickering quotes about fireflies and check out our matching book, activities, and free printable firefly ideas.
Join us on this luminescent journey and explore magical sayings about fireflies for kids and adults.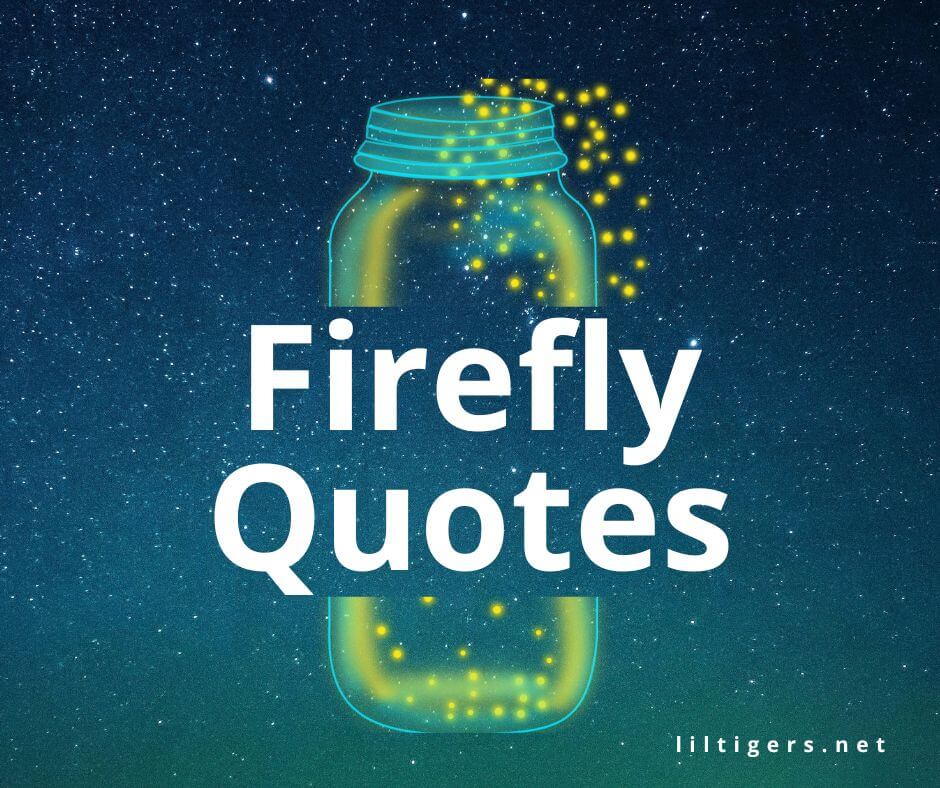 There are affiliate links in this post, meaning, at no additional cost to you, I will be compensated if you click through and take action. As an Amazon Associate, I earn from qualifying purchases.
Clean Firefly Jokes
Before we get started with our fireflies quotes for kids, let's check out these fun firefly jokes:
Why was Momma Firefly so sad? The children were not very bright.
What did the firefly say to her friend for encouragement? "You glow, girl!"
How are fireflies eco-friendly? They glow green.
Why did the spider eat the firefly? It wanted a "light" snack.
How do fireflies learn math? With flashcards.
What's the opposite of a firefly? A waterfall.
Check out our full list of Firefly Jokes here.
Fireflies Books for Kids
Here are some great Firefly books for kids:
Are you interested in more kid's activities, arts & crafts, and science experiments?
I have made it easy for you! Join our newsletter now and I will send you new fun for kids.
Subscribe for free
50 Best Fireflies Quotes for Kids
Looking to capture the enchanting beauty and magical glow of fireflies in words?
Explore our collection of mesmerizing firefly quotes that will illuminate your soul.
Whether you seek inspiration, a touch of whimsy, or a reminder of nature's wonders, these quotes will transport you to a world where fireflies dance and sparkle, leaving trails of brilliance in the night sky.
Our list of quotes includes short firefly quotes, cute fireflies sayings for kids, quotes about lightning bugs, chasing firefly quotes, firefly captions, and magical firefly quotations.
Let's have a look and get inspired!
Fireflies Sayings for Kids
First let's discover our collection of cute firefly sayings to brighten your day:
"Fireflies are whispering messengers of the nights." – Unknown
"Fireflies are stars that could not journey to the sky." – Michael Bassey Johnson
"Every blink of a firefly's light says… BELIEVE" – Unknown
"We come and go like the blink of a firefly. Make sure you are as bright as one too." – Unknown
"The firefly only shines when on the wing, so it is with us. When we stop, we darken." – Jan Karon
"The stars are not afraid to appear like fireflies." – Rabindranath Tagore
"Oh, the summer night has a smile of light." – Barry Cornwall
"A dark night, lightened up by thousands of glowing fireflies. It is magical." – Ama H. Vanniarchchy
"In the summer evenings, fireflies swarm around the tarn, making something hateful almost beautiful." – Bethany Griffin
"Fireflies are tiny magical messengers of hope." – Princess Sassy Pants & Co.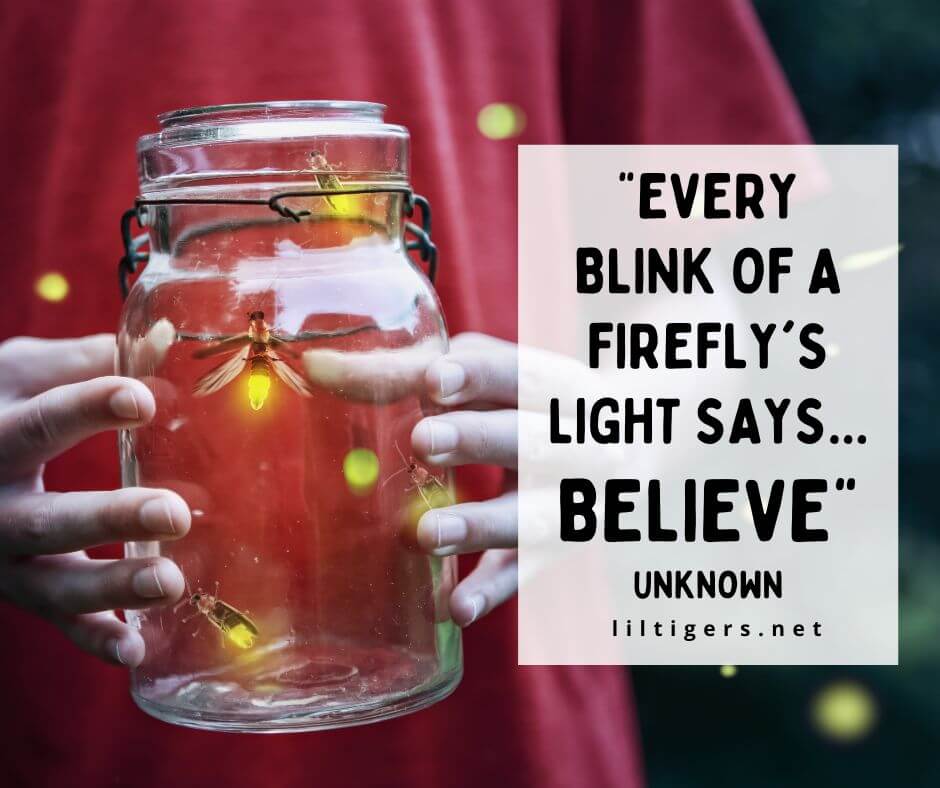 "I wanted a summer filled with porch swings, lemonade, and fireflies."

Tiffany King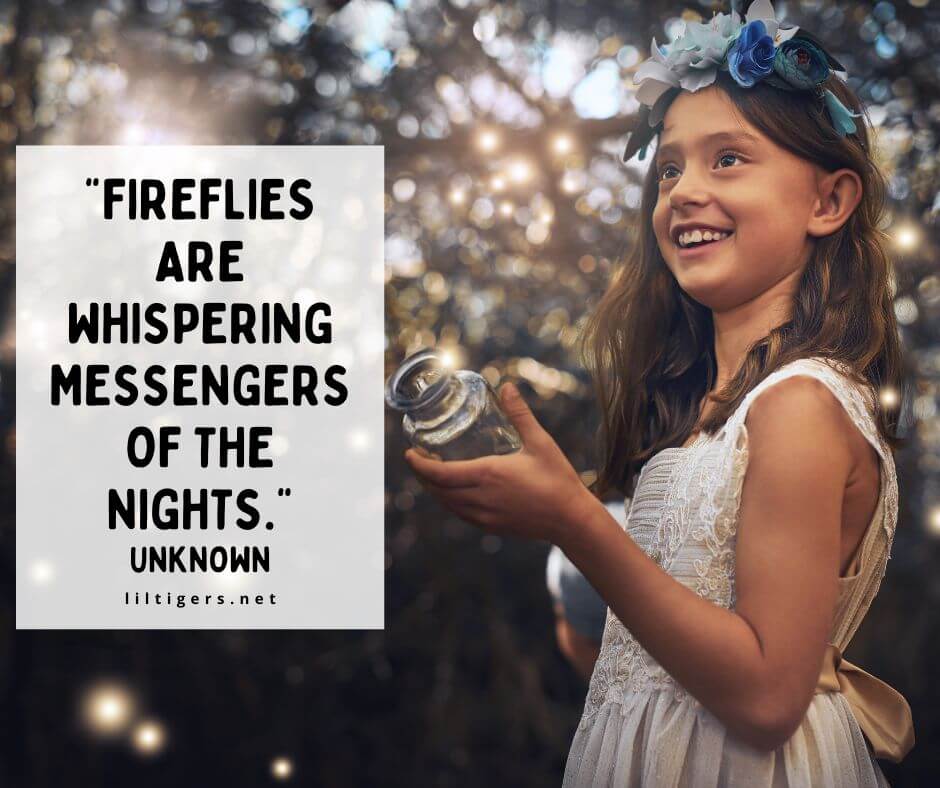 Catching Fireflies Quotes
Next are our chasing firefly quotes to illuminate your heart and take you back to childhood.
"Catching fireflies is like capturing the magic of summer nights in a jar." – Unknown
"In the pursuit of fireflies, we find a childlike joy that reconnects us with the wonder of nature." – Diane Ackerman
"When you catch a firefly, you hold a tiny piece of enchantment in your hands." – Avijeet Das
"Chasing fireflies is a dance with the ephemeral, a reminder to cherish the fleeting moments of beauty in life." – Lisa Kleypas
"Fireflies are nature's lanterns, illuminating the darkness and guiding us towards the enchantment of the night." – Unknown
"Let's chase fireflies at night."
"Sit outside, listen to the stars, and catch fireflies." – Unknown
"Catch fireflies in flight, crinkle grass under your toes, and know that you are always beloved always beautiful. A dream within a dream. Spoken silence." – Unknown
"You are at a tricky age. Is it your parent's presence or our parent's absence that is more empowering? I am no expert. I went from catching fireflies to your age to.. well, adulthood." – Nancy Freund
"In a few moments, pale yellow-green dots flashed all around them. The longer they waited, the more dots appeared, little stars twinkling just for them.
"Are these fireflies?"
Sanna nodded. "There are always more of them here than in any other part of the orchard. It's better than fireworks."
"We don't have fireflies in California."
Sanna looked around her and gently cupped her hands around a bug that had flown close to them.
"Look inside." She held her hands out to Bass, who peeked between her fingers at the creature who flashed in her makeshift cage.
"Can I try?"
"I insist. We can't go back until you catch your first firefly."
Sanna let hers go and it flew straight for Bass's white T-shirt. He gently cupped it and peeked inside. Watching his eyes widen in amazement, Sanna understood something she'd always missed. While kids were messy, distracting, and obviously a ton of work, they also opened a path to the past. Through Bass's wonder, she felt ten years old again- catching her first fireflies and discovering the magic of the Looms." – Amy E. Reichert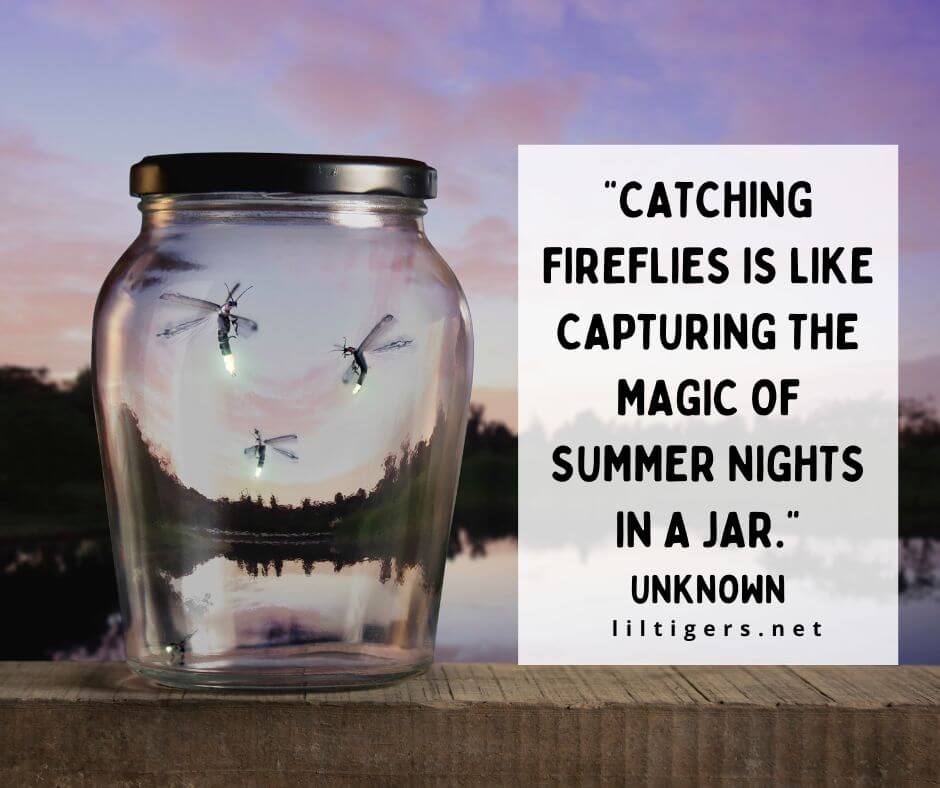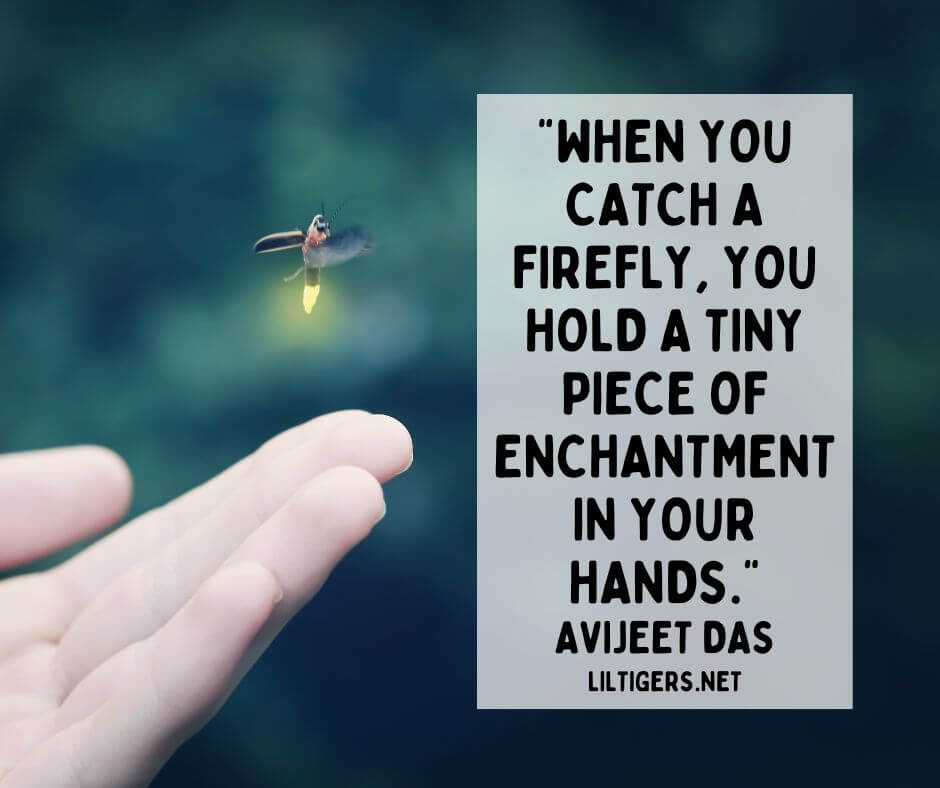 Did you enjoy our fireflies greetings for kids?
Then go check out our list of Best Water Toys 2023, learn how to make your own Strawberry Popsicles, or read our recipe for Campfire Cones.
Lightening Bug Quotes
Afterward, explore the enchanting world of lightning bug quotes to ignite inspiration and wonder in your heart.
"Time to catch lightning bugs. Get your mason jar, everyone."
"Cute as a bug." – Unknown
"Enjoy the little things." – Unknown
"Like a firefly in the dark, your light shines brightest when surrounded by darkness." – Jennifer Williamson
"Not only lightening bugs can shine bright." – Unknown
"Don't let anyone dull your light." – Unknown
"The right word is to the nearly right word as lightning is to the lightning bug." – Mark Twain
"Surround yourself with those who light your path." – Unknown
"Fireflies teach us that we can still shine amidst the shadows of life." – Avijeet Das
"Advice from a firefly: Be full of bright ideas, pulse with excitement, have a healthy glow, delight in summer evenings, keep a childlike sense of wonder, set a shining example, lighten up!" – Ilan
"The dance of fireflies is a symphony of tiny lights, reminding us of the beauty that exists in fleeting moments."

Vanna Bonta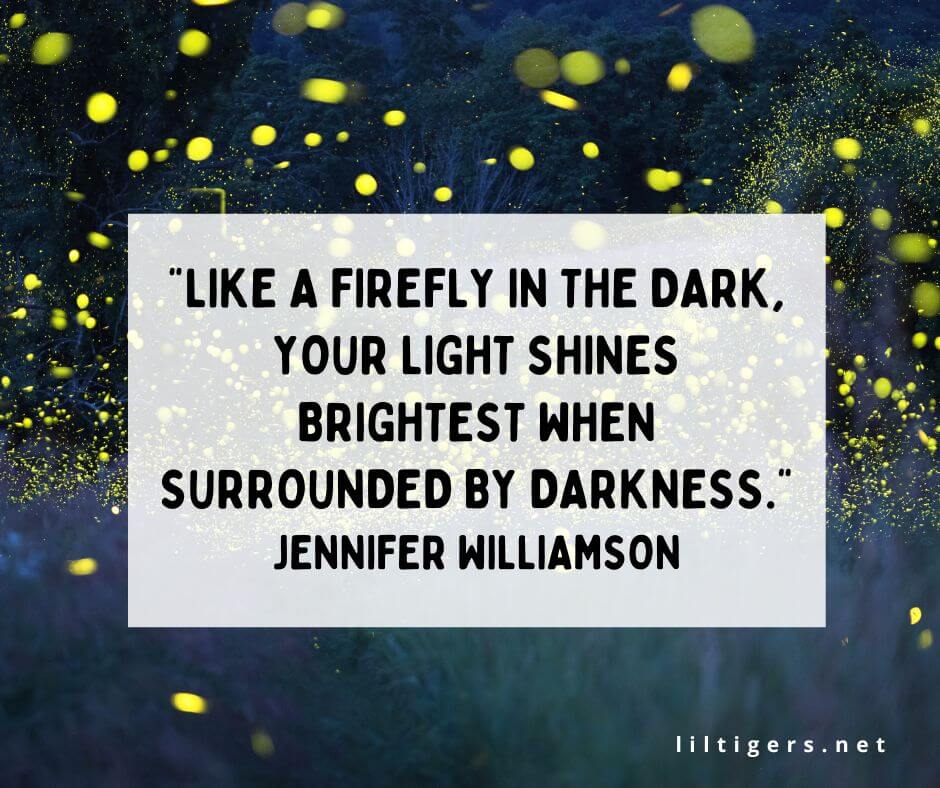 Quotes about Fireflies
Time to check out these magical quotes about fireflies.
"Fireflies danced around her like embers after someone has thrown a log into the stove." – Heather O'Neill
"Fireflies… They'll follow you wherever you like, as long as you're polite to 'em." – Jessie Atkin
"Early summer fireflies are beginning to dance above the spindly green stalks of weeds like lonesome boys looking for something beautiful and shiny to flash back at them. Lovers looking for someone to love." – Holly Schindler
"The fireflies o'er the meadow in pulses come and go." – James Russel Lowell
"Memories are like fireflies darting across the surface of my mind, showing me here and there images so sharp and vivid that I catch my breath in wonder before the vignette disappears, sinking like a pebble into the quicksand of regret and recrimination." – Susan Kay
"I slept under the moonlight and set my soul free, caged within jars like fireflies." – Prajakta Mhadnak
"The friendship we share grows amidst the craggy rock pond, reeds of water spray fireflies scented with bonfires." – Bradley Chicho
"The past is beautiful / like the darkness between the fireflies." – Mason Jenning
"Religions are like fireflies. They require darkness in order to shine." – Arthur Schopenhauer
"Magic is seeing wonder in nature's every little thing, seeing how wonderful the fireflies are and how magical are the dragonflies." – Ama H. Vanniarachchy
"Fireflies hey, fireflies! Fly higher, guys! Fly high above this place. Till a sky rise is a wire's size. Then fly off into space."

Bo Burnham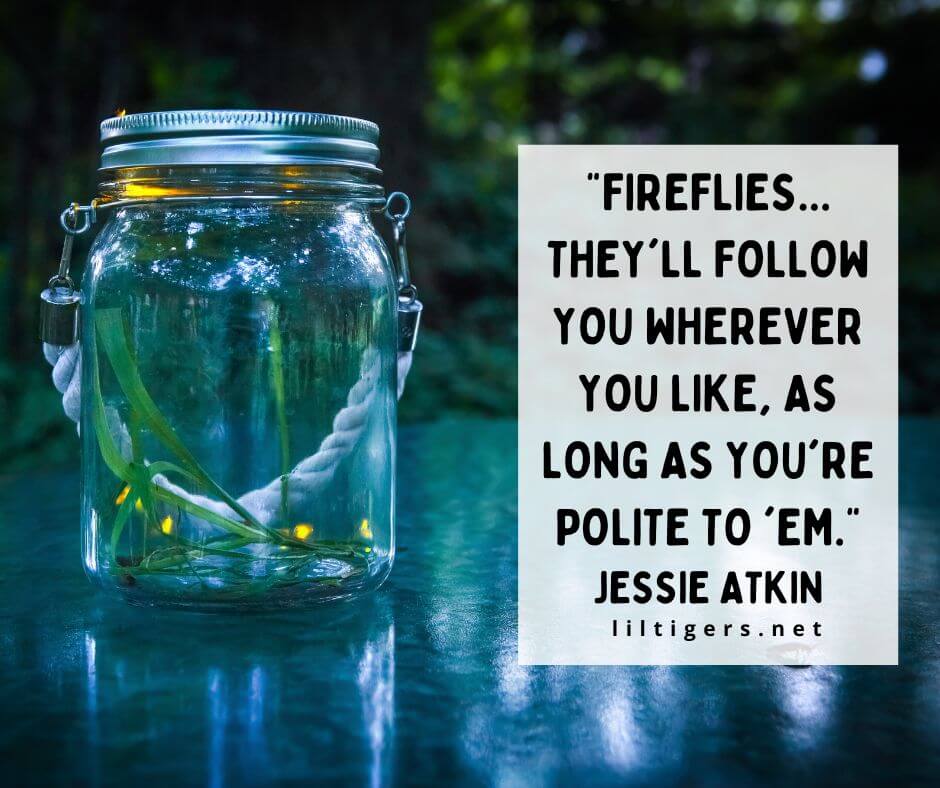 Fun Firefly Captions
Last but not least are our fun firefly captions for Instagram:
"Let's catch fireflies!"
"I love you more than fireflies."
"Shine as bright as fireflies."
"I love fireflies."
"You light up my life!"
"I firefly for you!"
"You turn my butt on."
"Among thousands of fireflies."
"Fireflies at midnight."
"Time to shine!"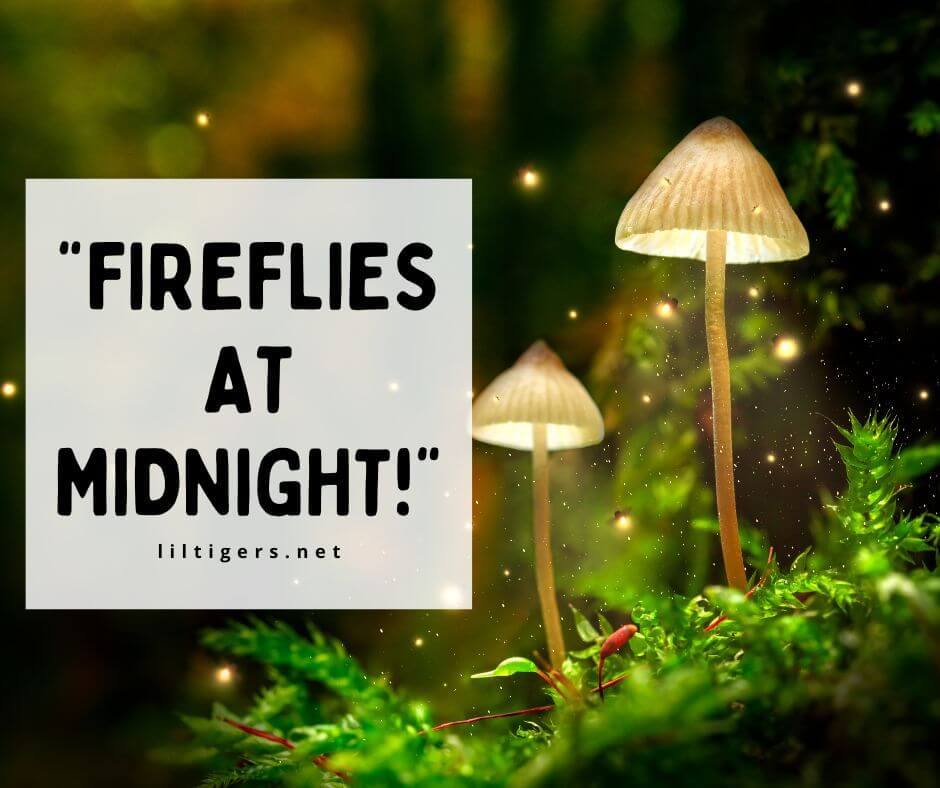 Please be aware that all quotations without an author are from an unknown source.
---
All visual learners can check out our Fireflies quotes video for kids here.
More Quotes
I also like to introduce you to the following quotes for kids:
Fun Firefly and Summer Activities
After you are done with fun firefly quotes and sayings, go check out these fun summer activities next:
---
How to Download Your Free Printable Fireflies Quote Cards PDF
Simply sign up here for our newsletter and you will receive the link to our free printable Fireflies Lunch Notes.
Already a subscriber? Don't worry, no need to subscribe twice. I just updated our free printable library.
You can find our best fireflies notes printable there or check our latest newsletter for more information.
If you have any questions, please do not hesitate to reach out to me. I m happy to help!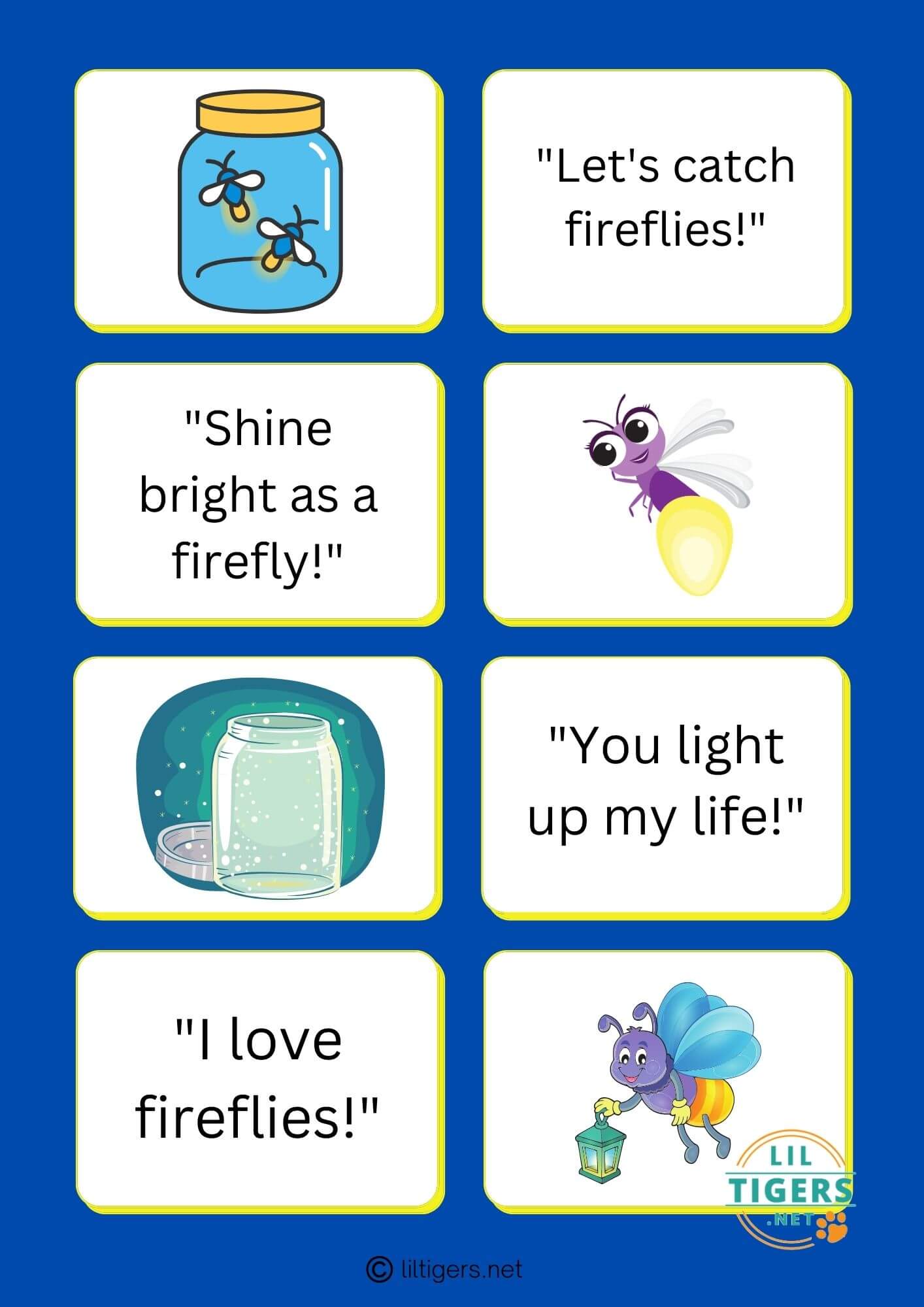 Pin Our Fun Fireflies Quotes for Kids
Don't forget to save our 50 Best Fireflies Wishes on Pinterest for later! Be sure you are following along with Lil Tigers here.
Now I would like to hear from you!
Which saying about fireflies did you choose? Did you find a better one?
Either way, let me know by leaving a comment below right now.
I love to hear from you!