Our free printable Dolphin Template Printable Outlines come in small, medium, and large. They are perfect to start your next dolphin craft project, learn about the letter D, or get ready for your next summer party!
Let's dive right in and get inspired by our dolphin printables and craft ideas!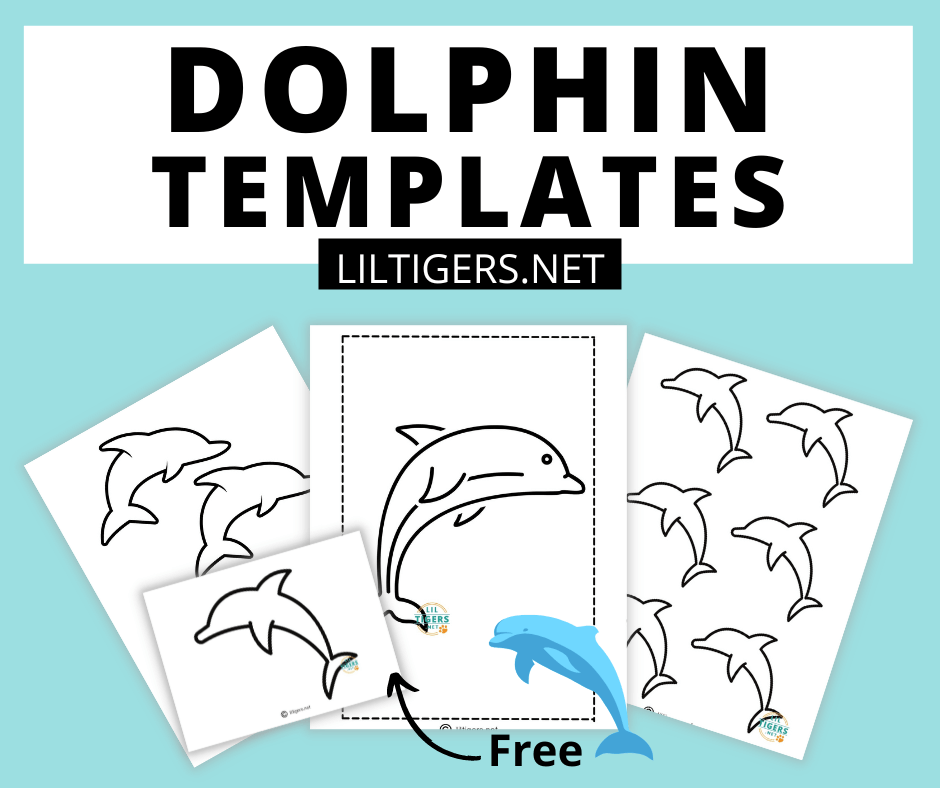 There are affiliate links in this post, meaning, at no additional cost to you, I will be compensated if you click through and take action. As an Amazon Associate, I earn from qualifying purchases.
7 Fun Facts About Dolphins for Kids
Dolphins are fascinating creatures. Here are 7 cool facts about dolphins for your kids. Or did they already know?
Dolphins are mammals.
There are around 40 species of dolphins.
They can grow up to 13 feet depending on the species.
Dolphins can live up to 50 years.
1000 Meters is how deep they can dive!
Did you know dolphins have two stomachs?
They never chew their food
Dolphins are very smart animals and are known to help sick or insured group members. They are also very fast swimmers and can reach up to 20 miles per hour. Their skin heals quickly and they even give each other names.
There is so much to learn about dolphins. So go check out these and other fun facts about dolphins here.
Dolphin Books for Kids
In case you like to learn more about dolphins, go check out these great educational books. If your children prefer stories, I also added some great dolphin stories for you. Happy reading!
Free Dolphin Template Printables in Small, Medium, and Large
Our dolphin outlines come in small, medium, and large.
They are especially popular during the summer. We use them for dolphin art and craft projects when it comes to studying dolphins or mammals in general, and teaching the letter D.
As you can see our free dolphin template printables can be used in many different ways and opportunities. They are great for crafting at home, in the classroom setting, or as an add-on to your homeschool curriculum.
But first, we should have a look at what we will need for our dolphin art and craft projects. Here is a list of supplies you will need for our templates of dolphins.
Dolphin Cut Out Materials
Free Printable Dolphin Templates (found below)
Scissor
Paper
Crayons, Markers, Colored Pencils

Googly Eyes
Do you need advice on How to Introduce Crafting to your Preschooler? Then read our 10 tips that work next.
7 Easy Dolphin Template Crafts for Preschoolers
Here are several ideas for our dolphin outlines and other dolphin activities you will love. I hope you get inspired!
Here are 7 Easy Dolphin Crafts to keep your kids entertained:
Dolphin Coloring Pages
Dolphin Stencils
Learn about Mammals
Dolphin Garland
1. Dolphin Coloring Pages
The easiest way of using our templates is as dolphin coloring pages. The best will be to use the largest templates for this purpose.
The larger the picture of a dolphin, the easier smaller children can stay in the lines. If you want to make it more challenging use our medium or small dolphin template printables for older children.
Enjoy!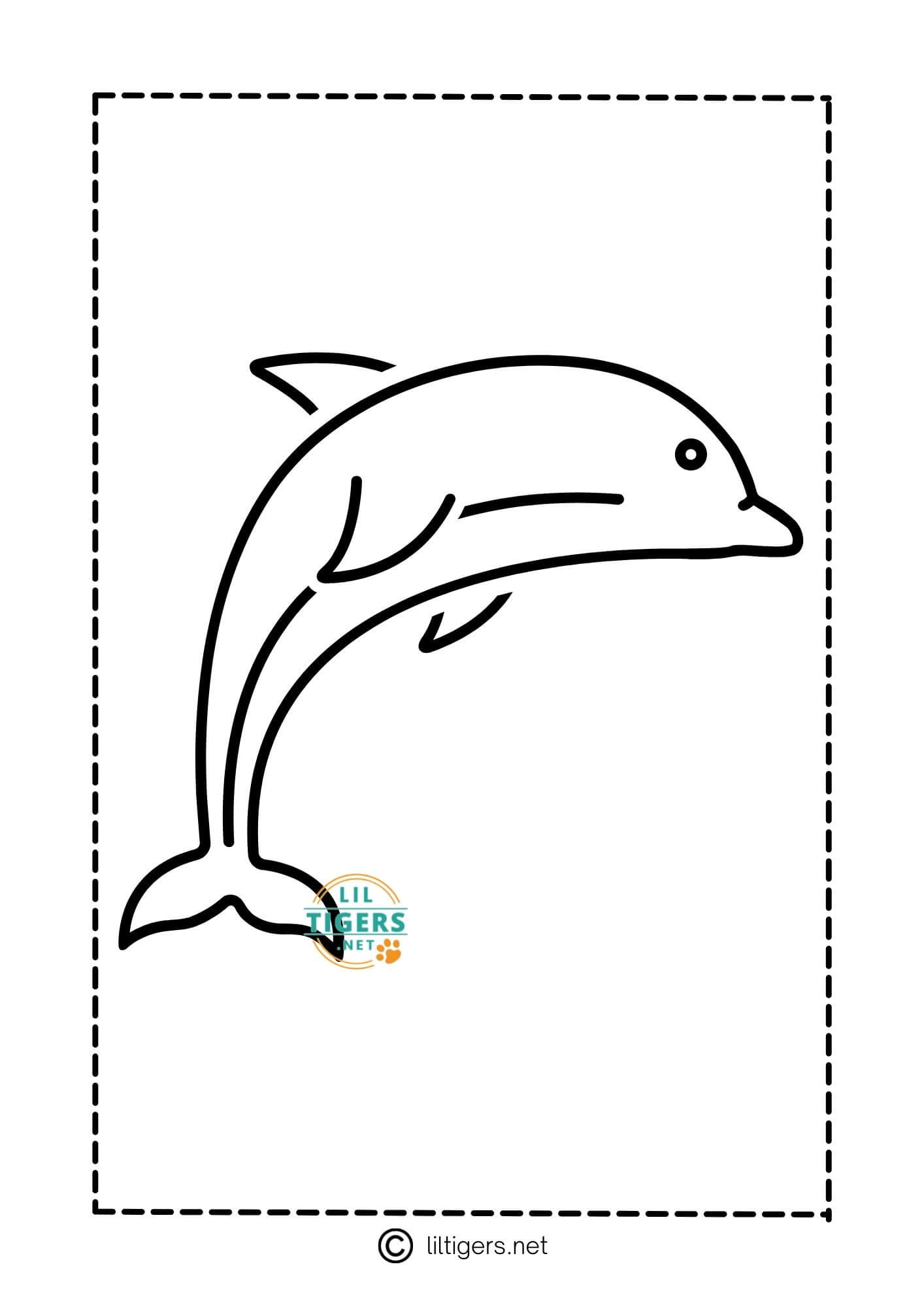 2. Dolphin Stencils
Using our dolphin printouts as stencils is also an easy way to make an adorable craft. To repurpose them as stencils I recommend using the smaller or medium-sized dolphin outlines.
They are not too hard to cut and can be used as stencils in many different projects. You could place them on black paper and make an adorable dolphin silhouette for example.
Using a spraypaint or blow techniques is always fun as well. You can find both explained in the links.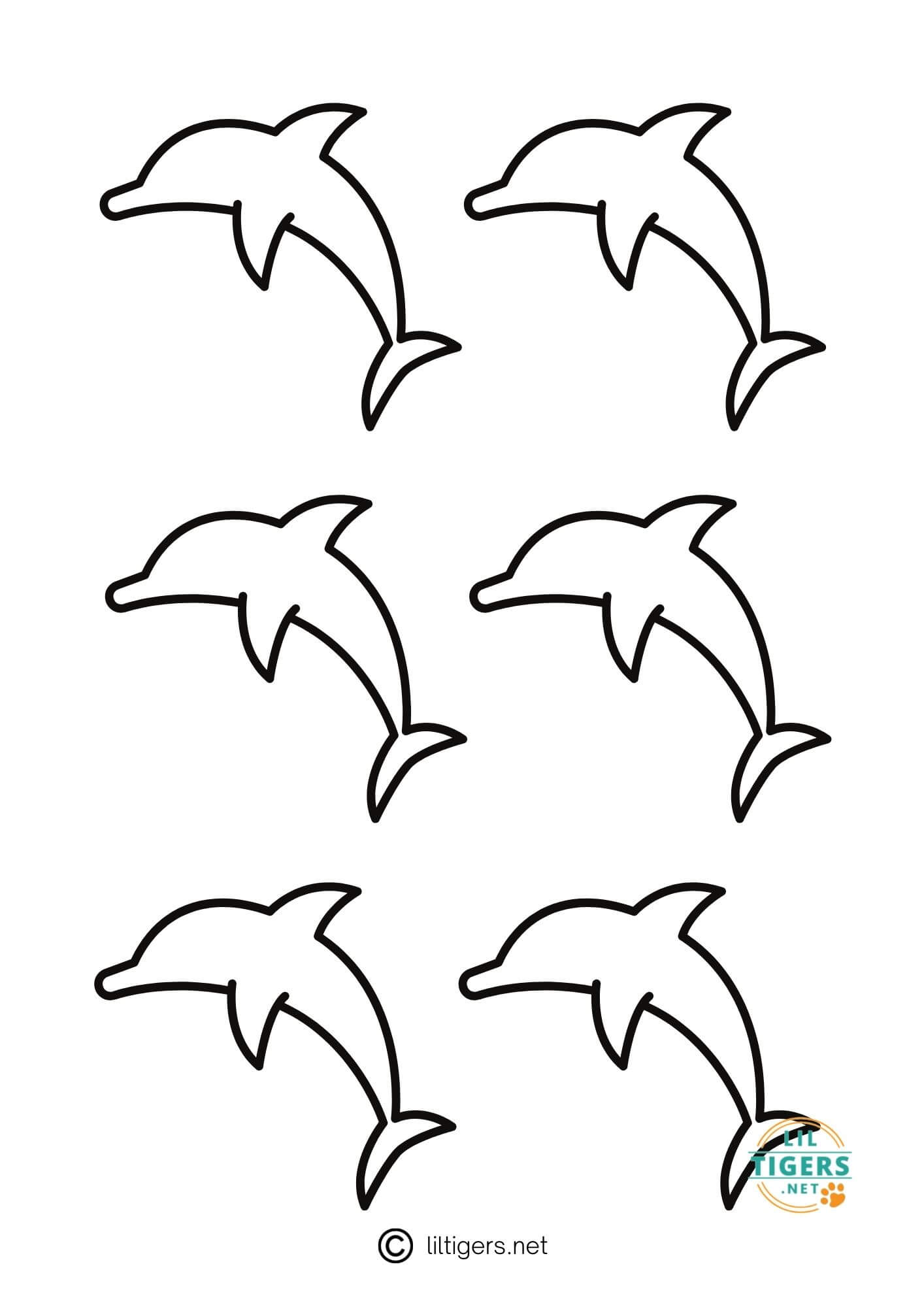 3. Learn about Mammals
As we learned above dolphins are mammals. So why not include our adorable dolphin outlines in your studies about mammals or dolphins?
Your students or children can craft while you read them a book about mammals or dolphins. They will enjoy it!
Did you enjoy our dolphin template printables? Then try our Yellow Submarine Craft, Starfish Printables, or Seahorse Templates next. You might also enjoy one of our other summer activities, such as these adorable Watermelon Templates or Ice Cream Pattern Game.
4. Letter D Activity
Besides learning about mammals our printable dolphin pages can be used while learning the letter D.
D is for Dolphin. So why not cut out a large D and add our small dolphin cutouts. This will help your students learn easier since they not only can see it but also turn it into a hands-on activity that is more memorable.
5. Dolphin Seating Cards
If you are having the next summer party why not use our dolphin printouts and use them as seating cards as shown in the picture below.
Print, color, and cut our small dolphins and place them on seating cards. You can use either bought cards or make your own as shown in this tutorial. The link can be found in the list above.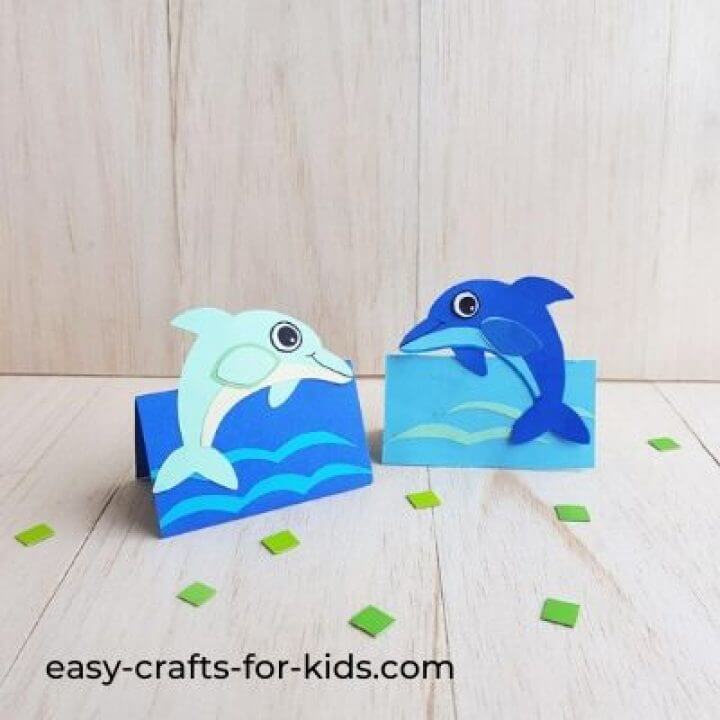 6. DIY Dolphin Garland
Besides these cute name cards for your guest, you can also use our dolphin printouts to make a dolphin garland and decorate it for your party.
Simply print and cut the medium-sized dolphin stencils on blue paper and attach them to a string. I might choose different shades of blue paper or simply print them on white paper and color them. But whatever you do, make sure to use the matching colors of your dolphin seating cards!
For our garlands, we even use different painting techniques. Go take a look here at all these fun process art ideas for your dolphin garland.
To attach the dolphin cutouts to the string we prefer to use clear tape.
7. Paper Plate Dolphin Craft
We love paper plate crafts in our house. Paper plates are such great art and craft supplies since I never run out of them.
This dolphin paper plate craft is actually pretty cool. You can turn the waves and it looks like the dolphin is jumping out of the water. Cool isn't it?
Simply print our small dolphins and follow the instructions of this adorable summer craft. You will be surprised how easy it is.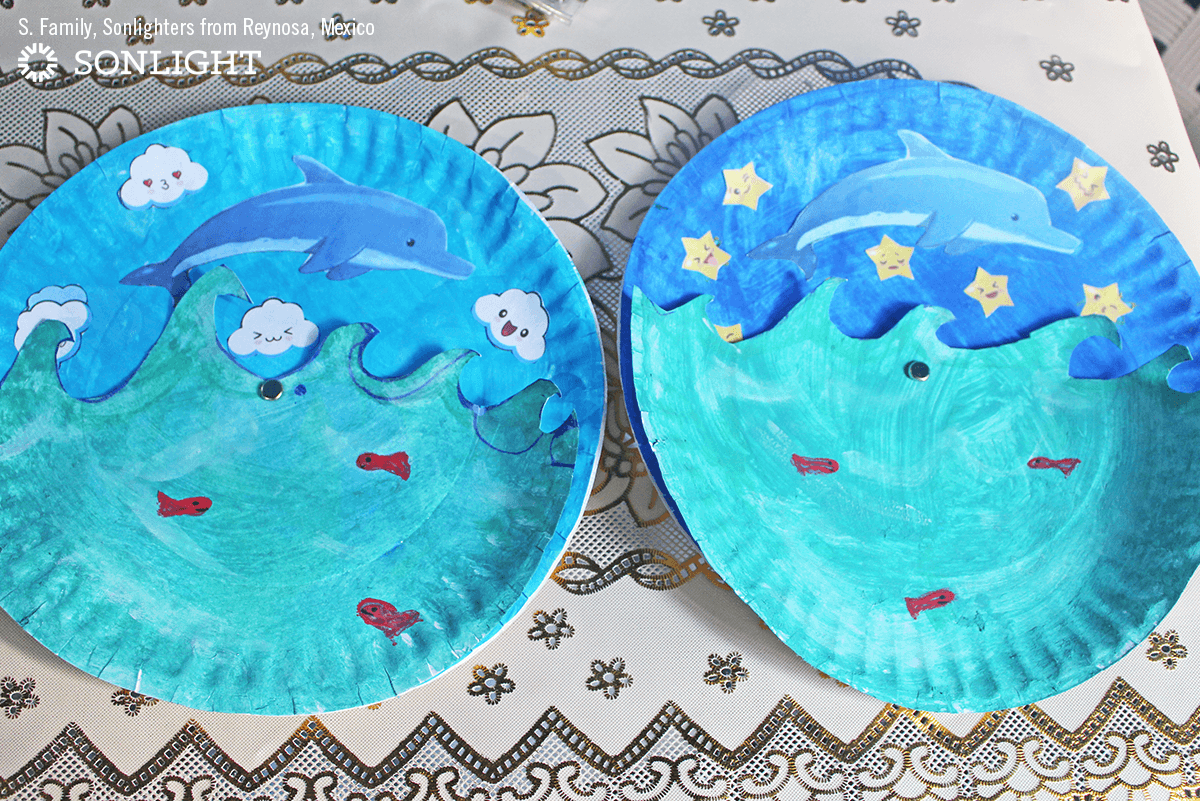 ---
You loved crafting with our easy dolphin templates but like to learn now how to draw a dolphin? Then go check out this fun dolphin tutorial.
---
How to Download Your Free Printable Dolphin Templates Pdf
Simply sign up here for our newsletter and you will receive the link to our dolphin cutout template pdf.
Already a subscriber? Don't worry, no need to subscribe twice.
I just updated our free printable library. You can find our cool dolphin template printables there or check our newest newsletter for more information.
If you have any questions, please do not hesitate to reach out to me. I m happy to help!
Pin These Free Dolphin Template Printables
Don't forget to save our dolphin outlines on Pinterest for later! Be sure you are following along with Lil Tigers here.
Now it is your turn.
How did your kids enjoy their dolphin printable outlines? Which is your favorite dolphin activity for preschoolers and older kids?
Either way, let me know by leaving a comment below right now.
I love to hear from you!