Our free printable Watermelon Template Printable Outlines come in three different sizes, as outlines, and in color. They are perfect to start your next summer craft project, learn about the letter W, or decorate for your next summer party!
Let's dive right in and get inspired by our watermelon printables and craft ideas!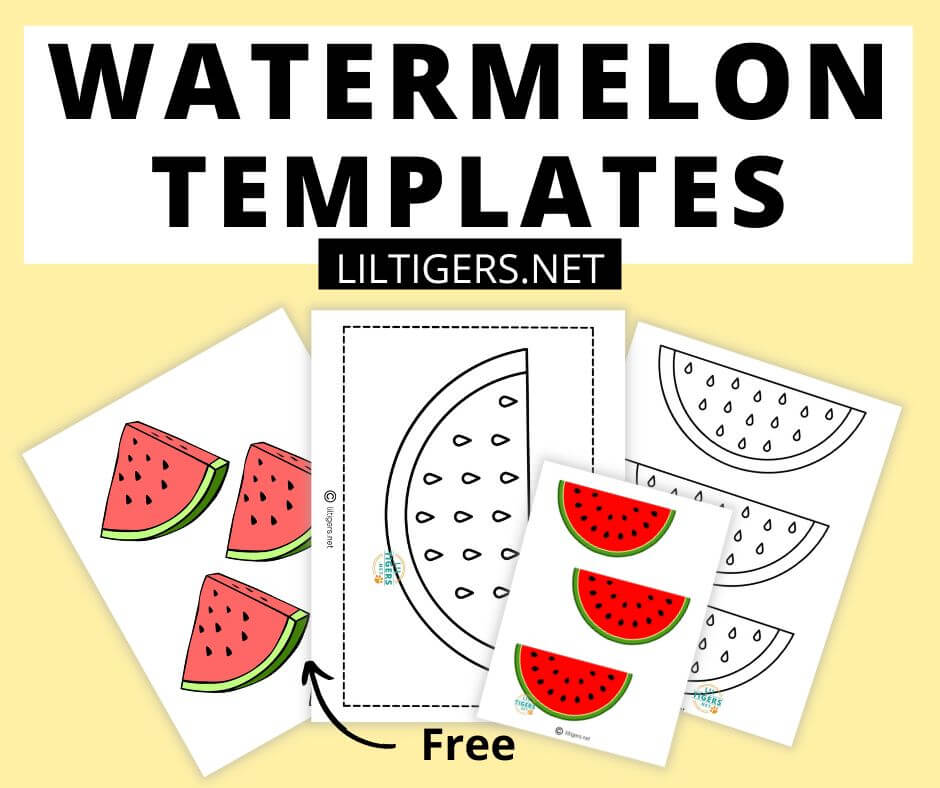 There are affiliate links in this post, meaning, at no additional cost to you, I will be compensated if you click through and take action. As an Amazon Associate, I earn from qualifying purchases.
8 Fun Facts About Watermelons for Kids
Why not learn something about watermelon while crafting. It never hurts to become smarter, right?
Here are 8 Fun Facts About Watermelon for your kids:
Watermelons originally come from southern Africa.
There are over 1200 variations of watermelons.
They can be classed as fruit or vegetable.
In Oklahoma, watermelons are the official state vegetable.
They contain about 6% sugar and 92% water.
Watermelons are refreshing, keep us hydrated, clean the kidneys and keep our skin fresh.
All parts of the watermelon can be eaten.
As of 2013, the Guinness World Record for the heaviest watermelon grown by Lloyd Bright from Arkansas, USA, was 121.93 kg (268.8 lb).
Those and more fun facts about watermelon can be found here.
Watermelon Books for Kids
My kids love when I read a story to them while crafting. Therefore I like to find matching books for our watermelon templates.
Here are some great watermelon books for kids to enjoy:
Free Printable Watermelon Templates
Our free watermelon outlines are multi-talents. They come in small, medium, and large, as well as in color or as simple outlines.
Especially during the summer they become popular and are great for crafting at home, in a classroom setting, or as an add-on to your homeschool curriculum.
Since they can be used in so many different ways, I like to show you below how we prefer to use them in my house.
But first, we should have a look at what you will need for our watermelon art and craft projects.
Needed Watermelon Cut Out Materials
Here is a list of supplies you will need for our templates of watermelons.
Free Printable Watermelon Templates (found below)
White Computer Paper
Scissor

Crayons, Markers,

or

Colored Pencils (red, black, and green)
Do you need advice on How to Introduce Crafting to your Preschooler? Then read our 10 tips that work next.
7 Easy Watermelon Crafts for Preschoolers
So let's get started now with these adorable watermelon craft ideas for kids. I hope they inspire you!
If you have any better watermelon ideas, please do not hesitate to tell us all about them in the comments below. We love to hear from you!
But let's dive right in. Here are the 7 Easy Watermelon Crafts I promised to keep your kids entertained during the summer heat:
Watermelon Coloring Pages
Watermelon Stencil
Learn Counting With Watermelon Seeds
Letter W Activity
Learn About Fruits
1. Watermelon Coloring Pages
As mentioned above, the possibilities for our watermelon cutout printables are endless. The easiest way of using them is as coloring pages. Especially our large template makes an adorable watermelon coloring page for preschoolers.
The bigger the picture of a watermelon is the easier it will be for younger children to stay inside the lines. To make it more difficult, choose one of our smaller templates for older children.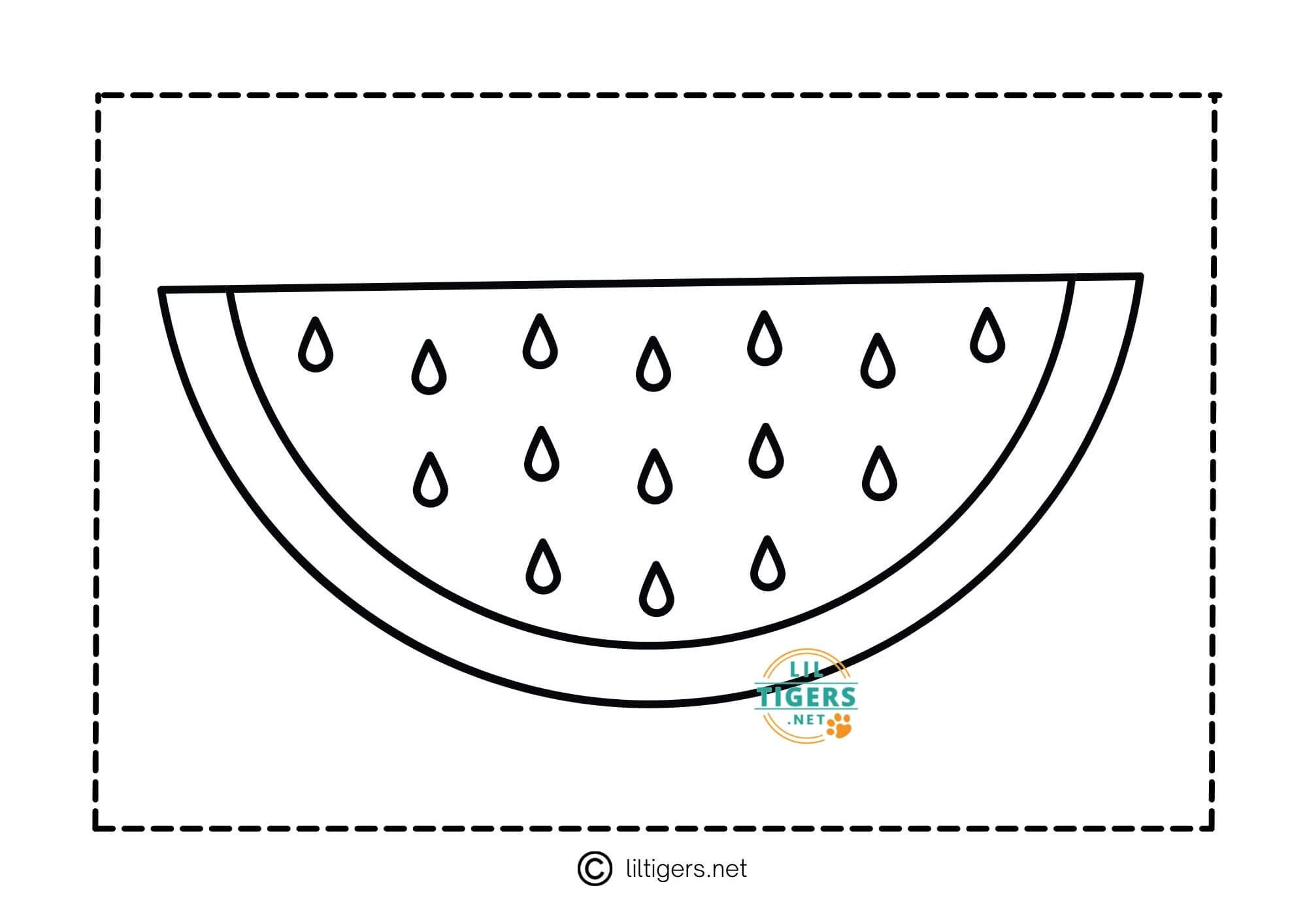 2. Watermelon Stencils
Often we use the medium and small printables as watermelon craft templates. They are great for preschool watermelon stencil projects.
Using them as watermelon stencils is pretty easy. Choose the preferred size of your watermelon, print it, and cut them out. Then there are different techniques on how to use them as stencils.
Tip: There is no need to waste printer inc and use the colored templates for this project. The watermelon outlines are just perfect as stencils.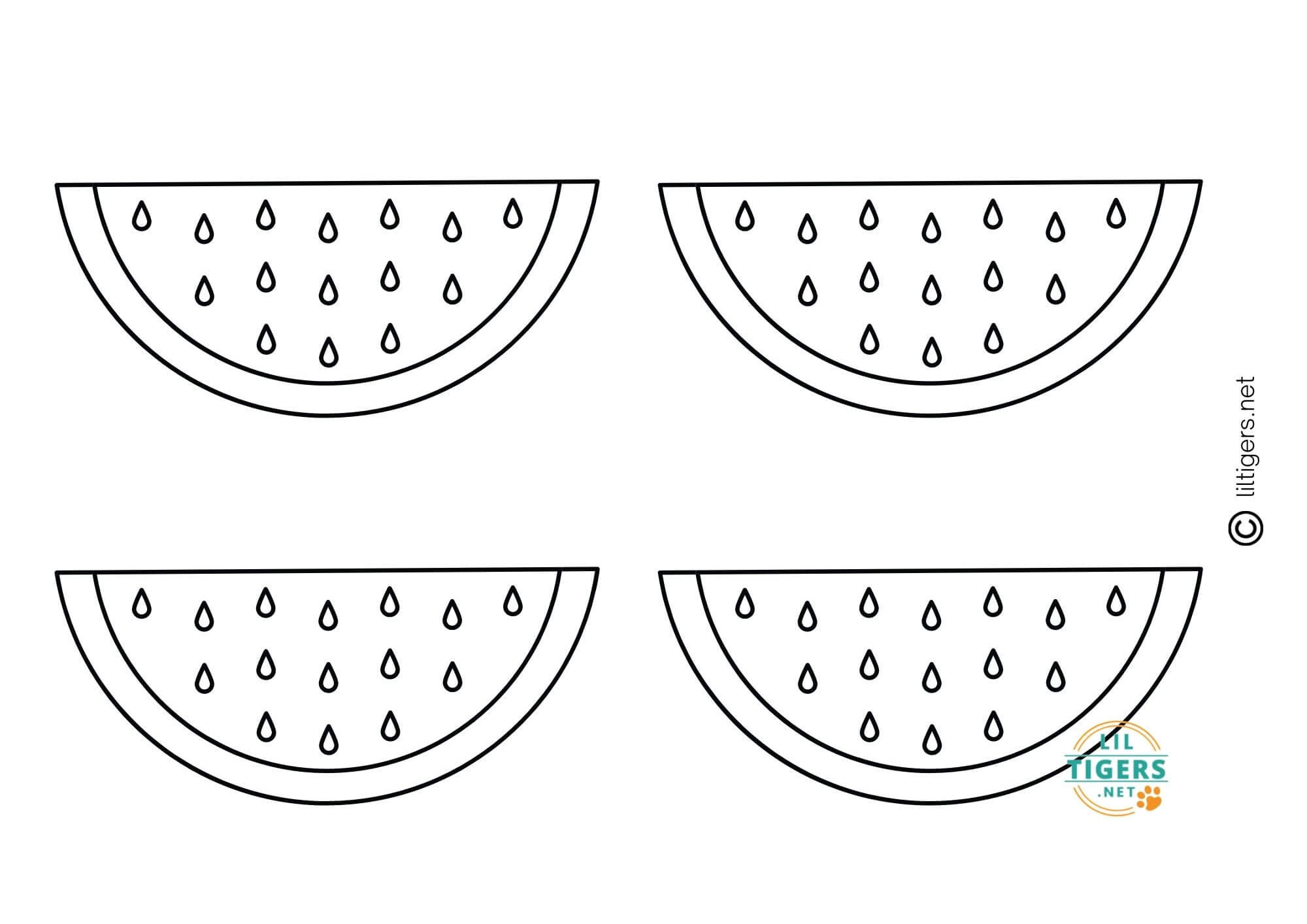 3. Learn Counting With Watermelon Seeds
Why not turn our watermelon printouts into a fun math game and learn your numbers and counting in a playful way?
All you would need is our large watermelon outline template and some markers. Print the template 10 times to learn the numbers 1-10. Then write numbers from 1 to 10 in the right-hand corner of your printout and turn them into a watermelon worksheet.
Now let your children color the watermelon and count the seeds at the same time. Preferably they should only color the matching numbers of seeds black.
Pretty simple isn't it?
Did you enjoy our watermelon template printables? Then try one of our other fun summer projects next. How about this Firefly Printout, fun Water Science Experiments, or easy Water Balloon Games.
4. Letter W Activity
Teaching the letters is so much more fun if you create an interactive learning environment. Therefore most preschools add worksheets, sing songs, read stories, or have a show and tell for each letter.
Our watermelon printout, therefore, is a perfect letter W activity and can be used at home as well. Print out some free ABC Flashcards, let them color our watermelon coloring page, and teach them the letter W at home.
5. Learn About Fruits or Vegetables
As we learned above watermelons can be considered fruit or vegetables. So why not include them in your lessons about vegetables or fruits.
I also was surprised to learn that all parts of a watermelon can be eaten. Since they are not very tasty we actually don't. But in Asia, they actually use the rind to stir-fry them. Interesting isn't it?
So why not learn more about watermelons or include them in your fruit or vegetable curriculum?
6. Watermelon Party Invitation
Watermelons are a symbol of summer. With only a couple of steps, you can turn our watermelon slice template into a fun summer party invitation.
This watermelon party invitation actually looks super fun and is super easy to make. What do you think?
Here are some watermelon quotes to use for your invitation.
"When life gives you watermelons, make a big, juicy smile!" – Unknown
"Watermelons are like summer's sweetest kisses." – Unknown
"Seeds of happiness grow in the watermelon patch." – Unknown
"Be cool and well hydrated like a chilled watermelon." – Unknown
"Juicy watermelons, bursting with delight, make summer days feel just right!" – Unknown
"Eating watermelons makes you feel like you're dancing in a fruit rain." – Unknown
See our full list of Watermelon Quotes here.
7. Watermelon Party Decoration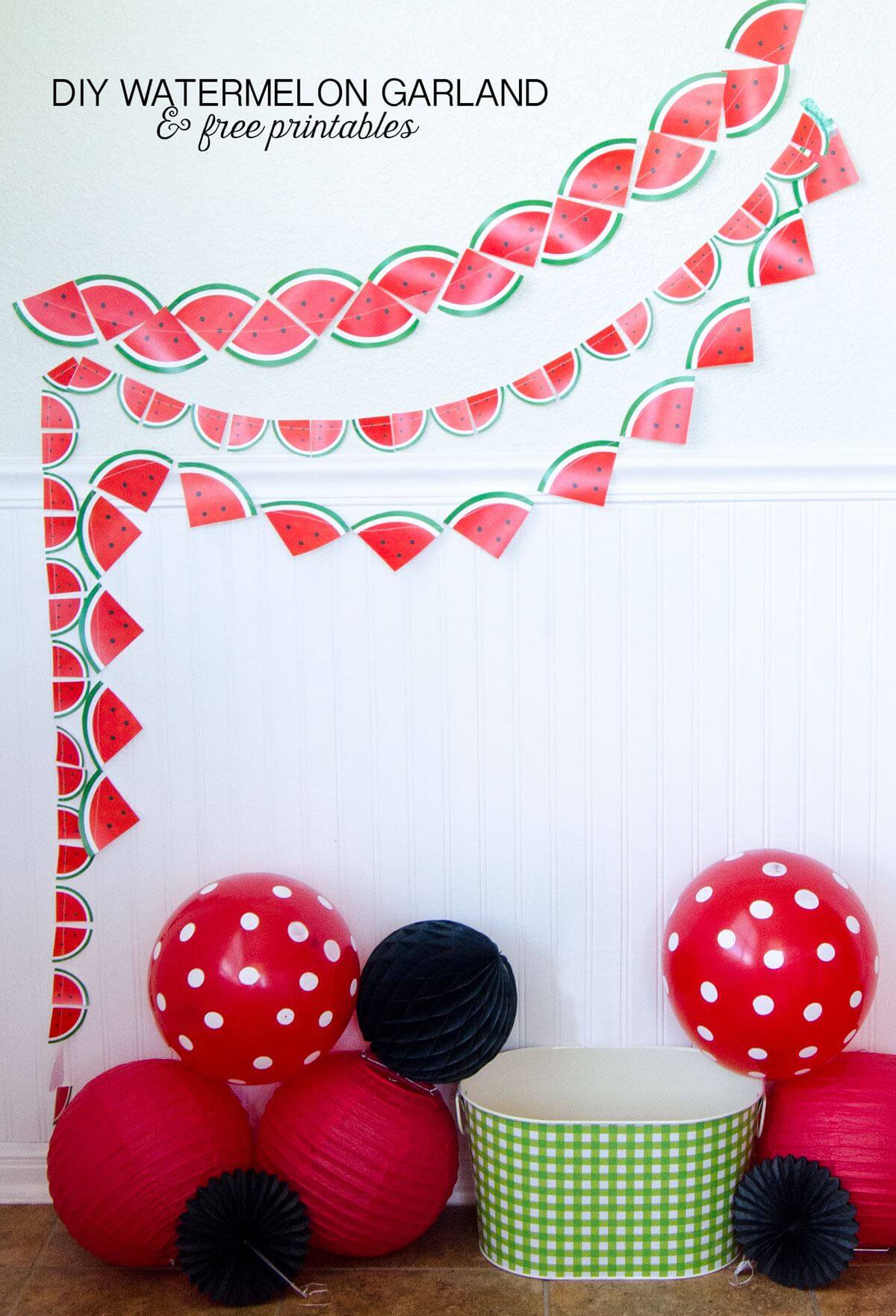 Our colored watermelon templates can be turned in into wonderful party decorations within minutes. You can simply use the small watermelon slices, cut them, and place them on your tables or make a stunning watermelon garland out of them.
The tutorial for this easy watermelon garland can be found above, but you mainly print, cut, and attach them to a string and hang it up. Super easy isn't it?
---
Do your kids love our watermelon printables and craft ideas but like to learn how to draw their own fun watermelons? Then check out this easy watermelon tutorial next:
---
How to Download Your Free Printable Watermelon Template Pdf
Simply sign up here for our newsletter and you will receive the link to our watermelon cutout template pdf.
Already a subscriber? Don't worry, no need to subscribe twice.
I just updated our free printable library. You can find our cool watermelon template printables there or check our newest newsletter for more information.
If you have any questions, please do not hesitate to reach out to me. I m happy to help!
Pin These Free Watermelon Template Printables
Don't forget to save our simple watermelon outlines on Pinterest for later! Be sure you are following along with Lil Tigers here.
Now it is your turn.
How did your kids enjoy their watermelon printable outlines? What did you turn them into?
Either way, let me know by leaving a comment below right now.
I love to hear from you!