This easy Baby Yoda Craft is perfect for kids who love Star Wars! Simply print our free Baby Yoda template and make with help of a few art supplies your own Baby Yoda Goodie Bag.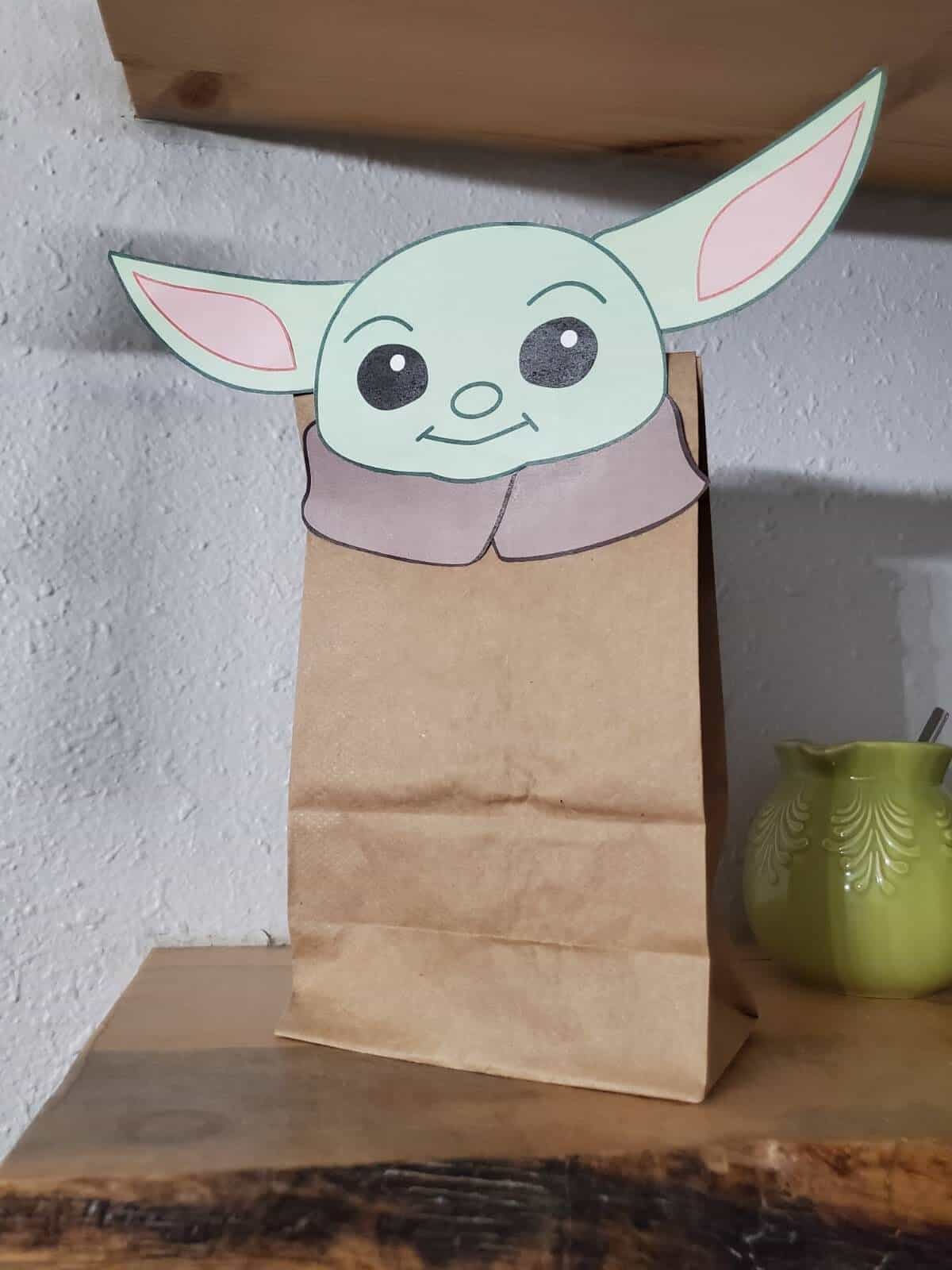 There are affiliate links in this post, meaning, at no additional cost to you, I will be compensated if you click through and take action. As an Amazon Associate I earn from qualifying purchases.
Easy Baby Yoda Craft
Baby Yoda has got to be one of the cutest characters that ever came out of the Star Wars production. So why not make him the star of Star Wars Day on May 4th this year!
Your kids would love making their own Baby Yoda Goodie Bag Topper show off to their friends at lunchtime.
So let's get started on this adorable Star Wars craft!
How to Make Your Own Baby Yoda Goodie Bag
Here is what you will need to make this adorable Baby Yoda craft project:

Materials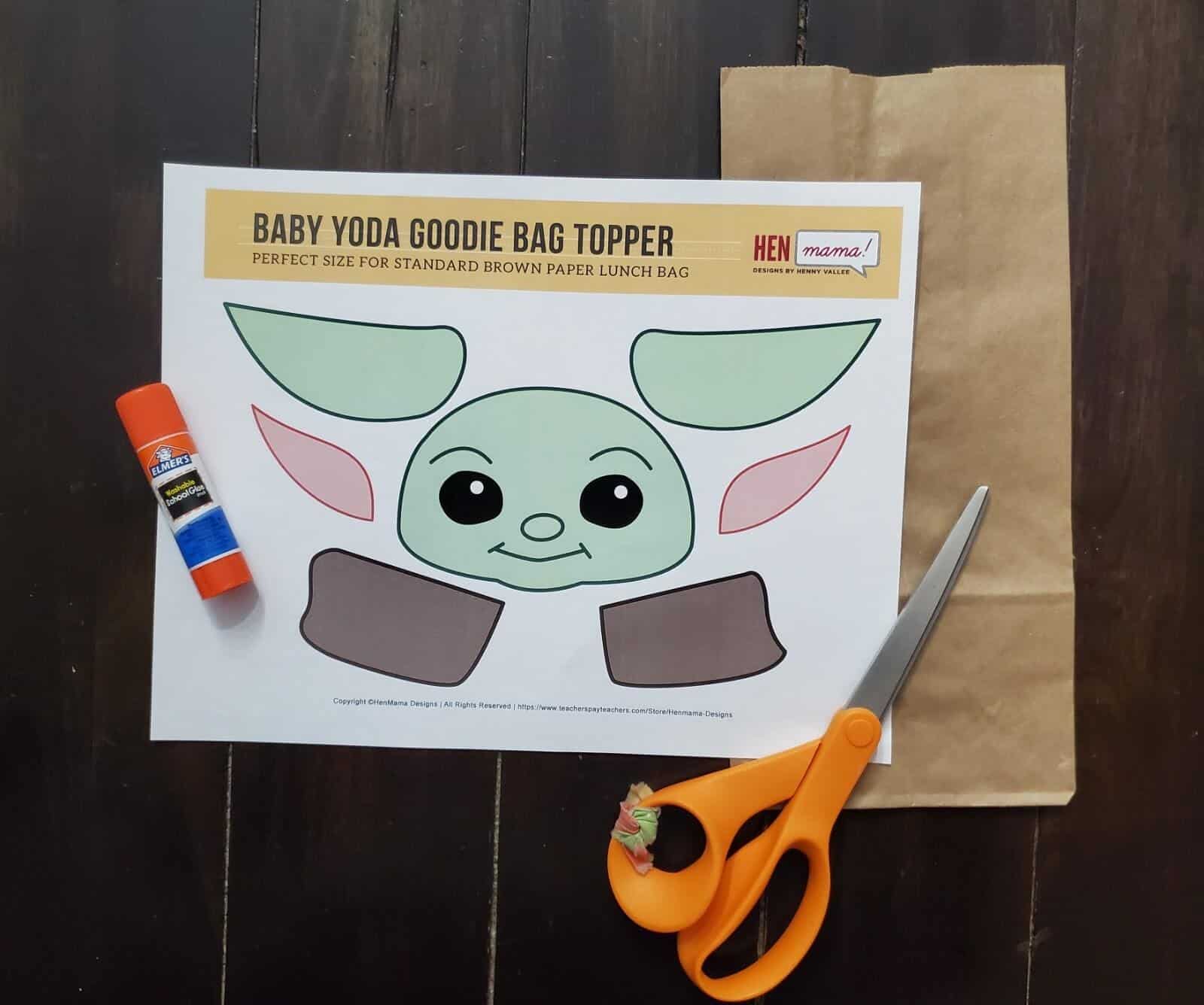 Enjoy!
Do you need advice on How to Introduce Crafting to your Preschooler? Then read our 10 tips that work next.
Instruction
These step-by-step instructions are here to help you visualize how to make this Baby Yoda papercraft.
Step 1: Print out your Baby Yoda Craft Template
Print out the Baby Yoda Goodie Bag Topper on copy paper.
Step 2: Cut your free Baby Yoda printable
Cut out all the pieces of your Baby Yoda DIY.
Step 3: Attach Baby Yoda collar
Glue Baby Yoda's brown collar in the center.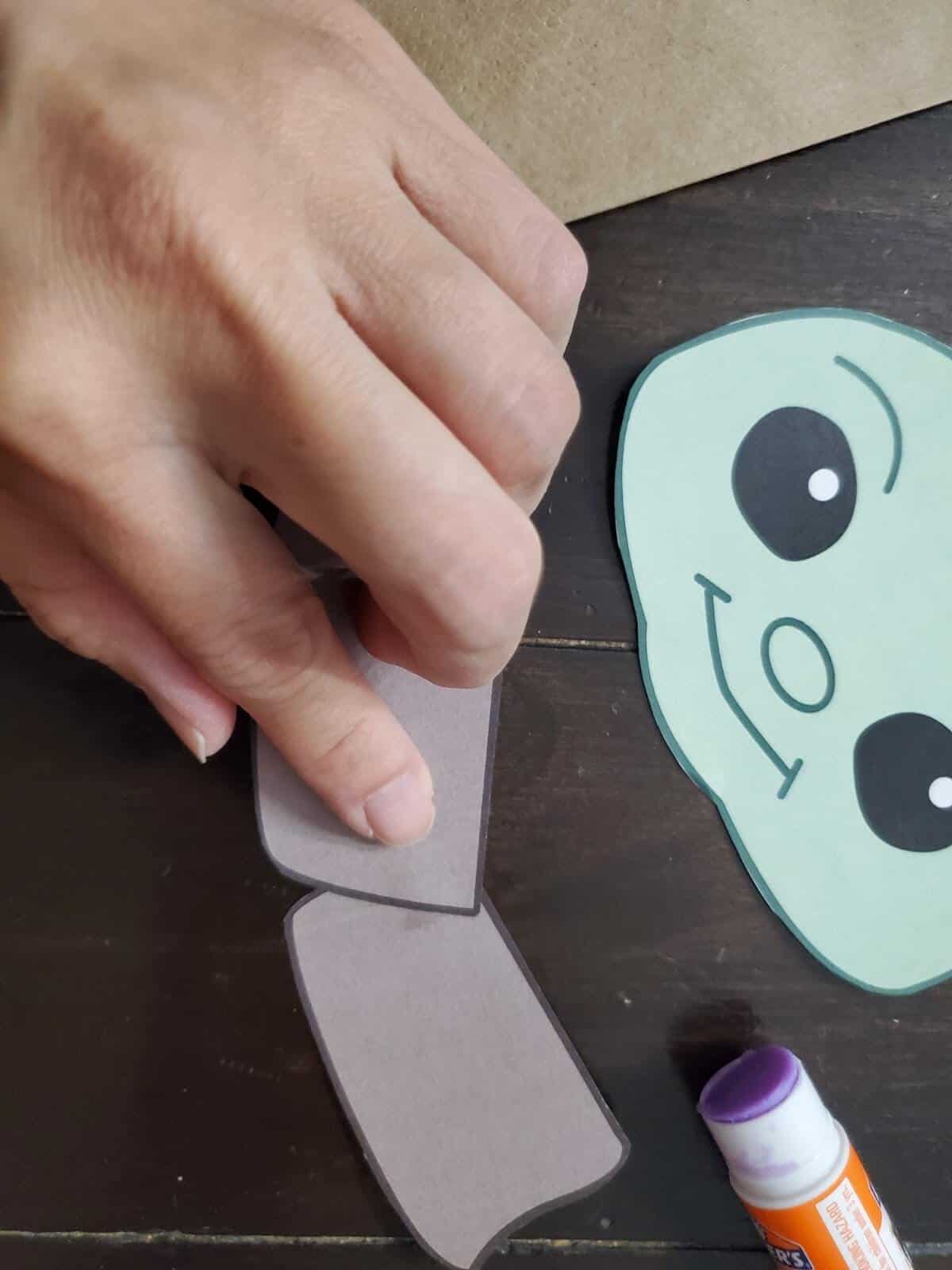 Step 4: Glue Baby Yoda's Ears
Afterward, glue the pink shapes on top of Baby Yoda's green ears.
Step 5: Start with Baby Yoda's head
Next glue Baby Yoda's head over his brown collar.
Step 6: Attach Baby Yoda's ears
After step 5 is completed glue Baby Yoda's ears behind the head.
Step 7: Finish the Baby Yoda Goodie Bag
Now your Baby Yoda is ready to stick on top of the brown lunch bag!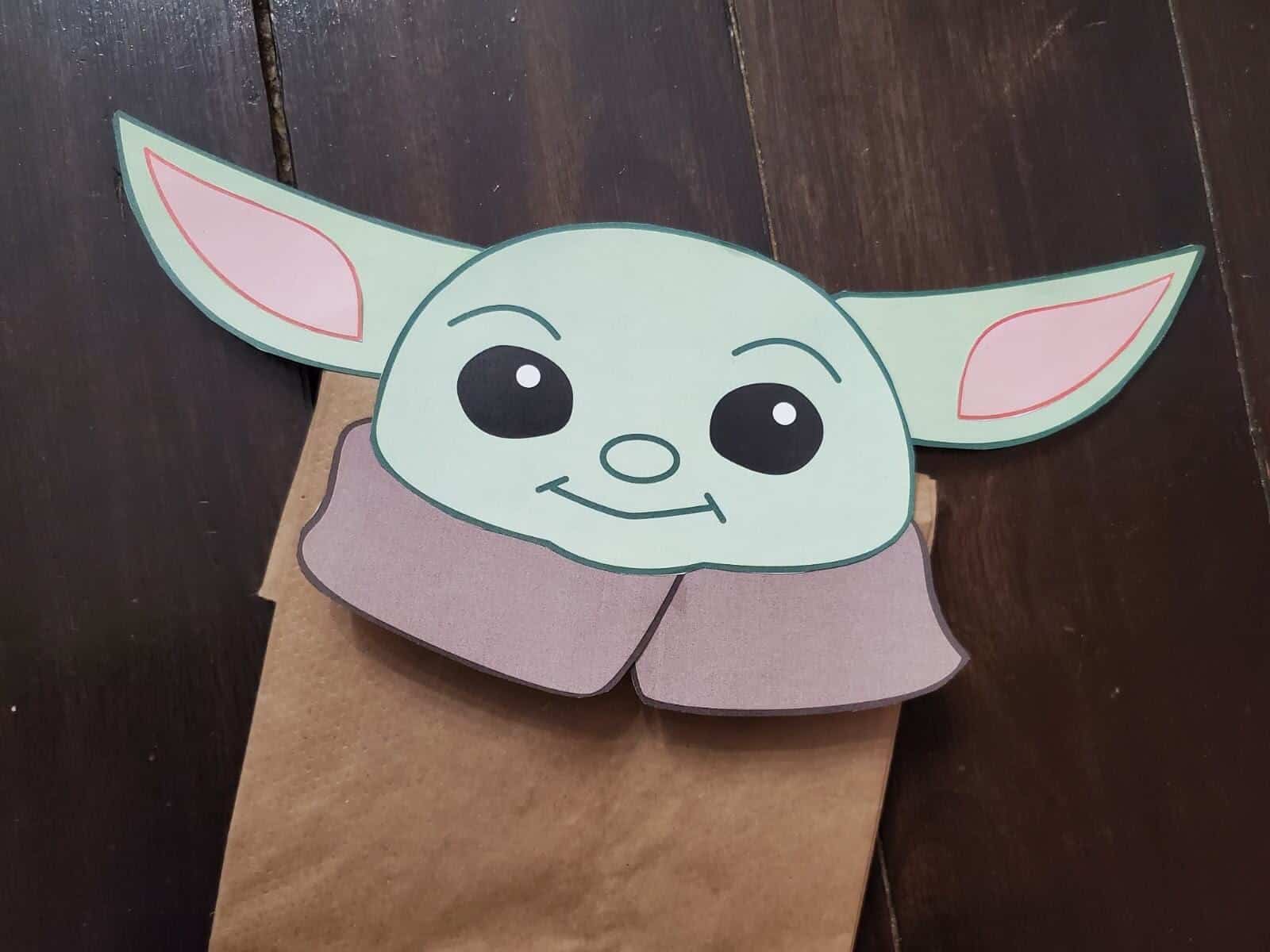 Do you use our Baby Yoda Template activity as a lunch bag? Then fill them with our gluten-free Carrot Cake Muffins. They are delicious.
In case it turns out to be a goody bag, here are some more great party ideas. Try our Ice Cream Bar or Horse Goodie Bag next.
Matching you will also enjoy our 145 Famous Star Wars Quotes.
TA-DA!! Baby Yoda is ready to bring smiles to your kids' lunchtime! 
If you don't have access to a color printer, no worries! We've included an easy Baby Yoda template that you can print out on colored paper, and also a printable Baby Yoda Coloring Page ready to color for your littles.
Instead of using your Baby Yoda printable for your Star Wars Goodie Bag simply attach your DIY Baby Yoda on the other end of your goodie bag and you have an adorable Baby Yoda Puppet to play with.
I hope you and your kids enjoy making this fun and easy paper craft together! May the 4th be with you and your family!
I would love to see how your Baby Yoda Goodie Bag Topper turns out! If you are on Instagram, please tag me @thishenmama. Have fun crafting and creating!
Star Wars Party Favors
Now all your Baby Yoda Star Wars party bag needs are some awesome Star Wars Party Favor Ideas.
Here are my favorite Star Wars goodie bag ideas your kids will love:
How to Download Your Free Printable Baby Yoda Template
Simply sign up here for our newsletter and you will receive the link to our free Baby Yoda printable template and Baby Yoda coloring sheet.
Pin this Craft Baby Yoda
Don't forget to save this adorable paper Baby Yoda on Pinterest for later! Be sure you are following along with Lil Tigers here.
About the Author
Henny Vallee is a blessed wife and mom of 4 with another baby girl on the way. She shares mom tips, creative ideas, and life lessons on her HenMama blog while raising her family and working as a graphic designer.
When she's not on her laptop, you can find her painting birdhouses or collaborate with her husband on the next woodworking project for their home.
Hen Mama Blog https://henmama.wordpress.com/
Store https://www.teacherspayteachers.com/Store/Henmama-Designs

Now I would like to hear from you!
How did your kids enjoy this easy Baby Yoda Craft Idea?
Either way, let me know by leaving a comment below right now.
I love to hear from you!