Do you like sensory play bins? Then you should try to make your own colored rice!
It is so much fun and perfect for an afternoon full of hand-eye coordination fun for kids.
Let's dive right in.
There are affiliate links in this post, meaning, at no additional cost to you, I will be compensated if you click through and take action.
DIY Colored Rice Recipe

Colored rice is one of the most common materials used for sensory bins. It is perfect for any type of fine motor skills activity for young toddlers and is even still enjoyable for big kids.
My older son just loved playing with it as much as my youngest.

After helping prepare this super easy recipe the kids enjoyed the whole afternoon scooping and pouring the sensory rice into different cups, bottles, or even tractor wagons. They used whatever they could find.

All you need to make a colored rice craft is food coloring, vinegar, zip-log bags, and rice.
You will likely already have all these ingredients in the house, which is another excellent benefit of this fun sensory project.

As sensory bins, you can use any type of plastic container, cooking trays, water tables, sandboxes, cooking pods, and more.
Colored rice trays can be made in every possible color and decorated for any celebration as well. Take a look at how I decorated mine for the 4th of July here, or check out our 4th of July Quotes next.
Be aware this activity can be messy.
Not so much the process of making colored rice but the colored rice sensory play afterward. Therefore I used a big old sheet and placed it under our sensory bin.
Instead of a sheet, cardstock paper or old newspapers will work as well. It helped me during the cleanup process after the kids were done playing.

Also, there is no need of throwing this fun sensory material in the trash right away. I filled it back in my zip log bag and was able to reuse it several times afterward again.
I would not recommend colored rice for sensory bins or trays for babies or young toddlers since they most likely will try to eat it and might choke on it.
But it can also be used in empty plastic bottles as shakers for babies or in zip log bags for them to explore the texture in a safe environment.
But let's look now at what we will need for our easy-colored rice recipe.
Materials for DIY Colored Rice Recipe
white rice
vinegar
1 tray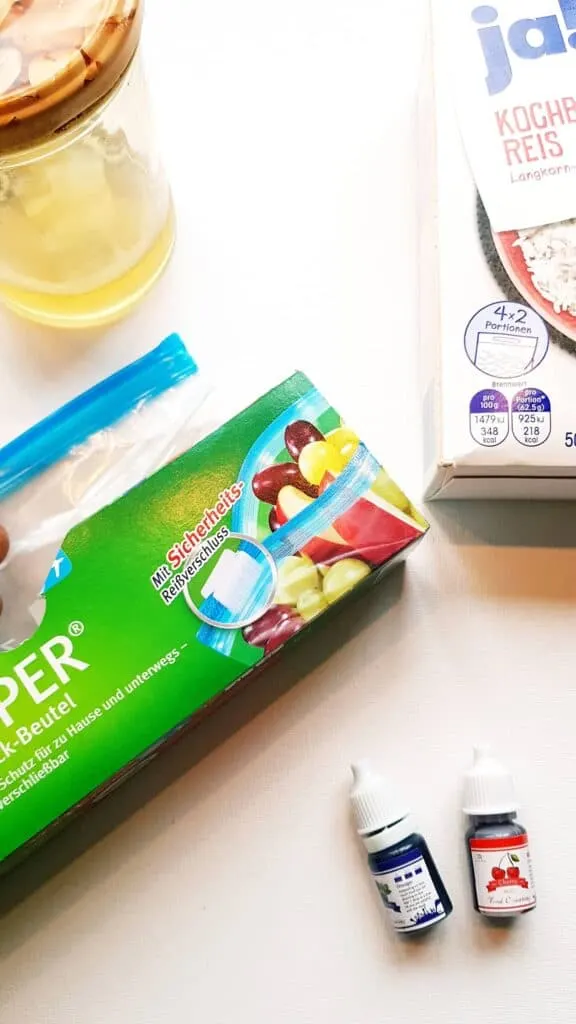 Check out our other sensory play recipes next. Here is our popular Playdough Recipe Without Tartar, try our Moon Dough Recipe, or make this fun Foam Sensory Bin next.
In the full step-by-step tutorial, you will see how easy and fast it is to make your own colored rice.
Colored Rice Recipe Instructions
Step 1: Fill Zip Log Bag
Fill the zip log bag with uncooked rice. We used 1 cup of rice for each color.

Step 2: Add Ingredients
Add 1 tsp of vinegar and a couple of drops of food coloring.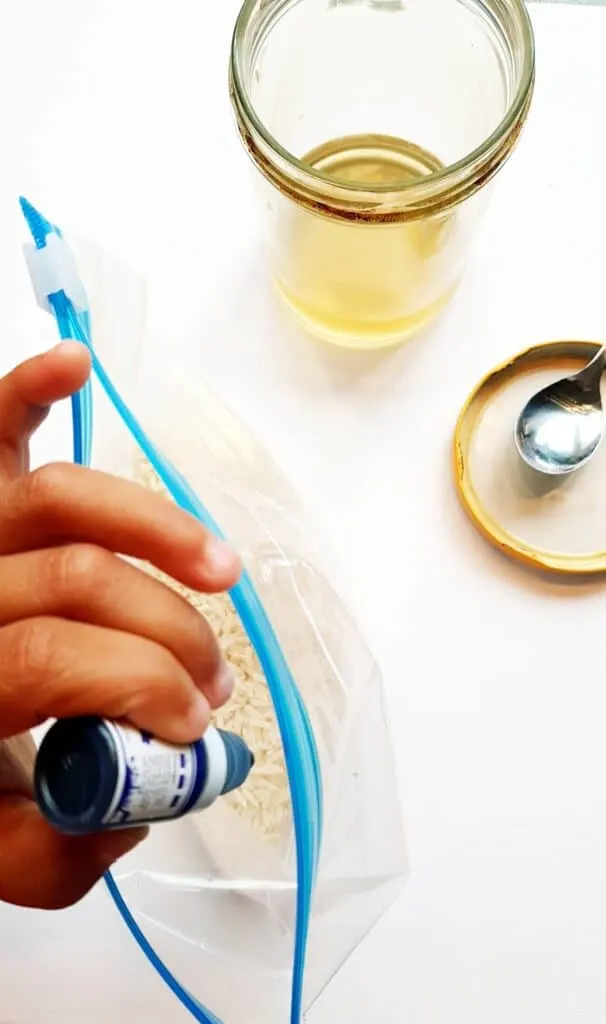 Step 3: Shake it
Close the zip log bag and start shaking it till the food coloring and rice mix evenly.
Are you interested in more kid's activities, arts & crafts, and science experiments?
I have made it easy for you! Simply join our newsletter now and I will send you new fun for kids.
Subscribe for free
Step 4: Let it try
Place the finished product on a tray and let it try. Then it's ready for action!

Step 5: Set up a colored rice activity
Be creative and set up your own sensory play tray with colored rice for your kids.
Step 6: Enjoy
Simply let your kids enjoy playing with your play tray.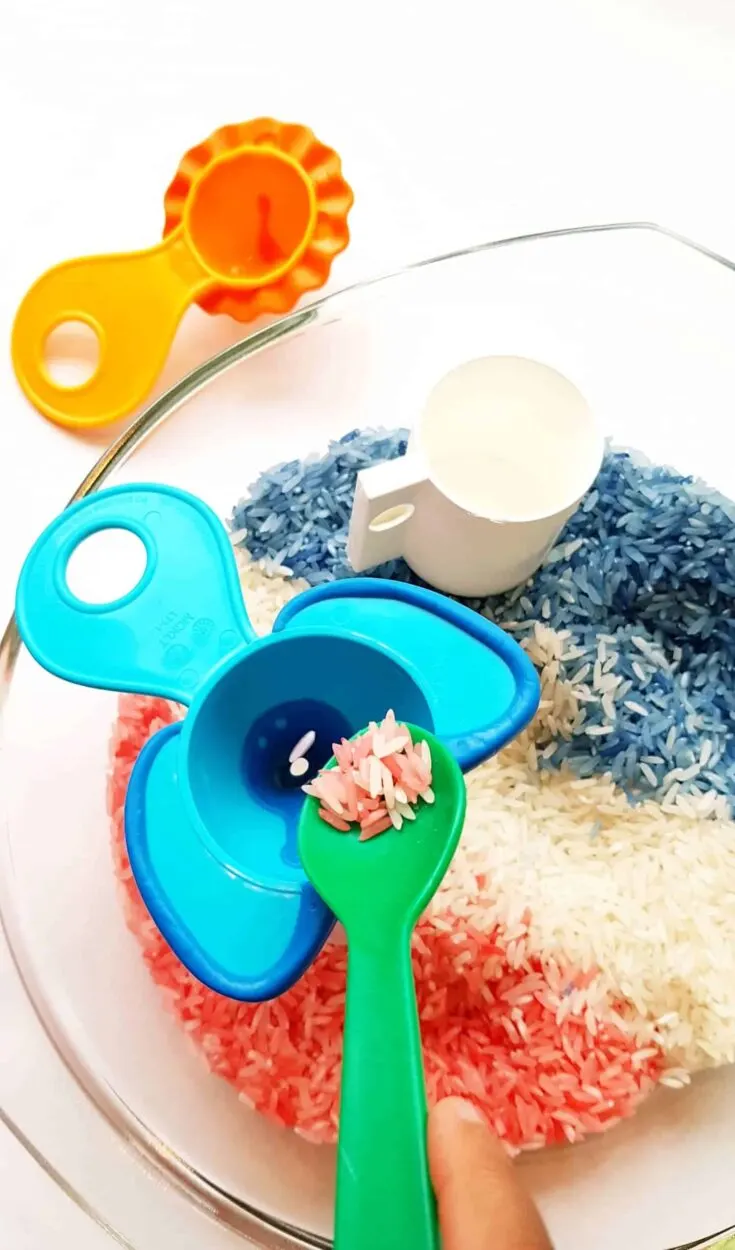 Summary
Overall I have to say this DIY colored rice recipe was a total win in my house. The kids even enjoyed being mommy's little helper and I already had all ingredients for it in my kitchen.

Creating colored rice is not messy at all and super fast and easy to prepare. Using the sensory play material on the other side can be a different story. Be prepared that the rice will not necessarily stay in the bin or tray.

The sensory rice is reusable and we got some good afternoons full of play fun out of it. I also like the fact that there are endless possibilities of sensory play themes out there.
Most of the time I make different colors at the same time and let my kids choose their favorite color but what always works is making rainbow-colored rice!

Sensory play activities help my toddler learn through play and touch. Therefore I love to combine this fun kid's STEM activity with a learning unit. We pick a subject, talk and learn about it, read a book, and set up a matching sensory play table.
It helps to lengthen my children's attention span and they learn through play at the same time. Give it a try!

Other great sensory bin materials are water beats, colored rice or pasta, or in the fall time corn. Here you can check out our fun on the farm corn sensory play tray activity.
Pin This Colored Rice Recipe
Don't forget to save this recipe for colored rice on Pinterest for later! Be sure you are following along with Lil Tigers here.
Now I would like to hear from you!
Did you enjoy this DIY colored rice recipe for sensory play with your kids?
Either way, let me know by leaving a comment below right now.
I love to hear from you!

Follow us on Instagram, Pinterest, Tik Tok, and join our Facebook group "Free Kids Activities Arts & Crafts" for more fun DIY Kid's Activities, Arts & Crafts, and Science Experiments.
Colored Rice Recipe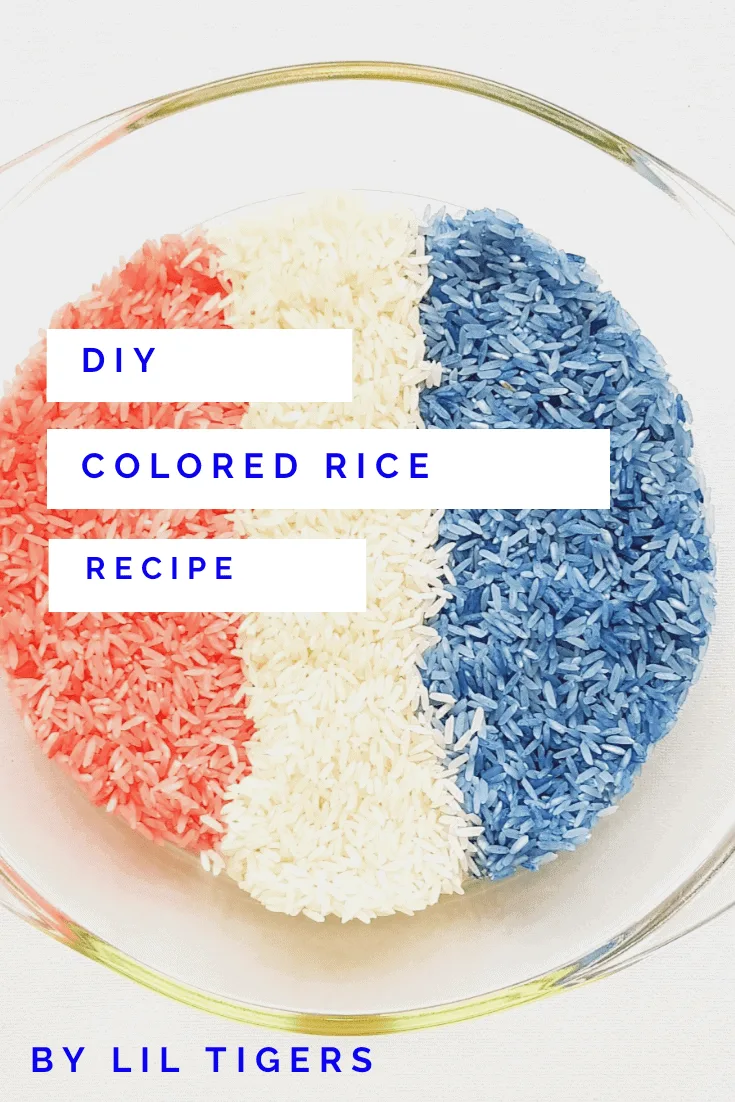 How to make your own colored rice for sensory play
Prep Time
5 hours
1 second
Total Time
5 hours
1 second
Materials
white rice
food coloring
vinegar
zip log bag
Instructions
Fill zip log bag with uncooked rice
Add a couple of drops of food coloring and 1 tsp of vinegar
Shake it
Empty the bag on a tray and let it try
Are you a visual learner? Here's a video that shows you how to color rice for sensory bins!