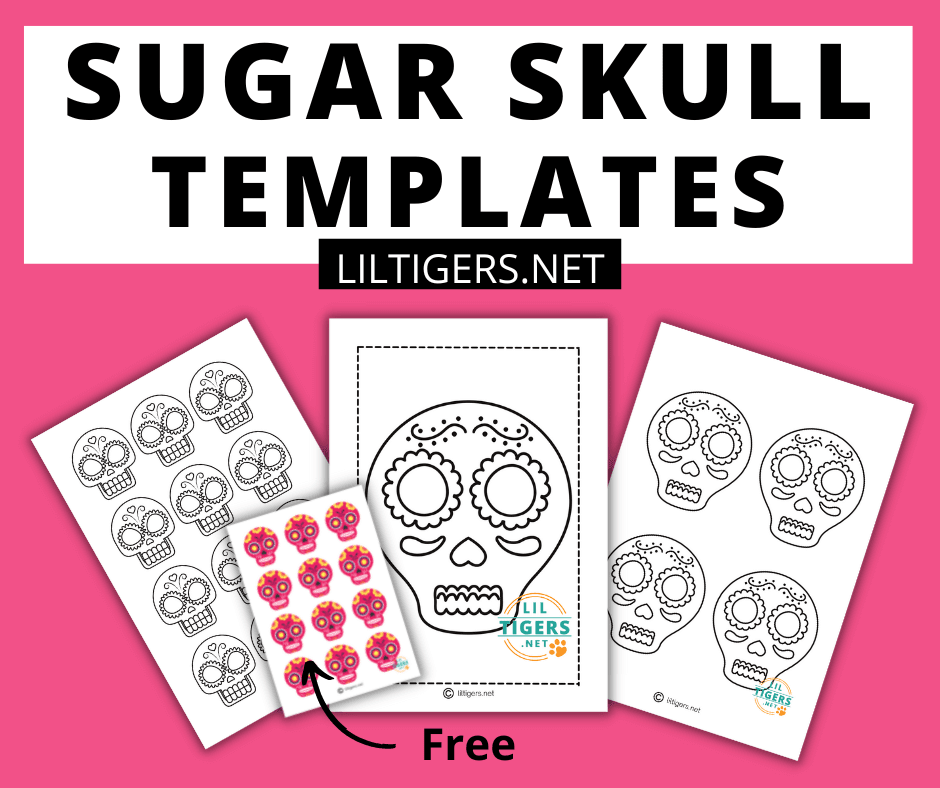 Sugar Skull Facts for Kids
Before we get started with our templates of sugar skulls, let's learn a little bit about this Mexican decoration!
What is a Sugar Skull?
Sugar skulls represented a departed soul. It has the name written on the forehead and was placed on the home ofrenda (altar) or gravestone to honor the return of a particular spirit during the Dia de Los Muertos (Day of the Dead) celebration.
Sugar skull art reflects the folk art style of big happy smiles, colorful icing sparkly tin, and glittery adornments. Clay-molded sugar skulls are labor-intensive and made in very small batches in the homes of sugar skull makers.
Sugar Skull History
In the 17th century, sugar art was brought to the New World by Italian missionaries.
The first Church mention of sugar art was from Palermo at Easter time when little sugar angels and lambs were made to adorn the side altars in the Catholic Church.
Mexico, abundant in sugar production and too poor to buy these fancy imported European decorations, learned quickly from the friars how to make sugar art for their religious festivals.
Clay-molded sugar figures of sheep, angels, and sugar skulls go back to the Colonial Period 18th century.
These and more facts about sugar skulls can be found here.
What Is Dia de Los Muertos, and Why Is It Celebrated?
So sugar skulls are used as decoration to honor lost family members during the Dia de Los Muertos celebration.
But what is Dia de Los Muertos (Day of the Dead)? Let's find out!
Día de Los Muertos (Day of the Dead) is a Mexican holiday where families welcome back the souls of their deceased relatives for a brief reunion. The Day of the Dead is celebrated each year from October 31st till November 2nd and includes food, drink, and celebration.
According to tradition, the gates of heaven are opened at midnight on October 31 (Halloween) and the spirits of children can rejoin their families for 24 hours. The spirits of adults can do the same on November 2 (All Souls Day).
These and more inspiring facts about Dia de Los Muertos can be found in the following link.
Dia de Lost Muertos Books for Kids
Here are some great recommendations on children's Dia de Los Muerto books for you:
Free Sugar Skull Template Printables
Sugar Skull Cut Out Materials
Free Printable Sugar Skull Cut Out Templates (found below)
7 Sugar Skull Craft Template Ideas
Learn About the Day of the Dead
S is for Sugar Skull
Sugar Skull Coloring Pages
Sugar Skull Stencils
DIY Sugar Skull Card
Homemade Sugar Skull Decoration
Sugar Skull Activities
Simple Sugar Skull Template Outline
1. Learn About the Day of the Dead
Go check out our recommendation on Dia de Los Muertos books above.
2. S Is for Sugar Skull
You can also add our easy sugar skull templates to your preschool alphabet lesson plan. Use them while learning the letter S.
First, print out some upper and lowercase letter S worksheets.
After your student are done with their work, make sure to include an easy sugar skull craft for the S sound.
Tip: Make sure to study each letter individually so your students can form memories for each letter to recollect them more easily.
3. Sugar Skull Coloring Pages
I even added some sugar skull pictures in color to the coloring pages so the children have some inspiration.
4. Sugar Skull Stencils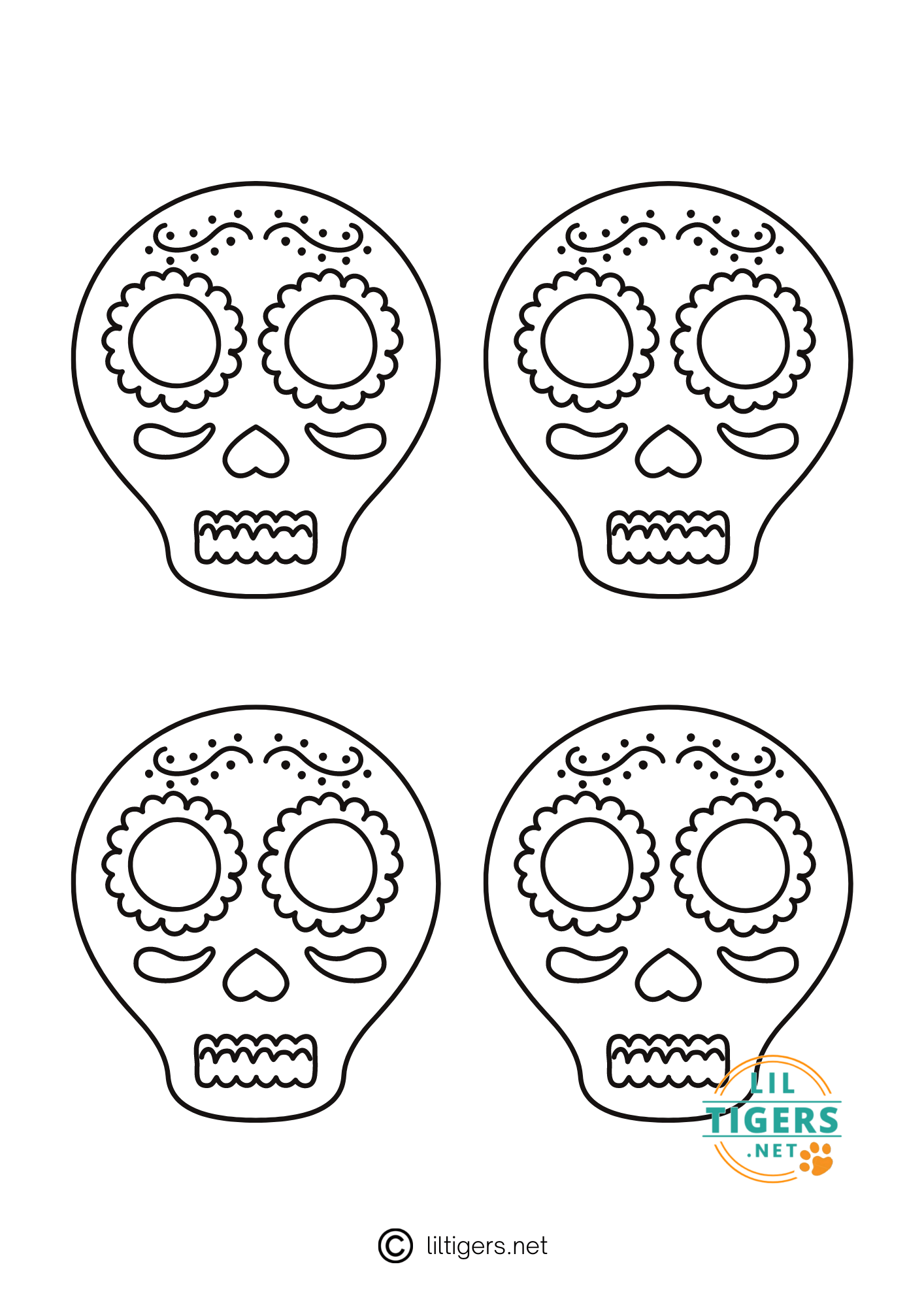 5. DIY Sugar Skull Card
Share your thoughts, wishes, and messages for Dia de Los Muertos with your loved ones, and make your own sugar skull card for them.
Print out our sugar skull outlines on thicker white paper, cut them out, and color them in bright happy colors.
Then you can write your text on the back.
6. Sugar Skull Decoration
Once you are finished with your Day of the Dead card, let's decorate your house.
Use our small sugar skull printables as table cards or table decorations. Turn our medium sugar skull outlines into a colorful garland or simply house our colored sugar skull pictures if you do not have time to decorate yourself.
The possibilities are endless!
7. Sugar Skull Activities
If these weren't enough sugar skull activities for you, go check out the following sugar skull projects:
8. Simple Sugar Skull Template Outline
Use any of our large sugar skull outlines and make an adorable Dia Los Muertos Invitation out of them.
Simply use thick paper, color it nicely, and use one of our Day of the Dead Quotes to turn our large sugar skull templates into a colorful invitation.
Here are some matching Dia Los Muertos Quotes for you to use:
"To live in hearts we leave behind is not to die." -Thomas Campbell.
"The day which we fear as our last is but the birthday of eternity." – Lucius Annaeus Seneca.
"Is death the last sleep? No, it is the last final awakening." – Walter Scott
"At the point of death, the pain is over" – Jim Morrison
"Why fear death? It is the most beautiful adventure in life." – Charles Frohman
Here is our full list of 75 Inspirational Dia de Los Muertos Quotes. Go check them out!
---
How to Download Your Free Printable Sugar Skull Templates Pdf
Pin These Free Sugar Skull Template Printables