Are you looking for new easy desserts for your next BBQ? Then try these 5 kids-friendly summer dessert recipes.
Everyone will love them.
Let's dive right in.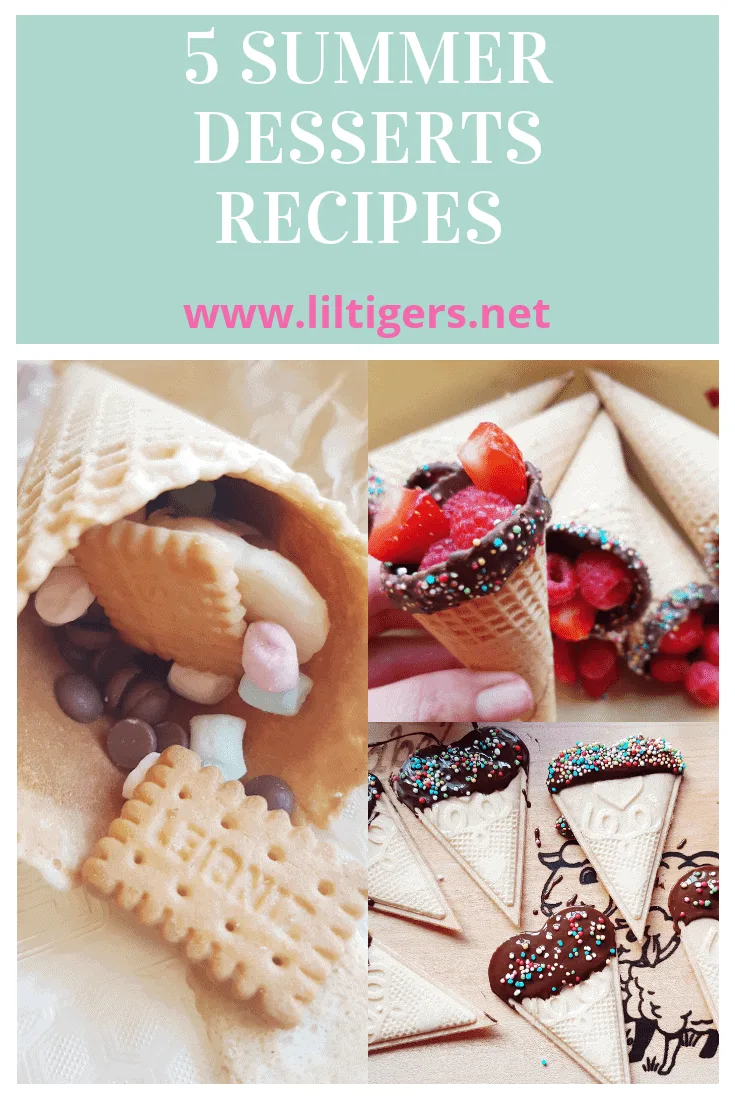 Kids Friendly Summer Dessert Recipes
School just started and the summer is almost over. Nevertheless, it's not too late to enjoy the last warm summer days with a nice family gathering or a simple BBQ.
Try one of these 5 delicious summer treats for your next get-together or just simply to celebrate the end of the summer. We tried all of them by ourselves and they 100% approved by my picky eaters!
Do you like Smores but they always seem to turn out into a mess, especially with younger children? Then try this Campfire Cones Recipe instead.
The smores campfire cones can be fixed on the grill, campfire, or even in the oven. They are perfect for your next camping trip, summer party, or family barbecue.
Get the full recipe here.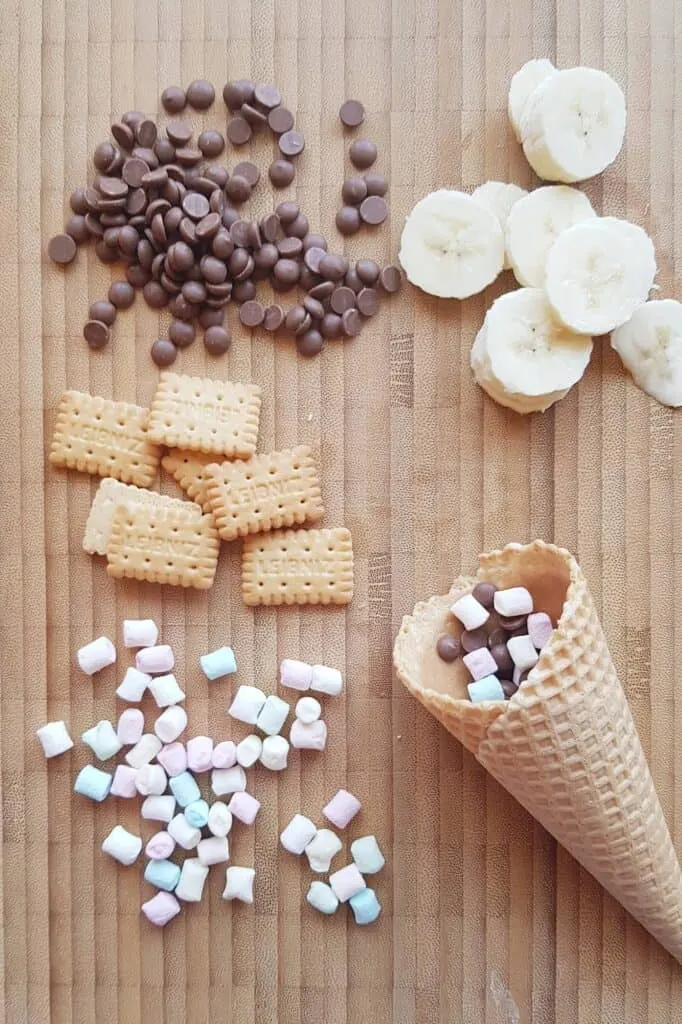 Step 3: Rapp the cones
Make your dessert fire-safe and wrap the filled cones in aluminum foil to prevent them from burning.
Step 4: Cook them
Place your wrapped smores cones on your BBQ grill or over your campfire for about 3-5 minutes.
Step 5: Enjoy
Use oven mittens to unwrap the foil to prevent yourself from getting burned. Let it cool down a little bit and enjoy your delicious summer dessert.
Are you interested in more DIY Kids Activities, Arts & Crafts, and Easy Science Experiments?
Subscribe to our newsletter now and never miss an update on new ideas for kids or free printables!
Click here
Tips
This recipe is so simple and fast to prepare that this is the perfect opportunity to let your children help in the kitchen. They will love being mommies little helpers and of course, taste one or two ingredients prior.
The Bananas can of course be substituted with other fruits like strawberry slices, blueberries, raspberries, marshmallows, or others.
2. BBQ Banana Split – Grilled Bananas
Did you ever try to grill your bananas? Not yet?
Then you missed out on something. This BBQ banana split recipe is very delicious!
Believe me when I say you can not be too full for this delicious dessert. It is a very easy recipe for all ages and even my picky eaters loved it.
I mean really what's not to love about cooked bananas filled with chocolate and topped with ice cream?
For this fantastic summer dessert you will need the following things:
Ingredients
Bananas
chocolate slices
ice cream (optional)
nuts (optional)
aluminum foil
Let's take a look at the full instructions now:
Instructions
Step 1: Prepare your bananas
We peeled our banana but it also works if you don't. Take a knife and cut inside the curve of each banana. Make sure not to cut all the way through.
Step 2: Fill bananas
Open up your banana cuts and fill them with chocolate slices. We used "Kinderschokolade" but any kind of chocolate sliced or even chocolate chips will work.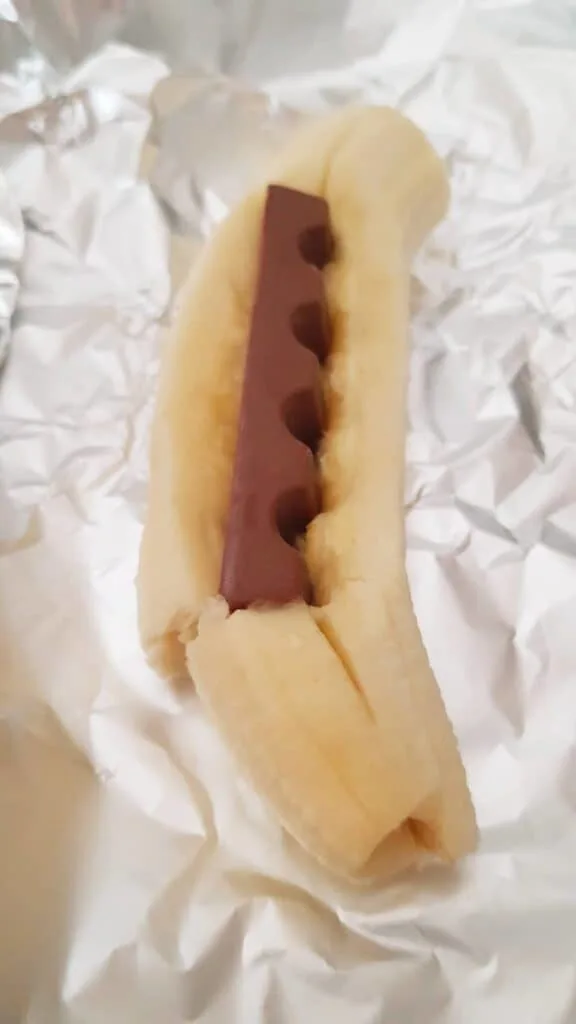 Step 3: Wrap the bananas
Wrap your chocolate filled bananas in aluminum foil.
Step 4: Cook your bananas
Place your prepared banana splits on your low heated BBQ grill. Make sure place the bananas split-side up on the grill. Cook them for about 15 minutes.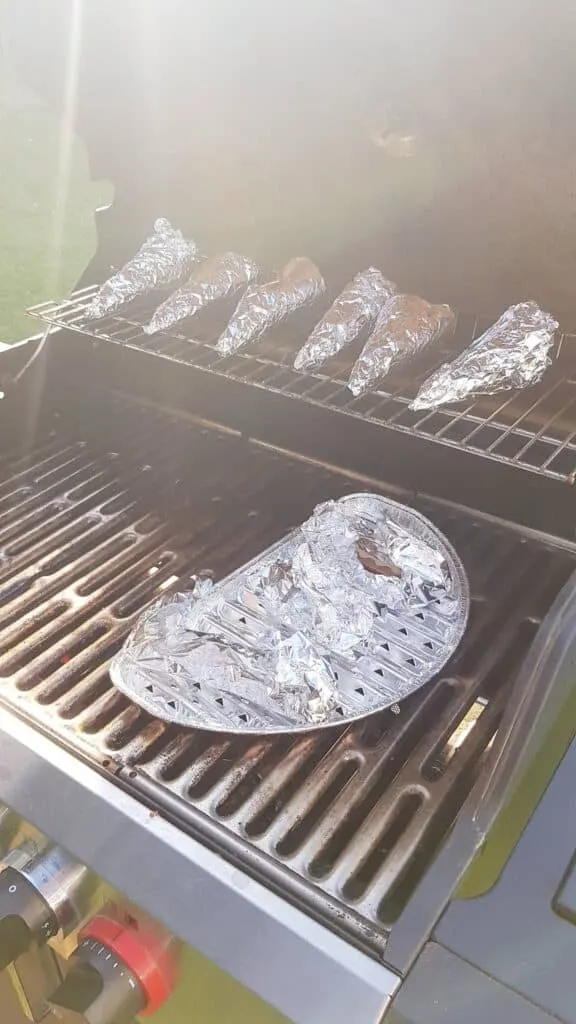 Step 5: Enjoy
Take your parcels from the grill and carefully unwrap them. Then transfer them to plates and add ice cream and other toppings if desired. Enjoy!
Did you enjoy these recipes? Then try our Ice Cream Party Idea, Strawberry Popsicle Recipe, or Carrot Cake Muffins next.
Tip
This fun recipe can also be baked in the oven. Simply place your banana parcels on a baking sheet in the oven for 15-20minutes at 180/220 Celsius fan/gas 6.
My kids loved this simple summer dessert. I love the fact that it can be as simple or fancy served as you desire. Add toppings or not it's delicious either way!
I served the following three recipes on my son's second birthday. We had an ice cream theme birthday party. The kids really enjoyed them.
3. Ice Cream Cake Pops
This cake is in the form of a popsicle on a stick and easier to prepare than you might think. Here is what you will need for it.
Ingredients
cake ingredients
ice cream sticks
toppings
Here is the full step-by-step tutorial for you.
Instruction
Step 1: Bake a cake
Simply bake your favorite try cake on a big baking sheet.
Step 2: Cut the cake
After it cooled down cut it in the desired shape. I cut them in little squares. Make sure not to cut them too big so the ice cream stick can hold its weight.
Step 3: Use the ice cream sticks
Take your cake slices of the baking sheet and stick the ice cream sticks in it. Make sure to center them right and put them 2/3 into the cake.
Step 4: Decorate your cake pops
To make your cake pops look like fun cake pops start decorating them. I covered them with melted chocolate and used sprinkles to decorate them.
Step 5: Enjoy
Wait till the chocolate covered cake pops are tried and they are ready to be served.
Learn from my mistakes
We made the mistake to decorate the cake before cutting it. Sadly the chocolate split while cutting and the result didn't look as clean as it could be.
4. Fruit Cones
This fun summer fruit recipe is the perfect way to displace fruit in a fun creative way. Give it a try.
Here is what you will need for it.

Ingredients
ice cream cones
fruit
chocolate (optional)
sprinkles (optional)
This easy summer treat will be the eye-catcher on your next get-together. Here is the full step-by-step instruction for it.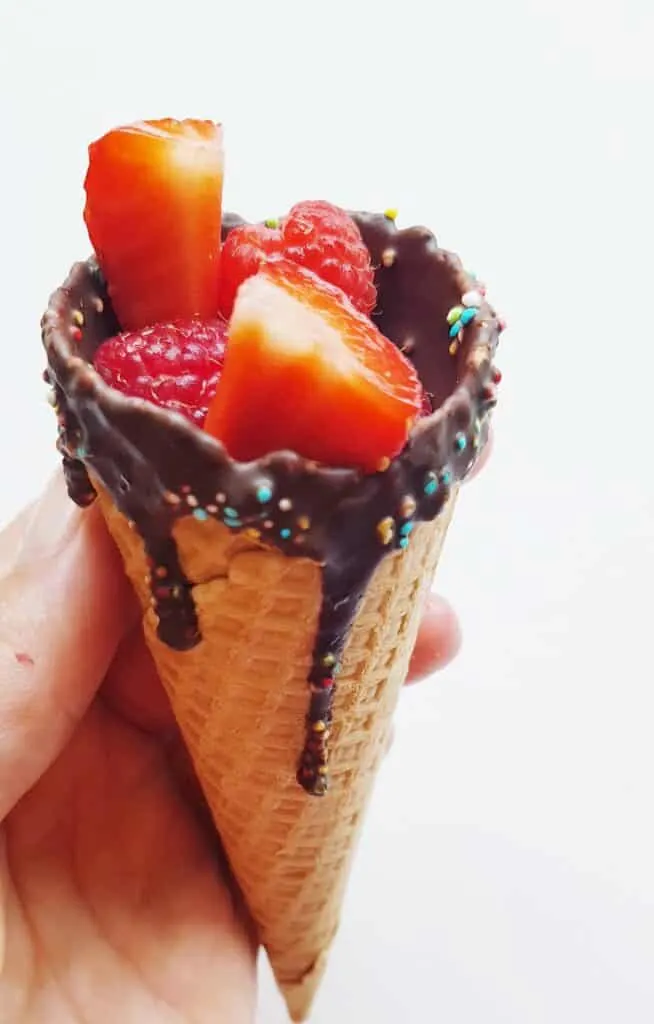 Instruction
Step 1: Prepare cones
Buy or prepare fun chocolate covered cones with sprinkles. It's super easy, just dip your ice cream cones in hot chocolate, cover them with sprinkles and let them try. But honestly normal cones will do it too.
Step 2: Prepare the fruit
Wash and cut your favorite fruits. Just make sure they are fully tried.
Step 3: Fill the cones
After the cones and fruit are fully tried, then fill the cones with the sliced fruits.
Step 4: Enjoy
Cool your fruit cones before serving. Place them nicely on a plate or in a bowl and simply enjoy them!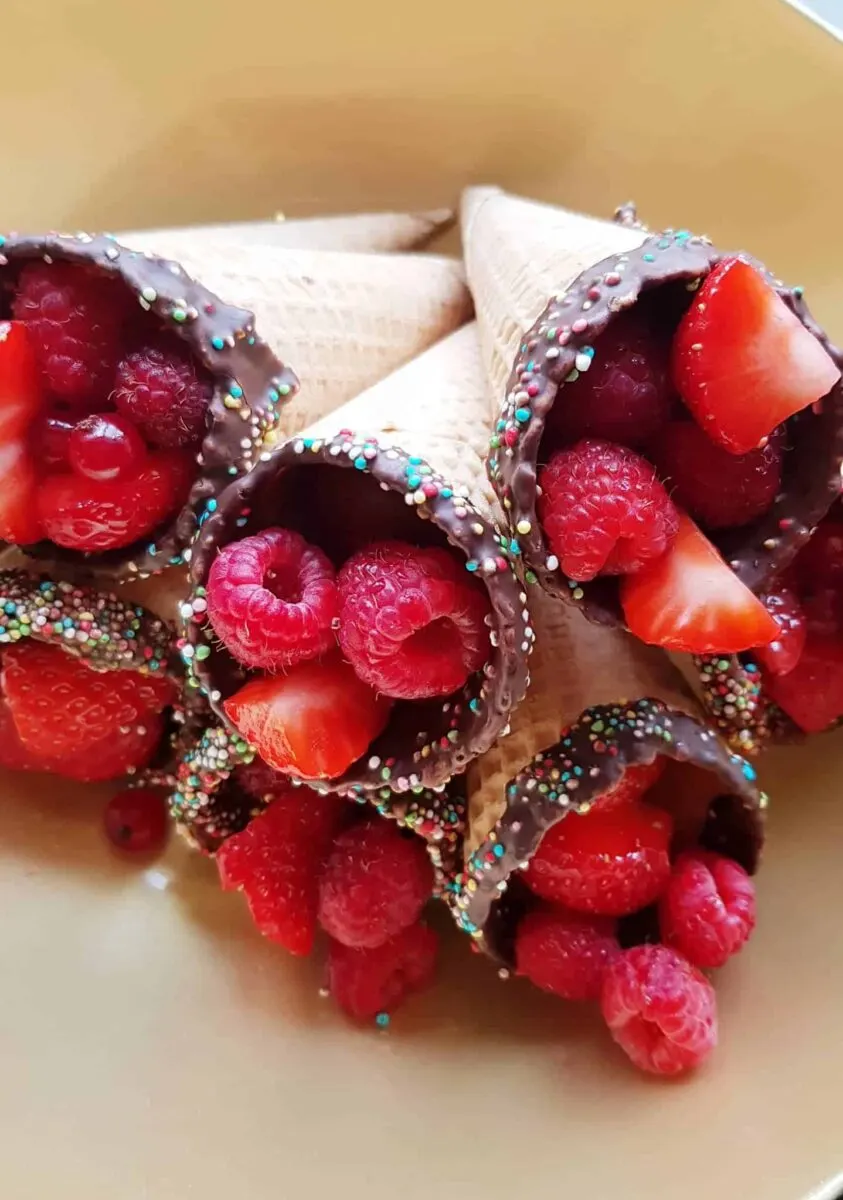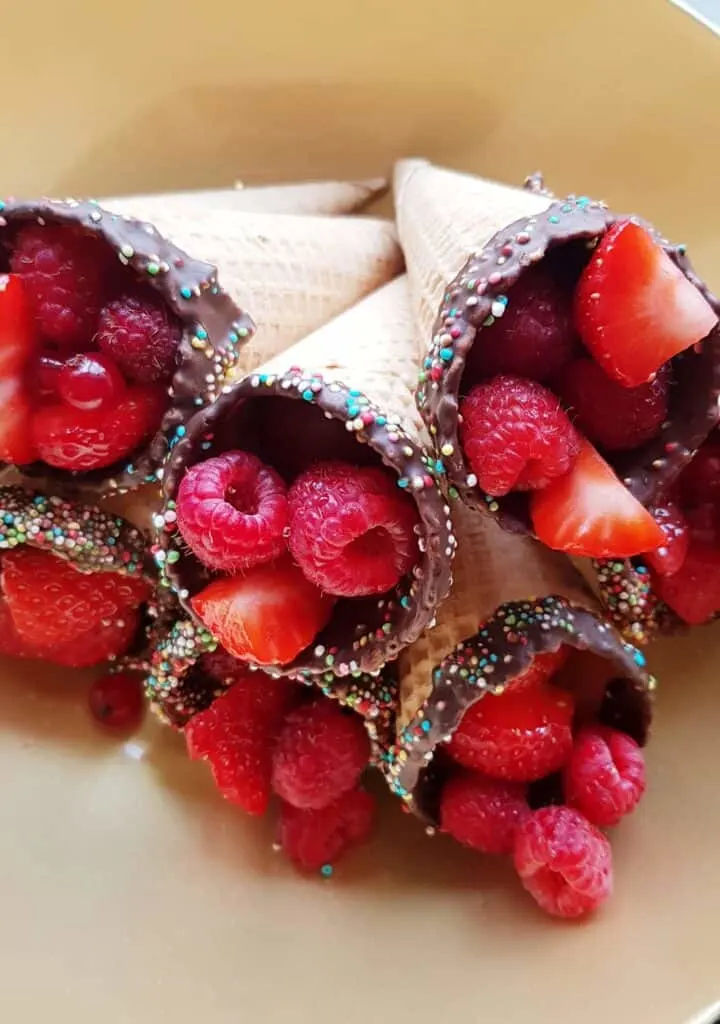 5. DIY Ice Cream Cone Cookies
Turn regular ice cream cone cookies into something special. Here is what you will need for it.

Ingredients
heart-shaped ice cream cone cookies
chocolate
sprinkles
Here is what you have to do.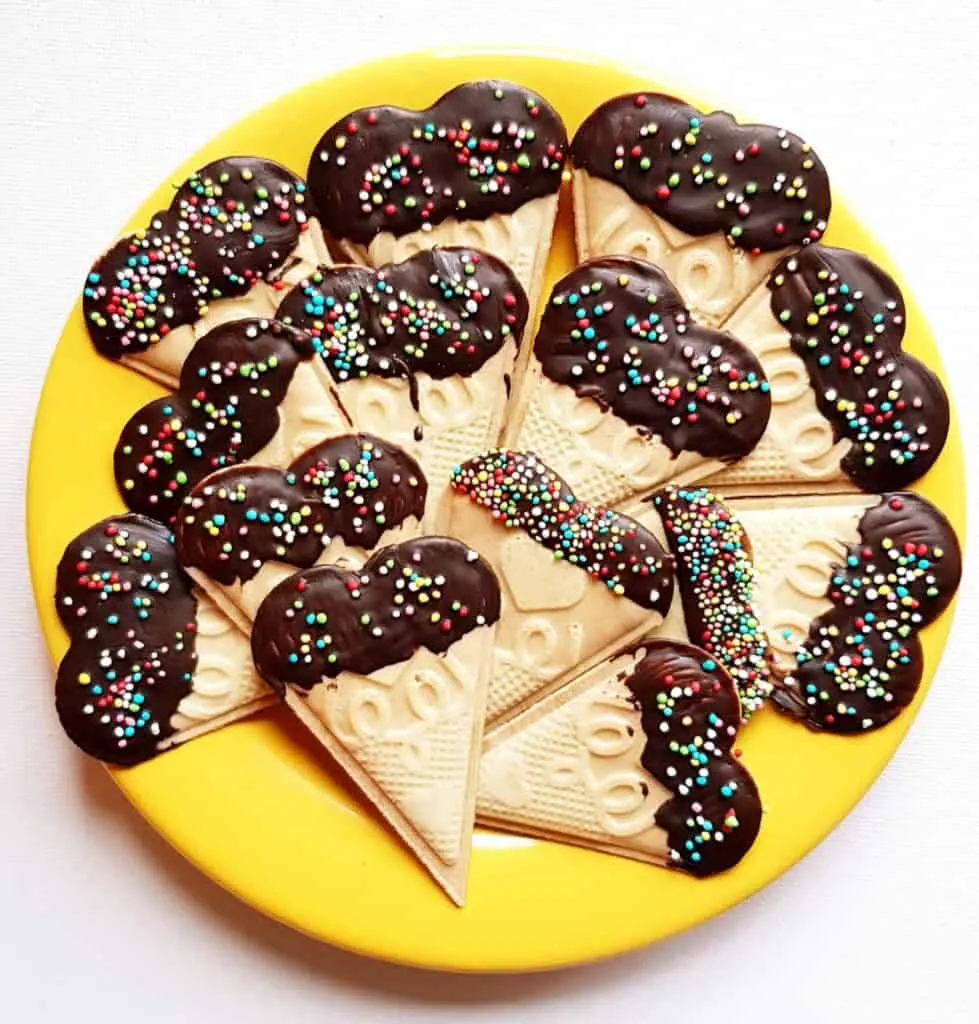 Instructions
Step 1: Prepare chocolate
Step 2: Prepare cookies
Prepare your heart-shaped ice cream cookies for the sprinkles. Simple dip the top in the hot chocolate.
Step 3: Add sprinkles
Add sprinkles before the chocolate is melted again and let them try.
Step 4: Enjoy
After the cookies are tried they look like little ice cream cones. Now they are ready to be served. Enjoy them!
I hope these delicious summer desserts inspired you.
Don't forget to let me know whether your kids liked them. Please leave a comment below and add a picture.
I love to hear from you!
Follow us on Instagram, Pinterest, Tik Tok, and join our Facebook group "Free Kids Activities Arts & Crafts" for more fun DIY Kid's Activities, Arts & Crafts, and Science Experiments.