Our Free Printable Pot of Gold Templates are the ideal activity for your St. Patrick's day celebration. They include a plain pot of gold outline printables in different sizes, one pot of gold card templates, and one pot of gold rainbow coloring pages.
Let's check out our pot of gold craft ideas below and get inspired.
There are affiliate links in this post, meaning, at no additional cost to you, I will be compensated if you click through and take action. As an Amazon Associate I earn from qualifying purchases.
What Does a Pot of Gold Symbolize?
But we start with our pot of gold crafts, your children might wonder what is it about, and why we make a pot of gold crafts. Therefore I like to start by answering those questions first.
The Oxford dictionary says a pot of gold is a large amount of money, especially one that is unattainable or illusory. It also symbolizes the realization of hopes, dreams, and happiness.
The Legend of Pots of Gold and Rainbows
Now since it is clear to us what a pot of gold is and what it symbolizes, let's find out why we always search for a pot of gold at the end of a rainbow.
It all began with the Irish myth of the leprechaun. The leprechaun was a mischievous Irish fairy who didn't like humans. The legend says he found abandoned gold and buried it again so no human can find it ever again.
It is told the leprechaun hit it at the end of the rainbow, where the rainbow touches the earth.
My children love this fairytale and this is why we always look up when we see a rainbow and are wondering if we could find a pot of gold at the end of it!
So why not use the chance while crafting to listen to the story of the leprechaun and his pot of gold? Listen here to the full story of the leprechaun.
In case you like to read the stories yourself to the children, go check out these great St. Patrick's day books:
7 Free Pot of Gold Templates in Small, Medium, and Large
These 7 free St. Patrick's day printouts come in small, medium, and large to suit a variation of St. Patrick's day crafts and other projects. They are perfect to use at home or in your classroom and can be added easily to any kind of St. Patrick's day activity.
Do you need advice on How to Introduce Crafting to your Preschooler? Then read our 10 tips that work next.
Pots of Gold Templates
Here are the basic craft supplies you will need to turn our black pot of gold templates into nice craft projects:
Pot of Gold Craft Materials
Free Printable Pot of Gold Template PDF (found below)
white paper
scissor
crayons
different craft materials for decoration
Easy Pot of Gold Craft Ideas
Here are some fantastic inspirations on how to use our free pot of gold cut out templates:
Especially our small templates make a nice pot of gold stencils.
Use our pot of gold card template and write a nice St. Patrick's day card for your family and friends. If you are looking for cute St. Patrick's day quotes for your pot of gold card, take a look here.
Turn them into a St. Patrick's day party invitation.
Print the medium gold coin template printables and make a nice St. Patrick's day garland out of them.
Use them for an easy pot of gold arts and crafts projects at your St. Patrick's day party, at home, or in your classroom.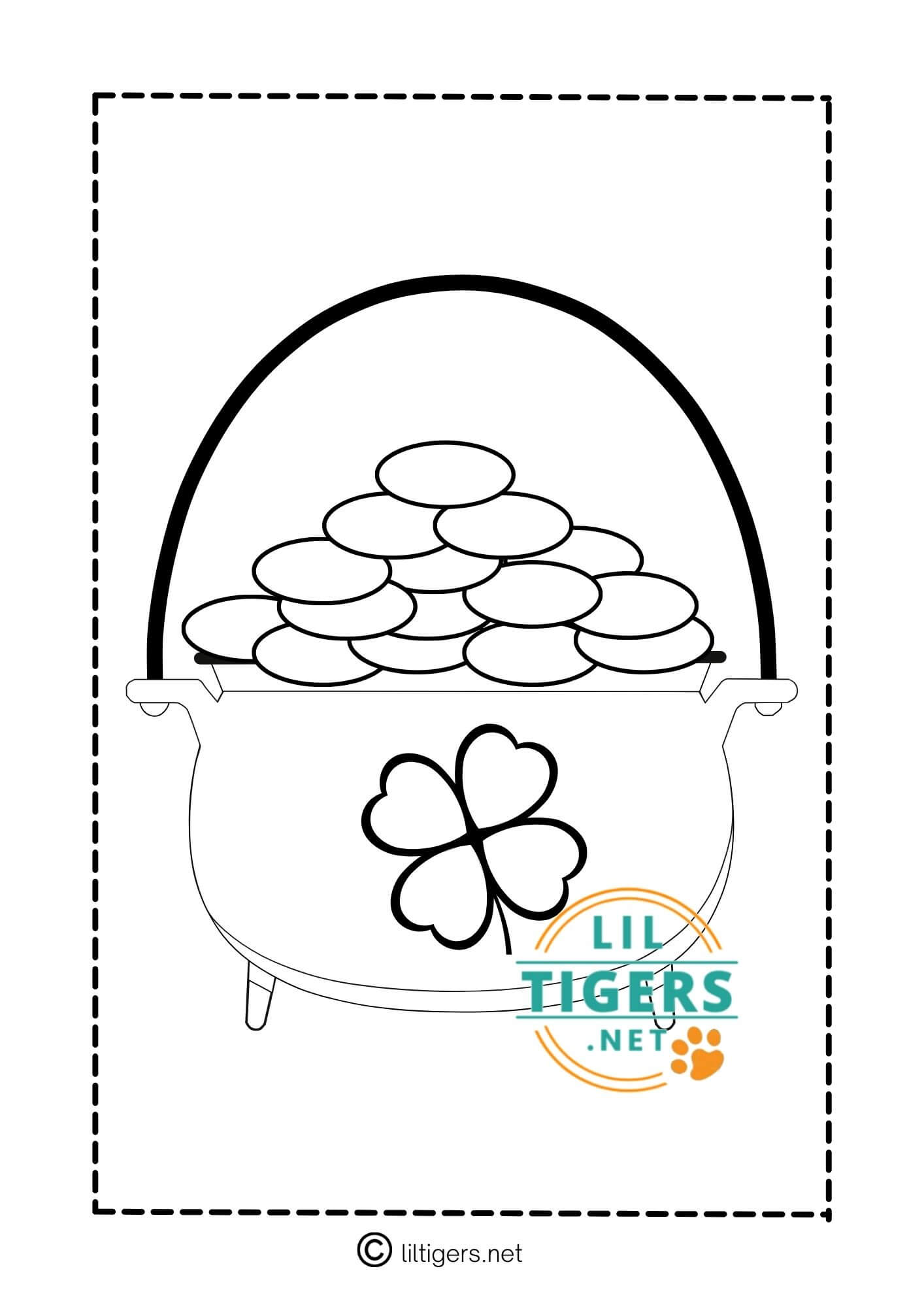 Do you enjoy our outlines of a pot of gold? Then take a look at our other St. Patrick's day activities next. Your kids will love our Leprechaunt Hat Craft, Shamrock Printables, or might be interested in Growing a Rainbow. Other fun Printable St. Patrick's Day Crafts can be found here.
How to Download Your Free Pot of Gold Templates
Simply sign up here for our newsletter and you will receive the link to our free pot of gold template pdf.
Already a subscriber? Don't worry, no need to subscribe twice.
I just updated our free printable library. You can find our pot of gold printables and coloring pages there or check our latest newsletter for more information.
If you have any questions, please do not hesitate to reach out to me. I m happy to help!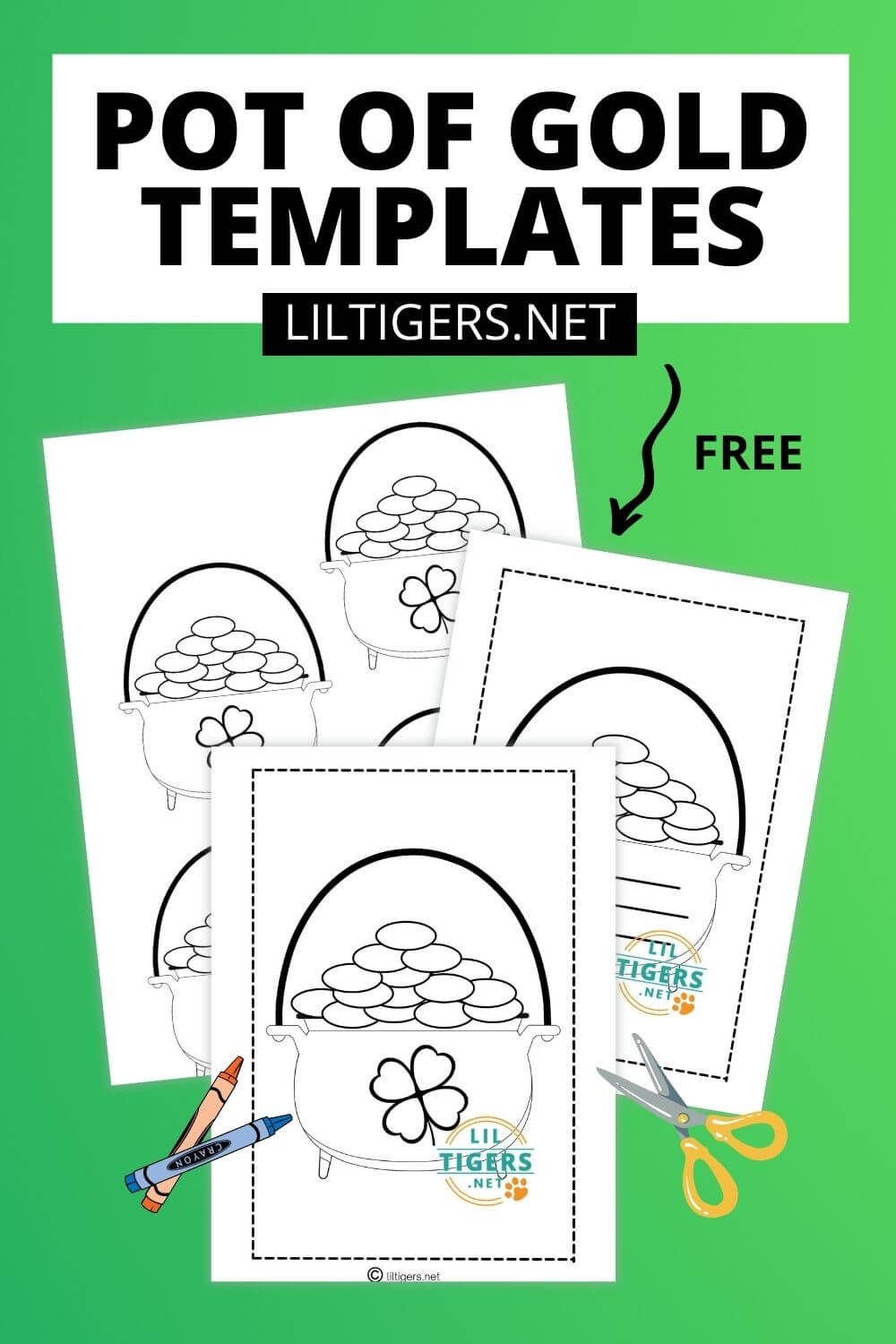 Pin These Free Pot of Gold Printables
Don't forget to save our pot of gold cut out templates on Pinterest for later! Be sure you are following along with Lil Tigers here.
Now it is your turn.
How did your kids enjoy their leprechaun pot of gold templates?
Either way, let me know by leaving a comment below right now.
I love to hear from you!