Our Free Printable Owl Templates are ideal for coloring, crafting, and decorating at home and in your classroom.
They include small, medium, and full pages of owl outlines and make adorable owl crafts or help you learn the letter 'O'.
Let's dive right in and get inspired!
There are affiliate links in this post, meaning, at no additional cost to you, I will be compensated if you click through and take action. As an Amazon Associate, I earn from qualifying purchases.
Fun Owl Facts
Owls are fascinating creatures. Before I start our crafts, I always create a lesson plan to integrate. For our owl craft templates, I researched some interesting knowledge about owls and added a fun owl book.
Here are some fun rainbow facts for kids:
Over 200 types of owls live on the earth.
Barn owls mate for life. When their mate dies, the other one becomes depressed and might even die too.
Owls can't move their eyes. They have to move their head to see.

Owls can turn their heads almost completely around.

The Owl is a symbol of learning

Owls spit up pellets that contain the bones and fur of their prey.
These and more facts about owls can be found here.
Owl Books for Kids
Free Owl Printables
Owl Cut Out Materials
Simple Owl Activity Ideas
It is always nice to get an idea of how to use our owl outlines or see other related activities. I hope the following owl craft ideas will inspire you.
Here are Easy Owl Craft Activities for owl templates to keep you and your children entertained:
Learn About Owls
O Is for Owls
Owl Coloring Sheet
Owl Stencils
DIY Owl Cards
Owl Garland
Other Owl Crafts
1. Learn About Owls
Do you need advice on How to Introduce Crafting to your Preschooler? Then read our 10 tips that work next.
2. O is for Owl
Add our easy owl templates to your preschool studies, while learning the letter 'O'.
Print out some upper and lowercase letter O worksheets and let your students trace them. You even can add some simple owl crafts for the letter O sound.
Make sure to study each letter individually so your students can form memories for each letter and memorize them more easily.
3. Owl Coloring Pages
The easiest way of using our templates is as owl coloring pages. Take our large owl outline printable and turn it into an easy owl coloring sheet.
You can adjust the difficulty level depending on your children's age. Use the larger picture of an owl for younger children and the smaller owl printables for older children.
Instead of coloring their owl sheets with markers, they can also try various new painting techniques to make it more interesting. For example, have they tried Salt Painting yet? It is really fun. Take a look at the link to find the full tutorial!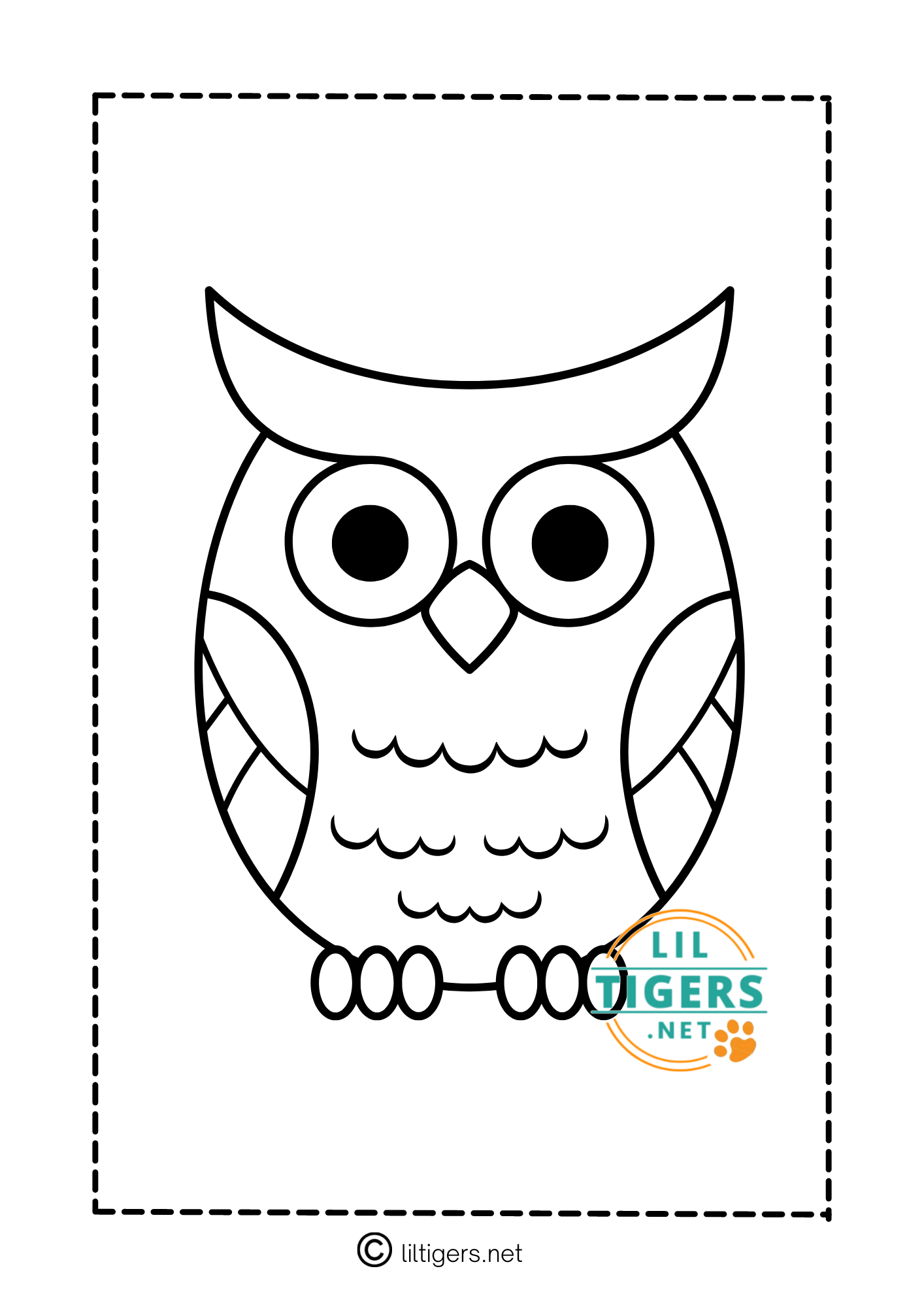 4. Owl Stencils
Using our owl printouts as stencils is also an easy way to make an adorable owl craft. For owl stencils, I recommend using smaller or medium-sized owl outlines!
We love using an old toothbrush for our stencil projects. With the help of watercolors, you can create beautiful owl artwork.
You can find the full instructions and complete Toothbrush Technique Guide here. Enjoy!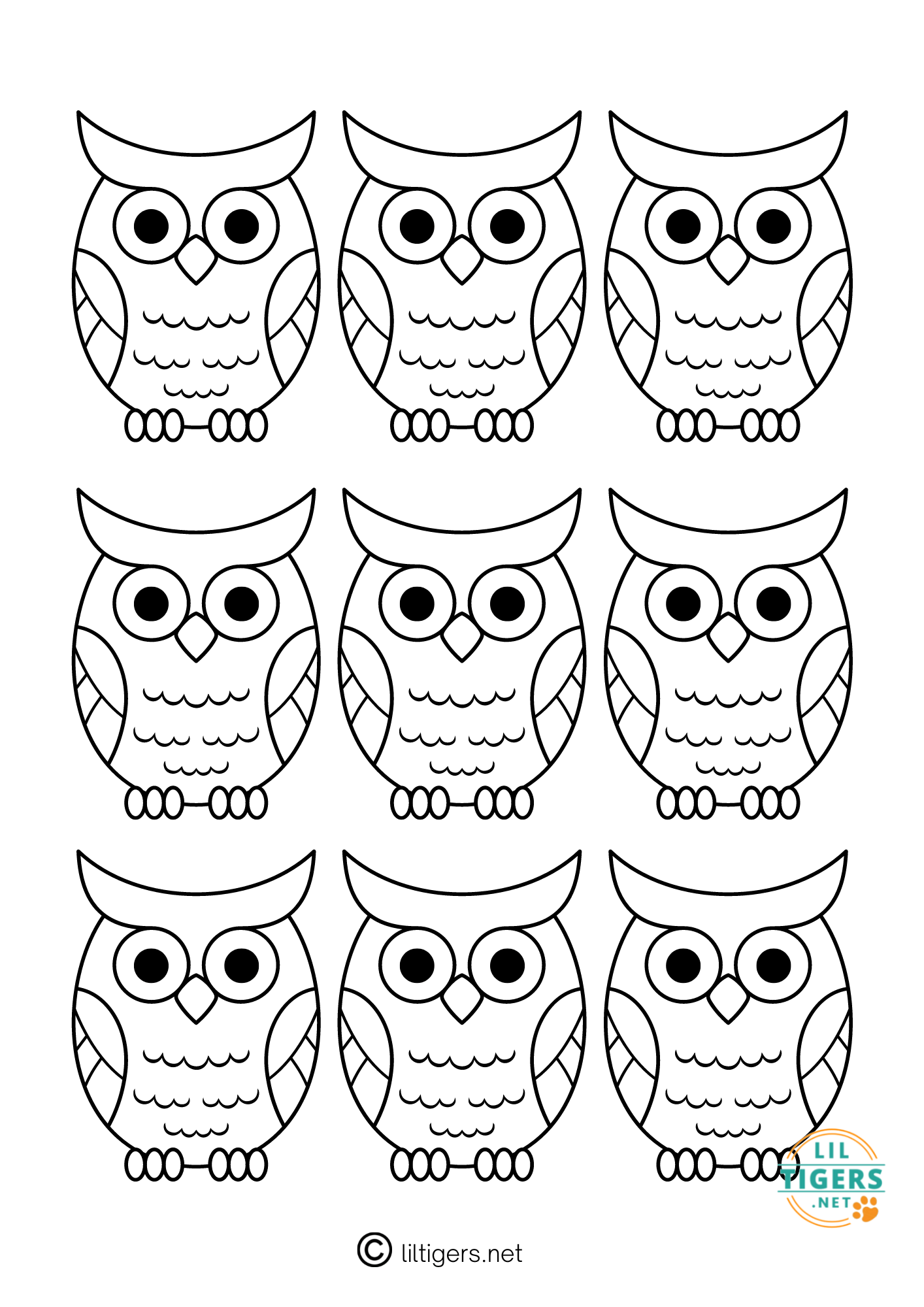 5. DIY Owl Cards
Our owl pictures to print are always great so make your own greeting cards out of them. In this case, I recommend using our medium owl patterns to print for free.
All you have to do is print them on thicker paper, cut them in the middle, and fold them into a card.
Then you or your children can color them nicely and write a nice message inside for your family or friends.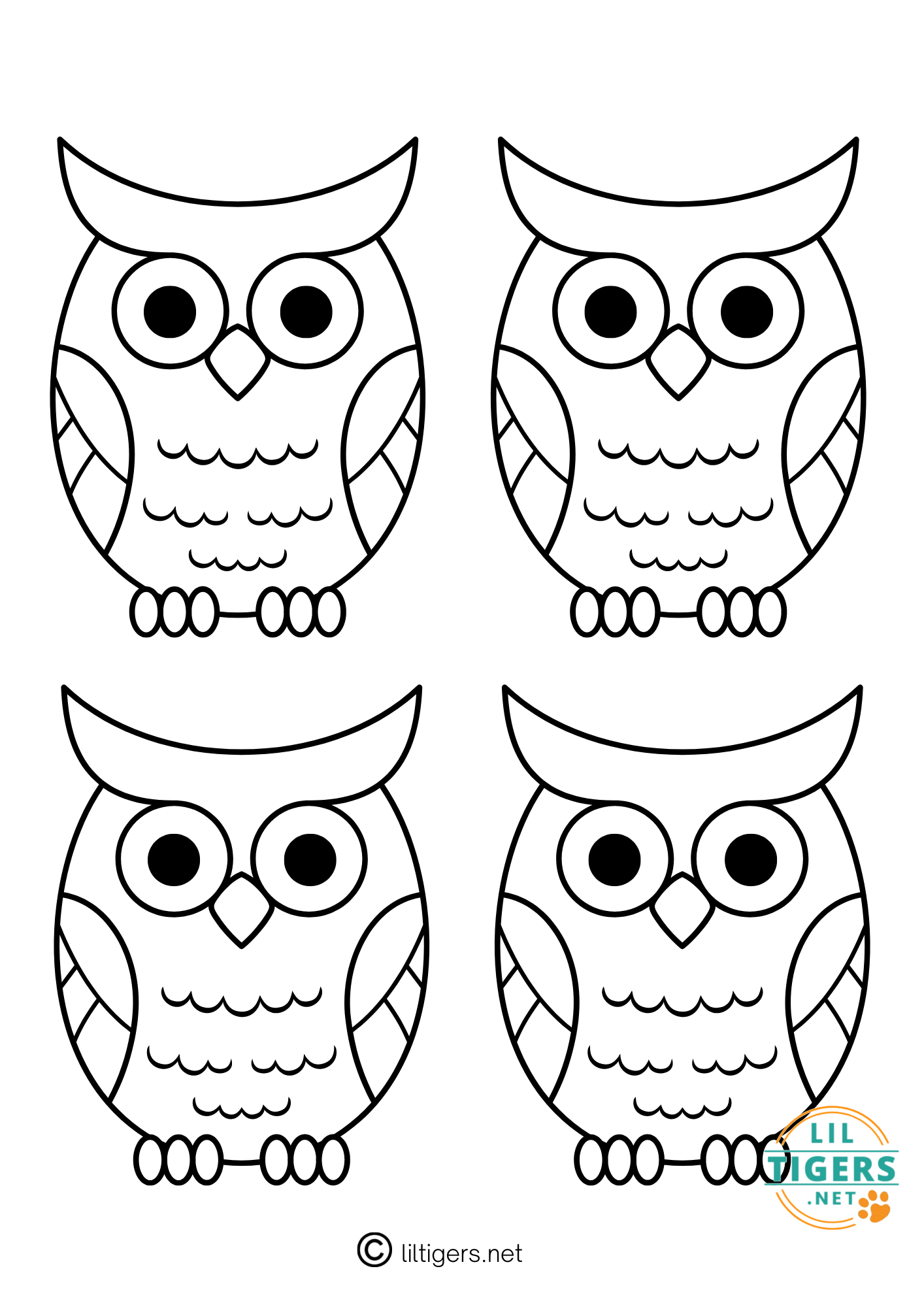 6. Owl Garland
As we learned above, owls are a symbol of wisdom. So what is better to decorate your classroom with than a cute owl garland?
First, let your students, cut and decorate your owl templates. Then attach them with clear tape on a string.
To decorate the owls your children can get creative and use all kinds of craft supplies such as googly eyes, glitter, and other fun materials.
Now use your owl decoration for your classroom or maybe even an owl birthday party. Happy crafting!
Do you enjoy our owl cut-out templates? Then take a look at our adorable Hedgehog Cut Outs, Squirrel Cut Outs, DIY Horse Craft Template, Sheep Printable, Giraffe Printouts, or Chick Outlines.
7. Other Owl Crafts
Besides using our owl templates to learn and craft there are other ways to create beautiful owls. Here are some great owl crafts using paper plates, cupcake liners, paint, and cans.
All step-by-step instructions can be found in the links below:
---
How to Download Your Free Owl Template Printables
Simply sign up here for our newsletter and you will receive the link to our free printable owl template pdf.
Already a subscriber? Don't worry, no need to subscribe twice.
I just updated our free printable library. You can find our owl outline printables and coloring pages there or check our newest newsletter for more information.
If you have any questions, please do not hesitate to reach out to me. I'm happy to help!
Pin These Fun Owl Template Printables
Don't forget to save our owl outline printables on Pinterest for later! Be sure you are following along with Lil Tigers.
Now it is your turn.
How did your kids enjoy their owl templates?
Either way, let me know by leaving a comment below right now.
I love to hear from you!