Are you looking for new Halloween ideas for kids? Give this Fun Halloween Scavenger Hunt a try.
You can do candy or non-candy treats with each clue or a large final prize at the end.
Let's dive right in.
Free Printable Halloween Scavenger Hunt
This cool scavenger hunt for Halloween comes with free printables also including a blank Halloween scavenger hunt template so you can create your own Halloween hunt.
This way it can be done outside or inside and is also adjustable to your children's age!
Since this year's Halloween might be a little bit tricky I organized a Halloween Scavenger Hunt for my kids.
In Germany, we call scavenger hunts "Schnitzeljagdt" but let me ensure you it has nothing to do with eating Schnitzel for lunch!
What is a German Schnitzeljagdt?
Originally Schnitzeljagdt is an outdoor game played by two groups of people. The leading group is marking the way with torn paper, called "Papierschnitzel" or "Schnipsel".
Therefore the name was called Schnitzeljagdt.
The word "Jagdt" means hunting and refers to the second group which is "hunting" the first group down.
Either to find them or a final treasure at the end destination. It is like a big hide and seeks game in the village.
In the old days as mentioned before they used to use paper pieces to mark the way or sawdust. Both options have the disadvantage of being blown away.
That is why it became more common to mark the way with chalk, sticks, or rock arrows.
Are you interested in more kid's activities, arts & crafts, and science experiments?
I have made it easy for you! Simply join our newsletter now and I will send you new fun activities for kids.
Subscribe for free
How Do You Play Our Halloween Scavenger Hunt?
There are many types of scavenger hunts, here are the rules for our free Halloween treasure hunt printable.
You can find our free Halloween scavenger hunt printables below.
How to Lead the Way
For special occasions like Halloween or birthday parties, I like to switch the game up and combine the traditional American scavenger hunt with the German Schnitzeljagdt.
I make clues to certain destinations and the children will have to solve small tasks along the way.
For my son's Halloween birthday party I used riddles and chalk arrows to lead the children to different locations in the village.
But this can easily be adjusted to your current pandemic situation and lead to different stations in your house and garden or simply just be an inside activity.
Since the riddles have to be specific to your destination I added free spooky clue card printouts to create your own riddles.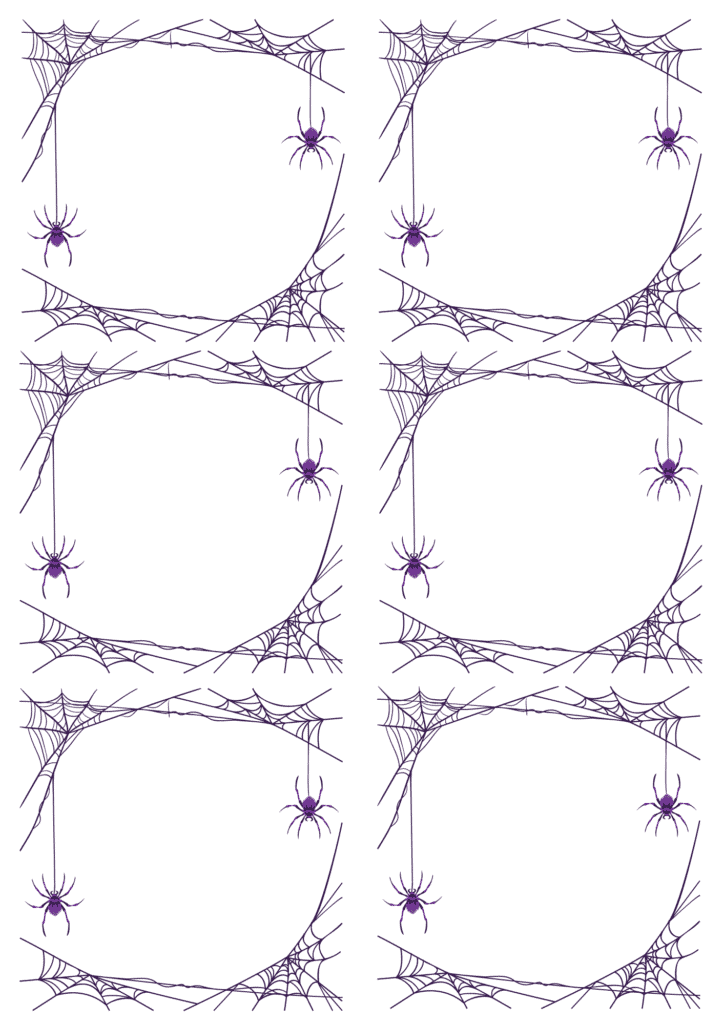 Halloween Scavenger Hunt – Groups or No Groups?
Group games can be challenging depending on your kid's crowd. It made led to a big discussion or small fight about who is in which group and who is entitled to choose each other's, team members.
Since in my son's birthday crowd not everyone was familiar with one another I decided to switch up this traditional game.
I prepared the whole game including the stations, clues, and tasks prior, and marked the way as well. This way I avoided unnecessary tension in the group.
Since I still wanted the kids to be challenged I still decided to divide the birthday group into two teams. They all walked at the same time and had to work together but also certain destination tasks were challenging group tasks.
But that's of course totally up to you. If you like all your children work together or challenge each other. You know your kids best to judge and make the call.
Next, you should try out our other great Halloween activities. Check out our Free Printable Halloween Bingo Game, DIY Halloween Luminaries, Halloween Pencil Stamps, and 24 Fun Halloween Activities.
How to Divide Your Group Into Two Teams!
For this special Halloween scavenger hunt game, I decided to choose the two teams myself. I divided all party guests into two fair, equal strong teams prior to the event.
To announce the groups and their team members simply mark the button of every drink cup with the team color. Matching Halloween I used green and purple.
Nevertheless, there are many ways how to split a group into two teams. Take a look here at these 11 creative ways how to pick teams from Kids Activities.
Destination Tasks for Halloween Scavenger Hunt
As mentioned before I used Halloween riddles and chalk arrows to lead the way.
At the destination, the kids had to fulfill tasks to get the next clue. Some tasks were group tasks, some were team tasks.
Here are our Halloween scavenger hunt tasks and riddles:
1. First they had to finish the following Halloween scavenger hunt list and count all the items around our farm (team task).
2. At some destinations the task was simply to find the well-hidden clue (group task).
3. At one destination I cut the clue into a puzzle and in order to read the clue they had to put all the puzzle pieces together (group task).
4. Another task was to build a tower as fast as possible (team task).
5. They had to find 8 hidden ghosts (group task). I used cardboard paper and clue eyes to create little ghosts I hid prior. I also will attach the ghost templates in the free printable section.
6. Some destinations were trick-or-treated destinations where they got little goodies.
7. I created a spooky touch-and-feel mystery box. The kids were blindfolded and had to guess these scary items: monster slime, monster eyes, and vampire's teeth.
This task was for everyone.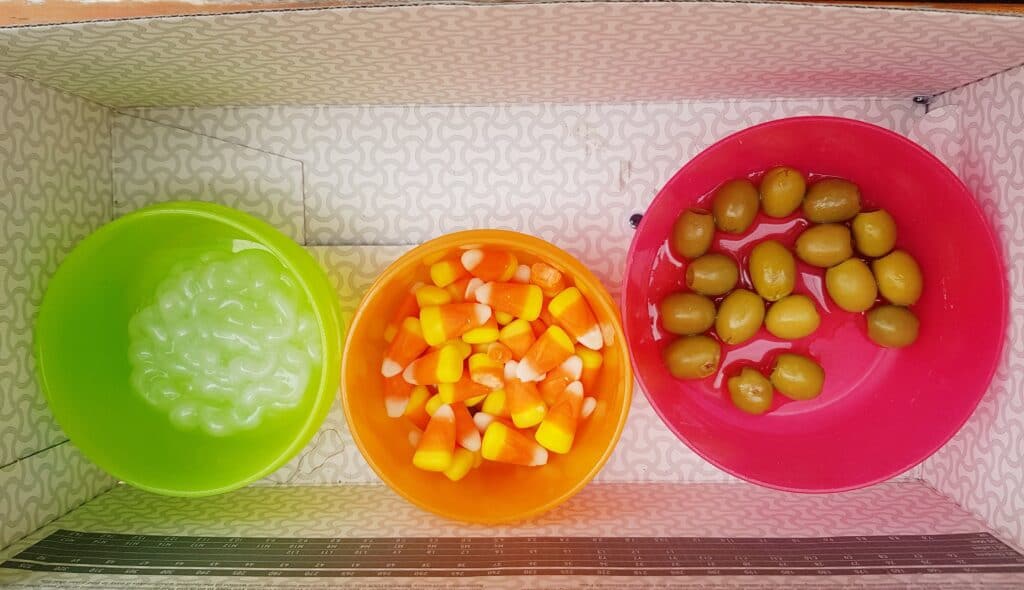 8. Fill a bucket with chestnuts (group task).
Halloween Scavenger Hunt Final Destination
At the final destination, I was hiding a Halloween treasure. Simply used a small box and filled it up with all kinds of Halloween treats and small Halloween toys.
I hope you enjoyed this Halloween scavenger hunt for kids.
In case you are in need of more Halloween party ideas, go have a look here: 45 Best Halloween Games
---
If you need more Halloween scavenger hunt ideas, go check out these great Halloween Treasure Hunt Ideas.
How to Download Your Free Printable Halloween Scavenger Hunt Pdf
Pin these Halloween Scavenger Hunt
Don't forget to save this cool scavenger hunt for Halloween on Pinterest for later! Be sure you are following along with Lil Tigers here.
---
Now it is your turn!
How did you like our Halloween scavenger hunt ideas?
Do not forget to leave a comment below and add a picture to let me know how your kids liked it.
I love to hear from you!
Follow us on Instagram, Pinterest, Tik Tok, and join our Facebook group "Free Kids Activities Arts & Crafts" for more fun DIY Kid's Activities, Arts & Crafts, and Science Experiments.