Are you looking for super easy Halloween party decorations and fun Halloween activities for kids?
Decorations you might even be able to make with your kids together?
Then you are in the right place.
I will show you how cheap and easy it can be to create your own Halloween decoration together with your kids and have a good time with these spooky Halloween activities.
Let's dive right in.
Easy DIY Halloween Party Decoration
Halloween is around the corner and for right now it doesn't look like it's going to be a "normal" Halloween how we used to it. Nevertheless, it does not mean we can not have fun enjoying this time of the year.
Therefore I will show you super easy and cheap ways how to create your own spooky Halloween decoration.
Most likely you will have most of your items already in your house. Isn't that great?
As most of you know by now I love kid's projects which are super fast to set up with items from the households and are at the same time adjustable to different age groups but still interesting for everyone.
Because let's be honest in a household with 3 young children all it counts is surviving the easiest way while engaging your kids in fun no-screen activities without having a big mess or headache afterward!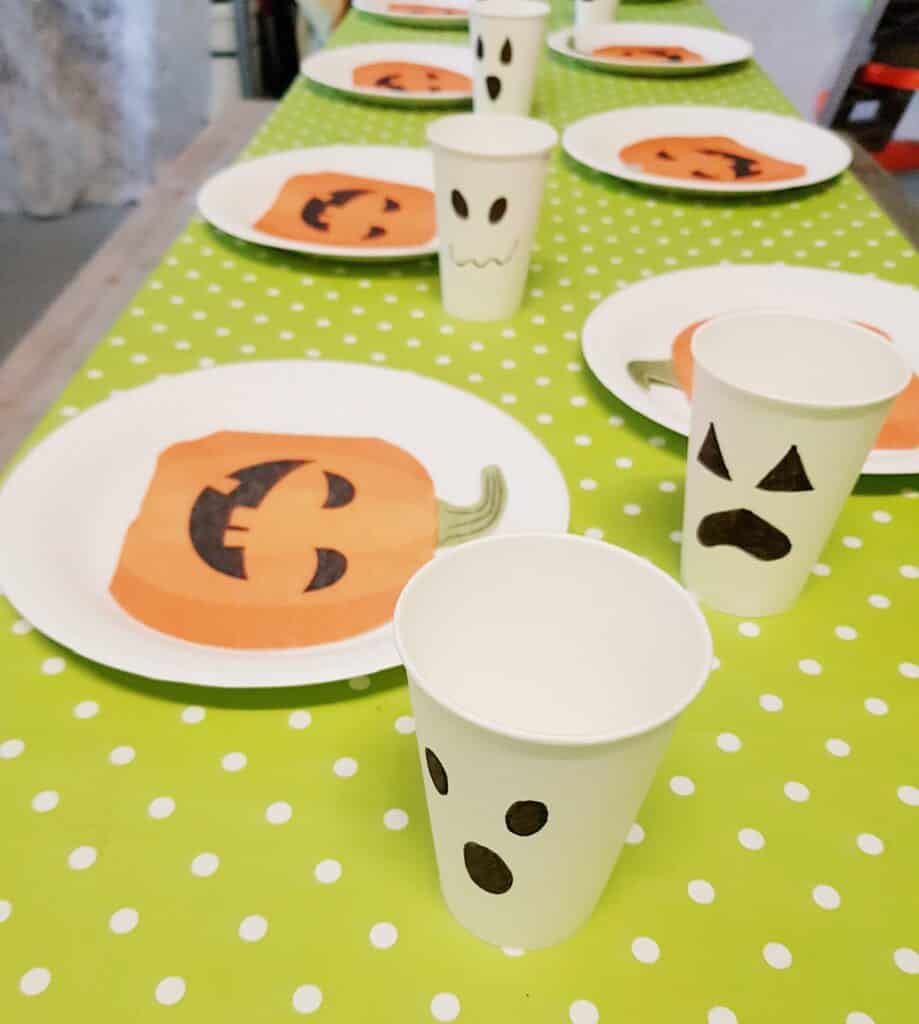 So let's take a look at our super easy and cool Halloween kids party decoration:
Spooky ghosts drink cups
Materials
white paper drink cups
black marker
My son's birthday party was a Halloween-themed event. To decorate the table I used these super simple ghost drink cups I made myself together with my children.
Instruction
Step 1: Create ghosts
Take a black marker and outline your ghost's face. Afterward, color the inside black.
Are you interested in more kid's activities, arts & crafts, and science experiments?
I have made it easy for you! Simply join our newsletter now and I will send you new fun activities for kids.
Subscribe for free
Tips
I used the backside of the cups to write the guest's name on it to make a seating arrangement.
My toddlers wanted to help me with this activity. I draw their outline and then colored the inside for me.
Younger toddlers can participate as well. Just let them use a cup and draw on it. They will have fun!
Ghosts drink cups can also be used for Halloween bowling or as a drinking game for grown-ups.
After our table was set I wanted to create a fun Halloween garland for our party.
DIY Napkin Ghost Garland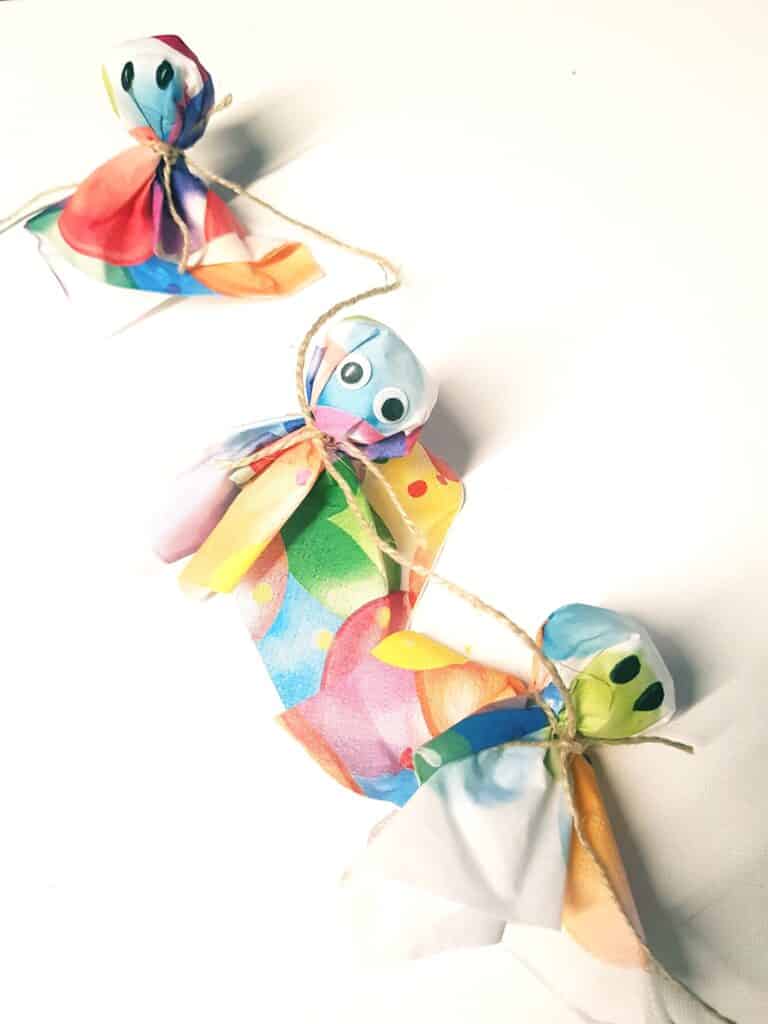 Materials
napkins
marker or glue eyes
string
cotton balls
My oldest son and his friends helped me create this super fun and colorful Halloween ghost garland. Here is how we did it:
Instructions
Step 1: Cut napkins
We cut our napkins into 4 squares. That was big enough for our cool party ghosts. I chose colorful napkins but if you like a more classic ghost look simply use plain white paper napkins.
Step 2: Create ghosts
Afterward, we used cotton balls and placed them in the center of our cut napkin. Then we tied it with the string. Leave some space between the next ghost and repeat the process.
Step 3: Draw faces
Your garland is nearly finished now, just simply take a marker and paint eyes on your little ghosts. If you have craft eyes at home use them and just glue them on.
Step 4: Hang them up
After you are finished with your easy DIY project just simply hand your napkin ghost garland up.
No good party goes without decoration. Try these fun ghost luminaries and brighten up the spooky night. The instructions can be found in the title below. Just follow the link!
But of course, there is no good Halloween party without delicious food and Halloween treats. Therefore my kids wanted to create some spooky treats for their friends.
These DIY Lollipop Ghosts were super easy and a total win at the party.
DIY Lollipop Ghosts
Material
lollipops
napkins
marker or craft eyes
string
Just follow this easy step-by-step instruction to make your own ghost lollipops.
Instructions
Step 1: Cut napkins
Cut the napkins like in your ghost garland project in 4 equal pieces
Step 2: Create the ghosts
Place your lollipop in the center of your cut napkin and tight a know with your string
Step 3: Draw faces
Take your markers and draw eyes on your ghosts or attach your craft eyes.
Warning:
Be aware that half of the lollipops will be eaten by your kids before finishing this super fun Halloween trick-or-treat.
Time for cake and some fun Halloween party entertainment. This year I decided to make some spooky monster cakes.
I m not very talented when it comes to baking but I wanted to do something fun for my son's Halloween birthday party.
Check out our other Halloween activities next. Let's start with our popular Monster Crafts, Bat Pencil Eraser Stamps, Pumpkin Art Projects, and our other 25 Halloween Activities for Kids.
Monster Cake
For his two monster cakes, I chose his favorite try cake and simply decorated them with white icing and black spooky sprinkles and orange icing, and monster eyes.
If you can not find orange icing, just use the white icing and add orange food coloring.
But since the kids wanted to be entertained at the party I decided to bake cupcakes as well and let them decorate them by themselves.
Monster Cup Cake Fun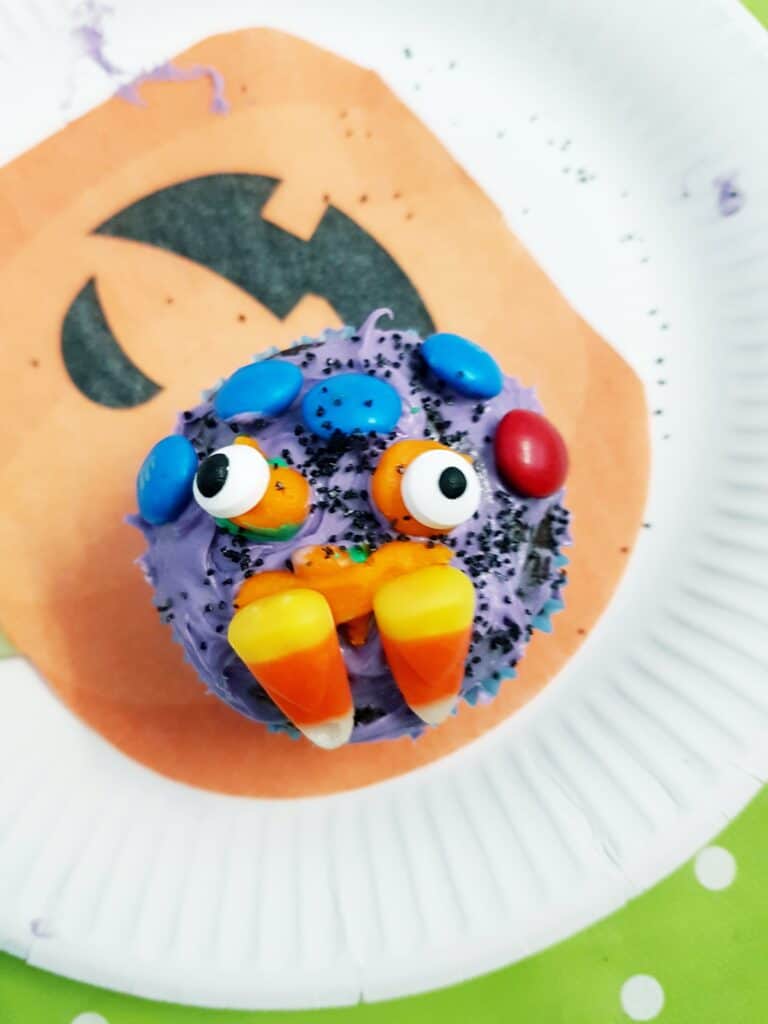 Simply bake your preferred cupcakes and provide Halloween-themed cake decoration.
I made green and purple icing for them with food coloring and had monster eyes, different kinds of Halloween sprinkles, m&m's, and candy corn for them.
For our monster cupcakes, we use this delicious Carrot Cake Muffin Recipe.
They were a hit! The kids loved making their own monster cupcakes and eating them of course!
After the kids were done having cake I prepared a spooky Halloween scavenger hunt for them.
For this super cool Halloween scavenger hunt I created a couple of free printables and added some twists to them.
It is a combination of an American scavenger hunt and a German "Schnitzeljagdt". Also, it is adjustable to different age groups and has an empty template as well, so you can adjust it to your family's needs.
You can find the full instruction and free printables here.
After all, our Halloween party was a full success and I hope these Halloween party ideas for kids inspired you!
More Halloween party games can be found here: 45 Best Halloween Games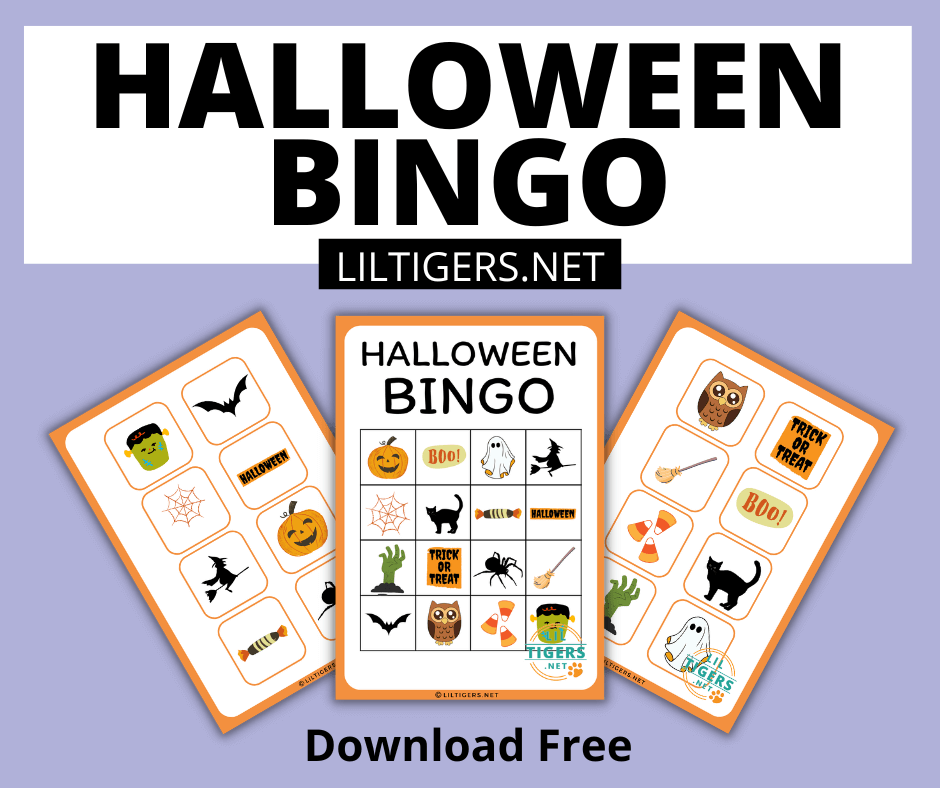 Why not print out this fun Halloween Bingo Game and play it with up to ten different players?
Halloween Party Invitations
I hope you enjoyed our Halloween party ideas. In case you are still looking for Halloween invitations, simply make them yourself.
Here are 15 Stunning Halloween Card Ideas or 15 Easy Halloween Party Invitations. The matching Halloween Party Invitation Wordings, Halloween Quotes, Skeleton Phrases, and Bat Sayings for Kids are perfect for your cards.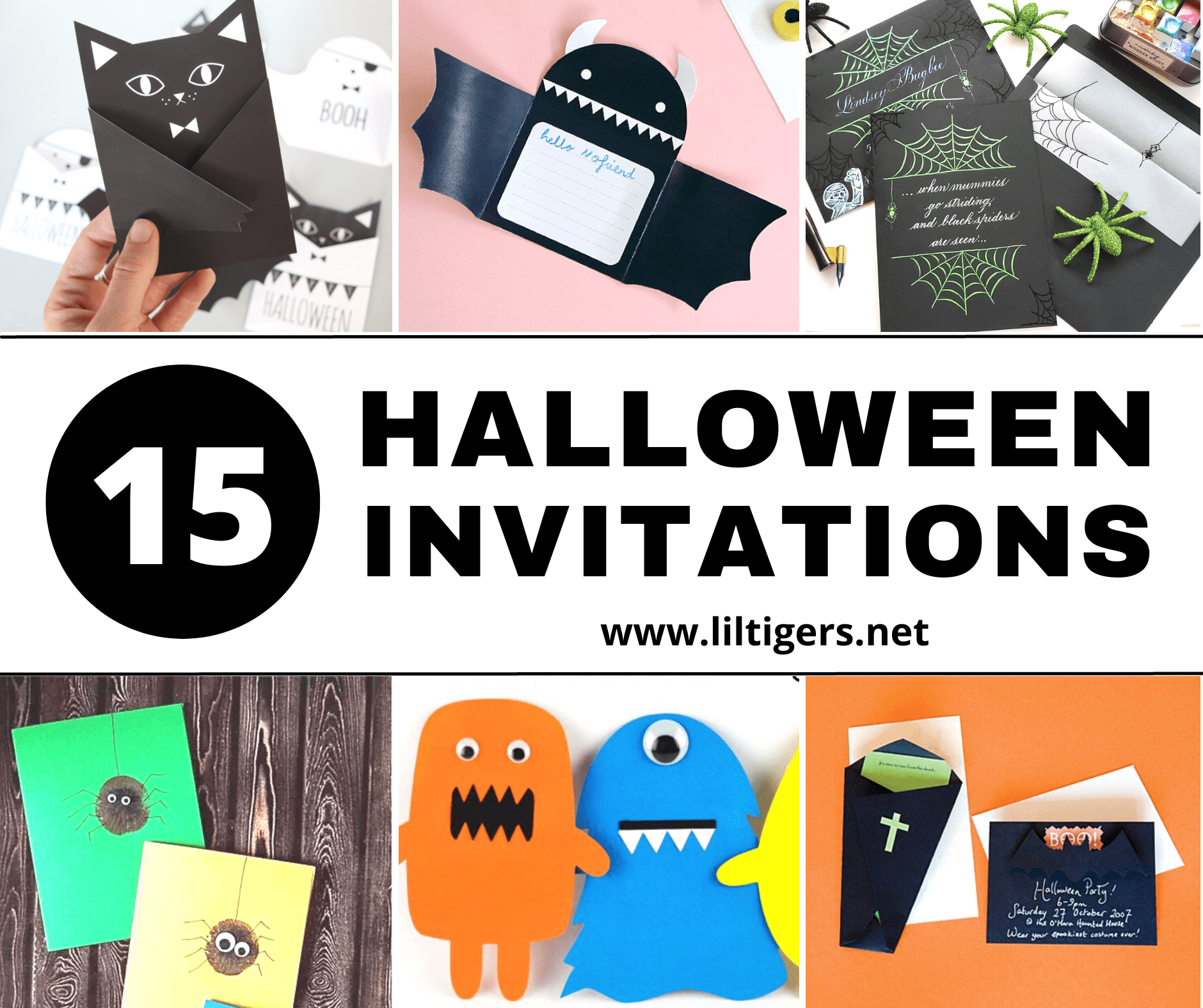 Pin these Halloween Party Ideas
Don't forget to save these fun party ideas for Halloween on Pinterest for later! Be sure you are following along with Lil Tigers here.
Now it is your turn!
I hope you enjoyed our Halloween-themed party ideas as much as my kids and I did.
Either way, don't forget to let me know by leaving a comment below.
I love to hear from you!
Follow us on Instagram, Pinterest, Tik Tok, and join our Facebook group "Free Kids Activities Arts & Crafts" for more fun DIY Kid's Activities, Arts & Crafts, and Science Experiments.