It is summer! Don't let this pandemic and lockdown prevent your family from having the most adventurous fun this summer and try this awesome summer bucket list with your family!
99 Fun inspirations for your summer will keep your kids busy.
Let's dive right in and don't forget to get your free printable summer bucket list!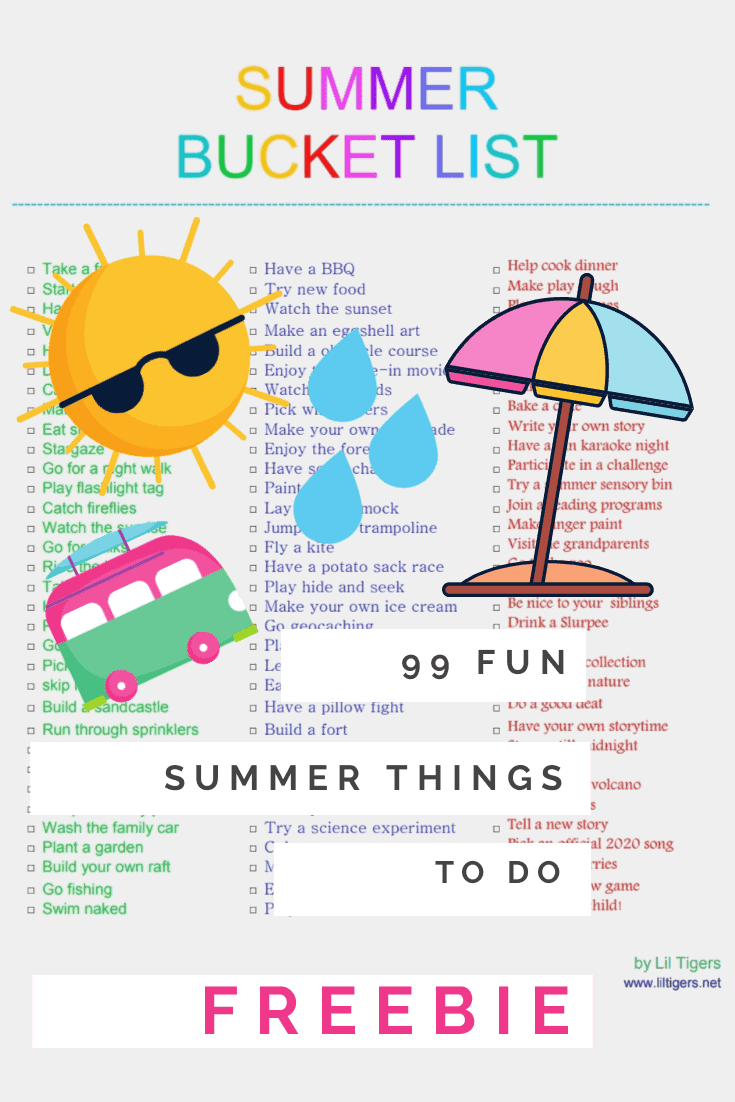 99 Fun Things to Do in the Summer – (Summer Bucket List)
What is a summer bucket list?
It is a list of fun activities, experiences, and projects you want to achieve this summer.
Bucket lists help your family overcome the boredom of summer break.
They help you empower your kids to plan their own fun crafts, easy activities, and cool experiments. Conquer new adventures as a family and spend quality time together.
A summer bucket list is just a simple way of getting new ideas and inspiration for your children.
Here are some summer bucket list ideas for you and your kids to accomplish together.
Don't forget to get your full free printable of 99 fun things to do this summer here. Your kids will love them!
Quick note, I made sure all activities are pandemic proved and you are able to do them in a safe environment while social distancing!
Summer Bucket List for Kids
1. Take a family photo and frame it.
2. Start a summer journal.
3. Have a backyard party with your closest family.
– This summer nobody can have a huge party with all your friends. But it shouldn't hold you back from having a good time without screen time.
4. Visit a new place.
– Even though you can't travel far this summer, there are so many wonderful places close by to explore. It will be a nice change of scenery for everyone.
5. Have a picnic in the garden.
6. Do a scavenger hunt.
– Try this fun night walk scavenger hunt from Beary Sweet Home.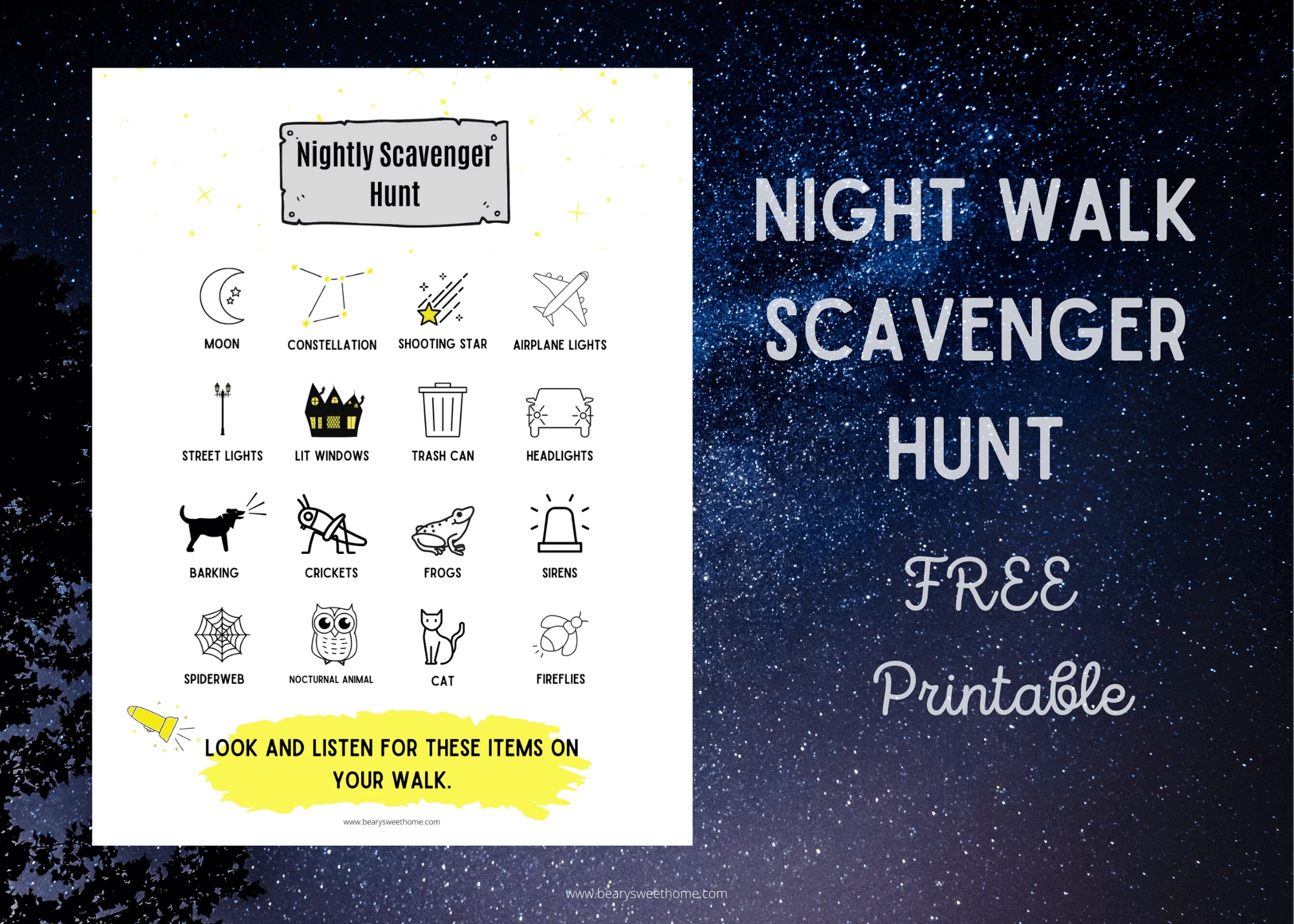 7. Camp in your backyard.
8. Make a bonfire.
9. Eat smores till they make you sick and try these adorable S'mores Craft with it.
Especially in the summer, it is a great time to go outside. Read our Guides about the Benefits of Outdoor Play or How to Engage Kids With Nature next.
10. Build your own tent with sticks
11. Lay outside to stargaze and look at constellations
12. Go for a night walk with flashlights
13. Play flashlight tag
14. Catch fireflies and make a fun Firefly Craft with our matching Mason Jar Templates.
15. Watch the sunrise
16. Get wet and play with water balloons.
– Here are some creative fun activity ideas you might not have thought of.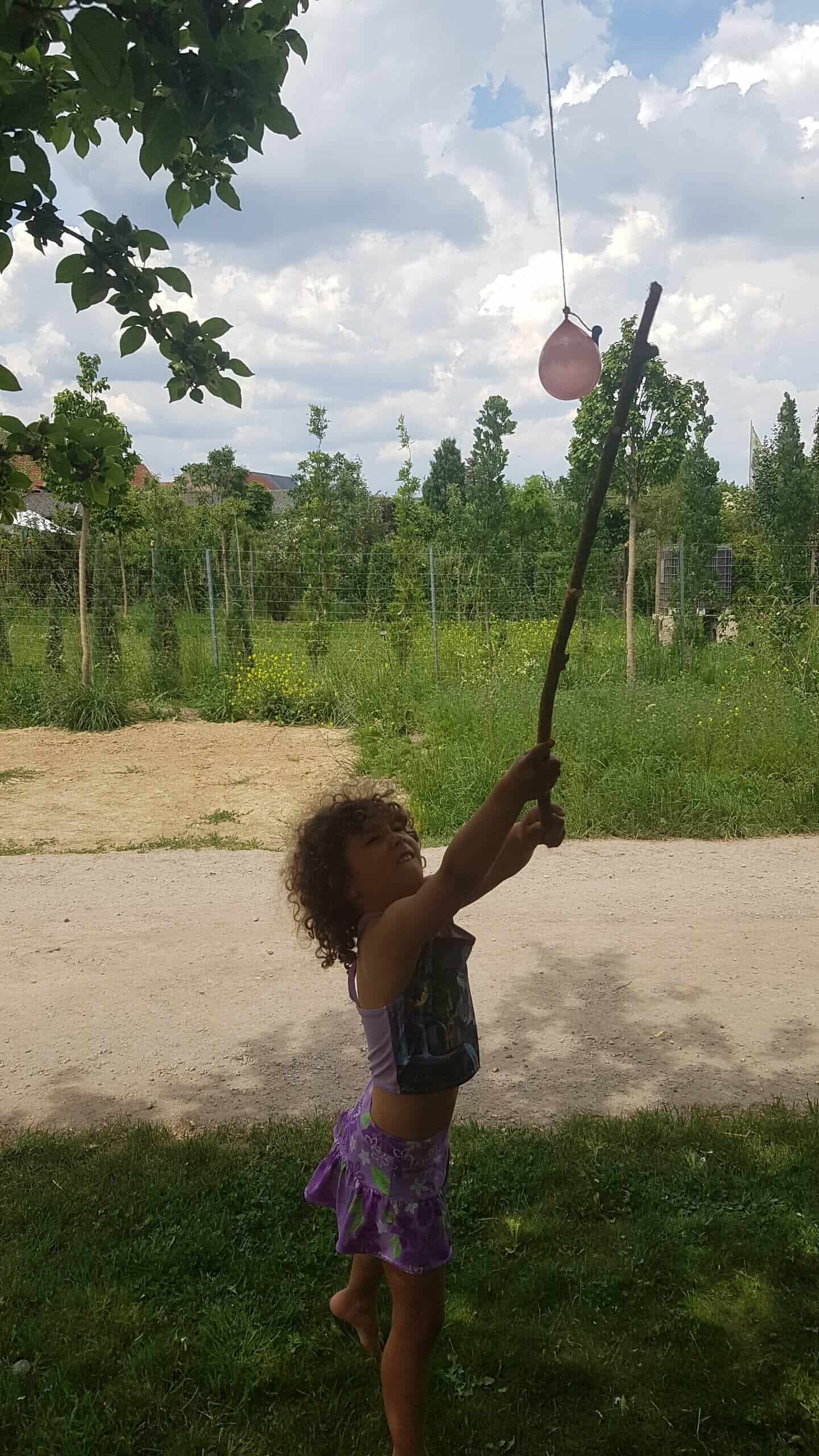 17. Build your own foil river.
– Take a look at the step-by-step instruction here.

18. Make a nature project.
– Go for a walk and collect items on the way or while doing your outside scavenger hunt. Flowers, stones or rocks, sticks, pinecones, whatever you can find. Use them to make adorable Nature Art.
Use these collectibles afterward to make your own nature project. You might end up painting rocks or doing another arts and craft project with them.
Just be creative or let your children decide what they want to do. You also will be amazed at how your kids will enjoy their walk when they have a purpose while going along!

19. Did you paint with eggshells yet?
– Give this DIY project a try. Your kids will love their beautiful piece of art. See here the how-to.
Are you interested in more kid's activities, arts & crafts, and science experiments? Subscribe to our newsletter now and never miss an update! Click here
20. Have some chalk fun and try this Shadow Play.
– You won't need much, just a box full of chalks and the sun!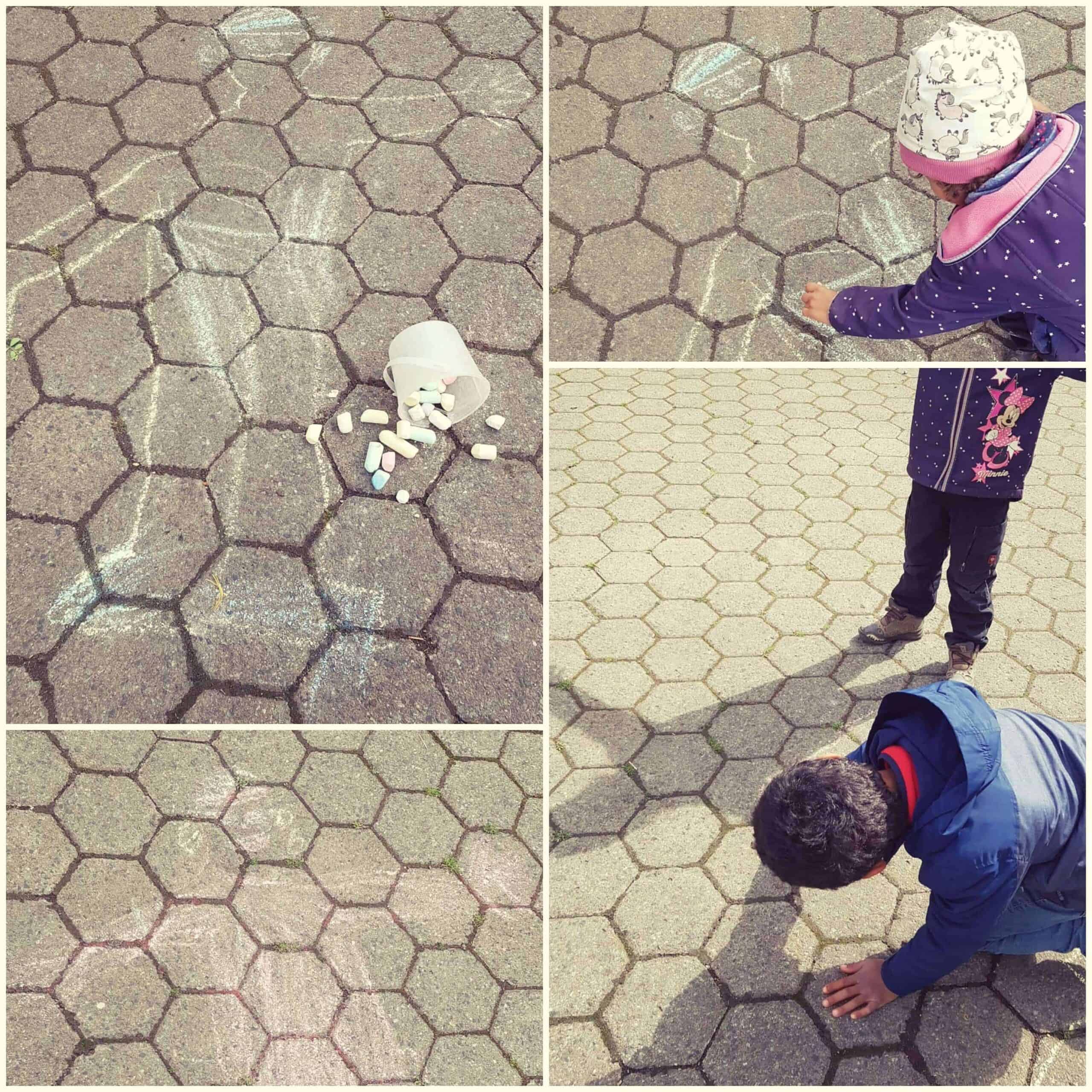 20. Lay in a hammock and look at clouds.

21. Make your own ice cream.
– Here is a delicious homemade strawberry popsicle recipe.

22. Do your kids love crafts?
– Then grow your own rainbow. See the instructions and be amazed at how easy this craft is.

23. Try a new science experiment.
– My kids loved this dancing grape STEAM experiment. Give it a try.

24. Make your own play-dough.
– This recipe is toddler-safe and it's the perfect activity to work on these fine motor skills.

25. Make a summer crafting project.
– Try one of these 20+ easy craft ideas for kids or try this DIY nail art project. Take a look here!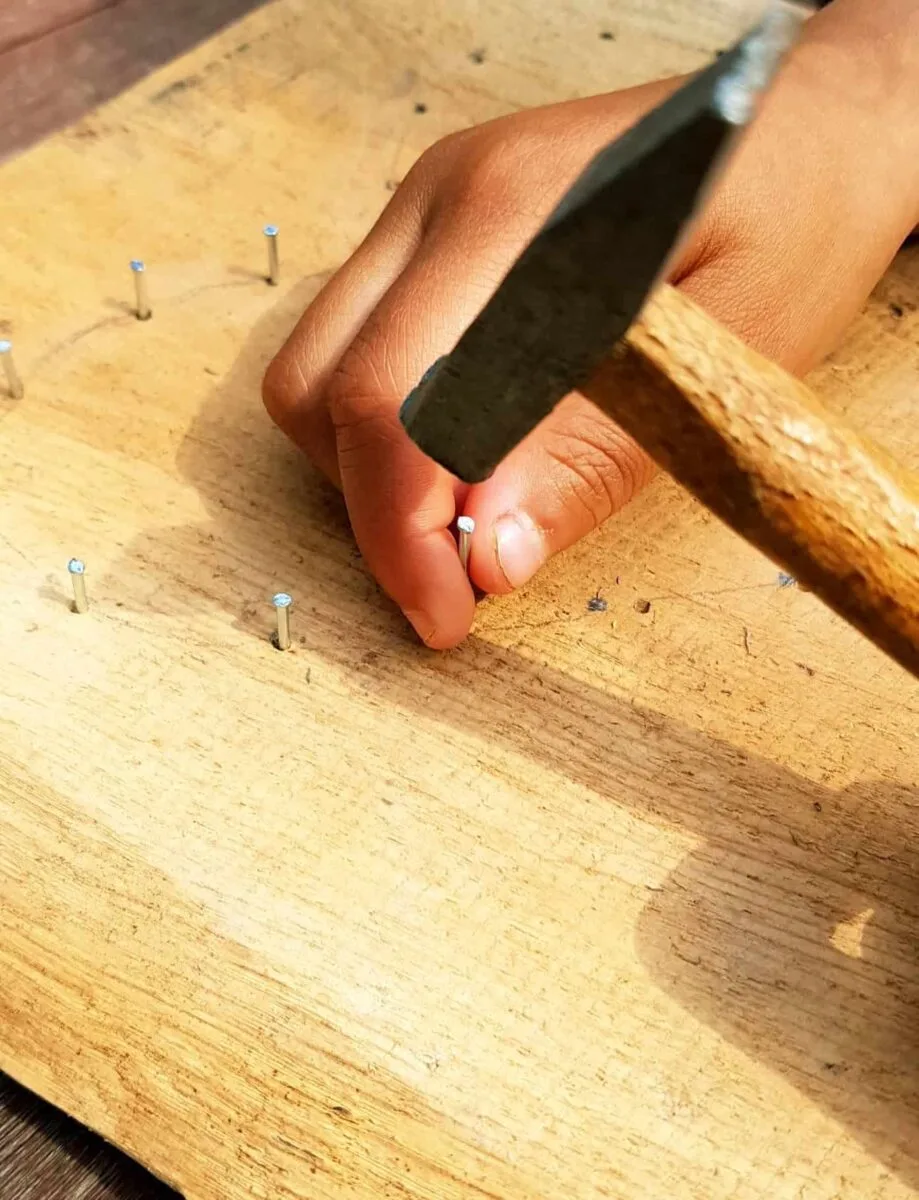 26. Bake a cake.
– Let your children be mommy's little helpers. They will enjoy the quality time with you and the delicious cake afterward. Maybe you can even make a tea party afterward or use it for your picnic in the garden.

27. Make your own finger paint and use it.
– Finger paint is really expensive in stores but super easy and cheap to make by yourself.

28. Did you make your own coke volcano yet?
– See how easy it is! Use the opportunity to teach your children about volcanos at the same time!

29. Simply let your children color.
– Give them paper and pencils or use a canvas or paper plates. Be amazed at how creative they can be.
30. Build a raft and let it flow on a small stream.
Just make sure to supervise children at the water.
31. Play a summer game such as our fun Summer Bingo.
32. Write a card to a friend and use one of our Summer Quotes.
Whatever you do, please stay safe and make sure to follow the pandemic regulations!
Please comment below and let me know how you liked your summer bucket list with all these cool fun activities for your family and kids.
I would love to see a picture of your arts and crafts, experiments, activities, and adventures you went on!
For more summer bucket list ideas, subscribe to our newsletter now and get the free printable. Click here!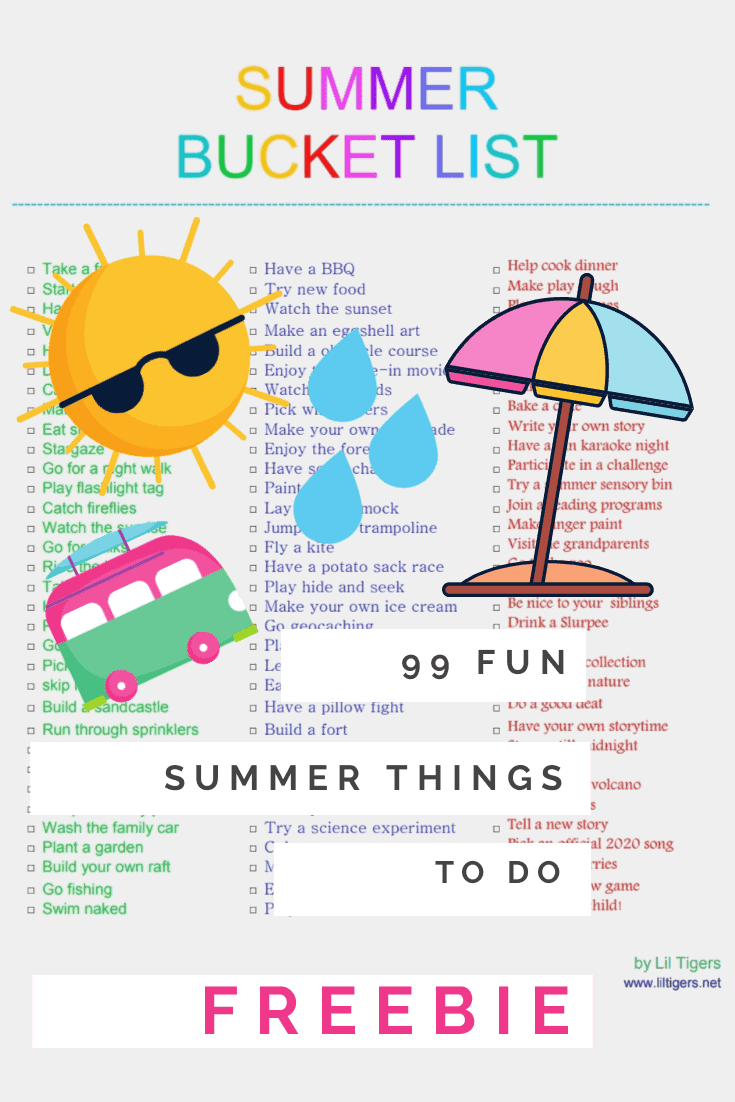 Follow us on Instagram, Pinterest, Tik Tok, and join our Facebook group "Free Kids Activities Arts & Crafts" for more fun DIY Kid's Activities, Arts & Crafts, and Science Experiments.