Are you looking for cute cookie quotes? Then you are in the right place!
Here are 110 cookie Sayings for Kids including matching books and activities.
Let's have a look!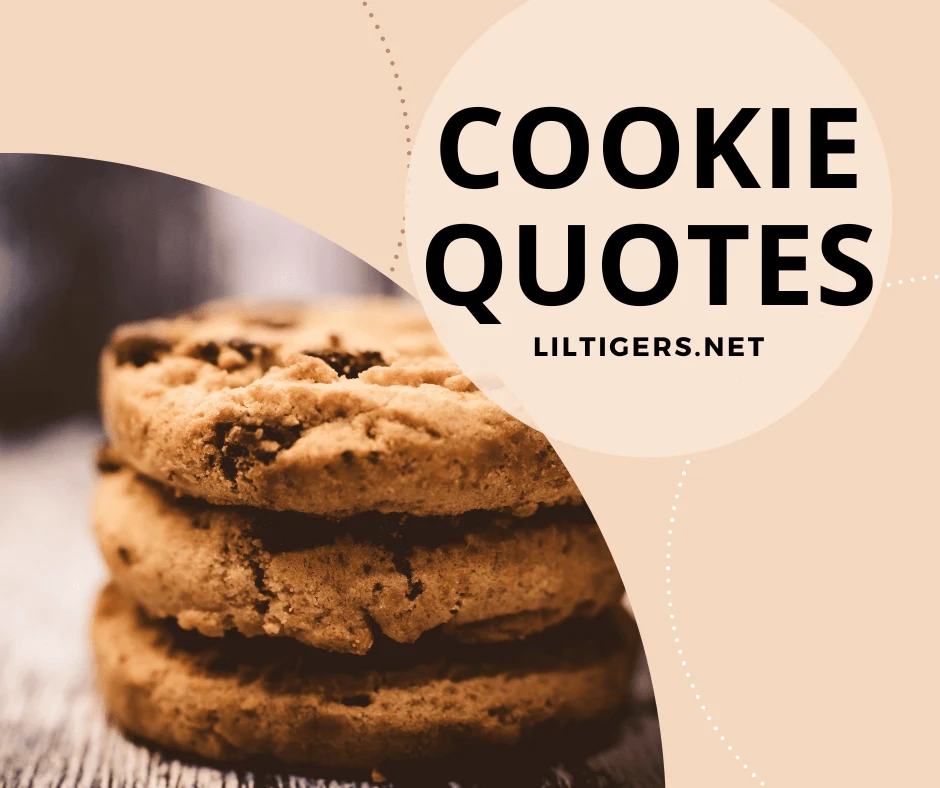 There are affiliate links in this post, meaning, at no additional cost to you, I will be compensated if you click through and take action. As an Amazon Associate, I earn from qualifying purchases.
7 Funny Cookie Jokes for Kids
Before we get started with our cookie quotes for kids, let's check out some hilarious cookie jokes for kids.
Why did the little boy have to go to the doctor just after he ate a cookie? Because he started to feel crumby!
Which type of cookie is an absolute delight for all species of apes? They usually love a chocolate chimp cookie.
What did the baker's friend say to the sick baker? "I wish you get batter very soon".
What did the cookie say to his best friend? He said that his friend was as sweet as sugar!
What is the best gift to give a person who is a little eccentric? An ideal gift for a kooky person would be a cookie gift!
What does a cookie look for in a perfect friend? He looks for someone who will always chip in when needed!
Why did the little boy decide to make cookies for his sister, who fared badly in the test? Because he was of the opinion that he would bake her day a little better.
Cookie Books for Kids
Here are some great book recommendations on cookie books for kids:
Are you interested in more kid's activities, arts & crafts, and science experiments?
I have made it easy for you! Join our newsletter now and I will send you new fun for kids.
Subscribe for free
110 Best Cookie Quotes for Kids
Now that we learned some new cookie jokes and explored books about cookies, it is time for our funny quotes about cookies, just in time for national cookie day on December 4th.
Our list of quotes on cookies includes cute cookie sayings for kids, best cookie quotes, short and famous quotes about cookies, baking cookie quotes, and funny cookie puns and captions.
Let's have a look and get inspired!
Cute Cookie Sayings for Kids
Here are some of our favorite cookie sayings for kids:
Life is short. Eat a cookie!
I never met a cookie I didn't like.
Not without cookies, I won't!
You are one tough cookie!
I believe in chocolate chip cookies.
I'm a professional cookie taste tester.
Cookies make the world a better place.
I could give up cookies, but I'm no quitter.
In the cookie of life, friends are the chocolate chips.
Wishing you a chocolate chip cookie day.
Peek-a-boo! Here are some cookies for you!

Unknown
It's much harder to be sad while eating a cookie.
You can't be a smart cookie if you have a crumbly attitude.
Cookies in the morning, cookies late at night. Cookies all day, here take another bite!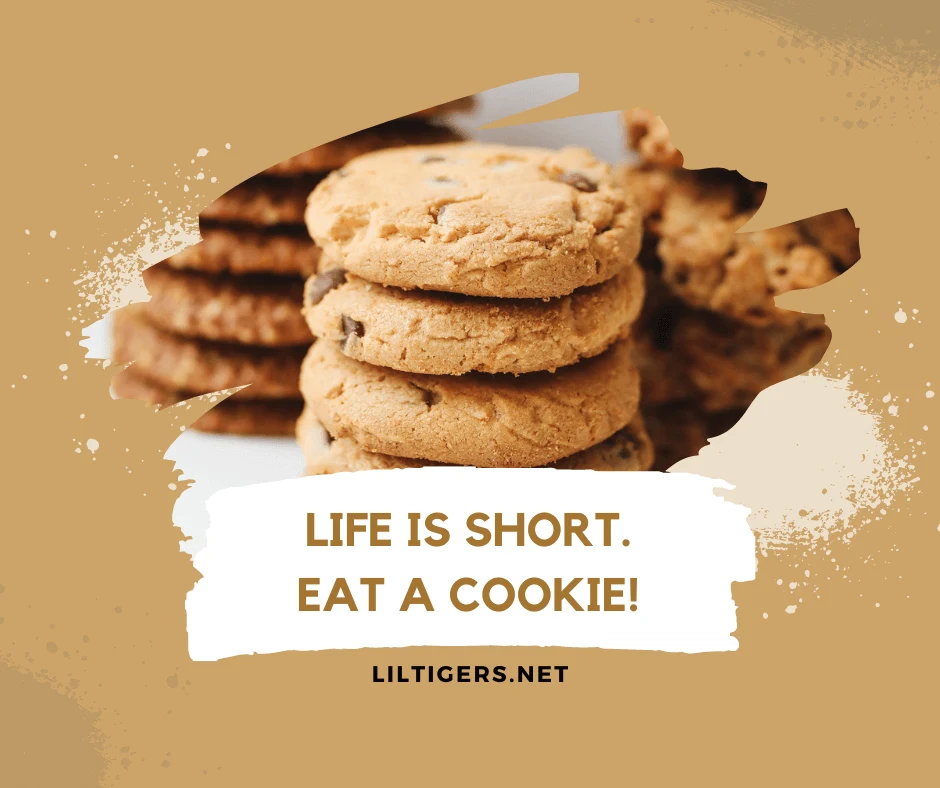 Cookie Monster Quotes
I m sure your kids know the cookie monster from Sesame street. Here are his best cookie quotes:
Keep Calm & Eat Cookies"
"C is for cookie that's good enough for me."
"Home is where heart is. Heart where cookie is. Math clear: home is cookie."
"I'd give you a cookie, but I ate it."
"Me Love to Eat Cookies."
"Me love poetry… and cookies!"
"No get upset, okay? Don't get excited. Me not fussy — just give me box of cookies."
"Me just met you and this is crazy, but you got cookie, so share it maybe?"
"Early bird gets the worm. But cookie taste better than worm. So me sleep in."
Me want to eat cookie. Here and there eat entire, now and then me bite it."
You're the chocolate chip to my cookie.

Unknown
Cookies are like duct tape. They can fix everything.
64. I've got friend-chip goals.
Best Baking Cookie Quotes
Your kids will love the following cute cookie quotes:
When in doubt, bake cookies.
Life is better with fresh-baked cookies.
Nothing says home like the smell of baking.
If there is no happy ending, make one out of cookie dough.
Everyone is kneaded out of the same dough, but not baked in the same oven.
"Funny, how one good cookie could calm the mind and even elevate a troubled soul." – Dean Koontz
If baking is any labor at all, it's a labor of love. A love that gets passed from generation to generation.
"Baking cookies is comforting, and cookies are the sweetest little bit of comfort food. They are very bite-sized and personal." – Sandra Lee
"I do not know how I developed the interest for baking. If I am not shooting, I head back home and start baking my favourite cakes and cookies." – Radhika Pandit
"I think baking cookies is equal to Queen Victoria running an empire. There's no difference in how seriously you take the job, how seriously you approach your whole life."- Martha Stewart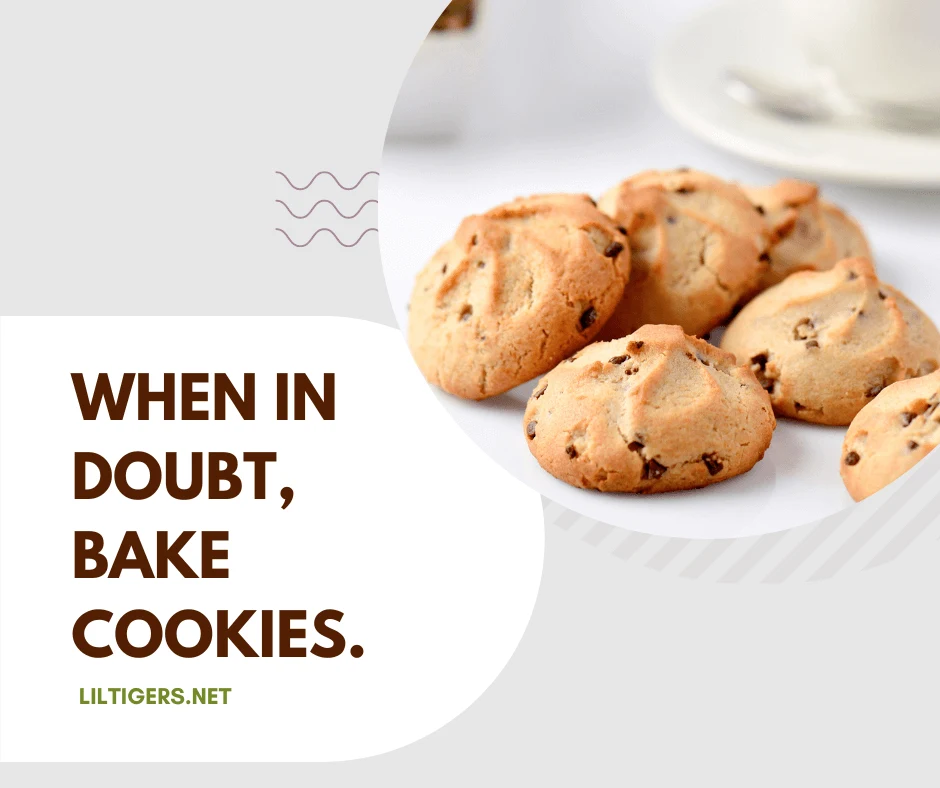 Short Cookie Quotes
Short but sweet. Let's check out these short cookie quotes:
Born to eat cookies.
Get onboard the cookie train.
You are the milk to my cookies.
A cookie is a smile on a plate.
We go together like cookies and milk.
Cookies need love like everyone else.
Wishing you a chocolate chip cookie day.
Grandmas never run out of hugs or cookies.
Make the world a better place one cookie at a time.
One of the best things in life–warm chocolate chip cookies.
Keep Smiling and Eat a Cookie!

Unknown
Tough cookie: One who doesn't crumble under pressure.
Tough cookie: One who doesn't crumble under pressure.
"Every cookie is a sugar cookie. A cookie without sugar is a cracker." – Gary Gulman
"The pleasure lies not in the cookies, but in the pattern the crumbs make when the cookies crumble." – Michael Korda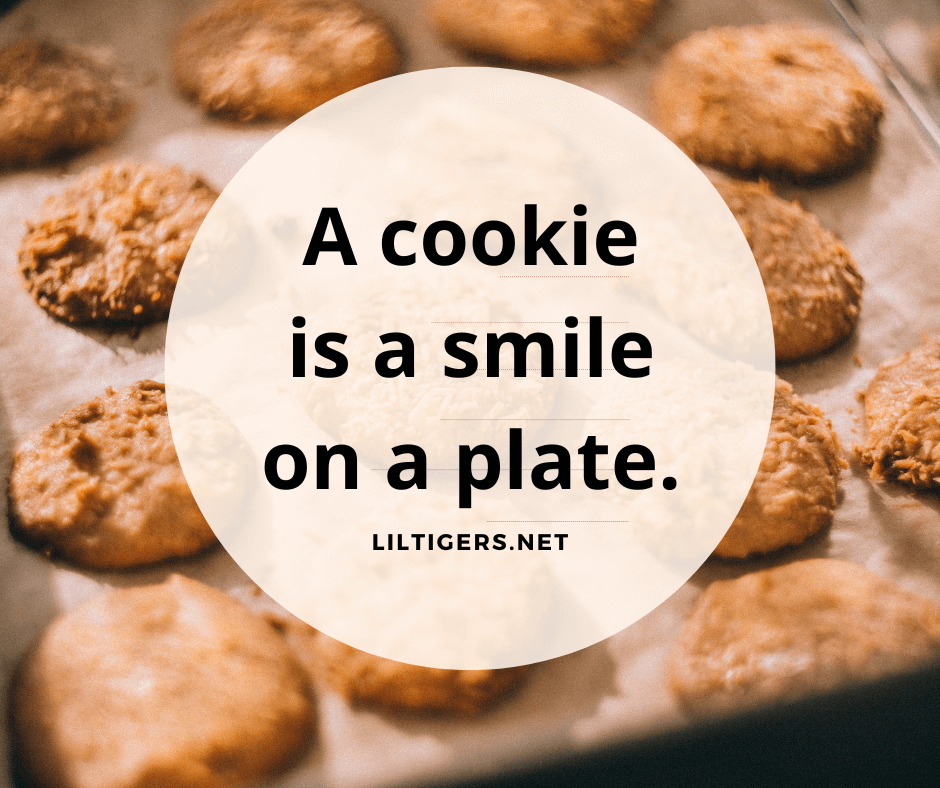 Famous Cookie Quotes
Next are our famous quotes about cookies.
"A balanced diet is a cookie in each hand." – Barbara Johnson
"What good is having all of the cookies when you can't eat anymore?" – Anthony T. Hincks
"If people would only look to the cookie, all our problems would be solved." – Jerry Seinfeld
"Cookies are the sweetest little bit of comfort food. They are very bite sized and personal." – Sandra Lee
"If you can't change the world with chocolate chip cookies, how can you change the world?" – Pat Murphy
"Fortune cookies are a good idea. If the message is positive, it can make your day that much better." – Yao Ming
"The pleasure lies not in the cookies, but in the pattern the crumbs make when the cookies crumble." – Michael Corda
"Cookies are known around the world as biscuits, keks, teacakes and biscotti, and everyone has a favorite." – Jean Pare
"Reach as high as you can, then reach a little higher. There, you will find magic and possibility. And maybe even cookies." – Marc Johns
"I love cookies baking. During the winter, they have these candles that smell like cookies, and I always buy like a hundred of them." – Jared Padalecki
"There's nothing more reassuring to kids than a plate of their favorite chocolate chip, oatmeal, or peanut butter cookies."

Lauren Chattman
"I absolutely love making chocolate chip cookies. I mean, it's fun. It's exciting. Beyond the fact that I love making them, I love eating them." – Debbi Fields
"You can be miserable before you have a cookie and you can be miserable after you have a cookie, but you never be miserable while you are eating a cookie. – Ina Garten
"I use nothing but the best ingredients. My cookies are always baked fresh. I price cookies so that you cannot make them at home for any less. And I still give cookies away." – Debbi Fields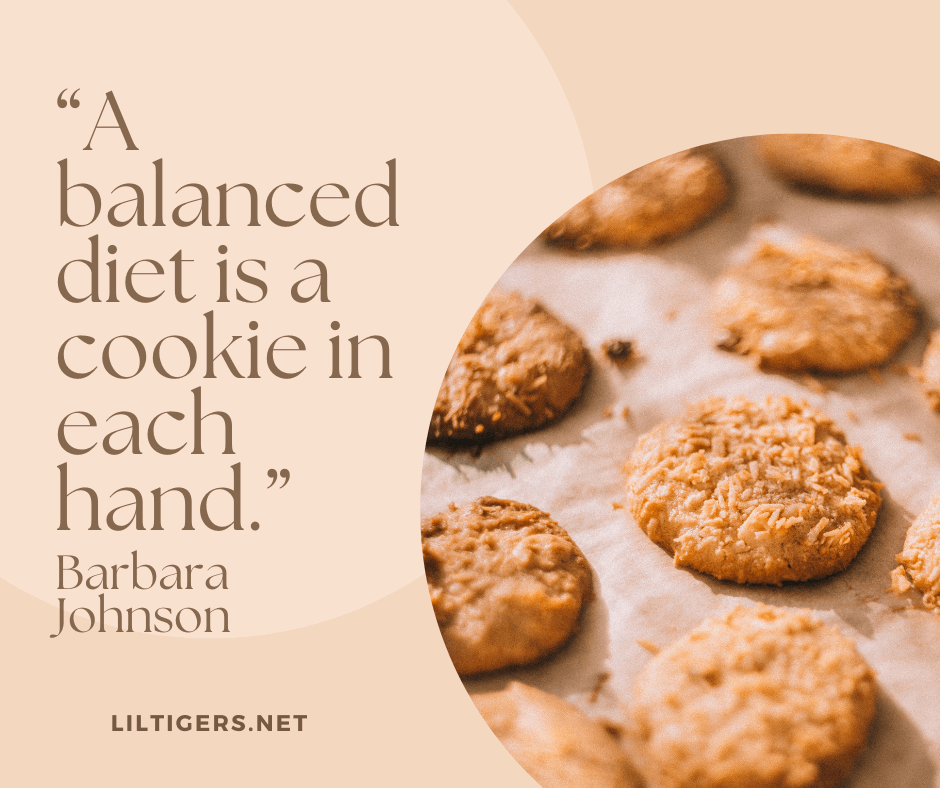 Did you enjoy our cookie greetings for kids?
Then go check out these popular holiday activities next. How about our Yoda Craft, Nail Art Work, Hammer Painting or next?
Funny Cookie Quotes
How about the following fun cookie phrases?
Hello, cookies. It's me.
Cookie is my favorite color.
Cookies make my clothes shrink.
Cookies and I lived happily ever after.
You are never too old for cookies and milk.
Give me the cookies and nobody gets hurt.
Save the earth. It's the only planet with cookies.
I'm into fitness. Fitness cookie into my mouth!
National cookie day is every day in this house.
If you were a cookie, I'd be your Cookie Monster.
Sorry, Santa. Too late!

Unknown
You can't eat just one cookie. It would get lonely.
"When the going gets tough, the tough make cookies." – Erma Bombeck
"Every cookie is a sugar cookie. A cookie without sugar is a cracker." – Gary Gulman
Should you make cookies? Do you already have cookies you are having trouble getting rid of? Yes: make cookies. No: make cookies.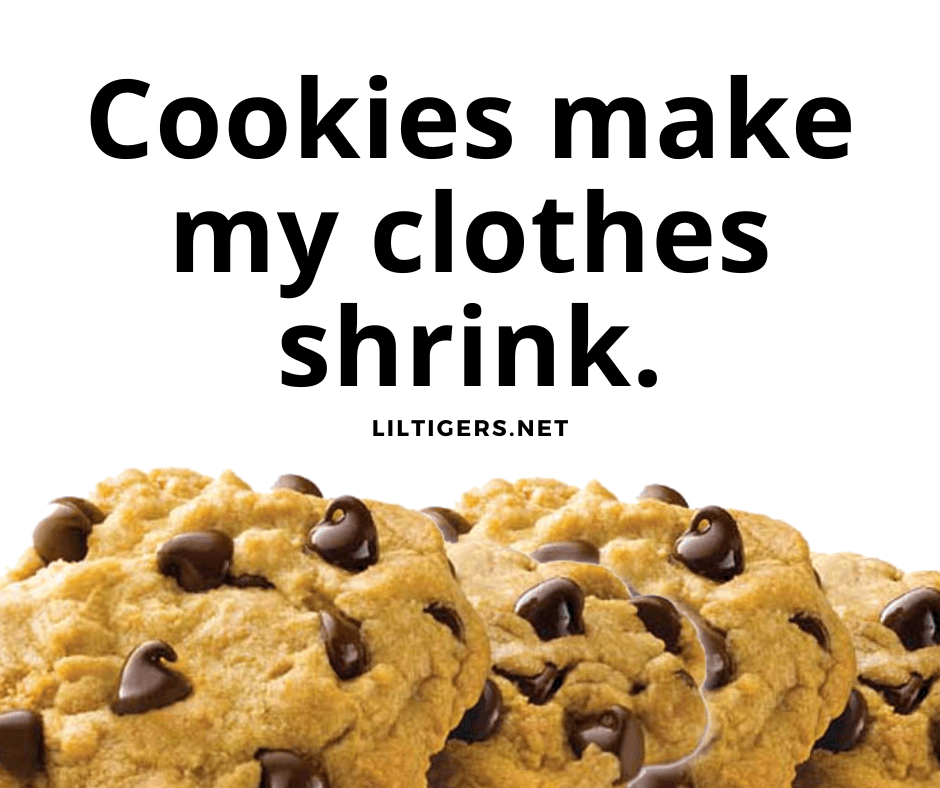 Fun Cookie Puns
Let's start off with our funny cookie puns
Be my cookie!
Eat cookies first.
It's cookie o'clock.
Time to eat cookies!
Thanks for raisin me right.
I'm basically a cookie guru.
Come to the dark side. We have cookies.
The Grinch better have my cookies ready!
We're a batch made in heaven.
I love having cookies 'n' dreams.
Cookies and I lived happy ever after.

Unknown
Let's bake this happen more often.
The fortune you seek is in another cookie.
The cookies are calling and I must go to them.
Cookie is the answer. Who cares what the question is?
If I had 10 cookies and you took half, do you know what you would have? A black eye and a broken hand.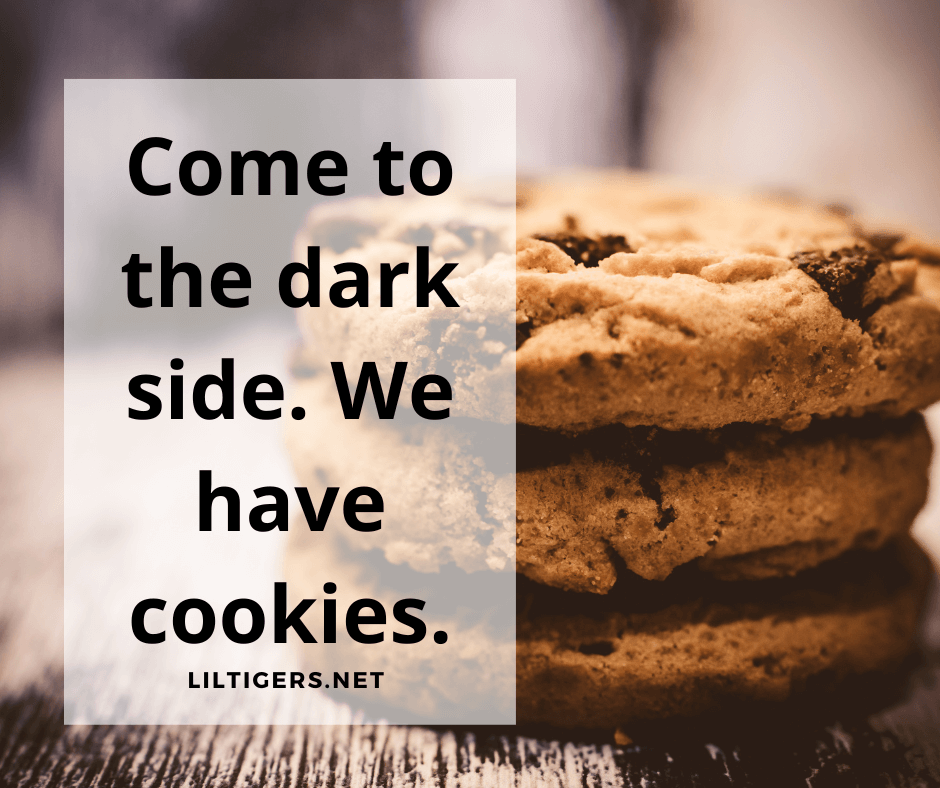 Funny Cookie Captions
If our cookie slogans weren't enough for you yet, then check out the following fun cookie captions.
Live. Love. Cookies
I'm a weir-dough.
It is cooking time!
You bake it, you eat it.
We're friend-chip goals.
Did it all for the cookie 'Gram.
Keep calm and eat cookies.
Broken cookies have no calories.
Hey cookie, you're the sweetest.
Cookies are butter late than never.
Life is what you bake of it.

Unknown
These cookies and I were mint to be.
I don't trust anyone who doesn't like cookies.
Friends are nice, but friends with cookies are better.
I don't share the blame. I don't share credit. And I don't share cookies.
More Quotes
I also like to introduce you to the following quotes for kids:
Easy Cookie Activities and Holiday Crafts
After you are done with these fun cookie quotes and sayings, go check out these fun cookie activities next:
If you are a visual learner, also go check out this matching DIY cookie monster card video tutorial for our cookie sayings for kids.
Pin Our Quotes about Cookies
Don't forget to save our 110 Top Cookie Quotes for Kids on Pinterest for later! Be sure you are following along with Lil Tigers here.
Now I would like to hear from you!
Which saying about cookies did you choose? Did you find a better one?
Either way, let me know by leaving a comment below right now.
I love to hear from you!