Are you looking for inspiring gingerbread man quotes? Then you are in the right place!
Here are 40 Cute Gingerbread Man Sayings for Kids including matching books and activities.
Let's have a look!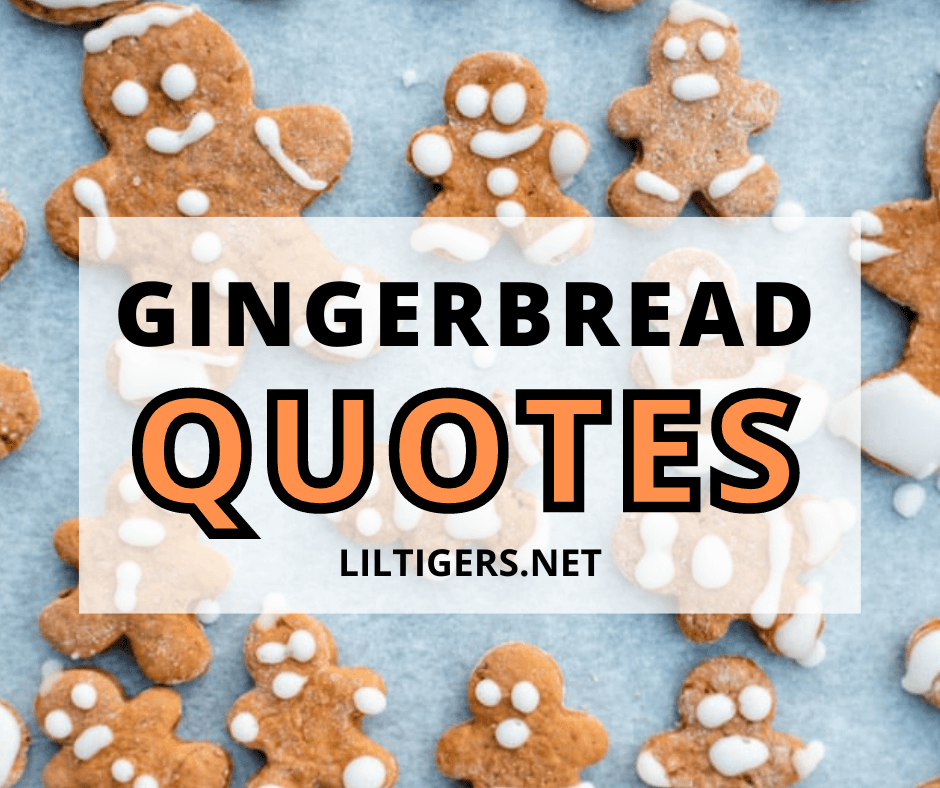 There are affiliate links in this post, meaning, at no additional cost to you, I will be compensated if you click through and take action. As an Amazon Associate, I earn from qualifying purchases.
The Gingerbread Man Story
If you ended up on this post you are probably familiar with gingerbread man cookies and ate them before. But are you familiar with the famous gingerbread man story?
Here is a quick summary of it, followed by the gingerbread man song which tells you the story as well:
An old lady baked a gingerbread man, and as soon as he was finished he jumped out of the oven and run away.
On his escape he came across several animals and always outruns them and said: "Run, run, as fast as you can. You can't catch me, I m the gingerbread man". Till he finally came across a smart fox which finally ate him.
6 Fun Gingerbread Man Activities for Kids
There are many different gingerbread man activities to add to your newly learned gingerbread cookie jokes. Here are 6 Gingerbread Man Activities for your kids:
Bake Gingerbread Man (Recipe)
While you reading all these fun Gingerbread men quotes you could add a couple of extra activities and make a gingerbread cookie afternoon out of it.
Let's start off with some gingerbread crafts. In the link above you will find gingerbread man outlines in three different sizes.
They can be used for any type of gingerbread man craft. Go check them and their fun gingerbread man craft ideas out.
But before you start crafting make sure to bake some classic gingerbread cookies and let your children decorate them.
After they are cooled off you can enjoy them while crafting. If you do not like paper crafts, try these salt dough gingerbread man ornaments instead. You find the full instruction for the dough above.
And while your kids are all doing that and eating their cookies you could also read the gingerbread man book to them or sing the gingerbread man song. What do you think? It sounds like fun, right?
Also, you can learn in the links above how to make your own salt dough gingerbread man or ornaments out of popsicle sticks.
In case you do not have the gingerbread man book at home? Here is the link for you. My kids love the read this story every year again!
40 Best Gingerbread Man Quotes for Kids
December is coming closer and you can already hear Christmas music on the radio. Time to decorate the house and bake some gingerbread man cookies.
So why don't you add some matching gingerbread man crafts or even make a DIY gingerbread man holiday card?
You can find the matching Gingerbread Man Quotes for Kids for your cards and crafts here.
Our list of quotes about gingerbread men includes cute gingerbread man phrases for kids, cute quotes about gingerbread houses, funny gingerbread man puns, and jokes.
Let's have a look and get inspired!
Cute Gingerbread Man Sayings for Kids
Here are some of our favorite gingerbread man sayings for kids:
"All you need is love and a gingerbread man!"
"Holiday Wishes made me gingerbread hugs and peppermint kisses."
"Run run as fast as you can, you can't catch me I'm the gingerbread man!"
"I love you more than my gingerbread man!"
"Keep calm and eat a gingerbread man cookie!"
"Oh snap"
"Gingerbread man kisses and Christmas wishes."
"And may all your Christmases be ginger."
"Gingers are for life not just for Christmas!"
"Let's get baked."
"Have a sweet Christmas!"
"Life is better with a gingerbread man cookie"
"Oh crumbs"
"Santa please stop here and have some gingerbread man cookies!"
"Wishing you a yummy holiday"
Did you enjoy our kid's Gingerbread Man Quotes?
Then go check out these great stocking stuffer ideas for girls, boys, toddlers, and kids next.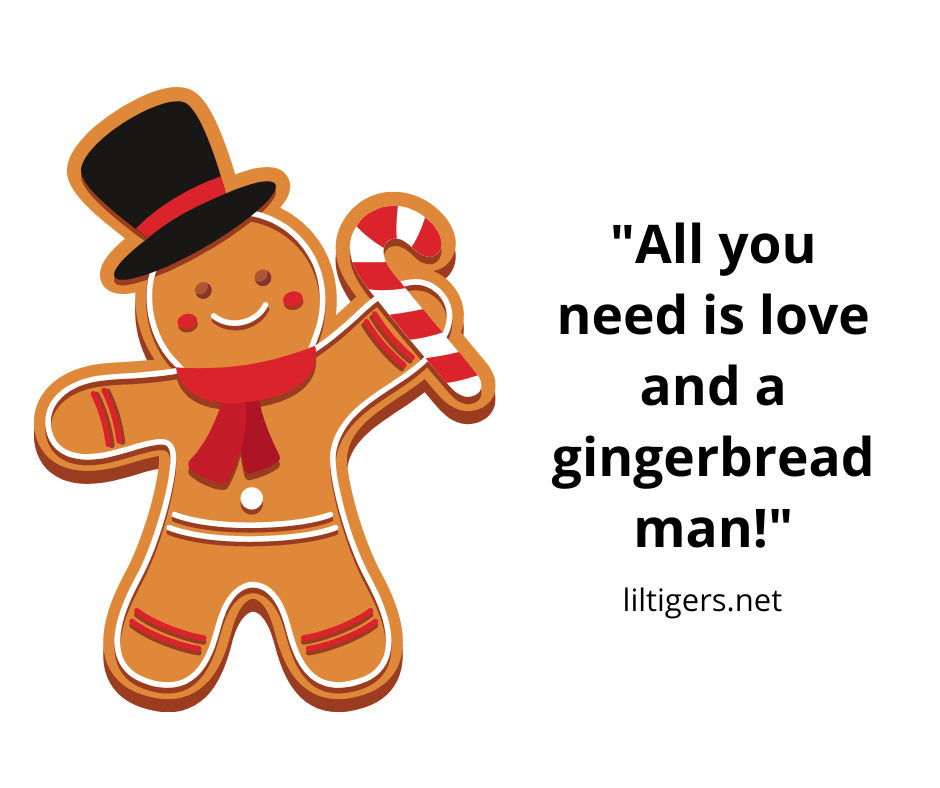 Gingerbread Man Poem
Next, I like to share this adorable gingerbread man poem with you:
5 Yummy Gingerbread
Five yummy gingerbread,
Sitting on a plate,
The first one said
"Boy, we smell so great!"
The second one said
"Ther's a chill in the air."
The third one said
"I see hungry children everywhere!"
The fourth one said
"I think we better run!"
The fifth one said
"Here the children come!"
Then the children each grabed one
and with a MUNCH, Crunch, Munch,
the five yummy gingerbreads all turned into lunch!
Unknown
Gingerbread House Quotes and Captions
Do you like building your own gingerbread house each holiday season? Then there are some cute gingerbread house captions and sayings for you.
"Time to build a gingerbread house!"
"Love grows in little houses."
"Keep calm and build gingerbread houses."
"You are never too old to build a gingerbread house!"
"It takes hands to build a house, but only hearts can build a home."
"Love develops in small houses."
"Go on making gingerbread houses as much as you can!"
"I feel happy after making the gingerbread houses."
"It is really fun to make gingerbread houses."
"Nothing fascinates me more than a gingerbread house."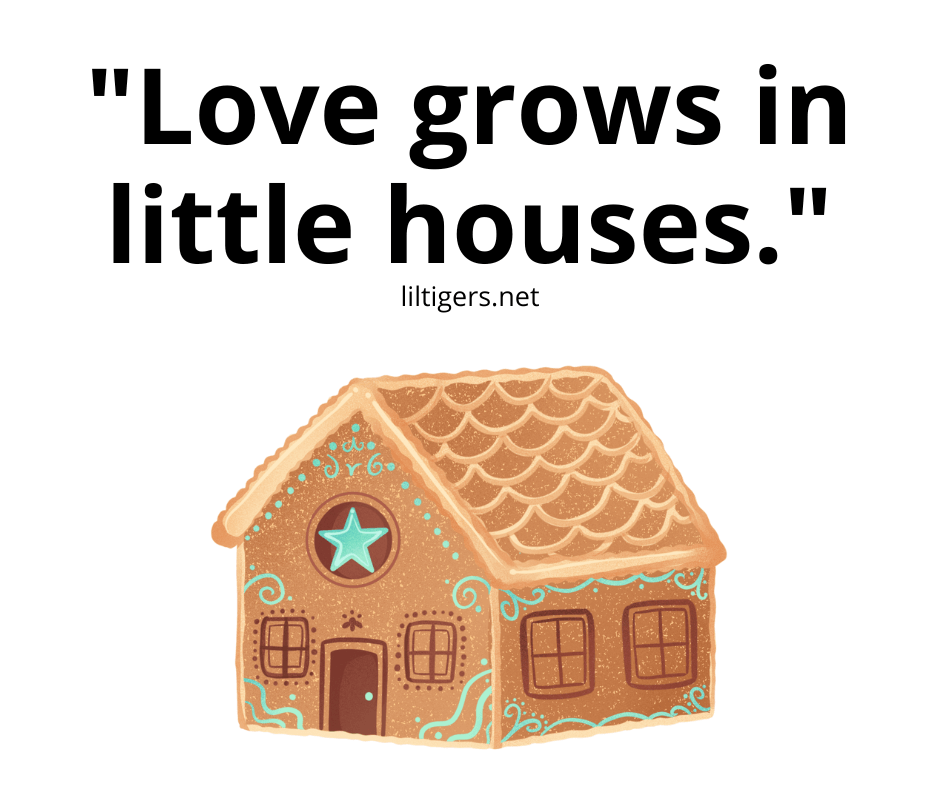 Gingerbread Man Captions
How about these fun gingerbread man captions:
You will like it since it is gingerbread-flavored."
"Imagining life without gingerbread cookies is difficult!"
"Be gingerbread cookies in this world of snickerdoodles."
"As delicious as gingerbread cookies."
"I love gingerbread cookies more than my life."
"Those who bake cookies will get the best things."
"This is the best time to make gingerbread cookies."
"This gingerbread man is a keeper."
"Please focus on making gingerbread cookies."
"This season is perfect for baking gingerbread cookies."
Funny Gingerbread Man Jokes
Your kids will love the following cute autumn quotes:
What do Gingerbread Men sleep on? Cookie sheets!
Don't be shy.. lick my frosting
Says the doctor to the Gingerbread Man: "Sore knee, huh? Have you tried icing it?"
What do you sing when gingerbread cookies are in the oven? Jingle smells, jingle smells…
Why did the Gingerbread Boy stay home from school? Because he felt CRUMB-Y
To see the full list of 25 Best Gingerbread Man Jokes have a look here.
More Quotes
I also like to introduce you to the following winter and holiday jokes and quotes for kids:
More Winter Activities and Crafts
Weren't our kid's quotes about the gingerbread man enough for you?
Then how about some more holiday activities to get into the Christmas mood?
Here is a list of Winter Activities you can make easily at home or in your classroom:
If you are a visual learner, also go check out this matching DIY gingerbread man card video tutorial for our gingerbread sayings for kids.
---
Pin Our Quotes about the Gingerbread Man
Don't forget to save our 40 Top Gingerbread Man Quotes for Kids on Pinterest for later! Be sure you are following along with Lil Tigers here.
Now I would like to hear from you!
Which saying about gingerbread men did you choose? Did you find a better one?
Either way, let me know by leaving a comment below right now.
I love to hear from you!
Follow us on Instagram, Pinterest, Tik Tok, and join our Facebook group "Free Kids Activities Arts & Crafts" for more fun DIY Kid's Activities, Arts & Crafts, and Science Experiments.