Are you looking for adorable Santa quotes? Then you are in the right place!
Here are 100 Best Santa Claus Quotes and Sayings for Kids including matching books and activities.
Let's have a look!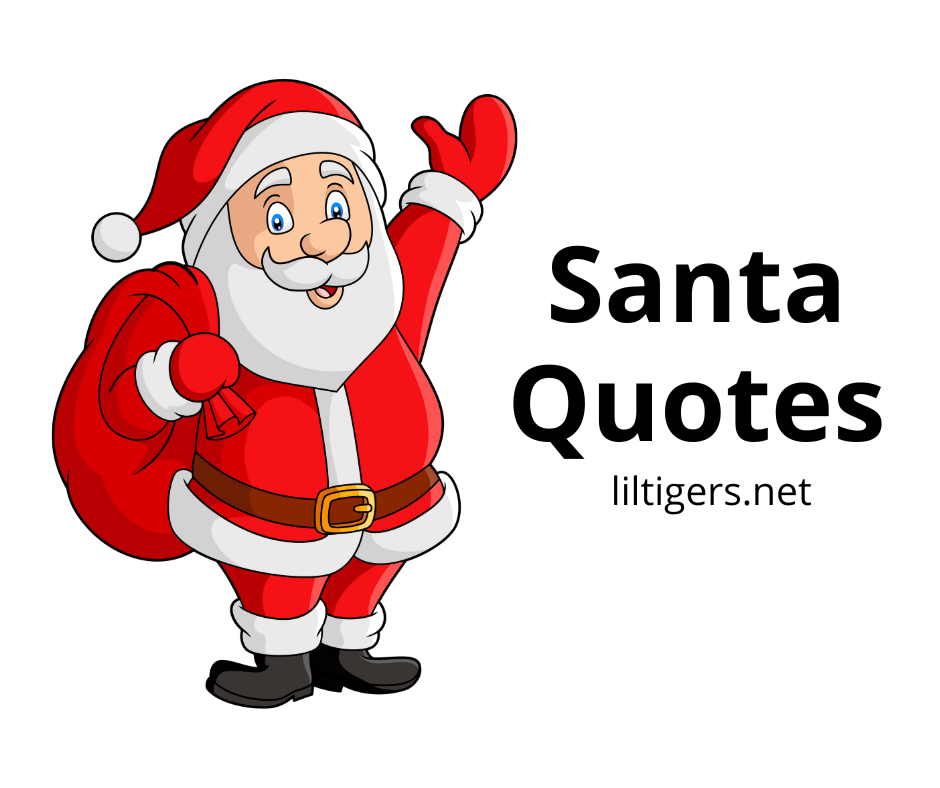 There are affiliate links in this post, meaning, at no additional cost to you, I will be compensated if you click through and take action. As an Amazon Associate, I earn from qualifying purchases.
Fascinating Santa Claus Facts
Before we get started with our Santa Claus quotes for kids, let's learn a little bit about Santa.
Who is Santa Claus
Santa Claus is a legendary figure known as the patron of Christmas in the United States and many other countries.
It is said that Santa Claus lives at the North Pole with Mrs. Claus, where they spend the year making toys with their elves for Christmas.
When Does Santa Claus Arrive
The legend says that Santa Claus loads his sleigh with toys and flies on Christmas Eve around the world with his nine reindeer.
He is stopping at each house, slides down the chimney, and leaves gifts for the children.
Where Did Santa Claus Come From?
Santa Clauses' popular image is based on the tradition of Saint Nicholas, a 4th-century Christian Saint.
The Dutch transported the legend of St. Nicholas (Sinterklass) to New Amsterdam (now New York City), along with the tradition to give sweets and gifts on his feast day on December 6.
These and more inspiring facts about Santa Claus can be found in the following link.
Santa Books for Kids
Here are some great book recommendations on Santa Claus books for kids:
Santa's Lost Reindeer is a funny story that follows a frazzled Santa through a search for his missing reindeer.
Are you interested in more kid's activities, arts & crafts, and science experiments?
I have made it easy for you! Join our newsletter now and I will send you new fun for kids.
Subscribe for free
100 Best Santa Quotes for Kids
Winter has already arrived and my children can't wait for Christmas Day.
To fill their waiting time with little surprises and spread Christmas magic, I like to craft their cards and add little quotes or write letters.
This time I decided on a card from Santa. You can find an easy card tutorial below.
You can find the matching Santa Claus quotes here.
Our list of quotes from Santa Claus includes sweet Santa sayings for kids, magical Santa Claus Quotes, short Santa slogans, adorable Santa Messages for kids, best santa phrases, and fun Santa puns and captions.
Let's have a look and get inspired!
Sweet Santa Sayings for Kids
Here are some of our favorite Santa Claus sayings for kids:
"Santas little helpers"
"Santa loves my cookies"
"Happy holidays from all of Santa's little elves."
"Santa loves you!"
"The heart of Christmas is Santa."
"Santa spreads the true meaning of Christmas with every gift: love!"
"Santa Claus is coming to town!"
"I can't sleep I'm waiting for Santa"
"Santa stop here, we have cookies!"

"Ho, Ho, Ho Merry Christmas."

"You better watch out, you better not cry, better not pout, I'm telling you why—Santa Claus is coming to town." – Haven Gillespie
"Dear Santa I been good all year no matter what the evidence might suggest.. "Unknown"
"Sadly, Santa only comes once a year."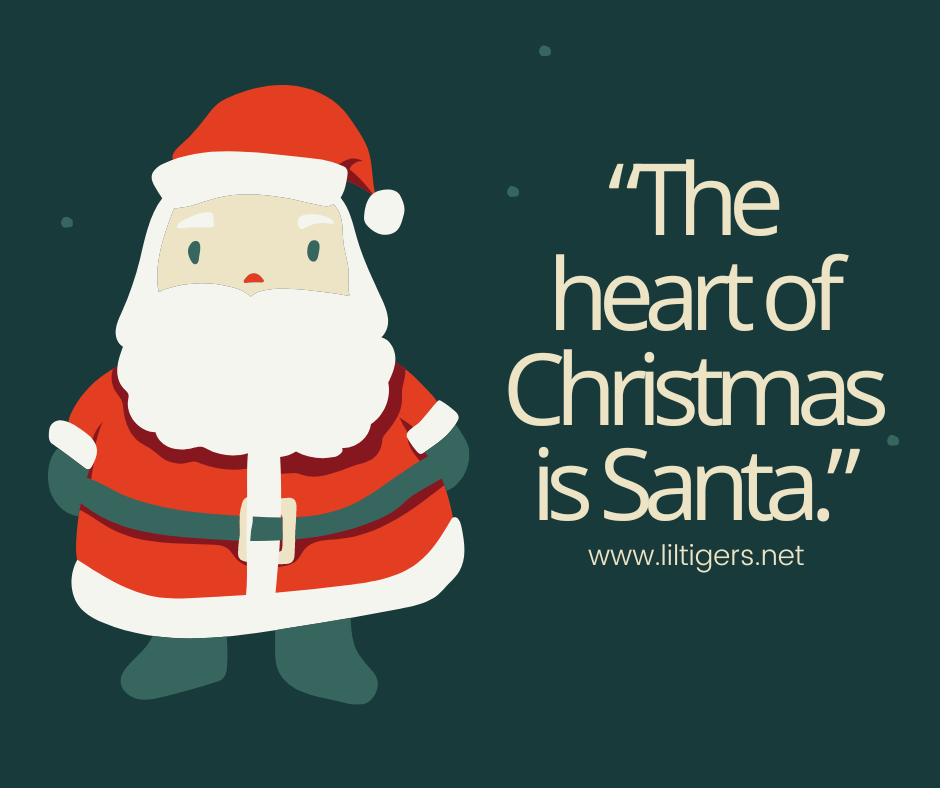 "If you believe in Christmas everything is possible!"

Unknown
"May you never be too old to search the skies on Christmas Eve." – Unknown

"Seeing is believing, but sometimes the most real things in the world are the things we can't see."

– The Conductor from The Polar Express

"Children make your Christmas Merry." – Erma Bombeck

"Bells are ringing, children singing, all is merry and bright. So hang your stockings and say your prayers, 'cause Santa Claus comes tonight."

– Gene Autry
"There is no greater sound in the world than the rustle of Santa's sleigh bells on Christmas Eve."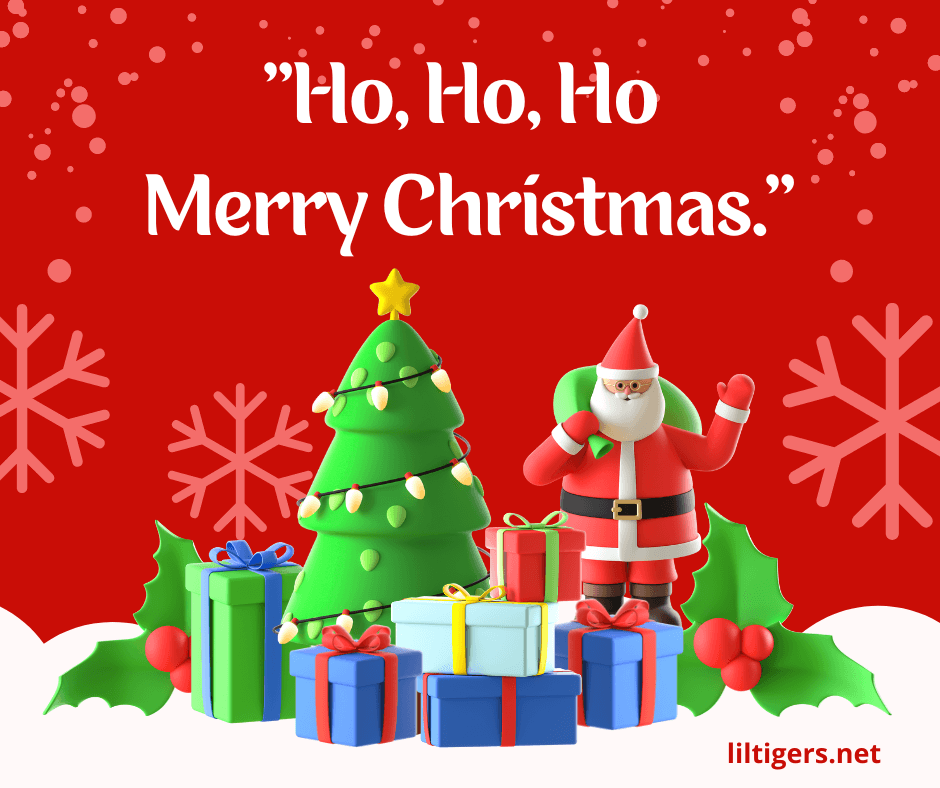 Magical Santa Quotes
Your kids will also love the following magical Sant Claus quotes:
Santa is the sparkle, shine, and jolly that every holiday needs.

The joy of giving and family are the true gifts that Santa brings.
Santa Claus is the magic of Christmas. He promotes happiness and cheer.

Santa is the Christmas sugar and spice for girls and boys that are nice.

Santa is the magical spirit of Christmas that sparks the giving in our hearts.
"Just because you can't see something, doesn't mean it doesn't exist." – Charlie Calvin from The Santa Clause

Santa is the magic of making wishes come true.

Santa exists within the hearts of children and adults alike.
Christmas loses a bit of magic the moment belief in Santa fades.
The enchanting spirit of Santa Claus brings joy to revelers every Christmas.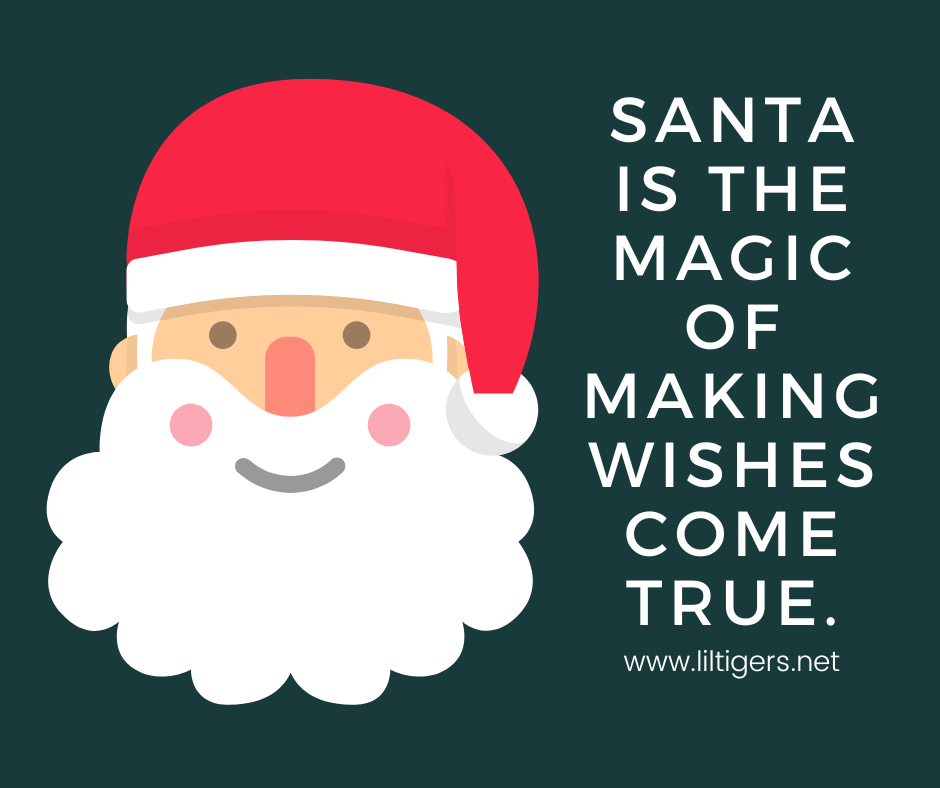 "Santa symbolizes the love we give one another and the importance of happiness."

Unknown
Santa Claus is goodness and kindness wrapped in red velvet. He devotes his entire being to bringing children joy.

The heart of Christmas isn't the presents Santa puts under the tree, it's the family surrounding it. That's Santa's true magic.

When you hear a ho, ho, ho, it takes you back to the enchanting memories of Santa Claus during your childhood. Santa is more than magic, he's a tradition.
Every gift is a little piece of Santa.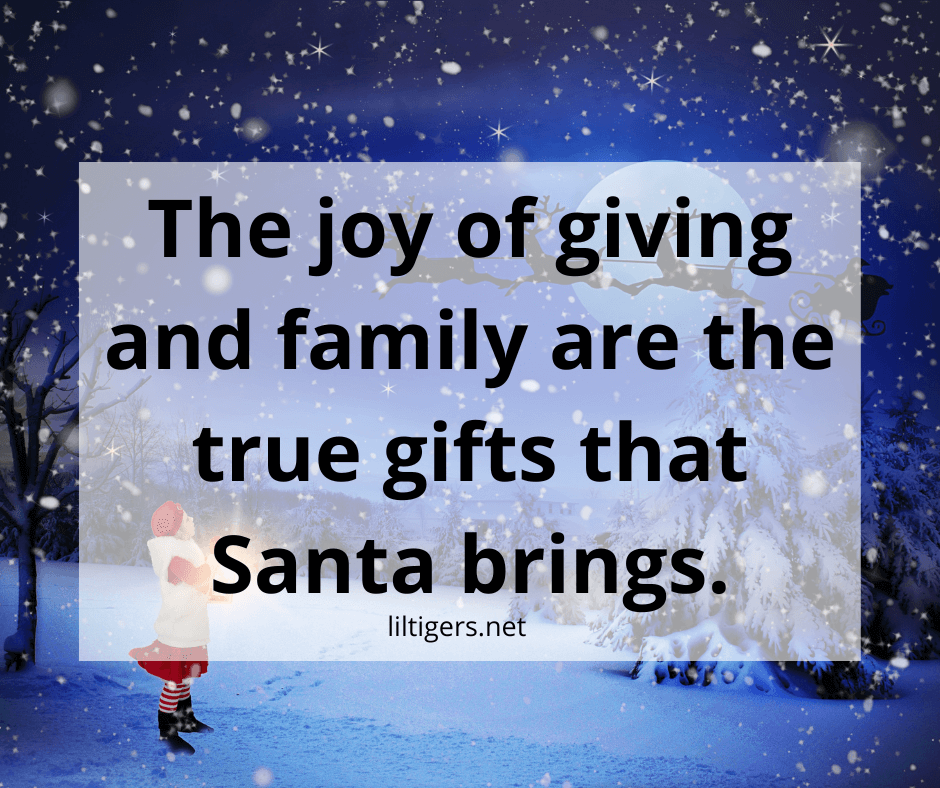 Short Santa Quotes
Short but sweet. Let's check out these short Santa Claus phrases:
Find joy in Santa's jolly smile.
"God put Santa Claus on earth to remind us that Christmas is 'sposed to be a happy time." – Bil Keane
Every gift is a little piece of Santa.
"The greatest thing is not to believe in Santa Claus; it is to be Santa Claus." – Pat Boone

The heart of Christmas is Santa.

"To cherish peace and goodwill, to be plenteous in mercy, is to have the real spirit of Christmas." – Calvin Coolidge
Smile! Santa's coming to town.

Sadly, Santa only comes once a year.

Santa works his jolliness right into your heart.
"Gifts of time and love are surely the basic ingredients of a truly merry Christmas." – Peg Bracken
"Santa spreads the true meaning of Christmas with every gift: love!"

Unknown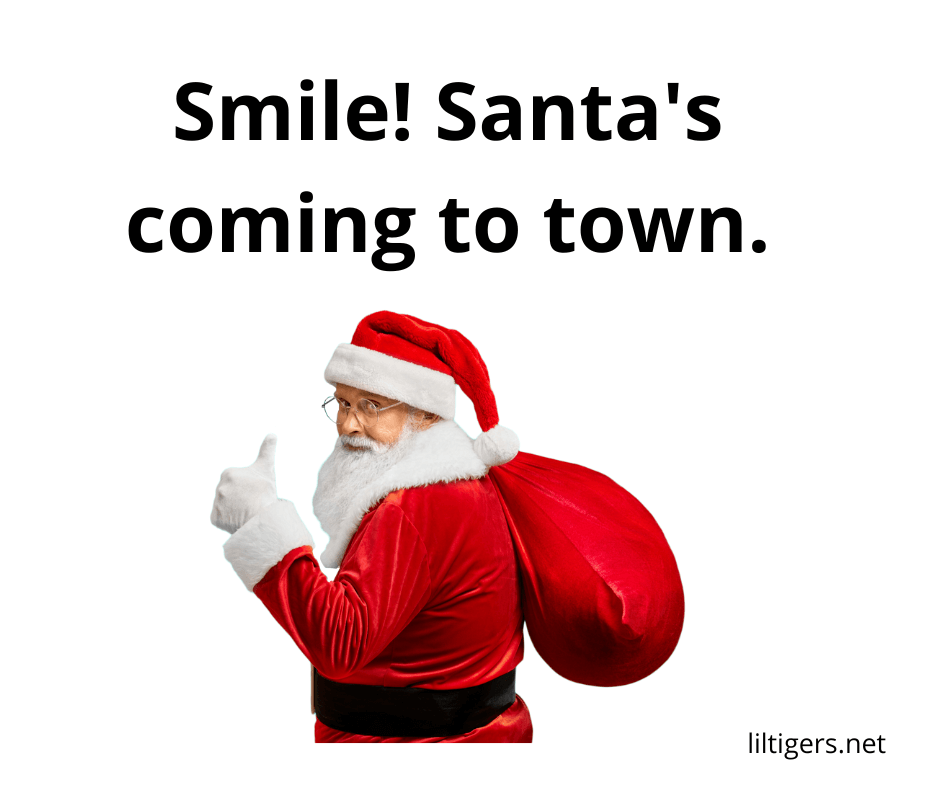 Did you enjoy our Santa greetings for kids?
Then go check out these great stocking stuffer ideas for girls, boys, toddlers, and kids next.
Quotes about Santa Claus
What do you think about these quotes from Santa Claus?
Believing in Santa is a joy for every girl and boy.

A belief in Santa can soothe your soul and fill your heart with love.

The spirit of Santa always lives in your heart. Never stop believing.

"All the world is happy when Santa Claus comes."

– Maud McKnight Lindsay
Believing in Santa is believing in the magic of Christmas.

It's not a question of believing in Santa, it's about believing in the magic Santa brings to the season.

Believing in Santa is believing in love, light, and magic. Spread joy on Christmas by keeping Santa alive.
Santa is more than just a story. The spirit of Santa is a feeling. A wondrous feeling of giving, receiving, joy, and light. Santa brings magic to the holidays.
"He doesn't care if you're rich or poor, he loves you just the same. Santa Claus knows we're all God's children, that makes everything right." – Gene Autry
I choose to believe in Santa Claus. He is more than a gift-giving spirit. Santa is the magic of Christmas that spreads joy and happiness around the world.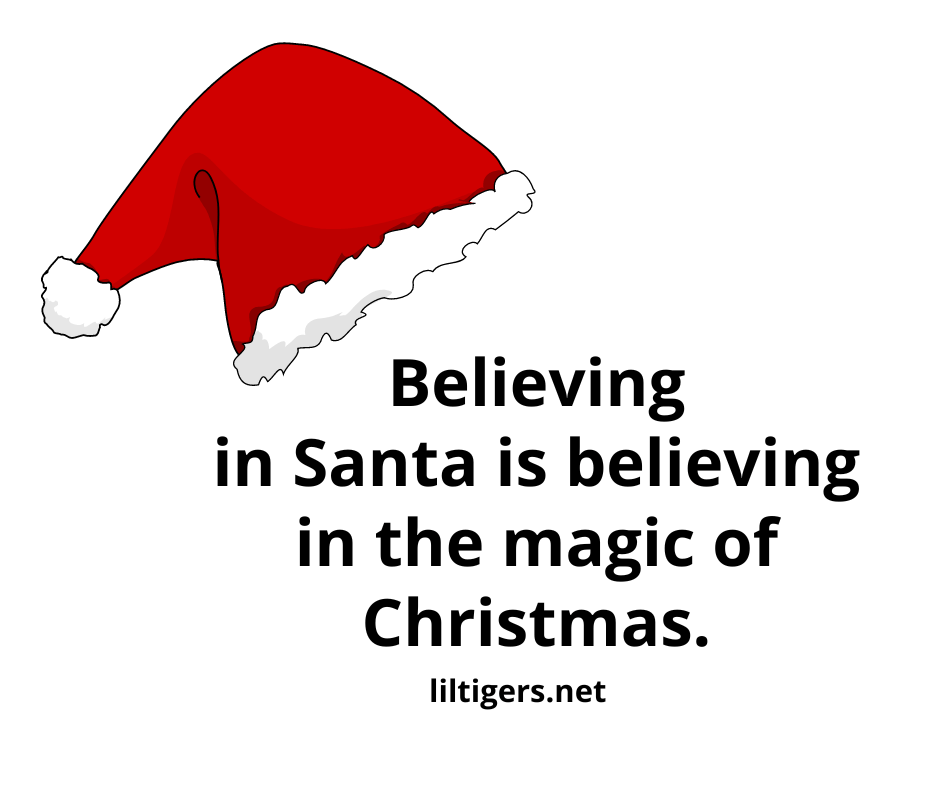 Adorable Santa Claus Messages
These Santa messages are adorable!
"Seeing isn't believing. Believing is seeing." – Judy the Elf from The Santa Clause
"I will honor Christmas in my heart, and try to keep it all the year." – Charles Dickens.
"Not believe in Santa Claus! You might as well not believe in fairies!" – Francis P. Church
"Of course there is a Santa Claus. It's just that no single somebody could do all he has to do. So the Lord has spread the task among us all. That's why everybody is Santa Claus. I am. You are." – Truman Capote
"Oh, Christmas isn't just a day, it's a frame of mind." – Kris Kringle from Miracle on 34th Street
"Santy Claus, why, why are you taking our Christmas tree? WHY?" – Cindy Lou, 'How The Grinch Stole Christmas.'

"They err who thinks Santa Claus comes down through the chimney; he really enters through the heart." – Paul M. Ell

"From home to home, and heart to heart, from one place to another. The warmth and joy of Christmas, brings us closer to each other." – Emily Matthews.

"This bell is a wonderful symbol of the spirit of Christmas, as am I. Just remember, the true spirit of Christmas lies in your heart."

– Santa Claus from The Polar Express
"Whenever you give someone a present or sing a holiday song, you're helping Santa Claus. To me, that's what Christmas is all about. Helping Santa Claus!" – Louis Sachar
"The stockings were hung by the chimney with care, in hopes that St. Nicholas soon would be there."

Clement Clarke Moore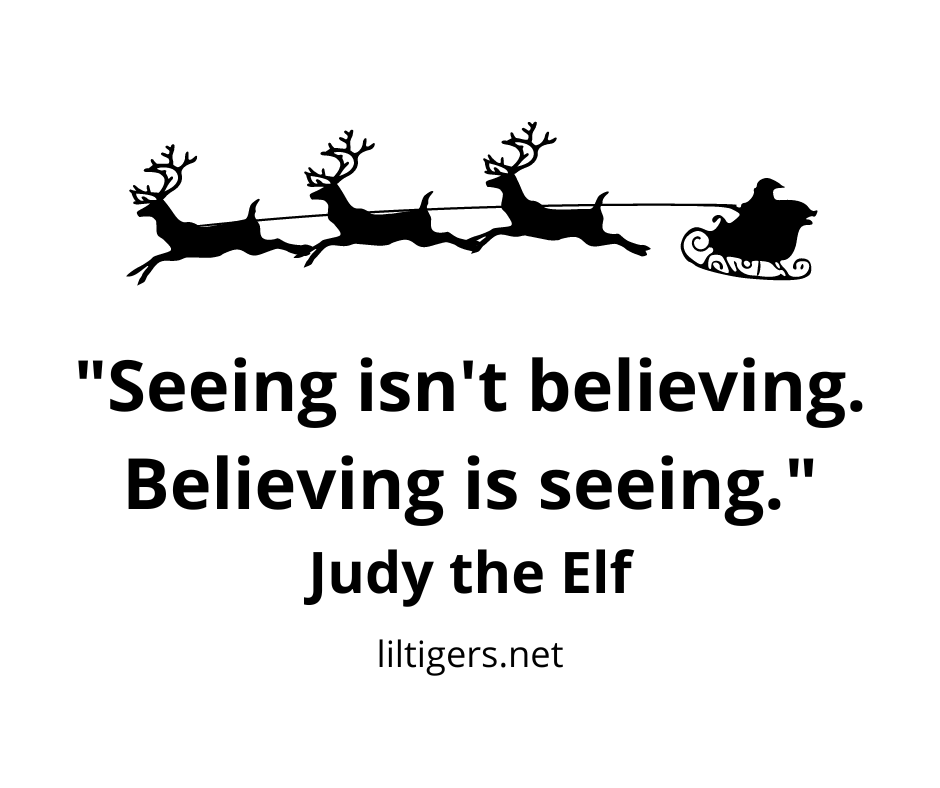 Best Santa Claus Quotes
Time to check out these fun Santa Claus slogans next:
"The best way to spread Christmas cheer is singing loud for all to hear." – Will Ferrell, 'Elf'.
"You know you're getting old when Santa starts looking younger." – Robert Paul
"It's all fun and games until Santa checks the naughty list." – Unknown

"SANTA! Oh my God! Santa, here?! I know him! I know him!" – Buddy the Elf, 'Elf.'

"He who has not Christmas in his heart will never find it under a tree." – Roy L. Smith
"Christmas is a time when everybody wants his past forgotten and his present remembered." – Phyllis Diller.
"Never worry about the size of your Christmas tree. In the eyes of children, they are all 30 feet tall." – Larry Wilde
"I still believe in Santa, the Easter Bunny, the Tooth Fairy and true love. Don't even try to tell me different." – Dolly Parton
"The stockings were hung by the chimney with care, in hopes that St. Nicholas soon would be there." – Clement Clarke Moore

"Believe in love. Believe in magic. Hell, believe in Santa Claus. Believe in others. Believe in yourself. Believe in your dreams. If you don't, who will?"

– Jon Bon Jovi
"He was dressed all in fur, from his head to his foot,
and his clothes were all tarnished with ashes and soot.
A bundle of toys he had flung on his back,
and he looked like a peddler just opening his pack.
His eyes--how they twinkled! His dimples, how merry!
His cheeks were like roses, his nose like a cherry!
His droll little mouth was drawn up like a bow,
and the beard on his chin was as white as the snow.
The stump of a pipe he held tight in his teeth,
and the smoke it encircled his head like a wreath.
He had a broad face and a little round belly,
that shook when he laughed, like a bowl full of jelly."
Clement Clarke Moore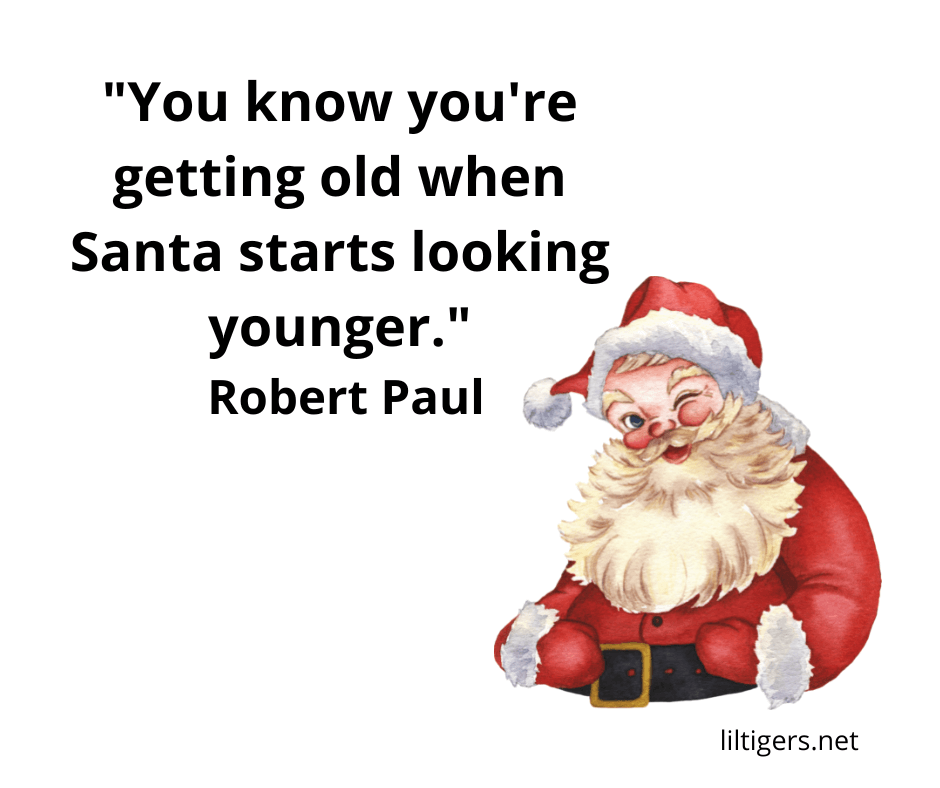 Fun Santa Puns
Let's get funny with the following Santa Claus puns.
Happy ho ho ho-lidays!
Keep Calm and Wait for Santa!
My favorite color is Christmas lights.
I ho ho hope you all have a wonderful Christmas!

I hope this gift hits Claus to home… Merry Christmas!

Current status: ready for a long winter's nap.

Always nice to see some festive repre-Santa-tion around the holidays!

Sorry if I'm being a bit emotional – Christmas always makes me a little Santa-mental.
Throw a little tinsel on me because let's face it, I love being the Santa of attention.

You know what they say – keep your friends Claus and your enemies closer…

Can someone please tell Santa to hurry up? I can't be Saint Nick-less this year.
"All the best from my ho ho Home to yours."

Unknown
Sorry, you won't see me near Santa this year. I've developed some severe Claus-trophobia.
Since it's Christmas, I found it most appropriate for me to be taking Santa stage this year…
I've been eating a lot of milk and cookies this month, but don't worry, it's no Claus for concern.
Funny Santa Captions
Last but not least are our Santa Claus captions. Enjoy!
Dear Santa, I can explain …

Dear Santa, define 'nice.'

A round of Santa-plause, please.

"Dear Santa, is it too late now to say sorry?"

"I hope Rudolph eats the naughty list."

One more cookie and I swear I'll fit in the Santa costume.

"It hasn't snowed a single flurry but Santa, dear, we're in a hurry." – Jerry Herman
What is Santa's favorite part of baking cookies? Rolling out the dough-ho-ho!
"Dear Santa, Before I explain, how much do you know already?" – Unknown
"Aren't we forgetting the true meaning of Christmas? You know, the birth of Santa?" – Matt Groening
"I'm only a morning person on December 25th."

Unknown
"I left Santa gluten-free cookies and organic soy milk and he put a solar panel in my stocking." – Unknown
"Christmas: the only time of year you can sit in front of a dead tree eating candy out of socks." – Unknown
"Dear Santa, I've been good all year. Most of the time. Once in awhile. Nevermind, I'll buy my own stuff."
"Here's what we know about Santa. He sees you when you're sleeping. He knows when you're awake. He knows if you've been bad or good. I think he's with the NSA." – David Letterman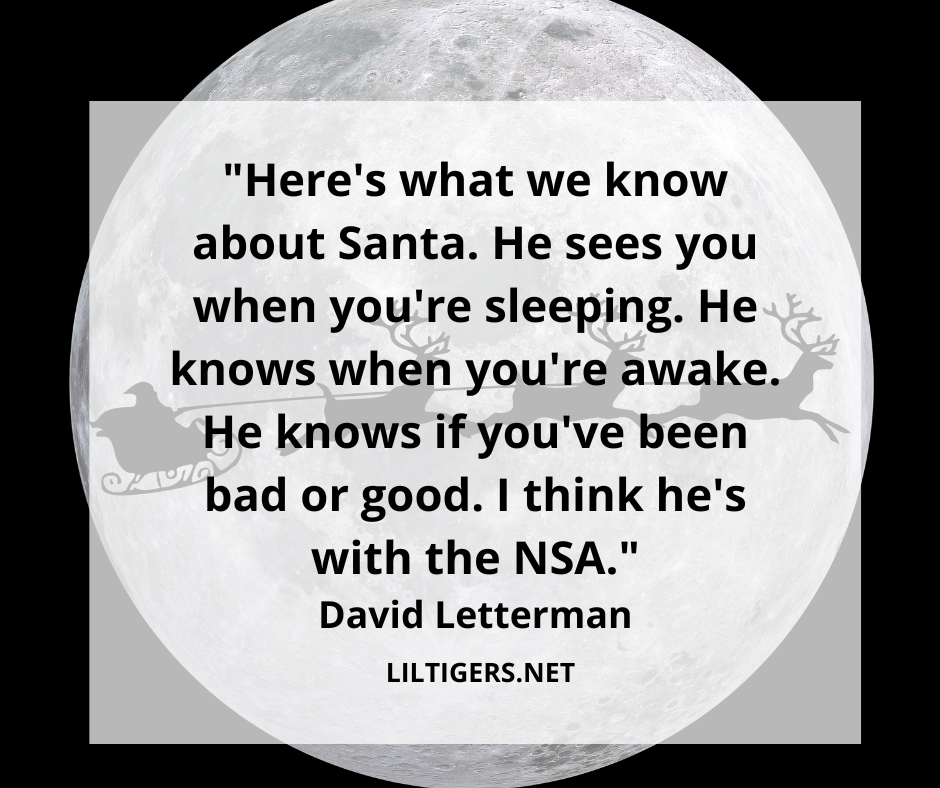 More Quotes
I also like to introduce you to the following quotes for kids:
To find more quotes for kids go check out our full list of different seasons, occasions, and holiday quotes here.
Easy Christmas and Winter Activities
After you are done with these cute Santa quotes and sayings for kids, then go check out these fun Holiday activities next:
If you are a visual learner, also go check out this matching DIY Santa Card video tutorial for our Santa Claus sayings for kids.
---
Pin Our Quotes about Santa Claus
Don't forget to save our 100 Top Santa Quotes for Kids on Pinterest for later! Be sure you are following along with Lil Tigers here.
Now I would like to hear from you!
Which saying about Santa Claus did you choose? Did you find a better one?
Either way, let me know by leaving a comment below right now.
I love to hear from you!